Friday, March 18, 2005
THE ROAD TO THE FINAL FOUR 3/18/05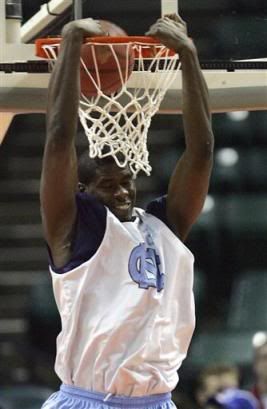 FINAL UPDATE at 9:20 p.m.

Same deal as yesterday, post your NCAA Tournament-related comments in the box.

Comments not related to the NCAA Tournament? Post them anyway.

--- --- --- --- --- --- --- --- --- --- --- --- --- --- --- --- ---

SYRACUSE REGION
#10 N.C. State 75, #7 Charlotte 63

SYRACUSE REGION
#4 Florida 67, #13 Ohio 62

SYRACUSE REGION
#9 Iowa State 64, #8 Minnesota 53

CHICAGO REGION
#2 Oklahoma State 63, #15 Southeastern Louisiana 50

My thoughts on the first window of today's action:

---I'm never picking Charlotte again. I picked them against Texas Tech last year and I picked them against North Carolina State this year. Thanks a lot, Clay Aiken's alma mater. The Charlotte 49ers were certainly invisible in the tournament once again.

---Did Bob Huggins and Billy Donovan read Sports and Bremertonians this week? They must have, because their teams finally won a first round game (Cincinnati and Florida).

---Nice to see former Gonzaga head coach Dan Monson back in the tournament, this time with Minnesota. Fortunately for me, Iowa State beat Minnesota.

---Oklahoma State will be just fine. So they only beat Southeastern Louisiana by 13 points. Survive and advance, baby.

--- --- --- --- --- --- --- --- --- --- --- --- --- --- --- --- ---

SYRACUSE REGION
#1 North Carolina 96, #16 Oakland 68
The Marvin Williams Watch
Marvin Williams led all scorers with 20 points as the Tar Heels defeat Oakland 96-68.

SYRACUSE REGION
#5 Villanova 55, #12 New Mexico 47

SYRACUSE REGION
#2 Connecticut 77, #15 Central Florida 71

CHICAGO REGION
#7 Southern Illinois 65, #10 St. Mary's 56

My thoughts on the second portion of the afternoon games:

---You are going to see that Marvin Williams dunk (middle of the 1st half) for the entire tournament in the highlight packages. If you haven't seen it yet, you will see it soon enough.

---So much for my Cinderella, New Mexico. I don't care if they came back. They could only score 11 POINTS in the first half. ELEVEN! The Oregon State folks don't miss Richie McKay at all. They're in very good hands with Jay John.

---There's a pattern with every #2 seed in this tournament. It's called surviving and advancing.

---It's a shame that St. Mary's couldn't have faced a major conference team. I didn't really care for the mid-major pairing of the Gaels and Southern Illinois to be quite honest. Good season for the boys from Moraga, California, though.

--- --- --- --- --- --- --- --- --- --- --- --- --- --- --- --- ---

ALBUQUERQUE REGION
#4 Louisville 68, #13 Louisiana-Lafayette 62

SYRACUSE REGION
#6 Wisconsin 57, #11 Northern Iowa 52

AUSTIN REGION
#1 Duke 57, #16 Delaware State 46

AUSTIN REGION
#13 Vermont 60, #4 Syracuse 57 (OT)

My thoughts on the first portion of the evening's action:

---I've never been so happy to put red ink on my bracket than I was after Syracuse lost to Vermont. I had the Orange in the Elite 8. Why, I don't know. But hey, those are the breaks. Congrats to the Vermont Catamounts, who could very well be this year's Cinderella. This was by far the best game of the tournament up to this point. Oh, and screw the Big East.

---Good showing by the Sun Belt champion Louisiana-Lafayette Ragin Cajuns. If Louisviile would have lost this game, I would have been laughing uncontrollably. After all, they were supposed to be a #1 seed instead of Washington (Dickie V, baby!).

---Duke didn't look like a #1 seed. But you won't hear about that in the press.

---I didn't watch a single second of the Northern Iowa-Wisconsin game. Both teams did score more than 50 points. Progress!

--- --- --- --- --- --- --- --- --- --- --- --- --- --- --- --- ---

ALBUQUERQUE REGION
#5 Georgia Tech 80, #12 George Washington 68

SYRACUSE REGION
#14 Bucknell 64, #3 Kansas 63

AUSTIN REGION
#9 Mississippi State 93, #8 Stanford 70

AUSTIN REGION
#5 Michigan State 89, #12 Old Dominion 81

My thoughts on the final portion of the first round games:

---Raise your hand if you picked Bucknell to beat Kansas.

---I didn't think so.

---While he's feeling bad for his former players at Kansas, you have to believe that Roy Williams is feeling better about life right now, knowing that he doesn't have to worry about a possible Kansas-North Carolina matchup.

---Yes, I had Kansas-North Carolina in my Elite 8.

---For this Stanford team to even make it to the NCAA Tournament this year is an accomplishment in itself. But they just couldn't overcome Mississippi State and Lawrence Roberts.

---So much for my 5/12 upset, Old Dominion over Michigan State.

---I can't wait for that Georgia Tech-Louisville matchup on Sunday. Should be fun.

--- --- --- --- --- --- --- --- --- --- --- --- --- --- --- --- ---

Hey, we got ourselves a tournament now.

You want your upsets? You certainly got your upsets tonight, with Vermont and Bucknell screwing up many brackets across the country. Although I'd have to say that Bucknell over Kansas was a much bigger upset. Come on, the Jayhawks losing in Oklahoma City? That's basically Bill Self's homeland (he's from Edmond, OK). Hopefully for Self's case, he and his family are able to stay safe over the next few weeks. I wish I were kidding about this, but you know there are some crazed fans out there. Especially those who are huge Jayhawks fans.

Not that it matters, but I went 19-13 in the 1st round. Yes, my bracket is teh suck.

However, I could care less about that right now.

Why?

Because we got ourselves a tournament now.