Wednesday, April 27, 2005
GAME 2: SUPERSONICS 105, KINGS 93
SuperSonics 105, Kings 93 (Seattle leads best-of-seven series 2-0)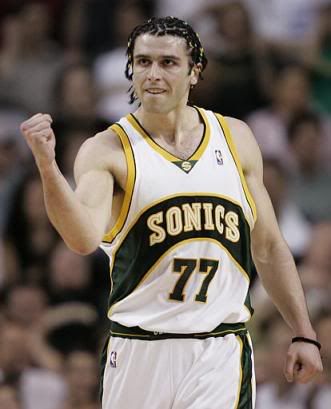 The general makeup of Game 2 was a lot like Game 1. The Sonics got ahead early, built up a ridiculously huge lead, the Kings made their run, the Sonics got a bit lazy, and they had to hold them off before finally sealing the victory. Luckily, the Kings never got to within one point toward the end of this one like they did in Game 1.

The Kings got the first basket of the game, but on the first Seattle possession, Ray Allen drilled a deep jumper on the right side to beat the shot clock. Luke Ridnour hit a pull-up in transition the next trip down, and Rashard Lewis hit a couple free throws for a quick 6-0 run and a 6-2 Sonic lead with 10:08 to go. Sacramento rattled off a 6-0 run of their own, and Jerome James answered the run, backing down Brad Miller all the way to the basket and laying one in to tie the score at 8-8 with 7:29 to go. Lewis was doubled the next trip down the floor and kicked to Evans, who laid in another one. Luke Ridnour stole the ball from Greg Ostertag and Reggie Evans somehow made the layup down low among a sea of arms and bodies to get the Sonics up three at 13-10 with 5:13 to go. Ridnour altered a Peja Stojakovic drive to the rim, and Peja was stuffed by the rim as a result. The Sonics got the ball up the floor, and Rashard Lewis hit a three from the corner to put the Sonics up four, 18-14. Vladimir Radmanovic hit baskets on the next two Sonic possessions as the teams started trading baskets.

The Sonics led 26-22 after one quarter. Radmanovic led the team with 6 points. Allen and Lewis had 5 each. James had 4. Evans, Ridnour, and Collison had 2 apiece. Evans had 6 boards, James had 3.

About halfway through the second quarter, the Sonics put together a 7-0 run to stretch their lead from four points to 11 which included Ray Allen jumping a passing lane in backcourt and Nick Collison finishing with a layup where he had to adjust in mid-air before laying it up. The Sonics led 41-32 with 5:10 to go in the half. In the basket-trading phase of the quarter after that, Allen moved off a Jerome James screen near the corner to hit a three. James then scored the next two trips down the floor. Cuttino Mobley was stuffed by the rim with 35 seconds to go.

The Sonics led 55-44 at half. Ray Allen led with 12 points, and Jerome James had 10. Radmanovic had 8, Lewis and Fortson had 6 each, Daniels had 5, Collison and Evans had 4 each. Evans led with 5 boards, and Fortson and James had 4 apiece.

Reggie Evans hit a layup and was hacked on the first play of the quarter. The Sonics opened the half with a 6-2 run capped by a play where Brad Miller was definitely miffed about getting an elbow to the chin, and Miller got a technical foul with 9:52 to go for his complaints and throwing of the headband. The Sonics not long after used a 7-0 run to push Sacramento into calling timeout. The last five points of the run were scored by Ridnour -- he hit two free throws after being fouled in backcourt by Mike Bibby, then following a possession where the Kings grabbed three offensive boards and missed three shots (two in close), Ridnour sank a corner three, forcing Rick Adelman to call another timeout. The Sonics led 70-51 at this point with 7:15 to go in the quarter. The Sonics called timeout after a small 6-2 run by the Kings with 5:07 to go. The Kings didn't score another point until Peja Stojakovic hit a free throw after Danny Fortson was tech'd with 2:09 to go. The Sonics had reeled off an 8-0 run to stretch the lead even further -- it started with a baseline jam by Lewis, and it ended with the fastbreak play of the game. Collison saved a ball in backcourt, and from about halfcourt, Allen found Radmanovic streaking across the baseline for an easy slam and a roof-raiser at the Key. The Sonics led 80-57 at that point with 2:55 to go.

The Sonics led 88-62 after three quarters. Allen led with 17 points, and James had 15. Lewis and Radmanovic had 10 apiece. Ridnour and Daniels had 9 each, Collison had 8, Fortson had 6, and Evans had 4. Evans led with 8 boards, Collison had 7, James had 6. Ridnour led with 5 assists.

Antonio Daniels found Danny Fortson rolling to the basket for a layup, and the Sonics found themselves up 90-64, with the 26-point lead equaling their largest of the night. The problem was that the Kings were making their run on the other end. They went on a 10-0 run to start the quarter, and Coach McMillan called timeout with 9:51 to go and the Sonics 26-point lead cut to 18 at 90-72. The Sonics didn't score before being forced to call timeout yet again with 8:12 to go, with the Kings having scored another seven points since. Put that together, and it was a 17-2 run (or a 15-0 run if you please) to start the quarter by Sacramento, and the lead was only 11 at 90-79. The Sonics missed six straight baskets after the Fortson layup, and also ran the shot clock to the buzzer after Radmanovic was a little tentative in crunch time on the possession. When Lewis stepped on the baseline with 5:27 to go, the Kings had uncorked a 23-7 run, getting the lead to within 10 at 95-85. Not long after, Ray Allen had hit his second straight three to restore some sanity. The Kings wouldn't stop coming though. Bobby Jackson capped an 11-4 run with a wide-open three to make it 100-92, scaring the crap out of everybody with 2:32 left in the game. However, the Kings didn't hit a basket the rest of the way, and the Sonics closed by outscoring the Kings 5-2 over the final two and a half minutes, capped by a Ray Allen three-point play.


PEEK AT THE BOXSCORE
starters
Ray Allen 26 pts/2 reb/6 ast (8-15 FG, 3-6 3pt, 7-7 free throws, 39 min), Rashard Lewis 12 pts/4 reb (3-12 FG, 1-2 3pt, 5-6 free throws, 40 min), Luke Ridnour 9 pts/3 reb/6 ast/2 stl/2 blk (2-11 FG, 1-3 3pt, 4-4 free throws, 31 min), Reggie Evans 4 pts/8 reb/2 stl (2-3 FG, 0-2 free throws, 17 min)

bench
Vladimir Radmanovic 10 pts/3 reb/2 ast/2 blk (5-8 FG, 0-3 3pt, 23 min), Antonio Daniels 9 pts/3 reb/3 ast/2 stl (3-9 FG, 3-4 free throws, 24 min), Nick Collison 8 pts/8 reb (3-6 FG, 2-2 free throws, 21 min), Danny Fortson 8 pts/4 reb (3-5 FG, 2-3 free throws, 15 min), Damien Wilkins 0 pts/1 reb (1 min)

Jerome James Watch
19 pts/9 reb/1 blk (9-11 FG, 1-2 free throws, 3 fouls, 3 turnovers, 29 min)

team
shot 38-for-80 (47.5%) from the floor, shot 5-for-15 (33.3%) from downtown, shot 24-for-30 (80%) from the line, outrebounded Sacramento 45-42 (were beaten 12-9 on offensive glass), turned ball over 12 times (scored 14 off 12 Sacto turnovers), beat Kings 46-38 in the paint (but beaten 15-13 on the break), bench was outscored 44-35 (both benches had 19 boards)


What was everyone thinking after the game? Kevin Calabro during the big Sacramento run said that he would have bet large sums of money (but not quite the mortgage on the house) that Rick Adelman was going to bring Bibby, Stojakovic, and Miller back in if the Kings got to within 10. The TNT studio crew after the game was wondering the same thing. Still, it appeared that maybe Adelman had thrown up the white flag a bit or just wanted the same guys that started the run to finish it off. One thing's for sure, Bibby (29 minutes), Stojakovic (32), and Miller (17) were well-rested.

I guess the scary thing about the Kings' run is that (as Calabro pointed out) they might have figured out they can go small and athletic and get results. Boston did that twice to the Sonics this year, and Philadelphia and Washington had some success against the Sonics as well doing the same thing. Based on this fact alone, I think this series is going at least five or six.

It's true! The Sonics can win despite Lewis and Ridnour combining for 5-for-23 shooting! Of course, that was more than made up for by the Allen/James tandem (17-for-26). I know from a couple of games this season that Jerome is capable of what he's done the past couple nights, so I'm not going to question where it's come from, I'm just going to enjoy the ride.

Vladimir Radmanovic had his impact felt immediately. He hit shots right away, but he also had those other numbers in the stat line, including the two blocks. Even though he's not up to full strength right now, this team missed him a whole bunch while he was gone, and it's amazing they did as well as they did without him. Of course, when both Lewis and Radmanovic went down, they were screwed.

In a related note, I wish teams from Seattle would learn to close out games when they have big leads. If they have a big lead, they just have to go for the jugular and make it so bad that they can put their scrubs in and finish it out. I wanna see some Murray/Potapenko garbage time in the final minutes with the Sonics up 35.

I would have asked Jinkies if he likes to eat eggs off the sidewalk in the Sacramento valley in mid-July. Them there's good eatin'.