Wednesday, April 27, 2005
GAME 20: MARINERS 7, RANGERS 4
Mariners 7, Rangers 4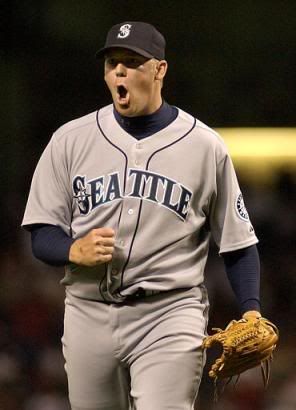 In 25 words or less: The Mariners scored early again. Joel Pineiro gave up a bunch of home runs, but otherwise threw really well.

This one featured Joel Pineiro for the Mariners and the Rangers' Opening Day starter, Ryan Drese.

TOP 1ST
Grade: A
The Mariners didn't waste any time. Well, maybe Ichiro did; he grounded out to second to start the game. But then the rest of the inning started with Jeremy Reed breaking a bat and blooping a 2-0 pitch into centerfield for a single. Adrian Beltre creamed his first pitch, a belt-high fastball over the plate, above the scoreboard (wall) in leftfield. There's two quick runs.
»» MARINERS 2, RANGERS 0
Richie Sexson hit his 2-0 pitch high and foul, and it appeared that Mark Teixeira (coming from first base) had a beat on the ball even if it was a row into the stands. A fan somewhat interfered with the play and Teixeira's glove, but since said fan didn't reach into the field of play, it's a little less damning. Of course, to Ranger fans it'd be damning still, since Sexson ended up walking instead of fouling out. Bret Boone did his thing and flew out on the first pitch, with Alfonso Soriano scooting from his position at second to the rightfield foul line to make the catch. Raul Ibanez didn't get a strike until his fourth pitch, then rolled the 3-1 pitch up the middle and into centerfield. Randy Winn slapped a 2-0 pitch into leftfield, and third-base coach Jeff Newman had the stop sign thrown up until leftfielder Kevin Mench had the ball go through him. Sexson came around to score.
»» MARINERS 3, RANGERS 0
Miguel Olivo still lived off some euphoria over the bases-clearing double on Sunday, so he grounded out to second. Drese was worked for 24 pitches.

BOTTOM 1ST
Grade: A
Pineiro had it easy in the first. Alfonson Soriano whiffed on an 0-2 curve in the dirt (Olivo to Sexson on the putout). Hank Blalock got down 0-2 and whiffed on a 1-2 high change. Michael Young flew out to Jeremy Reed on a 2-0 pitch. Pineiro threw 10 pitches.

TOP 2ND
Grade: D+
Then Drese pulled more of a Pineiro impression rather than of what he was in the first. Wilson Valdez worked a 1-2 count full, then lined a single into centerfield. Valdez then took off for second on the first pitch to Ichiro and Rod Barajas gunned him down by a mile; good throw, and it wasn't even close. Jeremy Reed fouled off his 3-1 pitch, and then was caught looking at a pitch on the inside corner. Drese threw 17 pitches in the inning.

BOTTOM 2ND
Grade: C
Pineiro would limit damage. Mark Teixeira tapped the first pitch back to Pineiro. David Dellucci got a 1-1 hanging changeup and didn't miss it, covering the pitch and taking it out of the yard to rightfield. Come on, Joel. David Dellucci???
»» MARINERS 3, RANGERS 1
Kevin Mench flew out to Reed in center, but then Pineiro walked Gary Matthews, Jr. (who has a good history against him) on four pitches. Pineiro got ahead of Barajas 0-2 and later froze him on a curve over the outside corner. Pineiro threw 16 pitches in the inning.

TOP 3RD
Grade: A
Let there be runs. Beltre got down 0-2, and eventually rolled a slow one to Soriano, who had to scoop-toss to first with his glove to beat Beltre to the first-base bag. Sexson had the two hitters- counts and ripped a single into centerfield on 3-1. Boone did his thing and flew out to right. Ibanez laced an 0-1 pitch through the right side for a single, and Sexson took third on the play. Winn walked on four pitches, loading the bases. Amazingly, and just like Sunday, this brought up Olivo with the bases loaded. Olivo ripped a 1-1 pitch through the left side, and both Sexson and Ibanez scored.
»» MARINERS 5, RANGERS 1
Then Valdez whiffed at a pitch way outside. Drese threw 23 pitches in the inning.

BOTTOM 3RD
Grade: B+
Pineiro kept doing well for himself. Laynce Nix was caught looking on a curve over the outside corner. Soriano ripped a first-pitch belt-high fastball down the leftfield line for a double. Blalock hit a single to rightfield, but Pineiro followed by getting Young to ground into the ol' 5-4-3 around-the-horn double play. Pineiro threw eight pitches in the inning.

TOP 4TH
Grade: C-
Drese had settled down. Ichiro got down 0-2 right away and would be caught looking at an outside-corner pitch. Reed grounded the first pitch toward Teixeira at first, who had to footrace him to the bag. Beltre chased an 0-2 slider in the dirt. Drese threw only eight pitches.

BOTTOM 4TH
Grade: C-
Pineiro would get a bit more roughed up in the inning. Teixeira golfed the first pitch he saw about halfway up the rightfield foul pole.
»» MARINERS 5, RANGERS 2
Luckily, Dellucci didn't do a repeat performance, as he flew out to right. Then Mench absolutely blistered a belt-high pitch over the scoreboard in left.
»» MARINERS 5, RANGERS 3
Luckily, Matthews' old numbers against Pineiro didn't hold up this time, as he flew out to Reed in center. Rod Barajas flew out to Beltre on the first pitch to end the inning. Pineiro threw nine pitches in the inning.

TOP 5TH
Grade: C-
Drese once again held the Mariners mostly in check. Sexson rolled an 0-2 pitch to short. Boone got down 0-2, and rolled a 2-2 pitch up the middle which looked like it might be a base hit until Young swooped over and made the play on the other side of the second-base bag. After these two outs, it seemed odd that Ibanez walked on four pitches. Nonetheless, Winn was jammed and hit a grounder beside the mound. Drese threw 14 pitches and was at 86 through five.

BOTTOM 5TH
Grade: A
Pineiro got through this one easy. Nix flew out to left. Soriano broke his bat on a bloop to short left, which was caught by Valdez. Blalock hit his first pitch down the first-base line, and Sexson took it from behind the bag, underhanding to Pineiro for the putout. Pineiro threw only eight pitches in the inning and had thrown 51 through five.

TOP 6TH
Grade: C-
Drese got through some choppy waters. Olivo was down 0-2 and eventually hacked and missed on a curve in the dirt that was way outside (his bat was cashed after the single earlier in the game). Valdez fouled off three pitches with two strikes on him and then singled to centerfield. Ichiro flew out to right. Reed hit a shallow fly to center that dropped for a single and Valdez scampered to third on the play. Beltre got a 2-0 pitch and lined it to Matthews drifting backward in rightfield. Drese threw 20 ptiches in the inning and was at 106 through six.

BOTTOM 6TH
Grade: A-
Pineiro was getting through the Texas lineup fairly easily. He allowed 2-0 counts to the first two hitters, but nothing became of them. Young bounced out to Boone, and Teixeira was robbed of a base hit as Boone made a diving catch toward the hole on the fly. Dellucci flew out to Reed on his first pitch. Pineiro threw only seven pitches and was at 58 through six.

TOP 7TH
Grade: C
Pitch count of 106 be damned, Bucky Showalter trotted Drese out to the mound for the 7th. Sexson had a 3-1 count and later ripped a single through the hole on the left side on a full count. Boone did his thing and flew out to the shortstop on the infield.

Drese was given the hook from Showalter, who brought in Ron Mahay. Ibanez whiffed on a ball up and away. Winn grounded a ball to Soriano, who threw to Young to get the lead runner. Mahay threw eight pitches.

Drese's line: 6 1/3 innings, 5 runs (4 earned), 11 hits, 3 walks, 5 strikeouts, 114 pitches (67 strikes)

BOTTOM 7TH
Grade: A-
Pineiro looked very good for most of this game. Mench rocketed a ball right into Beltre's glove. Matthews bounced out to short. Barajas finally saw a strike on the fourth pitch of his at-bat and ended up fouling a high breaking pitch into Olivo's glove. Pineiro threw 11 pitches and was at 69 through seven.

TOP 8TH
Grade: C-
The inning started out okay. Olivo drew a four-pitch walk. Valdez bunted on his second pitch. Mahay fielded the bunt and threw to a covering Soriano at first, though the throw might not have been there in time anyway. Valdez ended up with a single and runners were on the corners. Reed had an 0-2 count and fouled a 2-2 pitch back by the stands, and Barajas came down with it. Mahay threw 14 pitches in the inning.

Mahay's line: 1 2/3 innings, 0 runs, 1 hit, 1 walk, 1 strikeout, 22 pitches (11 strikes)

BOTTOM 8TH
Grade: C
This inning got dicey. Nix flew out to the leftcenter gap on an 0-2 pitch. Soriano got an inner-half 2-0 fastball and just absolutely mangled it, sending it into the upper deck in leftfield. That was a freakin' shot.
»» MARINERS 5, RANGERS 4

Though he'd only thrown 75 pitches at that point, Mike Hargrove had seen enough of Joel Pineiro, and Ron Villone was summoned on in relief. He got Blalock to cut and miss on a 2-2 low and away pitch.

Since Hargrove feels like using Villone as Paul Assenmacher for some reason, JJ Putz was brought into the game. Things got incredibly interesting and a little too close for comfort for most Mariner fans. Young had a 3-1 count aind singled through the left side on a full-count pitch. Teixeira smoked his first pitch into leftfield. Dellucci walked on a pitch high and away. Luckily, Mench put an end to the edginess, grounding one hard to Beltre, who stepped on the third-base bag to end the inning.

Pitching lines...
Pineiro's line: 7 1/3 innings, 4 runs, 6 hits, 1 walk, 5 strikeouts, 75 pitches (51 strikes)
Villone's line: 1/3 inning, 0 runs, 0 hits, 0 walks, 1 strikeout, 5 pitches (3 strikes)
The Putz line: 1/3 inning, 0 runs, 2 hits, 1 walk, 0 strikeouts, 14 pitches (7 strikes)

TOP 9TH
Grade: A
Doug Brocail came in for the Rangers, and the Mariners were choppin' Brocaili before they knew it. Beltre worked from an 0-2 count and fouled off six pitches and took two before lacing a double down the leftfield line, almost hitting it on one knee on the 11th pitch of the at-bat. Sexson dinked a 1-2 pitch into center for a single, and Beltre went to third. Boone did his thing and hit a fly ball to center that wasn't deep enough to score Beltre. Ibanez then ripped one to the wall in the gap in leftcenter to score Beltre and Sexson and get Eddie Guardado and the Mariners some insurance.
»» MARINERS 7, RANGERS 4
Winn wanted to make sure I was able to catch the Sonics from the opening tip, so he grounded into a 6-4-3 double play.

Brocail's line: 1 inning, 2 runs, 3 hits, 1 walk, 0 strikeouts, 28 pitches (18 strikes)

BOTTOM 9TH
Grade: A-
Eddie Guardado pitched a 1-2-3 ninth? He sure did. Of course, it helped that he was going up against the bottom third of the Texas lineup. Matthews whiffed on a 1-2 fastball inside. Barajas had a 3-0 cout before it went full. He flew out to center. Richard Hidalgo came on to pinch hit for Nix. He got a 3-1 count before fanning to end the game.

Guardado's line: 1 inning, 0 runs, 0 hits, 0 walks, 2 strikeouts, 18 pitches (11 strikes)
---

Gameball: Richie Sexson.
No big blasts, but I've been wanting to give him the gameball for a while now. His 3-for-4 night has thankfully rescued his average from floating anywhere near .200 for a while. Combined with the walk, Sexson reached base four times in his five plate appearances and ended up scoring three times. The blasts will come soon enough, but the fact that everyone and their mother for Texas (and Adrian Beltre) was hitting blasts in the game bodes well for Sexson, who I think just has to tag one fairly well.

Goat: Bret Boone.
Yeah, so this is two games in a row in this spot for Boone. I seriously thought for a second about giving it to Ichiro, who was 0-for-5 with a strikeout. Boone had the diving stop of what would have been a base hit even though he was 0-for-5 like Ichiro. Of course, that was my train of thought until I saw the boxscore that had stranded runners in it. Boone left five runners on base, including not being able to get Beltre in from third with a sufficiently deep fly ball in the ninth.


Pineiro actually threw a good game, though. The four homers off Pineiro went for solo-shot homers, so the solo part is at least a mitigating circumstance for his mistakes. Pineiro only gave up two hits that weren't homers, and he only walked one. It'd be hard from a linescore to tell whether Joel did good, but he was great at times in this game. I was surprised Hargrove took Pineiro out after only 75 pitches, though Pineiro did come off of the strained flexor bundle and injury rehabilitation to get to this point, and it's still early in the season, so there's some reasons to have pulled Pineiro when Hargrove did, though they've let Pineiro go a lot longer into the games than 75 pitches this season.

Beltre, Ibanez, and Olivo got the big RBI hits in the game. Boone was busy stranding runners like Sexson, who nonetheless scored three of the Mariners' seven runs. Olivo also stranded three runners, but had the nice single to go with it.

One big hooray and thank you to the bottom third of the Ranger lineup. They combined to go 0-for-10 with one walk and four strikeouts, and enabled me to not miss a second of Sonic playoff action on FSNNW -- this was even with Guardado pitching the 9th against the three, and even after all the inane pitching moves Hargrove made in the 8th to try and foil my plan.

Don't worry, Wilson Valdez. Just because you didn't get the gameball doesn't mean your 3-for-4 night goes unnoticed. Raul Ibanez also was 3-for-4 with a walk and a strikeout, stranding one. Valdez has an average just over .250, while Ibanez' warm bat of late has his average at .296.

Well, it's two straight wins with timely hits. This one also puts the Mariners back to .500. I doubt I'll ever enjoy mediocrity as much as I have and will this year. Of course, the schedule will get rougher soon, so we'll see how the Mariners fare in the next couple weeks.

Franklin. Rogers. Tonight.