Sunday, August 28, 2005
GAME 128: WHITE SOX 4, MARINERS 3
White Sox 4, Mariners 3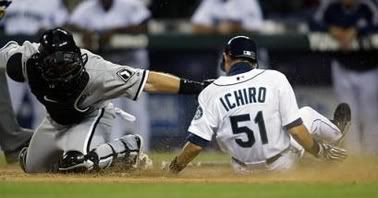 In 25 words or less: The first two-thirds of the game were infinitely boring as the bats were once again dominated. The final third was entertaining, yet not satisfying.

This one featured Jose Contreras going up against Joel Piñeiro. Would fans see the good Piñeiro that had three good starts in a row, or would they see the bad one from the last start? It'd be somewhere in the middle this time.

TOP 1ST
Grade: B
Laborious. Timo Perez rolled out along the first-base line to Richie Sexson near the bag. Tadahito Iguchi looped a full-count single into shallow centerfield in front of Jamal Strong. Carl Everett popped a 3-1 pitch high to Betancourt in shallow leftfield. Paul Konerko got the hitters' counts and lined the 3-1 pitch right to Raul Ibañez in leftfield.

BOTTOM 1ST
Grade: C-
Yawner. Ichiro fell behind 0-2 and lined a 1-2 pitch to centerfield, where Brian Anderson ran under it for the catch. Willie Bloomquist bounced out deep in the hole at short, to the chagrin of Bloomquist, Mike Hargrove, and the crowd. Replays show Bloomquist may have been safe, and it was a lot closer than I originally thought since I thought it was an out. Raul Ibañez flew out to Jermaine Dye in rightcenter.

TOP 2ND
Grade: C
Start early. AJ Pierzynski dumped a single into shallow centerfield that nearly handcuffed Strong, though he kept it in front of him. Jermaine Dye bashed the second pitch into the back of the Mariner bullpen.
»» WHITE SOX 2, MARINERS 0
Geoff Blum lined the second pitch right to Strong in centerfield. Juan Uribe flew out high to Ichiro in rightfield on the second pitch. Brian Anderson bounced a 1-2 pitch to third.

BOTTOM 2ND
Grade: C+
Grr. Richie Sexson fell behind 0-2 and laced a 1-2 single into centerfield. Adrian Beltre fell behind 0-2 and later whiffed on a 1-2 dirty breaking ball. Greg Dobbs bounced a 2-0 pitch to second for a 4-6 fielder's choice. Yorvit Torrealba got ahead 2-0, and Dobbs stole second on the next pitch. Torrealba also got ahead 3-1 and later whiffed on a full-count curveball over the outside corner.

TOP 3RD
Grade: B-
Still uncomfortable. Perez flew out high to Bloomquist on the outfield grass. Iguchi took a 3-1 pitch about half a foot outside. Everett grounded to short, where Betancourt flipped to Bloomquist, but Everett beat out the double play (6-4 fielder's choice). Konerko got the hitters' counts and took the 3-1 pitch low and away. Pierzynski whiffed on a low and inside 0-2 curve.

BOTTOM 3RD
Grade: C-
Nothing. Yuniesky Betancourt hit a bullet right to third, where Blum straightened up and threw in time. Jamal Strong rolled a 2-2 pitch to third. Ichiro flew out high to rightfield on the second pitch.

TOP 4TH
Grade:
Dye cranked the second pitch into the gap in rightcenter for a double. Blum reached down to poke a single into rightfield, though Dye had to hold at third. Uribe singled the first pitch to leftfield, scoring Dye and moving Blum to second.
»» WHITE SOX 3, MARINERS 0
Anderson was brushed back on a bunt attempt before popping to Betancourt with the infield fly rule in effect. Perez lined to Ichiro in shallow rightfield, and Ichiro threw to second to force out Uribe. Iguchi whiffed on a 2-2 pitch.

BOTTOM 4TH
Grade: C-
Mastery. Bloomquist tapped the second pitch over the mound, where Uribe made the play. Ibañez got ahead 2-0 and later whiffed on a 2-2 pitch. Sexson whiffed on an 0-2 fastball.

TOP 5TH
Grade: A-
Order. Everett got ahead 2-0 before popping to Betancourt in shallow leftfield. Konerko tapped a 1-2 pitch to third, where Beltre threw off-balance and in time to first for the out. Pierzynski got ahead 3-1 and ended up grounding to Bloomquist in the hole on the right side, who threw to Piñeiro.

BOTTOM 5TH
Grade: C-
Too quick. Beltre popped a 2-0 pitch to rightfield. Dobbs bounced the first pitch to first. Torrealba fell behind 0-2 before bouncing out to third.

TOP 6TH
Grade: A-
Better. Dye gapped a 1-2 pitch to rightcenter for yet another double. Blum popped the first pitch to Strong in rightcenter. Uribe fouled off a couple of 2-2 pitches before flying out to Ibañez on the track in leftcenter as Dye had to hold. Anderson took an 0-2 pitch on the inside corner.

Piñeiro's line: 6 innings, 3 runs, 7 hits, 2 walks, 3 strikeouts, 101 pitches (65 strikes)

BOTTOM 6TH
Grade: C-
Hopeless. Betancourt took a full-count pitch for strike three. Strong fell behind 0-2 before whiffing on a 1-2 splitter down and in. Ichiro flew out to shallow centerfield on the second pitch.

TOP 7TH
Grade: C+
Matt Thornton came in for Piñeiro. Perez whiffed on a 2-2 pitch over the outside corner. Iguchi fell behind 0-2 and later bounced a full-count pitch to second. Everett crushed a homer into the Mariners' bullpen.
»» WHITE SOX 4, MARINERS 0
Konerko bounced the first pitch to Beltre behind the bag at third.

BOTTOM 7TH
Grade: B-
A morsel. Bloomquist poked the first pitch into leftfield for a single. Ibañez ripped the second pitch into rightfield for a single, moving Bloomquist to third. Sexson got ahead 2-0, attracting pitching coach Don Cooper to the mound. Sexson ended up holding a checkswing before fouling off a couple pitches, ending with a whiff on a pitch down and in. Beltre took an 0-2 pitch off of himself, loading the bases. Dobbs poked the second pitch up the middle for a single, scoring Bloomquist and Ibañez and moving Beltre to second.
»» WHITE SOX 4, MARINERS 2
Torrealba tapped a 1-2 along the first-base line, where Contreras had to throw from behind Torrealba going down the line, but made the throw, moving Beltre and Dobbs to third and second. Betancourt flew out to shallow rightfield.

TOP 8TH
Grade: B
Quite a finish. Pierzynski rolled the first pitch to third. Dye lined a single over Bloomquist and into rightfield. Dye took second base on a 2-2 pitch to Blum, and took third on a full-count pitch way inside to Blum, who took the walk.

Jeff Nelson came in for Thornton. Uribe took the first pitch for a strike, and Torrealba threw to second in pursuit of Blum trying to steal second. Blum got into a rundown but Dye wandered a little too far off of third. Betancourt made a great throw to third to nab Dye. Uribe popped to Beltre in foul ground.

Thornton's line: 1 1/3 innings, 1 run, 2 hits, 1 walk, 1 strikeout, 29 pitches (18 strikes)

BOTTOM 8TH
Grade: B-
Strong fell behind 0-2 and wound up poking a single over the shortstop.

Neal Cotts came in for Contreras. Ichiro took a 3-1 pitch off the plate outside, moving Strong to second. Bloomquist air-bunted the second pitch to Pierzynski. Ibañez took a 1-2 pitch over the outside corner.

Bobby Jenks came in for Cotts. Sexson doubled a 101mph pitch down the rightfield line, scoring Strong. Ichiro came around third, but was out on the relay throw from Dye and Iguchi (9-4-2).
»» WHITE SOX 4, MARINERS 3

Contreras' line: 7 innings, 3 runs, 5 hits, 0 walks, 7 strikeouts, 97 pitches (62 strikes)
Cotts' line: 2/3 inning, 0 runs, 0 hits, 1 walk, 1 strikeout, 11 pitches (5 strikes)

TOP 9TH
Grade: A-
Bullpen hijinks. Anderson popped an 0-2 pitch high to rightfield.

George Sherrill came in for Nelson. Aaron Rowand, hitting for Perez, flew out high to centerfield on a 2-2 pitch.

JJ Putz came in for Sherrill. Iguchi got ahead 2-0 but later tapped back to the mound.

Nelson's line: 1 inning, 0 runs, 0 hits, 0 walks, 0 strikeouts, 5 pitches (5 strikes)
Sherrill's line: 1/3 inning, 0 runs, 0 hits, 0 walks, 0 strikeouts, 5 pitches (3 strikes)
Putz' line: 1/3 inning, 0 runs, 0 hits, 0 walks, 0 strikeouts, 4 pitches (2 strikes)

BOTTOM 9TH
Grade: C
False hope. Beltre tapped a 1-2 pitch along the third-base line, and Jenks came off the mound to field, but lost some footing, enabling Beltre to slide in safely to first. Dobbs bunted the second pitch down the first-base line, where Konerko fielded it. Beltre went to second on the bunt.

Damaso Marte came in for Jenks. Mike Morse, hitting for Jeremy Reed and Torrealba, took a full-count pitch high for a walk. Betancourt grounded the second pitch hard to short for a 6-4-3 double play. Ballgame.

Jenks' line: 2/3 inning, 0 runs, 2 hits, 0 walks, 0 strikeouts, 9 pitches (7 strikes)
Marte's line: 2/3 inning, 0 runs, 0 hits, 1 walk, 0 strikeouts, 9 pitches (5 strikes)
---

Gameball: Greg Dobbs.
This was a game where it was highly difficult to pick a non-obvious gameball. Richie Sexson was the only Mariner with more than one hit. Thus, I was limited to five batters that had one hit apiece. Since Dobbs drove in two of the Mariners' three runs and never struck out, he'll get the gameball. The two RBIs came in the bottom of the seventh with the bases loaded, cutting the Mariners' deficit in half and making it a 4-2 game. His RBI single was an authoritative hit, right back up the middle to score two. This hit and Richie Sexson's double off of Bobby Jenks in the eighth were the two biggest and most clutch hits of the game. It's a good thing, considering that if the top half of the Mariner lineup gets runners on and Adrian Beltre has already hit, I don't expect anything out of the lineup until it turns over. Hitters six through nine in the Mariner lineup went 2-for-13 in this game, but Dobbs had one of the two hits, and it was a very vital one. Not only was it vital for the Mariners' chances to possibly win the game, it was vital for me to at least pique my interest in a game that was boring up until that point unless you have a thing for being dominated by Jose Contreras.

Goat: Ichiro.
An 0-for-3 outing and getting thrown out at the plate representing the tying run in the eighth seems to beg for an excursion into some stupid numbers regarding Ichiro, also called me messing with an Excel chart. He's gotten an average of about 4.17 at-bats per game this season. There are 34 games remaining in the season, which would leave him with about 141.8 at-bats (we'll say 142). Ichiro currently has 159 hits on the season. To get to 200 hits, he would have to hit .289 over the remainder of the season (he's hitting .238 for August). If he did hit .289 for the rest of the season, it'd leave him with a season average of .296. I said last night that my realistic expectation of Ichiro coming off the 262-hit season was a year where he'd hit .320. To finish with a 2005 mark of .320, Ichiro would have to finish with 217 hits and go on a .409 rampage over the last month-plus of the season. We're pretty far along in the season, so it's going to take a tear one way or the other to get his average moving. For instance, his 0-for-3 outing for this game only dropped his average from .299 to .298. Granted, since all hitters are on the low side of .500, averages climb more with hits than they descend with outs.


Yr W-L Pct GB Stk
2001 92-36 .719 -- W3
2002 77-51 .602 15 W2
2003 76-52 .594 16 L3
2000 70-58 .547 22 L3
2005 54-74 .422 38 L2
2004 48-80 .375 44 W2


Watching the Mariners' cushion over the 2004 team shrink to six games is one thing, but trying to do it with what for me was a broke-ass MLB.tv feed for this game is quite another. What's weird is that when I get choppy feed, it tries to do the buffering thing and then come right back in, basically kinda like pausing live TV, except you're stuck with the delay the whole time, and the feed never uses the commercials to catch up with the closer-to-real-time happenings. Point being, my feed today wasn't the kind that rebuffered. I was getting still frames about 99% of the time, and the other one percent, I was actually getting moving pictures. The TV feed's audio would cut in and out, but would remain live. What rubbed it in was a couple times when I couldn't connect to the Mariner radio feed during the game. Basically, from the fourth inning until the end of game, I was watching the hackneyed feed while cooking spaghetti. Not good times.

What do you say when both The Artist Formerly Known As El Duque along with The Artist Formerly Known As Jose Contreras end up shutting your team down? I know the White Sox are a good team this season and everything, but El Duque and Contreras aren't that good. Just couple everything with Mark Buehrle and Freddy Garcia and everything turns out all right. Of course, the Contreras/Duque statement has something to do with the Mariners too -- they're not that good either. As a matter of fact, they're pretty bad. So should it be a surprise if an okay pitcher shuts down a below-average team? Probably not, and especially in this part of the season where the Mariners are just waiting to expand the roster to throw some callups out to the field. It's the type of month where Willie Bloomquist comes up from the minors, has a decent twelve games against other AAA callups, and brainwashes half the organization into thinking he needs more playing time.

The only Mariner multi-hit game here belonged to Richie Sexson, who singled and had the double down the rightfield line that nearly tied the game. Sexson got by with two hits while five other Mariners got by with a single hit. The rest of the Mariners got jack since the hits added up to seven and I already accounted for them.

Another series loss. What's new? The bad part is that the Mariners have the one game tomorrow followed by four with the Yankees, and three each on the road against Orange County and Oakland. After possibly a slight respite of the good teams with a three-game home series against Baltimore, the Mariners draw the Angels for three again at home. So, they've got a tough schedule through the first half of the month, sure. What comes next? Why, it's what I've been bitching about since the day I saw the schedule for the first time -- an 11-game freakin' east coast road trip. They'll be done in by the opponents, then done in by the travel and homesickness. It's enough to make your head spin, either before or after the Little League game in the morning. I'm not sure what kind of party crowd the Hawaiians are after they win big things, but I'm hoping it's not like Montreal or Columbus, or else my carport and/or house might burn to the ground. I doubt it, though. They seem pretty chill here.

Garcia. Moyer. Today.