Sunday, August 21, 2005
GAME 123: TWINS 8, MARINERS 3
Twins 8, Mariners 3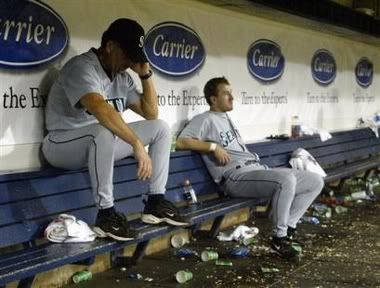 In 25 words or less: Much like yesterday's game, the Mariners' hopes turned quickly. Unlike yesterday's game, the result wasn't a win or anything close to it.

This one featured Joel Piñeiro going up against Brad Radke. Would we see the Joel Piñeiro that's been surprisingly good the last three times on the mound? Would we see the other one that really sucks? Is it scary that his last start lowered his ERA to 5.56?

TOP 1ST
Grade: B+
Dent that scoreboard. Ichiro grounded the first pitch hard to second. Willie Bloomquist fell behind 0-2 and fouled the 1-2 pitch off his leg before nubbing the 2-2 pitch to second. Raul Ibañez smacked a 3-1 pitch for a line-drive homer over the centerfield fence.
»» MARINERS 1, TWINS 0
Richie Sexson got whiffed on a 3-1 low slider before taking a slider too low and away for a walk. Adrian Beltre looped a 1-2 flyout to shallow leftfield.

BOTTOM 1ST
Grade: C
Weird inning. Shannon Stewart lined a single into leftfield. Nick Punto got ahead 2-0 and later grounded to second for a 4-6-3 double play. Joe Mauer fell behind 0-2 and later blooped a ball along the leftfield line and toward the bullpen. Ibañez proved to be a zoo on the ball under various seats in the bullpen, and Mauer somehow got to third on the play. Matthew LeCroy blooped a single that dropped in front of Ichiro in rightfield and bounced over his head, scoring Mauer.
»» TWINS 1, MARINERS 1
Lew Ford lined out to rightfield, though Ichiro came in and fell backwards making the catch.

TOP 2ND
Grade: C
Not too good. Jeremy Reed bounced the second pitch off the rightfield baggie for a double. Greg Dobbs popped the second pitch to Punto in shallow rightfield. With the count 1-2 on Yuniesky Betancourt, Radke stepped off and caught Reed in a rundown, but it ended with Punto dropping the ball as Reed got back to second safely. Betancourt chopped a 1-2 pitch to short which was picked by LeCroy at first as Reed for some reason took off on the ball hit to the left side and ended up on third. Yorvit Torrealba whiffed on a high 0-2 pitch.

BOTTOM 2ND
Grade: B+
Deuces wild. Jacque Jones ripped the second pitch through the right side for a single. Michael Cuddyer popped a 2-0 pitch very high to centerfield. Mike Redmond chopped the 1-2 pitch to short, where Betancourt stepped on the bag and threw over for the 6-3 double play.

TOP 3RD
Grade: C-
Too quick. Ichiro rolled out to Punto in the hole on the right side. Bloomquist chopped up the middle to Punto, who went to the backhand and threw in time to first. Ibañez popped the second pitch high to rightfield.

BOTTOM 3RD
Grade: B
Decent. Jason Bartlett smoked a 2-0 pitch into the leftcenter gap, but Reed came down with the catch. Stewart got ahead 3-0 and flew out high to leftfield on a full count. Punto bunted to the left side, where Piñeiro pounced on the ball and one-hopped a throw to first, but it was in time to beat the head-first sliding Punto.

TOP 4TH
Grade: A
Surprise. Sexson grounded a 2-0 pitch hard to second. Beltre drilled a hard grounder to short on the first pitch. Reed walked on four pitches. Dobbs got ahead 2-0 and wound up smashing a pitch into the upper deck in rightfield. Yes, upper deck.
»» MARINERS 3, TWINS 1
Betancourt popped out to LeCroy behind the bag at first.

BOTTOM 4TH
Grade: B+
Weird again. Mauer laced a single through the left side. LeCroy popped a 2-2 pitch high to Ibañez on the track in leftfield, and Ibañez was able to nail Mauer trying to advance to second. Ford chopped the 1-2 pitch to third, but he beat out Beltre's throw to first. Jones got ahead 3-0 and whiffed on a full-count curve (2-3 putout).

TOP 5TH
Grade: C-
Quick again. Torrealba whiffed on a 2-2 pitch. Ichiro whiffed hopelessly on a 1-2 dirtball. Bloomquist popped a 2-2 pitch into shallow rightfield.

BOTTOM 5TH
Grade: F
Someone was leaving pitches up. Cuddyer lined the second pitch into the rightcenter gap for a double. Redmond nubbed the first pitch under a diving Betancourt and into centerfield for a single, scoring Cuddyer.
»» MARINERS 3, TWINS 2
Bartlett flew out to centerfield on the second pitch. Stewart roped the first pitch to the leftfield fence for a double, moving Redmond to third. Punto chopped the first pitch to second, moving Redmond across and Stewart to third.
»» TWINS 3, MARINERS 3
Mauer was intentionally walked. LeCroy poked the second pitch through the right side for a single, scoring Stewart and moving Mauer to second.
»» TWINS 4, MARINERS 3
Ford bashed the first pitch just over the fence in leftfield.
»» TWINS 7, MARINERS 3
Jones grounded the first pitch to second as Bloomquist stumbled while throwing to first.

TOP 6TH
Grade: C-
That's a way to fight back. Ibañez grounded hard to first. Sexson smoked the second pitch back to the mound, where Radke threw with ample time to first. Beltre reached on an 0-2 pitch and rolled out to short.

BOTTOM 6TH
Grade: C
More carnage. Cuddyer whiffed on a 1-2 curve low and away. Redmond bounced an 0-2 pitch to short. Bartlett shot a double down the leftfield line. Stewart singled to rightfield on the first pitch, and Bartlett ran through the stop sign at third and ended up scoring thanks to Ichiro's offline throw.
»» TWINS 8, MARINERS 3

Matt Thornton came in for Piñeiro. Punto walked on four pitches. Mauer took the first pitch for a ball, prompting Bryan Price to visit the mound. Mauer got the hitters' counts and took the 3-1 pitch way up and in, loading the bases. LeCroy whiffed weirdly on a high 0-2 pitch.

Piñeiro's line: 5 2/3 innings, 8 runs, 13 hits, 1 walk, 2 strikeouts, 83 pitches (55 strikes)
Thornton's line: 1/3 inning, 0 runs, 0 hits, 2 walks, 1 strikeout, 12 pitches (4 strikes)

TOP 7TH
Grade: C
In the field, Justin Morneau came in for LeCroy. Reed fell behind 0-2 and later whiffed on a full-count pitch up and away. Dobbs fell behind 0-2 and scooped a 2-2 pitch for a single into centerfield. Betancourt grounded a 1-2 pitch up the middle to a diving Bartlett, who started the 6-4-3 double play.

Radke's line: 7 innings, 3 runs, 4 hits, 2 walks, 4 strikeouts, 106 pitches (68 strikes)

BOTTOM 7TH
Grade: B
Clint Nageotte came in for Thornton. Ford took the first pitch over his head and to the backstop, and Nageotte was tossed immediately.

Shigetoshi Hasegawa came in for Nageotte. Ford flew out to fairly deep centerfield on a 2-0 pitch. Jones grounded the second pitch to the third-base side, and Hasegawa fielded and threw in time to first. Cuddyer fell behind 0-2 and wound up grounding a full-count pitch into the hole on the left side, where Betancourt nearly made a nice play, but Cuddyer beat the throw. Redmond singled through the right side, moving Cuddyer to second. Bartlett grounded to Sexson behind the bag at first, who jogged to the bag.

Nageotte's line: 0 innings, 0 runs, 0 hits, 0 walks, 0 strikeouts, 1 pitch (0 strikes)
Hasegawa's line: 1 inning, 0 runs, 2 hits, 0 walks, 0 strikeouts, 18 pitches (11 strikes)

TOP 8TH
Grade: C-
JC Romero came in for Radke. Torrealba popped out to Punto in shallow rightfield. Ichiro got the hitters' counts and chopped the 3-1 pitch to first. Bloomquist popped the second pitch to shallow rightfield.

Romero's line: 1 inning, 0 runs, 0 hits, 0 walks, 0 strikeouts, 11 pitches (5 strikes)

BOTTOM 8TH
Grade: B
JJ Putz came in for Hasegawa. Stewart worked a 1-2 count full before having the knob of the bat come in contact with a ball up and in, but it somehow went for a groundout to first. Punto poked a 2-0 pitch down the leftfield line for a double. Mauer was intentionally walked. Morneau splintered his bat on a line drive, but Bloomquist climbed the ladder to snare the ball. Ford whiffed on a 1-2 dirtball low and away.

Putz' line: 1 inning, 0 runs, 1 hit, 1 walk, 1 strikeout, 25 pitches (14 strikes)

TOP 9TH
Grade: C-
Juan Rincon came in for Romero. Ibañez walked on a full-count pitch low and away. Sexson fell behind 0-2 and later took a 1-2 pitch over the outside corner. Beltre popped the first pitch to Ford running in to shallow center. Reed got ahead 2-0 and flew out to Ford in leftcenter on a full count. Ballgame.

Rincon's line: 1 inning, 0 runs, 0 hits, 1 walk, 1 strikeout, 17 pitches (9 strikes)
---

Gameball: Greg Dobbs.
The Mariners only had one hitter with a multi-hit game today, and I'll be damned if it wasn't Greg Dobbs turning in his best performance of the season. In his second game after being called up from Tacoma, Dobbs went 2-for-3, homering with one on and two out in the fourth and singling with one out in the seventh. He was erased in the seventh on a Yuniesky Betancourt double-play ball. Still, after all the non-hitting he's done this year, and all of his time on the Pump, which would more than likely be graced with his presence were it still in operation, it's good to see him hit. One could argue he was the only hitter today that hit like he gave a damn. Of course, it was pretty hard for anyone to give a damn after Joel Piñeiro imploded in the fifth. Dobbs got the Mariners the 3-1 lead in the fourth, and Joel did okay in the fourth before the two-run lead turned into a four-run deficit. Dobbs did manage that single in the seventh, so he at least got something done after Joel had done his thing. With his two hits, Dobbs accounted for half of the Mariners' hits in the entire game. Raul Ibañez and Jeremy Reed had the others.

Goat: Joel Piñeiro.
The first inning was a bit shaky, but in his first four innings of work, Piñeiro was the beneficiary of three double plays from the defense behind him. Of course, double plays require a runner to be on base, so you know that was the case for those innings. While the defense can turn double plays, they can't do much about thirteen hits and eight runs. He fell behind hitters 2-0 and 3-0 in the third inning, but in the fifth inning, every Twin that came to the plate swung at the first or second pitch except for Joe Mauer, who didn't do so because he was intentionally walked. Of course, they swung early in the count because Piñeiro's pitches were suddenly getting a little too elevated. Thus, the early-count swinging turned a 3-1 Mariner lead into a 7-3 Mariner deficit in amazingly quick fashion. I'm not entirely sure why Mike Hargrove left him out there for the sixth, but he gave up a double to the #9 hitter, who scored after Shannon Stewart drove him in. It was a mercy pulling. After three good starts from Joel Piñeiro, does this take it all back to square one? Is it as if the three good starts never happened?


Yr W-L Pct GB Stk
2001 88-35 .715 -- W1
2002 74-49 .607 14 L2
2003 74-49 .607 14 L1
2000 69-54 .561 19 L7
2005 53-70 .431 35 L1
2004 46-77 .374 42 L1

On offense, the Mariners barely had put up a whimper at all even when they got their runs, which weirdly enough all came in via the home run, which as we know isn't much like this team. Brad Radke had one stretch where he retired eight straight Mariner hitters, and had another stretch right after the Dobbs homer where he set down eight straight again. In other words, the Mariners mounted no sustained rallies of any sort, nor did they even sustain any semi-rallies of note. Basically, it was all quite disappointing after the great win yesterday. The scary thing is that the Mariners held a 3-1 lead in this game until Joel suffered the meltdown. How do we rationalize Piñeiro's meltdown? The only thing I can think of is that Gil Meche is on the DL and out of the rotation for at least three turns, so Piñeiro just put in a little shout out, pulling a big huge Meche in the fifth inning of the game today.

I don't know if anyone can prove me wrong out there, but did Clint Nageotte even get a warning after throwing the first pitch over Lew Ford's head to open the seventh inning? I don't think he did. Regardless, Larry Poncino tossed him without delay, bringing to a quick end Nageotte's first appearance after being called up from Tacoma to take Gil Meche's spot on the roster. I was surprised with the quickness of the ejection, and Mike Hargrove was surprised after the game as well, noting that if the Mariners were going to throw at anybody, it would have been Joe Mauer. Of course, Ford was the one with the homer in the game. Still, in a game like that, I was just hoping that Nageotte could stay in and eat some innings, giving some of the bullpen an extra day of rest going into the off day. Can you determine intent on the first pitch from a new pitcher? I don't know, I guess. I didn't suspect it'd happen that way.

I like Jeremy Reed, and I'm glad that Willie Bloomquist isn't taking his playing time anymore. That said, just a day after he took off from second to third on a groundout right back to the mound, in this game, Reed created his baserunning hijinks in the second inning. First, he was picked off of second, but managed to get into a rundown to the point where the Nick Punto muffed the ball and Reed was able to get safely back to second. Not long after, Reed took off for third on a ball hit to the shortstop, though Jason Bartlett went to first with the play, though he more than likely could have made meat out of Reed at third. I can deal with his .258 average because he's been playing a centerfield that's been well above average. I'd rather he didn't run so much since he's been caught ten of sixteen times trying to steal. Baserunning mistakes two days in a row, though, that's not good. I got grilled back in the day by the coaches when I made stupid mistakes on the basepaths or any other mental mistakes in the field. What happens if you make these kinds of mistakes, except you're getting paid to play ball?

With this, the Mariners are 3-7-1 in ten series since the All-Star break, and they're a grand 14-22 (.389) since the break. One of the few positives is that the Texas Rangers have also been absolutely horrible to the point where the Mariners are only four games back of third place in the AL West, and that will be the case going into Tuesday's play. If the Mariners manage to climb out of the cellar at any point during the rest of the season, that'll be a minor miracle in itself. After how they started out, I don't know what I'd do if I were a Texas fan. Of course, it'd probably be something similar to what I did in 2002 and 2003, except those teams weren't under .500. Of course, those Mariner teams played the same amount of playoff games that the Rangers will play this season, so what does it matter?

If you don't know already, three games in Texas are on the docket. Worst-case scenario is that we find out what we already know about Mariner pitching against the hitters in the Ranger lineup. Best case scenario? That'd be a three-game sweep of the Rangers and the chance of being one game back of the Rangers for third place. It could happen. It probably won't, but it's not wholly impossible. I've seen Ichiro make a Spider-Man catch this year, so anything's possible.

Lastly, a big "thank you" to AP photographers Tom Olmscheid, Ann Heisenfelt, and Paul Battaglia for being strategically placed beside the Mariner dugout after all three of the Mariners' losses in this series.

Moyer. Young. Tuesday.