Thursday, August 18, 2005
GAME 119: MARINERS 11, ROYALS 5
Mariners 11, Royals 5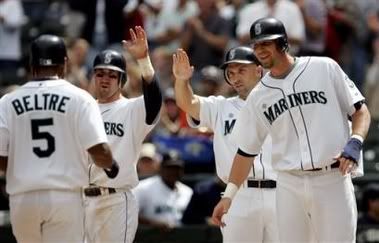 In 25 words or less: This one was out of doubt pretty quickly, and not a moment too soon. Sweeping is a nice remedy to getting swept.

This one featured DJ Carrasco going up against Jamie Moyer. When the RSTN showed Carrasco's pitching grips, as they do for every one of their starting pitchers on the broadcasts, it reminded me of one of ESPN's gags. They were showing highlights for a Kansas City game, and it turns out Jose Lima was starting that day. The anchor would say, "what are you going to get (hitter's name) out with?" Then they'd show Lima: "this is my curveball." Then they'd show Lima throwing that pitch and having it get drilled for a double or a homer or something. Hilarious. Not Charley-Steiner-laughing-at-Carl-Lewis-singing-the-National-Anthem funny, but funny nonetheless.

TOP 1ST
Grade: A
Nice. Emil Brown popped out to shallow centerfield. David DeJesus fell behind 0-2 before pounding a 2-2 pitch foul down the rightfield line, then he took the next pitch over the outside corner. Mike Sweeney whiffed on a 2-2 pitch.

BOTTOM 1ST
Grade: A-
Early explosion. Ichiro flew out to Chip Ambres on the track in leftfield, who had to reach back to make the catch. Willie Bloomquist blooped a single along the rightfield line, and Brown had a long way to run to get to it. Raul Ibañez walked on four pitches, moving Bloomquist to second. The runners moved forward on a 2-2 pitch to Richie Sexson buried way outside. Sexson ended up working a 1-2 count for a walk (took a 1-2 pitch barely inside, and the full count pitch wasn't off by much either), loading the bases. Adrian Beltre walloped the second pitch into the mass of inebriation beyond the leftcenter wall.
»» MARINERS 4, ROYALS 0
Jeremy Reed drove the second pitch into the leftcenter gap for a double, bringing pitching coach Guy Hansen to the mound. Mike Morse blew a checkswing on a 1-2 pitch. Reed was gunned down at third on the first pitch to Yuniesky Betancourt.

TOP 2ND
Grade: A-
Easy. Matt Stairs whiffed on a full-count pitch over the outside corner. Chip Ambres got ahead 2-0 and later whiffed on a 2-2 pitch down and in. Mark Teahen grounded to Bloomquist on the outfield grass in the hole on the right side.

BOTTOM 2ND
Grade: B
Adding machine. Betancourt scooped an 0-2 pitch past the shortstop and into centerfield for a single. Yorvit Torrealba stuck a single into centerfield, moving Betancourt to second. Ichiro grounded hard to first, where Stairs went to second for the force (no double play because of Ichiro). Betancourt moved to third on the play. Bloomquist popped out to centerfield, and Betancourt tagged easily and scored.
»» MARINERS 5, ROYALS 0
Ibañez got ahead 2-0 and later grounded to Stairs, who stepped on the bag. Bloomquist drew six pickoff throws during the Ibañez at-bat.

TOP 3RD
Grade: A
Cruising for Moyer. Angel Berroa took a 1-2 pitch barely off the inside corner before whiffing on a full-count pitch over the inner half. Paul Phillips bounced the second pitch to short. Donnie Murphy popped high to centerfield.

BOTTOM 3RD
Grade: C-
Quick. Sexson bounced out to third on the second pitch. Beltre popped a 2-2 pitch high to rightfield. Reed popped the first pitch near the leftfield line.

TOP 4TH
Grade: B+
Blip. Brown lined the first pitch right to Ichiro in rightfield. DeJesus dropped a single into centerfield, snapping Moyer's game-opening streak of ten straight retired Royals. Sweeney grounded the second pitch to short to start the 6-4-3 double play.

BOTTOM 4TH
Grade: B-
Add on! Morse drove a 1-2 single into leftfield. Betancourt poked the first pitch into centerfield for a single, moving Morse to second. Torrealba worked an 0-2 count full before blooping a single into rightfield, scoring Morse and moving Betancourt to third.
»» MARINERS 6, ROYALS 0

Shawn Camp came in for Carrasco. Ichiro grounded the second pitch to second for a 4-6 fielder's choice, but Betancourt scored.
»» MARINERS 7, ROYALS 0
Ichiro was picked off by Camp with the count 1-1 on Bloomquist, who got ahead 3-1 and eventually grounded out to short.

Carrasco's line: 3 innings, 7 runs, 8 hits, 2 walks, 1 strikeout, 62 pitches (37 strikes)

TOP 5TH
Grade: B
Some ruckus. Stairs took a 1-2 pitch over the outside corner. Ambres fell behind 0-2 before singling into leftfield. Teahen popped a 2-2 pitch to Ichiro just short of the track in rightfield. Berroa fell behind 0-2 and eventually driving a single into leftfield, moving Ambres to second. Phillips bounced the first pitch to short.

BOTTOM 5TH
Grade: B
Yes, you may have another. Ibañez chopped the first pitch to second, where Murphy bobbled it, then had to spin around and throw, but it was in time. Sexson popped the 1-1 pitch four rows into the rightfield seats. Pretty quick homer, really.
»» MARINERS 8, ROYALS 0
Beltre popped out to Brown near the rightfield line. Reed got the hitters' counts and walked on a 3-1 inside pitch. With the count 0-1 on Morse, the fire alarm went off for a few seconds at the Safe again before it was shut off. Morse whiffed on an 0-2 breaking ball outside.

TOP 6TH
Grade: B-
Damage. Murphy popped to Torrealba along the first base line in foul territory. Brown fell behind 0-2 and ended up flying out to centerfield. DeJesus poked the second pitch into the gap in leftcenter for a double. Sweeney blooped a single into shallow rightfield, scoring DeJesus.
»» MARINERS 8, ROYALS 1
Stairs drilled a single through the left side to move Sweeney to second. Ambres took a 2-2 pitch over the inside corner.

BOTTOM 6TH
Grade: B
They weren't done yet. Torrealba drilled a single into leftfield.

Ambiorix Burgos came in for Camp. Ichiro drove a 2-2 pitch into the leftcenter gap for a double, scoring both Betancourt and Torrealba.
»» MARINERS 10, ROYALS 1
Ichiro scurried to third on an 0-1 dirtball to Bloomquist that got away from the catcher. Bloomquist whiffed at a 1-2 dirtball (2-3 putout). Ibañez whiffed on a 1-2 offspeed pitch over the outer half. Sexson was nailed on the left arm with the first pitch. Beltre was ahead 3-0 and later popped a full-count pitch to rightfield.

Camp's line: 2 innings, 3 runs, 3 hits, 1 walk, 1 strikeout, 29 pitches (17 strikes)
Burgos' line: 1 inning, 0 runs, 1 hit, 0 walks, 2 strikeouts, 24 pitches (16 strikes)

TOP 7TH
Grade: A
Jamal Strong came in for Ichiro in rightfield. Teahen fell behind 0-2 and rolled a 1-2 pitch to second. Berroa fell behind 0-2 and lined the 2-2 pitch toward the right side, where Bloomquist leapt up to spear it for the out. Phillips flew out to centerfield on the second pitch.

Moyer's line: 7 innings, 1 run, 6 hits, 0 walks, 7 strikeouts, 104 pitches (68 strikes)

BOTTOM 7TH
Grade: C
Jimmy Gobble came in for Burgos (Denny Hocking came in for Berroa, and Joe McEwing came in for Stairs). Reed reached on a 1-2 pitch and dumped it into centerfield for a single. Morse grounded the first pitch hard to short for a 6-4-3 double play. Betancourt grounded to the hole on the right side for the unusual 4-1 putout.

Gobble's line: 1 inning, 0 runs, 1 hit, 0 walks, 0 strikeouts, 8 pitches (6 strikes)

TOP 8TH
Grade: B+
Shigetoshi Hasegawa came in for Moyer (Dave Hansen came in for Sexson, Scott Spiezio came in for Beltre). Murphy got ahead 3-0 and ended up grounding to first, where Hansen ran over to the bag. Brown flew out to fairly deep centerfield on the first pitch. DeJesus grounded the 2-2 pitch to Bloomquist's backhand side up the middle (nice play).

Hasegawa's line: 1 inning, 0 runs, 0 hits, 0 walks, 0 strikeouts, 13 pitches (8 strikes)

BOTTOM 8TH
Grade: B-
Mike MacDougal came in for Gobble. Torrealba walked on a 3-1 pitch. Strong bounced the first pitch to short for a 6-4 fielder's choice. Bloomquist got the hitters' counts before taking a full-count pitch barely high for a walk. Ibañez had a 1-1 pitch get away, allowing Strong and Bloomquist to go to third and second. Ibañez later chopped a 3-1 pitch high to first, where the ball was fielded, but MacDougal failed to run over to cover. The bases were loaded since Strong held at third. Hansen tapped the 3-1 pitch back to the mound, where MacDougal shotputted the ball over Phillips' head, going to the backstop and scoring Strong easily, and leaving the bases still loaded.
»» MARINERS 11, ROYALS 1
Spiezio grounded the first pitch to second for a 4-6-3 double play.

MacDougal's line: 1 inning, 1 run (unearned), 1 hit, 2 walks, 0 strikeouts, 23 pitches (9 strikes)

TOP 9TH
Grade: D+
Matt Thornton came in for Hasegawa (Morse moved to leftfield). Sweeney got ahead 3-1 and later walked on a full-count pitch up and away. McEwing got the hitters' counts and walked on a low 3-1 pitch, moving Sweeney to second, bringing pitching coach Bryan Price to the mound. Ambres grounded to third for a 5-4-3 double play, a meaningful contribution from Spiezio. Teahen worked a 1-2 count for a nine-pitch walk, checking his swing on the final pitch. Hocking got ahead 3-0 and took the 3-1 pitch low and inside, loading the bases. Phillips clobbered a 1-1 pitch about five rows above the manual scoreboard in leftfield for his first Major League homer. First slam, too.
»» MARINERS 11, ROYALS 5
Murphy whiffed on a full-count belt-high fastball. Ballgame.

Thornton's line: 1 inning, 4 runs, 1 hit, 4 walks, 1 strikeout, 39 pitches (17 strikes)
---

Gameball: Yorvit Torrealba.
After a second straight game of this kind of stuff, there was no way I could turn down Torrealba for a gameball this time. He singled the first three times he came up to the plate, and drew a walk in his final at-bat. Having the catcher get on base four times in a ballgame isn't something I can remember happening for this team in a freakin' long time. Seriously, I can't even warp my mind into thinking there was actually a scenario in which that happened this year. It might have happened, it might not have, but that might take a while for me to look up whether that's happened or not, so I'll leave it at that. In a year where the Mariners have gone through a billion catchers, Yorvit has proven over the last few games that he indeed can get some quality at-bats and make some contact with the ball. Quite simply, it's pretty cool to have someone actually on base when Ichiro gets to the plate in any inning that isn't the first. I was pretty surprised that Torrealba caught this game since it was a day game after he caught the night before, and he'd caught three straight games before this one.

Goat: Matt Thornton.
I know it was only supposed to be mop-up duty, and he was protecting an 11-1 lead, but maaaaaan. That was beyond sloppy. That was an all-out train wreck, but I'm glad it all ended somewhere. Back when I was thirteen, I beaned two guys in an inning and was warned after the second beanball. This wasn't on-purpose stuff, I was just wild. However, I don't think I ever walked four batters in an inning. Three, probably, but not four. The only good thing about Paul Phillips hitting the grand slam was that it cleared the bases so Thornton didn't have to deal with runners on and stuff. The good thing about having a ten-run lead going into the ninth is that you can give up a grand slam and still lead by six. Now if Thornton would have loaded the bases again and another Royal hit a grand slam, that would have been extremely dire. His ERA would have shot through the roof as well, but blowing a ten-run lead with two out in the ninth just wouldn't have been good. It would have been the undisputed choke job of the year.


Yr W-L Pct GB Stk
2001 86-33 .723 -- W3
2002 73-46 .613 13 W1
2003 72-47 .605 14 W1
2000 69-50 .580 17 L3
2005 52-67 .437 34 W3
2004 45-74 .378 41 L1


R-O-Y-A-L-S spells relief. A sweep of the Royals is a good way to push away that whole four-game skid that immediately preceded it. Needless to say, this is the first sweep the Mariners have had since they swept four from the Angels on the road right before the All-Star break, and that was also the last time the Mariners won three straight. In 33 games since the All-Star break, the Mariners have had three winning streaks; they've won three straight once (current) and two straight twice. Even with this sweep, the Mariners are 13-19 since the break. The weird thing is (here comes wishful thinking), if the Mariners got on a roll and made that a 19-19 mark since the break, they'd be 59-67 and only eight games under .500. Of course, if this team got back to .500 at some point this year, I'd probably soil myself. If they finished .500 or better, the 2006 Mariners would probably be the most anticipated team of my lifetime. Other than the 2002 team, I guess.

The Mariners have once again tied their season-high mark of being seven wins better than the pace of the 2004 Mariners. If they win in the next two games, they'll set a new high. Last year's Mariners at this point in the schedule were busy losing seven of eight ballgames before reeling off a five-game win streak. Even with that streak, however, the 2004 Mariners only had 51 wins at the end of the streak. They lost ten of twelve afterward. We knew that team was bad when we were watching it, but I don't think we'll fully realize how bad it was until years later. The 2005 Mariners got their 52nd win in this game on August 17th. The 2004 Mariners got their 52nd win on...September 9th, the 139th game of the season. The Mariners are 20 games ahead in that regard, I guess.

Jamie Moyer just keeps chugging along at home. This win makes him the second ten-game winner on the staff this year, and it also makes him 7-0 at the Safe this season. I guess the more surprising thing is that he isn't the first ten-game winner on the staff, and that Gil Meche somehow was the first to get there. Moyer's ERA of 4.20 also is the lowest out of anyone in the starting rotation not named Felix (0.86). Since I know you want the other horrible ERAs in the rotation, here they be: Ryan Franklin at 4.99, Gil Meche at 5.22, and Joel Piñeiro at 5.56 even after three good starts. Like I said, I can't believe Meche is a ten-game winner with a 5.22 ERA.

Adrian Beltre's blast put this one out of reach early for the Royals, and the great thing was that the offense never let up. They had the four runs in the first, sure, but sometimes they've had the habit of just going stagnant after scoring a few runs. After scoring in the first, the Mariners scored in five of the next seven innings in which they sent hitters to the plate. That adds up to a run here, a run there, and a huge lead if a guy like Moyer is holding the fort on the other side. The Mariner bats just kept adding on, and it was great to see the Mariners get ahead and just keep piling on, even against a brutal team such as this. Sometimes you need a series like this just to remind yourself that yes, you are indeed capable of doing things like this. Now you just have to raise the level of the opposition, and I know that's way easier said than done, but hey, you've got to start somewhere.

Multi-hit games in this one belonged to Jeremy Reed, Yuniesky Betancourt, and Torrealba (gameball). Notice something about those three? Those are your sixth, eighth, and ninth hitters in this game. Mike Morse went 1-for-4 in the seventh slot. Put the numbers of the sixth through ninth hitters together, and you get a stellar (not sarcastic this time, this is actually good) 9-for-14 night out of the bottom of the order. In something somewhat related, Ichiro drove in three runs, though he only had one hit. Beltre of course had the grand slam, and Sexson hit his 30th homer of the year for his only hit, a solo shot.

What's next? Four in Minnesota. The road games don't tend as nicely to my schedule, especially when I have to wait a couple hours for MLB.tv to archive the game so that I can watch the first five innings or however so many I missed. Let's just hope for a series win. Felix goes once, right? Hope that's another one.

Franklin. Mays. Tonight.