Saturday, August 13, 2005
GAME 115: ANGELS 9, MARINERS 1
Angels 9, Mariners 1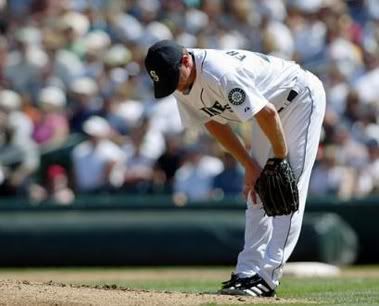 In 25 words or less: Ryan Franklin returns and makes the run-support argument moot as the Mariner bats get a big fat Colonic.

This one featured probably-should-have-been-a-Mariner-at-the-2002-deadline Bartolo Colon going up against fresh-off-the-steroid-suspension Ryan Franklin. Also, Chris Snelling is probably gone for the season. In a related story, the game on Wednesday night didn't have to go into extra innings.

TOP 1ST
Grade: C-
Merry-go-round. Chone Figgins bounced the 2-2 pitch down past Sexson and down the rightfield line for a double. Orlando Cabrera got behind 0-2 and ended up shooting a 2-2 single through the left side, moving Figgins to third. Darin Erstad looped a soft liner right to Yuniesky Betancourt at short, holding the runners. Cabrera was picked off of first by Franklin (came in standing up) before Vladimir Guerrero see any pitches. Guerrero tucked the second pitch through the hole on the left side, easily scoring Figgins.
»» ANGELS 1, MARINERS 0
Garret Anderson served the second pitch into rightfield for a single, moving Guerrero to third and bringing pitching coach Bryan Price to the mound for a visit. Juan Rivera lined the second pitch into rightfield for a single, scoring Guerrero and moving Anderson to second.
»» ANGELS 2, MARINERS 0
Maicer Izturis hit a low lineout to Raul Ibañez in leftcenter.

BOTTOM 1ST
Grade: C-
Short of a whimper. Ichiro took an 0-2 pitch just off the inside corner and eventually flew out to leftfield. Willie Bloomquist fell behind 0-2 before flying out to shallow centerfield. Raul Ibañez got ahead 2-0 and ended up grounding hard to first on a full count.

TOP 2ND
Grade: B-
Does the fun ever stop? Jose Molina flew out deep to Ichiro in the rightcenter gap. Adam Kennedy whiffed on a belt-high 2-2 pitch. Figgins smacked a 3-1 pitch over the fence in rightcenter, reaching the covered tunnel.
»» ANGELS 3, MARINERS 0
Cabrera got ahead 2-0 and later flew out high to Bloomquist near the infield grass.

BOTTOM 2ND
Grade: C-
Too easy. Richie Sexson took an 0-2 fastball over the outer half (looked at all three pitches). Adrian Beltre whiffed on an 0-2 pitch low and very outside. Jeremy Reed whiffed on a full-count fastball.

TOP 3RD
Grade: A
Unusually easy for Franklin. Erstad popped the second pitch near the leftfield line. Guerrero popped the second pitch high to Betancourt fighting the sun in shallow leftfield. Anderson popped the second pitch to rightfield.

BOTTOM 3RD
Grade: C
Maybe a tiny blip on the screen. Yuniesky Betancourt smacked a single through the hole on the left side for the first Mariner hit of the afernoon. Scott Spiezio foul-tipped a 2-2 pitch into the catcher's glove. Wiki Gonzalez got ahead 2-0 and popped out lazily to Izturis in foul territory on the left side. Ichiro grounded the second pitch hard to the left side, but it went for a 5-4 fielder's choice.

TOP 4TH
Grade: B+
A fairly easy inning. Rivera fell behind 0-2 before popping the 2-2 pitch to Sexson in foul territory on the right side. Izturis flew out to Ichiro, who made a hopping (not really leaping) catch just in front of the rightfield wall. Molina dumped the second pitch into centerfield for a broken-bat single. Kennedy whifed on a 2-2 breaking ball.

BOTTOM 4TH
Grade: C
Fiddlesticks. Bloomquist chopped the second pitch to second. Ibañez grounded a 2-2 pitch into the hole on the right side, where Kennedy stopped it, but that was all as Ibañez scooted in with a single. Sexson ripped the first pitch barely foul down the rightfield line, took a mighty hack at the 1-1 pitch, took a 1-2 pitch barely low, then took a full-count pitch low and away for a walk, moving Ibañez to second. Beltre grounded the second pitch to second, starting a clutch 4-6-3 double play.

TOP 5TH
Grade: F
Like the first, except longer. Figgins worked a 1-2 count full before tagging a single into centerfield, getting him within a triple of the cycle. Cabrera looped a 2-2 single into shallow centerfield and Reed overran the ball, allowing Figgins to score from first.
»» ANGELS 4, MARINERS 0
Erstad fisted the first pitch into shallow centerfield for a single, moving Cabrera to third. Guerrero got behind 0-2 and punched a 2-2 pitch (reaching) past a seemingly early-diving Beltre and into leftfield for a single, scoring Cabrera and moving Erstad to second.
»» ANGELS 5, MARINERS 0
Anderson fell behind 0-2 and ended up whiffing on a 1-2 pitch. Rivera dumped a bloop single into leftfield a few feet shallow of a diving Ibañez, who made a bad cutoff throw that was dropped by Sexson near the mound. Erstad scored, Guerrero moved to third, and Rivera moved to second.
»» ANGELS 6, MARINERS 0

Jeff Harris came in for Franklin. Izturis was intentionally walked. Molina fell behind 0-2 and lined a 1-2 pitch just inside the rightfield line and into the stands for a ground-rule double, scoring Guerrero and Rivera.
»» ANGELS 8, MARINERS 0
Kennedy popped the second pitch to Beltre in foul territory on the left side near the stands. Figgins fell behind 0-2 and flew out high to centerfield on a 2-2 pitch.

Franklin's line: 4 1/3 innings, 8 runs, 12 hits, 0 walks, 3 strikeouts, 87 pitches (59 strikes)

BOTTOM 5TH
Grade: D+
Pathetic. Reed popped lazily to third. Betancourt popped the second pitch high to leftfield. Spiezio popped the first pitch high to second.

TOP 6TH
Grade: A
Refreshingly easy. Cabrera was down 0-2 before whiffing on a breaking ball low and away. Erstad fell behind 0-2 and took the 2-2 delivery over the inside corner. Guerrero flew out to Reed in the rightcenter gap on the second pitch.

BOTTOM 6TH
Grade: C+
Gonzalez got ahead 2-0 and later rolled out to short. Ichiro bashed the second pitch deep to rightfield, where Guerrero camped under it on the track, jumped, reached up, and had the ball go off his glove and over the wall. That's funny.
»» ANGELS 8, MARINERS 1
Bloomquist grounded the second pitch up the middle, where Cabrera plugged the hole and made a crazy off-balance throw from centerfield in time. Ibañez flew out to the track in leftfield in front of the manual scoreboard.

TOP 7TH
Grade: B
The well hadn't run dry yet. Steve Finley, hitting for Anderson, took a 1-2 pitch barely off the inside corner before popping the 2-2 pitch to Sexson near the first-base line. Rivera worked a 1-2 count full before golfing a pitch into the visitors' bullpen beyond the leftfield wall.
»» ANGELS 9, MARINERS 1
Izturis flew out to centerfield on a 2-2 pitch. Molina tapped an 0-2 pitch back to the mound.

BOTTOM 7TH
Grade: C
Mostly lifeless bats. Sexson whiffed on a 2-2 pitch low and over the outside corner. Beltre rolled over a low and outside 2-2 pitch and grounded out to short. Reed chipped the second pitch into centerfield for a single. Betancourt tagged a 1-2 line drive right into Izturis' glove at third.

TOP 8TH
Grade: A-
At least Harris was looking okay. Dave Hansen took Sexson's spot at first base. Kennedy got behind 0-2 and took a 1-2 pitch over the inside corner. Figgins flew out just short of the track in rightfield on the second pitch. Cabrera whiffed on a full-count pitch.

Harris' line: 3 2/3 innings, 1 run, 2 hits, 1 walk, 4 strikeouts, 59 pitches (36 strikes)

BOTTOM 8TH
Grade: C-
Easy again. Casey Kotchman took over at first and Jeff DaVanon took over in rightfield for the Angels. Spiezio popped out to Kennedy on the first pitch. Gonzalez popped out to leftfield on an 0-2 pitch. Ichiro popped out to Figgins in rightcenter on the first pitch.

Colon's line: 8 innings, 1 run, 4 hits, 1 walk, 5 strikeouts, 93 pitches (66 strikes)

TOP 9TH
Grade: B+
Matt Thornton came in for Harris (Mike Morse took over at short, Betancourt moved to second, Bloomquist to third). Casey Kotchman chopped the 0-2 pitch off of Thornton's glove and into the air, but Betancourt was able to grab it out of the air and throw in time to first. Jeff DaVanon took a 2-2 pitch over the inner half. Finley grounded an 0-2 hard behind the bag at first, where Hansen made the diving stop and threw over to Thornton covering, but it wasn't in time as Finley took the single (Thornton covered late). Rivera took the first pitch low and to the backstop, allowing Finley to get to second. Rivera tapped the second pitch back to the mound.

Thornton's line: 1 inning, 0 runs, 1 hit, 0 walks, 1 strikeout, 14 pitches (12 strikes)

BOTTOM 9TH
Grade: C-
Esteban Yan came in for Colon (Jeff Mathis took over behind the plate). Bloomquist flew out to rightfield on the first pitch. Ibañez grounded out to third. Hansen got behind 0-2 and lined the 1-2 pitch into Izturis' glove. Ballgame.

Yan's line: 1 inning, 0 runs, 0 hits, 0 walks, 0 strikeouts, 8 pitches (6 strikes)
---

Gameball: Jeff Harris.
It's too hard to choose a gameball today, so I may or may not be going with an obvious choice here. Harris ate up some innings and gave Julio Mateo an extra day of rest that he could have used after throwing three innings late in the extra-inning loss on Wednesday that didn't have to happen (thanks, Willie). To those who wanted Ryan Franklin to suffer a sort of karmic payback, Harris aided in that as well. In the fifth, Vladimir Guerrero and Juan Rivera were in scoring position with one out, and Harris' 1-2 pitch to Jose Molina got poked for a ground-rule double down the rightfield line, scoring both of Franklin's inherited runners and bumping his run total from six to eight. As for Harris' good stuff, he faced 24 batters, struck out four of them, got one groundout, and got six flyouts. He gave up two hits, as listed in his line. Maybe when Franklin's turn in the rotation comes up next time, Harris and Franklin can be pegged as Starter A and Starter B. Just make one guy go three or four innings, and make the other guy fill out three or four.

Goat: Ryan Franklin.
Quotes from last night included "I look forward to this thing," "I always like to get on the mound," "I'm pumped," and the clincher, "It seems like whenever I get more pumped, it's not good. I'm going to try to stay at even pumpage." Mister Pumpage also said, "If I throw a shutout, I'll get cheers. If I give up 10 in the second, I may not get cheers." He gave up two runs and five singles in the first, so he didn't quite give up ten runs in the second inning. Of course, that doesn't mean that eight runs and failing to get out of the fifth inning is much better. Neither give your team a chance to win, and Franklin certainly came nowhere close in this game to giving his team a chance to win. If the opposing team has scored eight runs after five innings, you can pretty much bank on a Mariner loss. The bats, even if everyone was pulling their weight this year, more than likely won't be able to overcome that hole, even if they're down 8-4 instead of 8-0.


Yr W-L Pct GB Stk
2001 83-32 .722 -- L1
2002 71-44 .617 12 W2
2003 69-46 .600 14 L3
2000 68-47 .591 15 W1
2005 49-66 .426 34 L3
2004 43-72 .374 40 L2


Don't worry, everyone. The 2003 team lost three straight at this point as well, and they ended up winning 93 games! Guess what this 2005 team has in common with the 2003 team? No playoffs! Of course, Mariner teams from 2002 and thereafter all share this trait. But no team before this year had Felix.

I mentioned it in the last game's post, and it bears repeating -- this team is going to harder than hell to watch other than on the days when Felix is pitching. I was watching the game today on Fox (I was lucky enough to have KHON-2 showing the game) and I was taking down most of this post, but I was only half paying attention, though I had all the information I needed and everything. What is there really to remember other than Vladimir Guerrero muffing the one ball for the homer and Bartolo Colon making the Mariner bats his bitch? There really wasn't more to the game than that, unless you want to stretch and say that Chone Figgins was a triple short of the cycle. Other than that, this had to be one of the more boring games of the season. I nearly fell asleep watching it, and usually that signals when I have to get off the chair or something and stand for about 30 seconds before sitting down and having the entire process repeat itself. Come to think of it, I'm almost falling asleep typing this stuff. Yes, it's a sleepy piece for a sleepy game.

Raul Ibañez and his 1-for-4 afternoon left him hitting at a 9-for-42 clip in the month of August. Just to let you know, that comes out to an average of .214 for the month. That's how you make a batting average go from .297 to .289 in 11 games. In the game itself today, he also dove about two feet short of a bloop single in shallow leftfield, and also made a bad throw toward the infield, which caused Sexson to have to jump up and receive the ball. The point to this is that the Mariner lineup functions a lot better when Raul Ibañez is hitting once in a while. He hasn't been good in August yet. He's gone hitless in four of 11 games this month, and has had multi-hit games only twice.

It gets worse. Richie Sexson has cooled off after his torrid July. I guess I expected a cooldown, but not by quite this much. His 0-for-2 day today makes him 5-for-38 in the month of August, making his average this month a ghastly .132. He has gone hitless in seven of the 11 games the Mariners have played this month, and he's had only one multi-hit game. His batting average after his crazy July was .274, but has now plummeted to .260. I was hoping he'd hit maybe .250 this month or something; I was hoping for just a notch below the July production, but not an all-out nosedive. Of course, with this team, nothing bad really surprises me.

Part three of David's Perusing Through Game Logs to Get More Material looks at Adrian Beltre's month of August, though I'm not expecting much better or worse since he's been pretty bad most of the year. Beltre is hitting 10-for-40 (.250). There was a point this year where .250 was higher than his batting average, but luckily that isn't right now. What's the point of this paragraph and the two before it? The 3-4-5 hitters in the Mariner lineup have combined to hit .200 so far this month (24-for-120, six homers, 19 RBIs). They're not the end-all cause as to why the Mariners haven't won as much as they should be (for instance, the 3-4-5 guys could have gone 6-for-12 today and it wouldn't have made a difference), but it doesn't help. To put this in brutally honest terms, the middle of the lineup isn't doing anything. Add this to the top of the lineup and Ichiro's coldness, and add that to the bottom of the lineup not doing anything, and what do you get out of the Mariner bats? Try jack. The Mariners have scored 33 runs in 11 games this month, and yes, that's an average of three runs a game.

No Mariner had a multi-hit in this game. No Mariner reached base more than once. Five Mariners in the starting lineup went hitless. I guess that's expected when Bartolo Colon twirls a four-hitter, huh? Colon has the shutout if Vladimir Guerrero fields an Ichiro fly ball at the wall cleanly, but that was just a gift run. Hey, five of the Angels had multi-hit games.

Anyone who was half-evil and hoping for Ryan Franklin to just trip all over himself today certainly got their wish. The Angels got twelve hits off of Mariner pitching, and twelve of those were given up by Franklin. His ERA went from 4.61 before the game to 4.99 afterward. Franklin further contributed to the average-to-badness of the Mariner arms this month. The Mariners have surrendered 52 runs in 11 games this month, or an average of 4.73 runs a game. Yes, it's bad.

My eighth-grade health teacher was a total rah-rah "positive mental attitude" person who used to write "TGIM" on the board, which really did mean Thank Goodness It's Monday. All of the students hated and dreaded this habit of hers, since we were in junior high at the time and therefore hated school. About ten years later, I can finally say TGIM with some gusto thanks to Felix, who will be throwing to open the work week. Until then, though, we still have one more game that will most likely be completely uneventful like the one today.

Lackey. Meche. Tomorrow.