Saturday, August 13, 2005
GAME 114: ANGELS 9, MARINERS 4
Angels 9, Mariners 4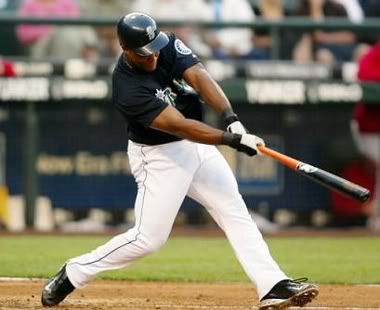 In 25 words or less: Remember the 14th inning against the Twins on Wednesday night? It sort of happened again.

This one featured Jarrod Washburn, fresh off the disabled list, going up against Jamie Moyer, who's reportedly invoked his 10-and-5 no-trade rights to quash multiple trades to contending teams. In a related story, feel free to link Willie Bloomquist with Chris Snelling's left knee injury which has landed him in a familiar place, the disabled list. Go on, I won't bite if you do. I'd be more likely to applaud.

TOP 1ST
Grade: A
A decent-enough start. Chone Figgins popped the second pitch to rightfield. Orlando Cabrera grounded the 2-2 pitch hard to third. Darin Erstad grounded the 1-2 pitch to Sexson, who stepped on the bag.

BOTTOM 1ST
Grade: C-
A usual start, unfortunately. Ichiro grounded out to third. Willie Bloomquist lined a pitch into the rightcenter gap, where Steve Finley ran it down. Raul Ibañez fouled off a couple of full-count pitches before failing to check his swing on a slider low and away.

TOP 2ND
Grade: C+
Let the scoring begin. Vladimir Guerrero popped a 2-2 pitch very high to Yuniesky Betancourt behind the bag at second. Garret Anderson bounced an 0-2 pitch to second. Bengie Molina smacked a high 1-2 pitch four rows into the seats just inside the leftfield foul pole.
»» ANGELS 1, MARINERS 0
Steve Finley grounded the second pitch to short.

BOTTOM 2ND
Grade: B+
Hey, payback! Richie Sexson walked on a full-count pitch high and away. Adrian Beltre mashed the second pitch (knee-high slider) about six rows back inside the leftfield foul pole, scoring Sexson. It was almost in the same spot where Molina hit his dinger.
»» MARINERS 2, ANGELS 1
Jeremy Reed blooped the first pitch along the leftfield line, where it was caught. Yuniesky Betancourt smashed a line drive into Chone Figgins' glove at third. Scott Spiezio fouled off an 0-2 pitch before taking the 1-2 pitch over the inside half.

TOP 3RD
Grade: B-
Topsy-turvy. Juan Rivera got ahead 2-0 and later whiffed on a full-count pitch outside. Adam Kennedy took a ball just below the belt on the backside and went to first. Figgins grounded to Beltre behind the bag at third, who then threw to second for the force, though Figgins beat out the double play (5-4 fielder's choice). Figgins took second on the 1-1 pitch to Cabrera, who later laced a 1-2 single into centerfield, easily scoring Figgins, who was taking off with the pitch.
»» ANGELS 2, MARINERS 2
Erstad foul-tipped a high 2-2 ptich into the catcher's glove.

BOTTOM 3RD
Grade: B+
The Mariners got some help. Yorvit Torrealba got ahead 3-1 and eventually walked with a full count. Ichiro got behind 0-2 and later grounded a 2-2 pitch through the left side for a single, moving Torrealba to second. Bloomquist bunted the first pitch in front of the mound, where Washburn picked it up and threw to first, but it was into the runner and rolled into rightfield. Torrealba and Ichiro scored, but Guerrero gunned over to third and nailed Bloomquist trying to stretch it out.
»» MARINERS 4, ANGELS 2
Ibañez grounded the first pitch to short. Sexson took a 2-2 fastball over the inside corner.

TOP 4TH
Grade: B-
Blast off. Guerrero impaled a very high 2-2 pitch about four rows into the leftfield bleachers well to the right of Jackie Robinson's number 42.
»» MARINERS 4, ANGELS 3
Anderson popped high to Reed in leftcenter. Molina knocked a full-count pitch into rightfield for a single. Finley got behind 0-2 and later popped a 1-2 pitch high to shallow rightcenter, where Ichiro came down with it. Rivera fouled off an 0-2 pitch and had to have his hand looked at by the trainer. He later whiffed on a 2-2 breaking ball.

BOTTOM 4TH
Grade: D+
Pathetic. Beltre clobbered the first pitch off the base of the wall in the gap in leftcenter for a double. Reed bunted the first pitch along the third-base line, moving Beltre to third. Betancourt got behind 0-2 and ended up whiffing on a 1-2 fastball very high and outside. Spiezio popped a 2-2 pitch high to third.

TOP 5TH
Grade: B+
Little jam here. Kennedy lined the second pitch up the middle for a single. Figgins popped out to rightfield. Kennedy took off on the 0-1 pitch to Cabrera (stealing on first move), who grounded out to short. Kennedy moved to third on the play. Erstad popped high to Sexson near the first-base coaches' box.

BOTTOM 5TH
Grade: C-
Nothing here. Torrealba popped the first pitch to Erstad in foul territory on the right side. Ichiro got ahead 2-0 and later grounded out to second. Bloomquist popped out to fairly deep centerfield.

TOP 6TH
Grade: C
Orbit. Guerrero blasted a 3-0 pitch about eight rows into the leftfield bleachers (cheap seats) just inside the foul pole.
»» ANGELS 4, MARINERS 4
Anderson hit an 0-2 pitch on the screws right to Bloomquist's glove at second. Molina popped the second pitch to Ichiro in rightcenter. Finley broke his bat and popped out to Beltre running behind the mound, making a basket catch.

BOTTOM 6TH
Grade: C-
Sigh... Ibañez popped out to leftfield on an 0-2 pitch. Sexson grounded very hard to short, causing Cabrera to stumble on the play, though he threw over in time. Beltre looped a flyout to rightfield.

TOP 7TH
Grade: B
Jam escaped. Rivera popped high to Ichiro just short of the track. Kennedy poked a very low 0-2 pitch into shallow rightfield. Figgins popped the second pitch to Bloomquist in shallow rightfield.

JJ Putz came in for Moyer. Cabrera got ahead 2-0 and later popped the 2-2 pitch high to Bloomquist in shallow centerfield, reaching up and running backward to make the catch.

Moyer's line: 6 2/3 innings, 4 runs, 7 hits, 0 walks, 3 strikeouts, 103 pitches (68 strikes)

BOTTOM 7TH
Grade: D+
Pathetic AGAIN. Reed took a low 3-1 pitch for a walk. Betancourt bounced the first pitch off the track in leftcenter and over the fence for a double, moving Reed to third. Spiezio popped the second pitch to Erstad in front of the camera well on the right side.

Brendan Donnelly came in for Washburn. Dave Hansen, hitting for Torrealba, got behind 0-2 and took a 1-2 belt-high fastball over the outside corner. Ichiro was intentionally walked, with Donnelly nearly throwing ball two over Molina, loading the bases. Bloomquist bounced the 1-2 pitch to second.

Washburn's line: 6 1/3 innings, 4 runs (3 earned), 5 hits, 3 walks, 4 strikeouts, 96 pitches (62 strikes)
Donnelly's line: 2/3 inning, 0 runs, 0 hits, 1 walk, 1 strikeout, 13 pitches (7 strikes)

TOP 8TH
Grade: F
No chance after this. Erstad took a 3-1 pitch high and away for a walk. Guerrero got ahead 2-0 and later lined a single to rightfield, sending Erstad to third. Anderson drilled the 2-2 pitch into rightfield for a single, easily scoring Erstad and moving Guerrero to second.
»» ANGELS 5, MARINERS 4
Molina lined a 1-2 pitch into centerfield for a single, scoring Guerrero and moving Anderson to second.
»» ANGELS 6, MARINERS 4

George Sherrill came in for Putz. Finley air-bunted the second pitch, and Sherrill ran off the mound toward the third-base line and caught it. Rivera knocked the 2-0 pitch past Betancourt and into leftfield for a single, loading the bases. Kennedy popped the first pitch to Ichiro in the rightfield corner, and Anderson easily tagged up and scored, with Molina tagging and going to third.
»» ANGELS 7, MARINERS 4
Figgins poked the second pitch into rightfield for a single to score Molina and move Rivera to second.
»» ANGELS 8, MARINERS 4
Cabrera drilled a 2-2 pitch into leftfield for a single, scoring Rivera easily and moving Figgins to second.
»» ANGELS 9, MARINERS 4
Erstad got behind 0-2 and ended up fouling a 2-2 pitch into the catcher's glove.

Putz' line: 1/3 inning, 4 runs, 3 hits, 1 walk, 0 strikeouts, 24 pitches (13 strikes)
Sherrill's line: 1 inning, 1 run, 3 hits, 0 walks, 1 strikeout, 20 pitches (13 strikes)

BOTTOM 8TH
Grade: C
Kevin Gregg came in for Donnelly. Ibañez popped to leftfield. Sexson popped to fairly deep centerfield. Beltre got ahead 2-0 and reached for a 2-2 pitch over the outer half, but bounced it off the track in rightcenter for a double. Reed got ahead 3-0 and whiffed on a full-count pitch.

TOP 9TH
Grade: A
Shigetoshi Hasegawa came in for Sherrill. Guerrero took an 0-2 pitch over the outside corner. Jeff Mathis, making his Major League debut, hit for Anderson. Mathis took an 0-2 pitch over the outer half. Molina flew out to Ichiro in rightcenter on the second pitch.

Hasegawa's line: 1 inning, 0 runs, 0 hits, 0 walks, 2 strikeouts, 8 pitches (8 strikes)

BOTTOM 9TH
Grade: C
Lots of fight in these guys. Betancourt grounded hard to Kennedy up the middle. Spiezio got behind 0-2 and took the 1-2 pitch over the outside corner, holding back on his swing. Wiki Gonzalez got behind 0-2 and hit the 2-2 offering into centerfield for a single. Ichiro badly whiffed on a 2-2 pitch way outside.

Gregg's line: 2 innings, 0 runs, 2 hits, 0 walks, 3 strikeouts, 37 pitches (23 strikes)
---

Gameball: Shigetoshi Hasegawa.
With the whole non-obvious gameball edict I've imposed on myself, it means that there are games sometimes where the team sucks so much that it's really a stretch to think of a non-obvious gameball. The obvious one would of course be Adrian Beltre, who I'll get to later in the post. Here, I'm relegated to choosing Hasegawa for throwing a 1-2-3 ninth inning in garbage time. He's been having some injury problems, so I guess it's good that he was able to get Vlad Guerrero and Major League newbie Jeff Mathis looking, and then Bengie Molina after that. Yes, a 1-2-3 ninth with the game already decided will get you a gameball on a night like this. Lame? Definitely. But is that not the story of your 2005 Seattle Mariners? I'm not sure if I can come up with an adequate word for the story of the 2004 Mariners. Gravedigging. Incompetence. Megafailure. Something that would make Mary Katherine Gallagher want to stick her hands under her arms and then smell 'em like THISSSSSSS. That's bad, she knows.

Goat: Scott Spiezio.
I won't necessarily bag on him for making the last out int he fourth when Beltre led off with the double and was on third with one out. The seventh, though...he had Jeremy Reed and Yuniesky Betancourt in scoring position with nobody out and flew out to Darin Erstad in front of the camera well on the second pitch. Even when he could have just hit a well-placed grounder somewhere or chopped a ball over the infielder or tried to work a walk...but to do that, and only on the second pitch, it's pathetic. Can I officially ignore the fact that he's a Mariner at this point? Can I just presume the Mariners are operating with a 24-man roster right now? Would there be much of a difference right now between Spiezio and Luis Ugueto? Right now it almost appears that the edge would go to Rule 5 since at least he could take pinch-running duties. This brings me to a realization, an epiphany, if you will -- Luis Ugueto (or a random Rule 5 player) should be on an underachieving team like this one, NOT like the team the Mariners fielded back in 2002. That was absolutely infuriating that year watching Lou Piniella manage a 24-man roster. It was worse than Mike Hargrove strapping himself with the 13 pitchers so that the bench sucks.


Yr W-L Pct GB Stk
2001 83-31 .728 -- W3
2002 70-44 .614 13 W1
2003 69-45 .605 14 L2
2000 67-47 .588 16 L1
2005 49-65 .430 34 L2
2004 43-71 .377 40 L1


If the last game of the Minnesota series and the first game of this series against the Angels haven't reminded you yet, I'll clue you in -- this team is going to be hard to care about if Felix Hernandez isn't out there on the mound. Other than that, you're pretty much going to get the same thing you expected out of the team for the month or so before Felix got on board and gave us all something to anticipate. Other than that, the only real positive new development is hoping that Joel Piñeiro's mechanical flaw may or may not earn him some more wins and make him more watchable again. I'm certainly hoping so. I'm tired of seeing his talent and his potential going to waste. This of course means it's time for Gil Meche to string together two good starts in a row so I can rethink everything I've stated about him. Not that I'm rejecting everything I've said about Piñeiro, though I'm hoping a mechanical flaw has been the reasons for his ungoodness this year rather than an injury, which nobody hopes it is.

With how the game was going, and how the Mariners had leads of 2-1 and 4-2, I pretty much knew the moment that Vladimir Guerrero hit the first homer out (4-3) that the Angels were going to get the lead. Once Scott Spiezio and the Mariners blew their golden chance in the seventh to take the lead, it was only fitting that the Angels more than took advantage of the Mariners' utter futility of the half-inning immediately beforehand. The Angels getting the lead at that point was a mere formality with how the Mariners seemed to be driving in runs (as in not much). This kind of quick turnaround to me was nearly similar to the one that took place in extra innings on Wednesday night, though that occurred in the 14th. I guess in Wednesday's game, there were two quick turnarounds. One was the Bloomquist error leading to the tie. The other was the Twins' four-run 14th. Somewhere in there was the Chris Snelling injury.

Adrian Beltre may have had one of his top six or seven games at the plate this year. He reached both gaps with doubles and homered into the upper deck in leftfield. He had the only multi-hit game for the Mariners on this night, going 3-for-4 with his homer and two doubles, with two RBIs to boot. Add to this his usual great defense, and it's all a good thing. Now if there could be any synergy in this offense, maybe stuff could get done, maybe a few more rallies here and there. But alas, we know what kind of year this team's been having. You want a rally? Too bad, so sad. Unlike the anti-nursery rhyme, I'm not glad you're mad. I guess I didn't mention how glad I was that Beltre took a pitch that was over the outer half of the plate and took it to rightcenter. If he can learn to mash stuff to the opposite field, than we'll all have even more fun as Mariner fans. As it is now, however, there is definite work to be done on many fronts. I'm babbling at this point, so if any of this stops making sense, it's because I may have been half asleep typing it.

If it weren't for getting bit three times by the homer bug, Jamie Moyer threw a pretty decent game. The second homer by Guerrero may have been the best chance I've seen for a ball landing onto Royal Brougham, though it's not like the ball was landing in the back five rows of the bleachers out there, it still had a ways to go. That just lets you know how much of a shot it'd be up there in order to clear everything. Someday it has to be done, right?

In other news, Willie Bloomquist was stupidly credited with a hit on a bunt that went right back to Jarrod Washburn coming off the mound. Washburn ended up throwing it up the line, and it got past and went into rightfield to put the Mariners ahead 4-2 in the third inning. Basically, Bloomquist was credited with a hit on a play in which the speed of the throw had him beat by a mile, and he only got on because of the error. The only way the scoring judgment would have been worse would be if Bloomquist was credited with two RBIs on that play. Luckily he wasn't. If you ask me, though, Bloomquist went 0-for-4 in this game.

Anyway, the series rolls on, though the Mariners had won the opening game of their last three series, and had done that in five of six series before this one. Yes, it's afternoon baseball in the Northwest. Late morning baseball for those in the fiftieth state who follow the Mariners.

By the way, Ryan Franklin will be coming off his steroid suspension to pitch. In a related story, you may never see Ryan Christianson suit up in a Mariner uniform. I keep saying it, but I think Christianson's gotta get a shot one of these days since everyone else and their mother has gotten a turn behind the plate. They traded for a buttload of catchers around the deadline, and I can only hope that he gets just one look (.245 average be damned), but I'm convinced he's getting blackballed because of the steroid thing. So if he's getting blackballed, why won't Franklin get the same treatment? Not even steroids or substances containing steroids can help you overcome a lack of perceived lack of run support. I wish people would take a look at Franklin's ERA (4.61) before saying anything about his run support. Most of the time he renders the run support argument completely moot by giving up a bunch of runs. Okay, it's much too late for me to rant further.

Wait, I forgot to mention that Putz was terrible in the eighth, and Sherrill had his second straight bad outing, though I hate to admit that. Okay, I'm done.

Colon. Franklin. Today.