Tuesday, August 16, 2005
GAME 118: MARINERS 4, ROYALS 3
Mariners 4, Royals 3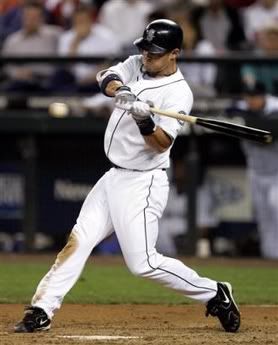 In 25 words or less: Remember the Joel Piñeiro of old? One particular element of his game returned tonight, but it wasn't his velocity.

This one featured Zack Greinke going up against Joel Piñeiro. Would we know if we'd see the Piñeiro of the past two starts, or would we see the Piñeiro that was terrible for most of the season? Would the Mariners realize that they were facing the Royals like they did the night before? Could the Mariners win the series?

TOP 1ST
Grade: C-
Nice freakin' start. David DeJesus got ahead 2-0 and later walked on a high full-count pitch. Terrence Long took a first pitch that was pretty wild, and Piñeiro looked a bit flustered on his follow-through, possibly ticked about the holes in the front of the mound. Long got ahead 3-0 and ended up smacking a 3-1 single into the rightcenter gap, where Ichiro cut it off. DeJesus went to third on the play. Mike Sweeney popped to Yorvit Torrealba near the camera well on the third-base side. Matt Stairs grounded a ball to Adrian Beltre at third, who played the hop and had the ball go off the end of his glove and into shallow leftfield, scoring DeJesus and moving Long to third on what probably should have been a double-play ball.
»» ROYALS 1, MARINERS 0
Emil Brown flew out to Ichiro in deep rightfield on the first pitch, scoring Long.
»» ROYALS 2, MARINERS 0
Angel Berroa took a 1-2 pitch over the plate.

BOTTOM 1ST
Grade: B+
They fought back. Ichiro laced the first pitch into centerfield for a single. Willie Bloomquist popped high to DeJesus running in to shallow centerfield. Ichiro easily stole second on the 2-1 pitch to Raul Ibañez, who ended up poking a full-count pitch to leftfield, scoring Ichiro, who drew a throw that was in time, but a couple feet in front of the plate.
»» ROYALS 2, MARINERS 1
Richie Sexson drilled a single into rightfield, moving Ibañez to second. Adrian Beltre got ahead 2-0 and ended up stinging a 2-2 pitch past the shortstop Berroa for a single, scoring Ibañez (wide throw by Long) and moving Sexson to second.
»» ROYALS 2, MARINERS 2
Jeremy Reed fell behind 0-2 and chopped out to the right side, a 3-1 putout, moving Sexson to third and Beltre to second. Mike Morse took a 3-1 pitch in the dirt, loading the bases. Yuniesky Betancourt fell behind 0-2 before grounding the 2-2 pitch to first for a 3-1 putout.

TOP 2ND
Grade: C+
Why? Mark Teahen whiffed on a 1-2 breaking ball down and in. John Buck scooped a single into centerfield. Joe McEwing got ahead 3-0 and later drilled the 3-1 pitch down the leftfield line for a double, moving Buck to third and not to the plate since the ball was hit so hard. DeJesus fell behind 2-0, bringing pitching coach Bryan Price to the mound. DeJesus flew out to deep centerfield on the next pitch, easily scoring Buck and moving McEwing to third.
»» ROYALS 3, MARINERS 2
Long grounded the second pitch to first, where Sexson stepped on the bag.

BOTTOM 2ND
Grade: C-
Zzzz. Yorvit Torrealba flew out to fairly deep centerfield. Ichiro was narrowly gunned down on a 1-2 grounder to short. Bloomquist fell behind 0-2, took a 2-2 pitch barely off the inside corner, then flew out foul near the rightfield corner on the full count.

TOP 3RD
Grade: A
Good inning. Sweeney grounded the first pitch to second. Stairs bounced the second pitch to short. Brown fell behind 0-2, took a 1-2 pitch barely off the plate outside, then whiffed on a 2-2 changeup.

BOTTOM 3RD
Grade: B-
Something. Ibañez got ahead 2-0 and eventually crushed a ball into the gap in rightcenter, and came out of it with a triple since the Kansas City outfielders didn't field it too cleanly. Sexson took a 1-2 pitch off the plate outside before taking a full-count breaking ball over the plate. Beltre took a 1-2 pitch up and in, and fell backwards, though unnecessarily. He flew out to rightcenter on a 2-2 pitch, scoring Ibañez, who came in standing up on a throw that wasn't very late.
»» ROYALS 3, MARINERS 3
Reed shoveled the first pitch into centerfield for a single. Morse popped the second pitch high to Berroa behind the mound.

TOP 4TH
Grade: A
Settling down? Berroa chopped the first pitch off the plate and high into the air, where Torrealba pounced on it and threw in time to first. Teahen popped the second pitch high to deep centerfield. Buck popped high to shallow leftfield.

BOTTOM 4TH
Grade: C
Boo. Betancourt fell behind 0-2 and whiffed on a 1-2 breaking ball low and away. Torrealba was badly jammed on the first pitch, having the bat splinter in his hand, grounding to the mound. Ichiro poked a ball with eyes up the middle for a single. Bloomquist foul-tipped a full-count breaking ball into the catcher's glove.

TOP 5TH
Grade: B-
Here's a slight jam. McEwing whiffed on a full-count fastball riding inside. DeJesus bounced the full-count pitch to Sexson behind the bag at first, and he ran it to first. Long took a full-count pitch low for a walk. Sweeney popped high to fairly deep centerfield.

BOTTOM 5TH
Grade: C-
Eek. Ibañez fell behind 0-2 and ended up poking a flyout near the leftfield corner. Sexson took a full-count fastball over the inner half. Beltre whiffed on a 1-2 pitch outside.

TOP 6TH
Grade: B-
A semi-jam again. Stairs got ahead 2-0 and smoked a pitch that got past Ichiro and went to the wall, but he stayed at second due to Ichiro's arm and due to the fact that he just came off a leg injury. Brown took Ichiro to the rightfield track for a flyout. Berroa grounded the second pitch to third, where Beltre threw high to second (Bloomquist's phantom tag a foot away from the bag wasn't hunky-dory), though the throw to first was in time. Teahen grounded a 1-2 pitch deep into the hole on the left side, and Betancourt tried to make the play, but it was too long a throw, and Sexson had to stop it at first as Stairs went to second. Buck popped the second pitch high to fairly deep leftcenter.

BOTTOM 6TH
Grade: C-
Frustrating. Reed singled the first pitch into centerfield. Morse whiffed on a low 0-2 pitch. Betancourt flew out just short of the rightfield track on the second pitch. Reed stole on the first pitch to Torrealba, thanks in part to Buck having trouble transferring from glove to throwing hand. Torrealba ended up whiffing on a 1-2 pitch.

Greinke's line: 6 innings, 3 runs, 8 hits, 1 walk, 7 strikeouts, 105 pitches (67 strikes)

TOP 7TH
Grade: A-
Nice for Joel. McEwing grounded out to third on a nice backhand shorthop play by Beltre. DeJesus got ahead 2-0 and eventually flew out high to leftfield. Long sliced the second pitch for a popout to leftfield.

BOTTOM 7TH
Grade: C-
Jeremy Affeldt came in for Greinke. Ichiro got ahead 2-0 on lofty curveballs and eventually chopped the 2-2 pitch to short. Bloomquist popped the second pitch to centerfield. Ibañez bounced the 2-0 pitch to second.

TOP 8TH
Grade: A
Sheesh, Joel. Sweeney got under the second pitch, popping high to Ibañez on the track in front of the manual scoreboard in leftfield. Stairs flew out high to leftfield as the train whistles blew. Brown popped to Bloomquist on the outfield grass on the right side.

Piñeiro's line: 8 innings, 3 runs, 6 hits, 2 walks, 4 strikeouts, 108 pitches (66 strikes)

BOTTOM 8TH
Grade: B+
The Royals are a godsend. Sexson drove the 1-1 pitch to the track in centerfield, where DeJesus came down with it. Beltre waved hopelessly at a 1-2 ball in the dirt. Reed poked a low liner into leftfield for a single. Morse walked on four pitches. Betancourt (shaking his head after the first curveball) fell behind 0-2, and the runners took off on the next pitch, which wasn't caught cleanly by Buck. Reed scooted in to second, but Morse bailed and dove back to first. Betancourt ended up chopping to the left side, where Berroa ranged over and tried to get the out at second, but it was late. Reed scored, Morse was safe at second, and Betancourt reached.
»» MARINERS 4, ROYALS 3
Torrealba worked a 1-2 count full, then grounded to third, where the throw to second wasn't in time, but McEwing still nailed Torrealba at first in a weird 5-4-3 putout.

Affeldt's line: 2 innings, 1 run, 2 hits, 1 walk, 1 strikeout, 39 pitches (22 strikes)

TOP 9TH
Grade: A
Eddie Guardado came in to close the door, and Jamal Strong came in for Ibañez in leftfield. Berroa flew out to shallow rightfield on the first pitch. Teahen whiffed on a 1-2 offspeed pitch over the outer half. Buck flew out high to centerfield on an 0-2 pitch. Ballgame.

Guardado's line: 1 inning, 0 runs, 0 hits, 0 walks, 1 strikeout, 8 pitches (7 strikes)
---

Gameball: Jeremy Reed.
He really needed a game like this at the plate to restore my faith in humanity. Okay, maybe the scope of it wasn't that big, but I needed to realize why I've been defending him all year, and tonight he came through. He also had two stolen bases, which hopefully doesn't get him or Mike Hargrove tempted to have him keep stealing since he has a terrible success rate doing it, but tonight I'll be focusing on the hits. He wasn't drilling the ball or anything, but he was putting some decent wood on the ball and managed to find the outfield. He went 3-for-4, and the one out he made was in the first on a ground ball to the right side that moved the two runners into scoring position, though with two out. Add Reed's usual solid defense in centerfield, and we have a very solid night for him. A banner night would involve a homer or something, maybe a couple of RBIs. By the way, Reed's last multi-hit game was a 2-for-4 day on July 31st against Cleveland, which of course means Reed hadn't had a multi-hit game in August. Waiting half the month to get one is better than going the entire month without one. Gotta start somewhere.

Goat: Willie Bloomquist.
At least Yorvit Torrealba has been cranking out some good at-bats lately, which includes his 0-for-4 night in this game. I'm not picking on Bloomquist here as I have in the past, but his line just pales in comparison to the rest of the Mariner cast, so he's got this here paragraph tonight. I guess the thing for me here is that Bloomquist never really got good wood on the ball in this game. He went 0-for-4. One of those outs was a strikeout, and the other three were flyouts, though all of them were fairly harmless. One of them was nearly a bloop single, but you can't really assume a bloop single, and it really wouldn't be a solid single if it landed anyway, etc. For me, Bloomquist has to hit line drives or hard ground balls. Why? He can't use his speed on a fly ball off his bat. At least if you hit a grounder, you're forcing the fielder to glove the ball cleanly and make a clean throw. He doesn't have Ichiro speed, sure, but surely he'd be able to beat out his share of throws on the infield. I guess it's a whole different counterpart of what I disliked about Mike Cameron at the plate (ball in play, i.e., no strikeout => use speed). In a somewhat related story, I used to get ticked off at Ichiro like this when he'd have a fly ball spell.


Yr W-L Pct GB Stk
2001 85-33 .720 -- W2
2002 72-46 .610 13 L1
2003 71-47 .602 14 L1
2000 69-49 .585 16 L2
2005 51-67 .432 34 W2
2004 45-73 .381 40 W2


Relative to what he's done earlier in the year, tonight's start from Joel Piñeiro was certainly above average, maybe even great. In comparison to what we'd consider the Joel Piñeiro of recent years, is it something we've seen before? You remember old Joel, right? He'd do well as long as he got past the first inning relatively unscathed, then he'd settle down and hopefully not burn too many pitches in the first? I did check back in our archive just to make sure I wasn't confusing myself as to which Mariner pitcher had this first-inning habit, but it turns out it was indeed Joel. Tonight, he stumbled through the first inning (Beltre non-error aside) and got touched up in the third, and he fought out of a couple of jams along the way. He also had a stretch where he retired nine straight Royals and went twelve batters without yielding a hit, and ended the game by setting down seven straight. Of course, I'm liking the Joel of the past three starts much better than the one immediately before that. Remember, this was a guy who won his second game of the season on April 26th and didn't get his third win until July 7th, a stretch of 11 starts without a win. The sickening part is that he had a decent-enough ERA of 4.05 in the month of June and never got a win, but we know how this offense works. If you're curious, Joel's ERA by month: 5.85, 7.22, 4.05, 7.13, 2.86. He has two wins this month, and should have three (Bloomquist), which would have equaled his win total for the previous four months.

Multi-hit games in this one belonged to Ichiro, Raul Ibañez, and Reed (gameball). Ichiro went 2-for-4 with a steal. He led off the game with a single and got a base hit with two out in the fourth. Ibañez had Ichiro steal while he was at the plate in the first, and he drove him in with a single to cut the Royals' lead in half. He also tripled into the gap in the third, setting himself up to be driven in by an Adrian Beltre fly ball. But there's a bigger revelation in all of this. Both Ichiro and Ibañez have had three straight multi-hit games. Ichiro is 7-for-14 in his last three games, and Ibañez is 6-for-11. Ichiro has raised his batting average from .303 to .308 as a result (ten-game hitting streak), and Ibañez has gone from .289 to .295 in the span. Perhaps more importantly, Ibañez has helped along the 3-4-5 hitters, who went a combined 4-for-11 tonight. After Saturday's game, the 3-4-5 hitters in the Mariners' lineup had compiled a 24-for-120 month of August. They've gone 12-for-33 since. They are now 37-for-153, which is still a below-average clip of .242, but they were sitting at .200 after Saturday's game, so it's improvement.

Hooray for seeing Eddie Guardado work for the first time since last Wednesday (Bloomquist). As soon as Jeremy Reed crossed the plate in the eighth, Eddie got up in the bullpen, and there was a good feeling about this game. Needless to say, Eddie hadn't worked since Wednesday because the Angels busted out the brooms, and the Mariner bats were busy on Monday night, making a Guardado appearance unnecessary. It was a close one tonight, though, and we were able to see Eddie rack up number 29 in 31 chances. I wonder if I can tear my rotator cuff and experience similar success. Okay, I'm not going to try it, and neither should you. Appreciate your rotator cuffs, everyone. I'd try to explain a rotator cuff stretch that they showed us back in baseball camp, but that'd require some sort of drawing or me taking digital pictures of myself doing the stretches, and quite frankly, both of those scenarios would be uncomfortable for everyone reading this blog. Okay, I'll make it short. Light (one- to two-pound) dumbbells, thumbs inward, spread arms slowly to shoulder level until they're straight across.

Yes, the Royals are terrible. However, the Mariners have won this series, which hopefully was to be expected. Felix Hernandez and Joel Piñeiro have pitched the Mariners to a series win against Kansas City. A day game tomorrow awaits. I'll catch it when I get home, after it's already happened. Hooray for MLB.tv. I hope I get the FSNNW feed this time, good gracious. I've had to sit through two nights of RSTN. Equal time, people! Will a sweep be in order?
`
[Edit Wed ~1:41a -- Jeremy reveals that it's radio only back to the Seattle area for Wednesday afternoon's game. RSTN again. What the f#*$?]

Carrasco. Moyer. Tomorrow.