Tuesday, August 16, 2005
GAME 117: MARINERS 11, ROYALS 3
Mariners 11, Royals 3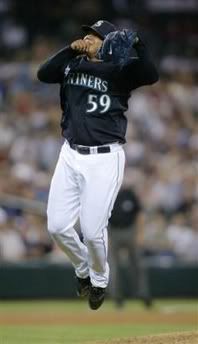 In 25 words or less: If you were hoping this game would make you happy for the first time in five days, you got your wish.

This one featured Runelvys Hernandez going up against Felix Hernandez. 'Twas a battle of Hernandezian proportions at the Safe. The Mariners hadn't won since the last time Felix pitched. To put it in sandwich terms, the oodles of meat were instead replaced by four losses, whereas the bread was delectable in the form of pitching performances by Felix. Also, after operating with a 24-man roster in the final game of the series against the Angels, the Mariners sent down Wiki Gonzalez and brought up speedy outfielder Jamal Strong and catcher Miguel Ojeda.

TOP 1ST
Grade: A
Nice beginnings. David DeJesus got behind 0-2, fouled off a couple pitches, then ended up whiffing on some heat off the outside corner. Chip Ambres got behind 0-2 and took a 1-2 curve over the plate. Mike Sweeney grounded the second pitch to Sexson, who ran over to the bag.

BOTTOM 1ST
Grade: C
Bah. Ichiro grounded the first pitch hard to third. Willie Bloomquist bunted the first pitch on the left side, where Runelvys Hernandez came off the mound and threw strongly and in time to first. Raul Ibañez walked on a 3-1 pitch high and away. Richie Sexson took an 0-2 fastball off the outside corner for a strikeout.

TOP 2ND
Grade: A-
Mostly easy for Felix. Emil Brown took a 1-2 heater over the outside corner. Terrence Long grounded to Yuniesky Betancourt in the hole on the right side, who dove and threw from the seat of his pants to get the out. Angel Berroa laced the first pitch into leftfield for a single. Mark Teahen flew out to fairly deep centerfield on a 2-0 pitch.

BOTTOM 2ND
Grade: B+
Actual runs! Adrian Beltre smacked the second pitch through the left side for a single. Jeremy Reed popped the second pitch to Mike Sweeney on the infield, who dropped the ball on the transfer to his throwing hand, but Reed was called out anyway (one of those infield fly situations anyway). Mike Morse bashed the second pitch into the visitors' bullpen in leftfield.
»» MARINERS 2, ROYALS 0
Yuniesky Betancourt popped the first pitch to Joe McEwing in shallow rightfield. Yorvit Torrealba nubbed the second pitch toward the left side, where the pitcher came off the mound to field the ball and bobbled it, but had time to throw out Torrealba anyway.

TOP 3RD
Grade: A
Easy chair. John Buck took an 0-2 curve barely low before whiffing on a 2-2 curve of death. Joe McEwing whiffed on another deathly 2-2 curve. DeJesus bounced the second pitch to short.

BOTTOM 3RD
Grade: C-
Gak. Ichiro popped the 1-1 pitch to foul territory on the left side, but Teahen couldn't quite make the grab. Ichiro ended up grounding the next pitch to short. Bloomquist took a 2-2 pitch just off the outside corner, fouled off a couple of pitches, then took a pitch at the knees on the inside corner. Ibañez reached for a 2-2 pitch and tapped it back to the mound.

TOP 4TH
Grade: A
This is fun. Ambres took a deathly 2-2 curve over the inner half. Sweeney bounced the second pitch up the middle, where Betancourt ranged to his backhand side and submarined a throw in time to first (amazing play). Brown whiffed on a 1-2 pitch.

BOTTOM 4TH
Grade: C-
Ugh. Sexson foul-tipped a 1-2 pitch low and over the outside corner into the catcher's glove. Beltre was handcuffed and whiffed on a 1-2 pitch way inside. Reed took the 3-1 pitch to the track in rightfield for a flyout.

TOP 5TH
Grade: A-
This is nuts. Long rolled a 2-2 pitch to second. Berroa got behind 0-2 and ended up whiffing on a curve low and away. Teahen took a 2-2 pitch barely off the inside corner before whiffing on a full count.

BOTTOM 5TH
Grade: B+
Yay! Morse grounded the first pitch to second. Betancourt popped high to shallow leftfield. Torrealba got behind 0-2 and later lined the 1-2 pitch over Berroa and into leftcenter for a single. Ichiro got ahead 2-0 and later lined a single into centerfield, moving Torrealba to third. Bloomquist poked the first pitch to rightfield, where Long dove forward for the ball and barely missed, and the ball rolled to the wall. Torrealba and Ichiro scored. Bloomquist coasted into third.
»» MARINERS 4, ROYALS 0
Ibañez lasered a 2-0 pitch into rightfield for a single.
»» MARINERS 5, ROYALS 0
Sexson was called for a 2-0 "swing." Ibañez took off on the 2-1 count, and the throw from Buck behind the plate went wide and into centerfield, enabling Ibañez to go to third. Sexson ended up walking on a pitch low and outside. Beltre whiffed on an 0-2 heater.

TOP 6TH
Grade: B
Some adversity this inning. Buck popped a 1-2 pitch to Torrealba behind the plate. McEwing got ahead 3-0 and held a checkswing on a 3-1 pitch up and in. DeJesus popped the second pitch to Morse in shallow centerfield. Ambres took the first pitch low and very away, and it rolled to the backstop off of Torrealba's glove, and McEwing went to second. Ambres bounced out to third.

BOTTOM 6TH
Grade: B
Another case of the runs. Reed worked a 1-2 count full before flying out to centerfield. Morse poked a double down the rightfield line. Betancourt flew out to Teahen in front of the third-base dugout. Torrealba worked an 0-2 count full and blooped a fly ball along the rightfield line for a single, scoring Morse. However, Torrealba tried to stretch it into a double and was gunned down.
»» MARINERS 6, ROYALS 0

Runelvys Hernandez' line: 6 innings, 6 runs, 8 hits, 2 walks, 5 strikeouts, 98 pitches (63 strikes)

TOP 7TH
Grade: C+
Even more adversity. Sweeney smoked a 2-0 pitch into rightcenter for a single. Brown grounded the second pitch up the middle, where Morse dove for it and tried gunning to first, but it wasn't in time. Long grounded the 1-2 pitch to short, where Morse started what could have been a 6-4-3 double play, but Betancourt's throw pulled Sexson off the bag. Sweeney moved to third. Berroa bounced the 0-2 pitch to Morse, who threw to second for the 6-4 fielder's choice, but Long's slide at Betancourt's feet thwarted any attempt at a throw. Sweeney scored.
»» MARINERS 6, ROYALS 1
Teahen whiffed on an 0-2 pitch.

BOTTOM 7TH
Grade: B
Add-on. Andrew Sisco came in for Runelvys Hernandez. Ichiro grounded an 0-2 pitch to third. Bloomquist fouled off an 0-2 pitch but eventually took a 1-2 fastball over the inside corner. Ibañez got ahead 3-0 and poked a 3-1 pitch over the left side for a single. Sexson got ahead 2-0 and later bashed a full-count pitch about nine rows deep into the rightfield stands.
»» MARINERS 8, ROYALS 1
Beltre poked a broken-bat 1-2 single into centerfield. Reed worked a 1-2 count full before walking on a high pitch.

Jonah Bayliss came in for Sisco. Morse got ahead 2-0 and foul-tipped a 2-2 pitch into the catcher's glove.

Sisco's line: 2/3 innings, 2 runs, 3 hits, 1 walk, 1 strikeout, 33 pitches (21 strikes)

TOP 8TH
Grade: A
He ended nicely. Buck flew out high to centerfield on the first pitch. McEwing took a 1-2 breaking ball over the plate. DeJesus chopped a ball toward a charging Betancourt, who made the throw in time.

Felix Hernandez' line: 8 innings, 1 run, 3 hits, 1 walk, 11 strikeouts, 99 pitches (67 strikes)

BOTTOM 8TH
Grade: B
More, more, more. Betancourt got ahead 2-0 and later took a 2-2 fastball over the outer half. Torrealba walked on four pitches. Ichiro lined the second pitch four rows deep into the rightfield seats.
»» MARINERS 10, ROYALS 1
Bloomquist got behind 0-2 and foul-tipped a 1-2 high and away fastball into the catcher's glove. Jamal Strong, hitting for Ibañez, drew a four-pitch walk. Dave Hansen, hitting for Sexson, got the hitters' counts before walking on the 3-1 pitch. Beltre poked a 1-2 single through the left side, scoring Strong and moving Hansen to second.
»» MARINERS 11, ROYALS 1

Jimmy Gobble came in for Bayliss. Reed popped high to Long in shallow rightfield.

Bayliss' line: 1 inning, 3 runs, 2 hits, 3 walks, 3 strikeouts, 33 pitches (14 strikes)
Gobble's line: 1/3 inning, 0 runs, 0 hits, 0 walks, 0 strikeouts, 4 pitches (2 strikes)

TOP 9TH
Grade: C
Jeff Nelson came in for Felix Hernandez. Ambres rolled a grounder to the left side that rolled up on him and went into leftfield for a single. Sweeney fell behind 0-2, took a 1-2 slider barely off the outside corner, and eventually popped high to centerfield. Brown shoveled an 0-2 pitch into rightfield for a single, moving Ambres to second. Long roped a ball into the rightfield corner, scoring Ambres and Brown.
»» MARINERS 11, ROYALS 3
Berroa popped to shallow centerfield, where Betancourt ranged backward, reached up, caught it, and nearly doubled off Long at second. Teahen roped the second pitch up the middle, where Morse got the ball off the heel of his glove and had no play (error) as Long scooted to third. Buck grounded to third on the second pitch, and Bloomquist started a 5-4 fielder's choice. Ballgame.

Nelson's line: 1 inning, 2 runs, 3 hits, 0 walks, 0 strikeouts, 23 pitches (15 strikes)
---

Gameball: Raul Ibañez.
It's true. Back-to-back multi-hit games for Raul. He's got a three-game hit streak, but it looks better when you consider his latest stretch as a 5-for-11 mini-bulge. Of course, all of the hits in that stretch have been singles, but let's just take the fact he's getting on base first, then work upward from there. He went 2-for-3 in this game with a walk and an RBI. He had one lazyish groundout, but I really liked the singles he hit. He drilled a 2-0 pitch in the fifth to give the Mariners a 5-0 lead. He got way ahead in the count in the seventh, and he went the other way with a 3-1 pitch, putting it into leftfield. He smoked one ball and placed another one nicely. It's progress. Naturally, I'd like to see him get a hold of a low breaking ball and golf it out to rightfield, but let's not get too far ahead of ourselves here. That'd be like asking for 40 homers out of Ibañez or something, and we know that's not going to happen. As for a little more power, I think we can reasonably expect that to come in the following weeks. Baby steps, readers.

Goat: Jeff Nelson.
Even in an 11-3 romp, there has to be a goat. Mike Morse can make an error, but he'll mash a homer or something to make you kind of forget about it. Jeremy Reed made zero errors and did walk once. Yuniesky Betancourt never reached base, but made a couple of crazy defensive plays that really helped out Felix. So, that leaves us with Jeff Nelson, who came in for mop-up duty or garbage time, whatever you want to call it. Anyway, it took way too long, and he kind of got beaten around. Should it be disturbing that Aaron Sele and Jeff Nelson got minor-league invites to spring training this year and one of the two is still with the team? I'm not saying Jeff Nelson is completely worthless at this stage, and he can still get people out every once in a while, but does he really fit in with this team and where it's going? Does Jeff Nelson have much going left to do? When he's out there throwing now, I see that frisbee slider going every which way and I keep expecting that nasty fastball with movement to get over and surprise the hitters, but it never does. Why? Because this isn't 2001.


Yr W-L Pct GB Stk
2001 84-33 .718 -- W1
2002 72-45 .615 12 W1
2003 71-46 .607 13 W2
2000 69-48 .590 15 L1
2005 50-67 .427 34 W1
2004 44-73 .376 40 W1


Look at it this way. It's August 15th and the Mariners finally have their 50th win. Last year, win number 50 occurred in the 130th game, on the 29th of August, and also against the Royals. This year's Mariners are 13 games quicker and 14 days quicker. It's something. I'm not sure if this is a faulty extrapolation I'm about to make, but let's say they finish 13 games better than last year...folks, that's not an improvement to scoff at. Thirteen games of improvement from one year to the next is great. Not every team goes worst to first like the 1991 Twins. That's a freak situation. Actually, it probably is a faulty extrapolation. They're six games ahead of last year's pace right now. There is hope though.

The Mariners had many multi-hit games from their hitters in this one, as one would expect from a stomping such as this. Adrian Beltre curiously had the three-hit game, getting singles in the second, seventh, and eighth, and driving in a run. Four other hitters had two-hit games. Ichiro went 2-for-5 with a homer, a couple of runs scored, and two RBIs. Raul Ibañez was covered in the gameball entry, though he had a stolen base as well. Mike Morse had the late error, but went 2-for-4 with a homer, a couple of runs, and a couple of RBIs. Too bad I prematurely made the gameball paragraph, because I probably should have given it to Yorvit Torrealba, who went 2-for-3 with an RBI and a walk, scoring twice. Even more weird is the fact that Yorvit has played the last two games and is 3-for-6 at the plate. Yeah, I probably should have given him the gameball tonight, but since I feel I can legitimately argue for Ibañez, I won't feel bad for not going back and writing a completely different gameball entry for Torrealba, though he did do great at the plate in this one. The wild pitch that he didn't get in front of wasn't so good, but his offense was great.

Felix threw again, in case you weren't paying attention. I didn't feel he was quite as perfect as he was against the Twins, though it was still a highly solid performance. Though he struck out five more hitters than he did against the Twins, he seemed a bit more wild later on in this one. He only shows up with one walk in the boxscore, but that doesn't indicate the amount of times that he fell behind hitters and got into unadvantageous (is that a word?) counts. If Yuniesky Betancourt makes an accurate throw to first base to finish off the double play in the seventh, it's highly possible that Felix walks away from this start with another eight shutout innings. Nonetheless, he walks away giving up one run, but three-hitting the Royals over that span and striking out 11. I can't remember the last time a Mariner pitcher struck out 11 hitters in a start. I guess what was most fun was in some of the early innings, when I heard the Royals' crew trying to hold on to a shred of hope, saying that Runelvys Hernandez might not be too bad, either. Then a few more innings passed, a few more runs came across, and the Royals became the Royals.

The Mariners needed a walkover-type game like this. Their last two sizable wins came on July 27th against Detroit (9-3) and July 17th against Baltimore (8-2), both home games. A bit more disturbing is that the last time they scored ten runs in a game, they lost, and that was on the 19th of July in Toronto (12-10). To find the last time the Mariners scored double digits in a game and won, you'd have to go back to the second game of the Anaheim sweep before the All-Star break (10-4). The point is, the Mariners needed a game like this, for whatever reason you can think of, whether it be resting some of your regulars for a couple innings near the end of the game, whether it be preserving most of your guys in the bullpen from when Willie Bloomquist gutted the bullpen on the preceding Wednesday, or whether it be just for peace of mind, knowing that your team can still put a hurtin' on a team, albeit a very bad team. It's still a Major League ballclub that the Mariners whooped out there.

I guess the Mariners could have used a power game like this as well. Place your wagers now: how many more home games this year will see the Mariners homer three times? That's a rarity in itself, but even more rare in this game was that all three homers were of the two-run variety. Mike Morse drilled his homer, Ichiro lined his, and Richie Sexson hit an opposite-field blast, majestic as usual. Yes, the Mariners put up 11 runs in the game, but they never had the back-breaking inning that did in the Royals. They didn't need it. The Mariners scored in five of the eight innings in which they came to the plate, and they never scored more than three runs in any one inning. Of course, the three homers were big blows within their respective innings. The Mariners never had the inning that kept snowballing with eight singles in a row or anything like that. Like I said, they didn't need it.

Okay, fans. Go plan the next four nights and be social if you feel like it, because Felix doesn't throw again until Saturday afternoon. Until then, if Piñeiro's really settled down, you might get a good start out of him. Jamie Moyer you might get a watchable start. Gil Meche and Ryan Franklin, not so much. Saturday should be here by then.

Hope you enjoyed watching Felix tonight. Morgan in the game thread said that KJR is forcing "The Cat" onto the masses as a nickname for Felix. Frankly, I haven't been satisfied with any of the nicknames I've heard bandied about for Felix. And I'd rather use "El Gato" than the english version of that, though that may or may not have been used as a variation of Andres Galarraga's nickname of Big Cat. I don't remember anyone ever calling him Gato Grande though. Still, I'm perfectly content with Felix being known on a first-name basis. Pedro doesn't have a nickname, right?

Greinke. Piñeiro. Tonight.