Sunday, August 14, 2005
GAME 116: ANGELS 7, MARINERS 6
Angels 7, Mariners 6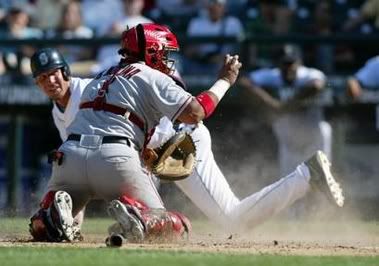 In 25 words or less: The Angels eventually got to Meche. After he left, Vlad made his presence felt. Later, there was some false hope.

There's that forsaken number again. I'm referring to the game number.

This one featured John Lackey going up against Gil Meche. Dave Niehaus was joined by Bill Krueger on the Mariners TV Network telecast, and that meant we got a Ricoh Scouting Report on Gil Meche that was different from "throw strikes, keep the ball down, avoid the big inning." Krueger's scouting report was "fastball command, consistent mechanics, pitch count."

TOP 1ST
Grade: A
Pretty good start. Chone Figgins got ahead 2-0 and later flew out to centerfield. Orlando Cabrera popped a full-count pitch high to Yorvit Torrealba in front of the first-base dugout. Darin Erstad whiffed on an 0-2 fastball.

BOTTOM 1ST
Grade: A
This is different. Ichiro poked the second pitch slowly into centerfield and stretched it into a double. Willie Bloomquist got ahead 2-0 and later stung a single through the right side, moving Ichiro to third. Raul Ibañez dumped the first pitch into shallow leftfield for a single, scoring Ichiro and moving Bloomquist to second.
»» MARINERS 1, ANGELS 0
Richie Sexson popped the first pitch into the rightcenter gap, not deep enough for extra bases, but good enough to move Bloomquist to third. Adrian Beltre fell behind 0-2 and stung the 2-2 pitch down the leftfield line for a double, scoring Bloomquist and Ibañez. Angel pitching coach Bud Black visited the mound.
»» MARINERS 3, ANGELS 0
Jeremy Reed got ahead 2-0, then a fire alarm went off, and the problem was fixed about 15-20 seconds later. Reed eventually whiffed on a 2-2 curve. Yuniesky Betancourt fell behind 0-2 and whiffed on a 1-2 pitch.

TOP 2ND
Grade: B-
Could have been worse. Vladimir Guerrero got ahead 3-0 but bounced a full-count pitch to second. Bengie Molina got the hitters' counts before grounding out to short. Casey Kotchman got ahead 3-0, fouled off a couple of full-count pitches, then walked on a pitch low and away. Juan Rivera smoked a 2-2 pitch into leftfield for a single, moving Kotchman to third. Steve Finley got ahead 3-1 and lined the full-count pitch right to Betancourt at short.

BOTTOM 2ND
Grade: C
Unexpected baserunner. Scott Spiezio barely held an 0-2 checkswing and amazingly worked the count for a walk. Yorvit Torrealba grounded the second pitch to third for a 5-4-3 double play. Ichiro blooped the second pitch into Cabrera's glove on the outfield grass.

TOP 3RD
Grade: C+
Dodging another bullet. Adam Kennedy popped the second pitch to Ibañez running toward the leftfield line at shallow depth. Figgins worked a 1-2 count full before dumping a single into rightfield. Figgins was gunned down at second by Torrealba on the 0-1 pitch to Cabrera, drawing ire from Angel manager Mike Scioscia (replays showed a very very close play). Cabrera took a high 3-1 pitch for a walk. Erstad flipped a 1-2 pitch into rightfield for a single, moving Cabrera to second. Guerrero tapped the first pitch back to the mound.

BOTTOM 3RD
Grade: C
Zzzzzz. Bloomquist whiffed on an 0-2 pitch. Ibañez punched the second pitch through the hole on the left side for a single. Sexson got behind 0-2 and took a 1-2 fastball down the pipe. Beltre popped the second pitch high to short.

TOP 4TH
Grade: C
Meche continued most of his slitheriness. Molina fouled an 0-2 pitch off of Torrealba's inner right thigh, luring a Mariner trainer from the dugout. Molina flew out short of the track in centerfield on the next pitch. Kotchman drilled the first pitch about 14 rows back into the seats in rightfield. Ichiro didn't move to pursue the ball, which got out in a hurry.
»» MARINERS 3, ANGELS 1
Rivera got ahead 3-1 and took a full-count pitch high for a walk. Finley got behind 0-2 and nubbed a 2-2 pitch to short, starting the 6-4-3 double play.

BOTTOM 4TH
Grade: C-
Too easy for Lackey. Reed lined out to short on a 2-2 pitch. Betancourt flew out to centerfield on the first pitch. Spiezio grounded the first pitch behind the bag at first.

TOP 5TH
Grade: F
Roof fell in. Kennedy poked a 2-2 single into centerfield. Figgins took a 3-1 pitch up and away, moving Kennedy to second. Cabrera crushed the first pitch into leftfield for a single, loading the bases with nobody out. Erstad popped the second pitch to the rightfield corner, deep enough to score Kennedy and move Figgins to third.
»» MARINERS 3, ANGELS 2

Julio Mateo came in for Meche. Guerrero got behind 0-2 and later crushed a 2-2 pitch three rows above the manual scoreboard in leftfield.
»» ANGELS 5, MARINERS 3
Molina fell behind 0-2 and eventually bashed a 1-2 pitch into the Mariner bullpen as a light smattering of boos hailed down on the field.
»» ANGELS 6, MARINERS 3
Kotchman got the hitters' counts, fouled off a couple of full-count pitches, then lined out to Ichiro in fairly deep rightfield. Rivera fell behind 0-2 and knocked a 1-2 single to centerfield. Finley rolled the second pitch to second.

Meche's line: 4 1/3 innings, 4 runs, 6 hits, 4 walks, 1 strikeout, 92 pitches (50 strikes)

BOTTOM 5TH
Grade: B-
Something. Torrealba whiffed on an 0-2 dirtball (2-3 putout). Ichiro rolled the second pitch to short, where Cabrera came up empty on the barehand attempt (single). Ichiro stole second without a throw on the first pitch to Bloomquist, who knocked the next pitch into centerfield for a single, scoring Ichiro, who stepped on the plate just before Molina could tag him on the foot (too close).
»» ANGELS 6, MARINERS 4
Bloomquist stole second on the 1-1 pitch to Ibañez, who ended up chopping high to the mound, moving Bloomquist to third. Sexson apparently whiffed (checkswing) on a low 1-2 pitch, and he was called out by plate umpire Laz Diaz in an at-bat where Sexson got screwed on two checkswing calls.

TOP 6TH
Grade: A-
Not too bad. Kennedy worked an 0-2 count full before lining a single into centerfield. Figgins popped the second pitch high to centerfield. Cabrera flew out to leftfield.

Matt Thornton came in for Mateo. Erstad fell behind 0-2 and whiffed on a 1-2 pitch.

Mateo's line: 1 1/3 innings, 2 runs, 4 hits, 0 walks, 0 strikeouts, 35 pitches (23 strikes)

BOTTOM 6TH
Grade: C-
Nearly fell asleep during this inning. Beltre whiffed on a 2-2 pitch. Reed worked a 1-2 count full and later grounded out to first, where Erstad stepped on the bag. Betancourt grounded hard to third.

TOP 7TH
Grade: B
Trouble averted. Guerrero bounced a single into centerfield. Molina flew out into the rightfield corner on a 2-2 pitch, robbed by an Ichiro running catch, holding the runner. Kotchman smoked a single into leftfield on the first pitch, moving Guerrero to second. The Angels put on a successful double-steal on a 1-1 pitch to Rivera, who grounded a 2-1 pitch to third, and Guerrero was hung up between third and home, with runners remaining on the corners. Finley popped a 1-2 pitch to Torrealba behind the plate.

Thornton's line: 1 1/3 innings, 0 runs, 2 hits, 0 walks, 1 strikeout, 20 pitches (12 strikes)

BOTTOM 7TH
Grade: B
Quite the unlikely inning. Spiezio flew out to Finley in rightcenter on a 2-2 pitch. Torrealba bounced a ball off the track and the wall in the leftcenter gap, good for a double. Ichiro poked a full-count single up the middle, scoring Torrealba.
»» ANGELS 6, MARINERS 5

Brendan Donnelly came in for Lackey. Bloomquist got behind 0-2 and later popped a 2-2 pitch in front of the first-base dugout. Ibañez fell behind 0-2, and Ichiro took off on the next pitch, drawing a pitchout and a throw by Molina into centerfield. Ibañez took the next pitch in the dirt, the ball rolled up on Molina and to the backstop, and Ichiro went to third as the trainers attended to Molina, who was slow to get up. Ibañez tapped the next pitch back to the mound, where Donnelly made a sloppy throw toward the second-base side of first and quite wide, going past and allowing Ichiro to score.
»» ANGELS 6, MARINERS 6
Ibañez took off for second on the 1-2 pitch to Sexson, but he was out by about eight feet.

Lackey's line: 6 1/3 innings, 6 runs (5 earned), 9 hits, 1 walk, 7 strikeouts, 100 pitches (67 strikes)
Donnelly's line: 2/3 inning, 0 runs, 0 hits, 0 walks, 0 strikeouts, 15 pitches (9 strikes)

TOP 8TH
Grade: C
George Sherrill came in for Thornton. Kennedy took a 1-2 pitch off the right hand. Figgins got ahead 2-0 and later bunted along the first-base line to Sexson for a 3-4 putout, moving Kennedy to second. Cabrera tapped the first pitch back to the mound, and Kennedy had to hold at second. Erstad fell behind 0-2, fouled off a couple of pitches, worked the count full (Sherrill hammering off the outside corner), then smacked a single up the middle past Betancourt, scoring Kennedy.
»» ANGELS 7, MARINERS 6

JJ Putz came in for Sherrill. Guerrero drilled the second pitch up the middle and past short for a single, moving Erstad to second. Molina bounced the second pitch to short.

Sherrill's line: 2/3 inning, 1 run, 1 hit, 0 walks, 0 strikeouts, 17 pitches (10 strikes)

BOTTOM 8TH
Grade: C
Scot Shields came in for Donnelly. Sexson fouled off a 3-0 pitch, took a 3-1 pitch off the outside corner for a "strike," then took the next pitch up and in for a walk. Beltre popped the second pitch to Cabrera in shallow leftfield. Reed drove a ball to the track and off the wall in leftfield for a double, moving Sexson to third. Betancourt grounded the second pitch hard to Figgins at third, who made a wide throw home to Molina, but Molina reached across to tag Sexson, who may have gotten the right foot across the plate in time, but was called out. Spiezio popped the first pitch to Finley in shallow centerfield, drawing boos before the ball even came down.

Shields' line: 1 inning, 0 runs, 1 hit, 1 walk, 0 strikeouts, 14 pitches (9 strikes)

TOP 9TH
Grade: B+
Holding the fort. Kotchman got ahead 2-0 and ended up tapping to Putz off the mound on the right side. Rivera got ahead 2-0 and eventually grounded hard to short. Finley flew out to leftfield on the first pitch.

Putz' line: 1 1/3 innings, 0 runs, 1 hit, 0 walks, 0 strikeouts, 18 pitches (12 strikes)

BOTTOM 9TH
Grade: C-
Francisco Rodriguez came in for Shields. Dave Hansen, hitting for Torrealba, got ahead 2-0 (second pitch got low and nailed the umpire in the foot), fouled off four pitches with a full count, then whiffed, sending the bat into the Mariner dugout, possibly nicking Joel Piñeiro. Ichiro flew out to fairly deep leftfield on a 2-0 pitch. Bloomquist whiffed hopelessly on a 1-2 slider low and away.

Rodriguez' line: 1 inning, 0 runs, 0 hits, 0 walks, 2 strikeouts, 16 pitches (10 strikes)
---

Gameball: Raul Ibañez.
Raul had his third multi-hit game of the month and helped get some production to the middle of the order. He drove in the first run of the game in the first inning, then singled in the third as well. With Chris Snelling on the disabled list, he's back playing leftfield as well, and today he didn't manage to screw up anything too badly on defense. I guess a weird thing is that for years, Mariner fans were waiting for the guy that would stick in leftfield next to Ken Griffey, Jr. That never happened when Griffey was here, and they traded away their best chance in Jose Cruz, Jr. Griffey left, and the Mariners didn't find stability in leftfield until they traded Lou Piniella (and Antonio Perez) for Randy Winn. There was leftfield stability in 2003 and half of 2005 (can't forget that uncomfortable centerfield phase) until Winn got traded. Guess what? Chris Snelling's done for the year, and the Mariners are looking for another leftfielder, unless they want to patch it up with Raul Ibañez, who has a better arm, but not the fleet feet or leftfielding prowess of Winn.

Goat: Gil Meche.
Based on runs alone, this wasn't too bad of an outing for Gil Meche. Then there's the number four in his line under the "walks" column. What was bad was that he got the first five outs okay, then he lost it, and the Angels gradually squeezed those runs out of him. On a sadder note, I remember when Meche was coming up through the minors and was billed as a power guy who could strike out hitters. He walked four batters today and struck out once. That's bad because he walked four people and he only struck out one. That's a horrible ratio to begin with, but yikes. To be so deficient in both categories isn't nice. What's the kind of line I wish I could get out of Meche every time he went to the mound? If Meche could get into the seventh, give up four or less runs, and strike out double the amount of hitters that he walked, I'd be all for it. Of course, it's been quite a while since Meche cranked out lines like that on a consistent basis. Could you imagine if the Marines as a whole lived up to their potential by five more percent across the board (weird to think about, I know)? Where would this team be now, and where could they have gone? That would include Ryan Anderson getting to the Majors, probably for three starts until getting injured. Yes, a broad question for a later post.


Yr W-L Pct GB Stk
2001 83-33 .716 -- L2
2002 71-45 .612 12 L1
2003 70-46 .603 13 W1
2000 69-47 .595 14 W2
2005 49-67 .422 34 L4
2004 43-73 .371 40 L3


Before the usual blather, I must point out a thing or two. I know (though I can't point out specific events) that the Mariners have had trouble with plate umpire Laz Diaz in the past. Richie Sexson was at the plate representing the tying run in the sixth inning. Twice in his at-bat, he was screwed on checkswing calls. Once, Diaz went over to first for an appeal, and Sexson was ruled to have swung. On the 1-2 pitch, Sexson checked his swing on a ball in the dirt, and Diaz didn't even go for an appeal, sending Sexson to the dugout, much to his dismay. Later, Sexson was trying to score from third as the tying run on a ground ball to third. Though not as boneheaded a call as the 1-2 checkswing, Sexson was called out on the play at the plate in which he slid away toward the mound side of the plate, and looked to maybe get his right foot onto the plate before Molina tagged him. The point is, that play was close, but Diaz probably had it in for Sexson at that point regardless, so unless it's blatantly obvious, I'm guessing Sexson is out on that play.

It didn't stop there, though. I remember even back when I played ball as a youngster, coaches told pitchers to pitch through their motions if the batter was granted time while the pitcher was almost in his leg kick. Mariner hitters burned the Angels on this maybe once, but the Angels were doing this all day, and Diaz was giving them time left and right, whether it was Meche or Julio Mateo or whoever. I don't remember any of the Mariners following through with their deliveries after having time called, which apparently is bad since you're not carrying through with the delivery, and starting and stopping in that instance is bad, etc. Sure, if Meche or Mateo pulled a groin on the mound or something after that, you can put some blame on the pitcher for not delivering the ball regardless, but on the other hand, if the umpire has some cojones in the first place and doesn't call time if the batter is late doing it, the situation won't get that far in the first place. It's just not safe to be granting time too late.

Here's a situation for you. Runners are on the corners with two out in the bottom of the eighth, and your team is down a run. A vending-machine can of soda costs more than your #8 hitter's batting average, and he's due up next. On the bench is someone that has been hailed as one of the best pinch hitters of our generation. What do you do? Well, if you're Mike Hargrove, you let Scott Spiezio hit. Spiezio flew out, and the crowd booed before the ball even came down, though this could have been backlash for Sexson being called out at the plate on the play beforehand. It could have been coming down on Spiezio too, though it was less obvious in this instance. Of course, this makes the pre-game move of not bringing up anyone to fill Jeff Harris' spot on the roster look absolutely brilliant. The Mariners had been operating with a 13-man pitching staff and a three-man bench of Dave Hansen, Mike Morse, and Wiki Gonzalez. They sent down Harris and didn't bring up another player. Let's say it was a bench player they brought up, then there'd be better choices when your #8 and #9 hitters are crap. Hell, he could have pinch-hit Hansen for Spiezio, pinch-hit Morse for Torrealba, and then had Wiki Gonzalez catch an inning if necessary, though he caught the day before.

Multi-hit games for the Mariners belonged to Ichiro (3-for-5 with an RBI, a double, two steals and scoring twice), Willie Bloomquist (2-for-5 with a steal and an RBI, striking out twice and scoring once), and Ibañez (gameball). Notice something? Those are the top three hitters in the lineup, which went a collective 7-for-14, scoring five of the Mariners' runs and driving in three of them. The 3-4-5 hitters in the lineup were 24-for-120 in August after yesterday's game, and today's 3-for-11 performance makes them 27-for-131 for a mark of .206 with six homers and 20 RBIs this month. In a weird note, Sexson's batting average of .258 has creeped dangerously close to Adrian Beltre's .256. Sexson went hitless in the series against the Angels, going 0-for-8 with five strikeouts and three walks. After the crazy July, he's come hurtling toward earth with a .122 August.

As much as I hate to say it, George Sherrill had his third straight bad outing. The first batter he faced was Adam Kennedy, who he beaned in the hand with a 1-2 pitch. That ended up being the winning run. JJ Putz lit the place ablaze in the Friday game, and Sherrill came in after him and made the roof cave in. In Wednesday's marathon, Sherrill came in for Piñeiro and gave up an RBI single to his only hitter, Joe Mauer. What really hurts about the outing today is that Sherrill had Darin Erstad 0-2 and couldn't finish him off. Sherrill kept pecking and pecking away at that outside corner, and Sherrill just left one up, and Erstad got wood on it. There's your game.

In a very weird note, Matt Thornton hasn't given up a run in four appearances this month (5 2/3 innings). If he doesn't watch out, his ERA might be under 5.00 soon, somewhere it hasn't been since late June. Thornton's ERA by month this season: 4.50, 7.36, 2.45 (really), 7.59, 0.00 (in progress). Is it fitting that the Mariners had their best month while I was trying to look for a place and the weblog had to take the back burner?

Vladimir Guerrero is good. Many didn't even entertain the thought of trying to go after Guerrero when he was a free agent, but do we all feel better now that he's an Angel? They could have looked under the couch cushions for some change, not signed Ibañez or Spiezio, and then thrown that money at Guerrero. Ichiro has said he doesn't want to play centerfield, but say if you had a chance for Guerrero, what's better for the team? Edgar was still around, so you couldn't have DH'd Guerrero. Anyway, just a pie-in-the-sky thought. Ichiro is lucky that Jeremy Reed is way better than anyone thought in terms of covering ground in centerfield, or else I'd be pretty angry at Ichiro's insistence that he play rightfield despite the fact that he can obviously cover more ground than the other outfielders. You can tell I value that more than I value the arm. Could you have imagined an outfield of Winn, Ichiro, and Guerrero? Just sayin'.

So...anyone remember the last time the Mariners won a game? Do you remember who pitched in that game? Yes, it's true. The Mariners have dropped four straight and haven't won a game since Felix Hernandez was last on the mound. Guess who's pitching tomorrow? When's the last time you've had this much anticipation for a Monday? For me, it was the Seahawks hosting the Cowboys on Monday night. Hopefully this turns out better. At least it's the Royals who are coming to the Safe.

Hernandez. Hernandez. Tomorrow.