Friday, August 19, 2005
GAME 121: TWINS 7, MARINERS 4
Twins 7, Mariners 4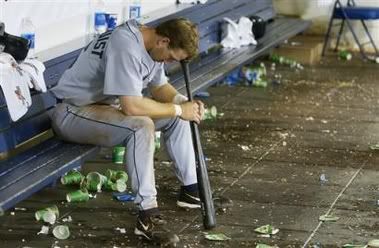 In 25 words or less: A mostly typical start from a certain pitcher. Also, the game had drama, though the result was good ol' rehash.

[***NOTE -- posted mostly in full Sat ~2:03a.]

DON'T BE FOOLED, this isn't the same recap as the one for Thursday's game. The above photo IS A DIFFERENT PHOTO, taken by a different photographer, even. If you compare the photos side by side, Bloomquist is wearing a cap in one photo and not in the other, and there are other differences as well.

Scott Spiezio was released, and much too late at that. Greg Dobbs has come up to take his roster spot, and we know how much better he is in late-inning pinch-hit situations.

This one featured Gil Meche going up against sinkerballer Carlos Silva. Right off the bat, you know the Mariners are going to swing early in the count against him and hit a bunch of ground balls, so if something gets him out of the game, it won't be because of high pitch count.

TOP 1ST
Grade: C-
Too predictable. Ichiro flew out short of the leftfield track near the corner on a 1-2 pitch. Willie Bloomquist grounded the second pitch hard to third. Raul Ibañez took a 1-2 belt-high pitch over the inside corner.

BOTTOM 1ST
Grade: C-
Sigh... Shannon Stewart grounded the second pitch deep into the hole at short, but it was too deep for even Yuniesky Betancourt to make a play on it. Nick Punto crushed the first pitch off the baggie in rightfield for a double, sending Stewart to third. Joe Mauer lined a 3-1 pitch to Ibañez in leftfield, scoring Stewart and moving Punto to third.
»» TWINS 1, MARINERS 0
Justin Morneau stuck the second pitch into centerfield for a single, scoring Punto.
»» TWINS 2, MARINERS 0
Matt LeCroy worked a 1-2 count for a walk, moving Morneau to second. Jacque Jones worked a 1-2 count full, but then whiffed on a full-count offspeed pitch over the outer half. Lew Ford chopped a 2-0 pitch to Beltre behind the bag at third, who ran over to step on the bag for the force.

TOP 2ND
Grade: C+
Lead halved. Richie Sexson popped a 1-2 pitch high to Brent Abernathy in shallow rightfield. Adrian Beltre bounced the second pitch up the middle to Punto at short. Jeremy Reed walloped the first pitch for a homer into rightcenter.
»» TWINS 2, MARINERS 1
Mike Morse couldn't check his swing on an 0-2 pitch inside.

BOTTOM 2ND
Grade: B-
Aversion of trouble. Michael Cuddyer worked a 1-2 count for a walk. Brent Abernathy popped a 2-2 pitch to rightfield. Stewart got the hitters' counts and walked on a 3-1 pitch high and outside. Punto fell behind 0-2 and ended up grounding the 1-2 pitch to second for a 4-6-3 double play.

TOP 3RD
Grade: B+
What's this? Yuniesky Betancourt got ahead 2-0 and ended up rolling a single up the middle. Yorvit Torrealba fell behind 0-2, took two pitches barely off the outside corner, then drilled the 2-2 pitch up the middle for a single, moving Betancourt to second. Ichiro dumped the first pitch into rightfield for a single, loading the bases. Bloomquist grounded the first pitch hard to Morneau at first, who had the ball go off his glove on a scoop attempt and high into the air (error), enabling Betancourt and Torrealba to score, and Ichiro went to third.
»» MARINERS 3, TWINS 2
Ibañez lined the first pitch into rightfield, where Jones ran and dove for the catch, scoring Ichiro.
»» MARINERS 4, TWINS 2
Sexson fell behind 0-2. Bloomquist stole second on an 0-2 pitch to Sexson, who later bounced a 1-2 pitch to the mound, starting a 1-4-3 double play on which Abernathy dove across to get Bloomquist out, then threw back to first from the seat of his pants for the double play and the #2 Web Gem on the 7 PT edition of Baseball Tonight.

BOTTOM 3RD
Grade: B-
It can never be easy. Mauer drove an 0-2 pitch about five rows deep into the leftfield seats.
»» MARINERS 4, TWINS 3
Morneau took a 1-2 curve over the plate. LeCroy got ahead 3-0 but flew out to the track in centerfield. Jones bounced to second.

TOP 4TH
Grade: C
Thwart. Beltre rolled the first pitch up the middle for a single. Reed flew out a few feet short of the track in centerfield. Morse fouled back a 1-2 pitch, getting a piece of Mauer's left arm and luring the trainer from the dugout. Morse took the next pitch over the outside corner, and Mauer gunned down Beltre by five feet trying to steal second.

BOTTOM 4TH
Grade: C+
Slithery. Ford got ahead 3-0 and walked on a full-count pitch outside for a walk. Cuddyer fell behind 0-2 and grounded a 1-2 pitch to third to start a 5-4-3 double play. Abernathy fell behind 3-0 and walked on a full-count pitch up and in (he took all six pitches). Stewart got the hitters' counts and walked on a 3-1 pitch high, amidst a flurry of pickoff throws to first in Abernathy's direction. This lured pitching coach Bryan Price to the mound, not happy over six walks in 3 2/3 innings. Punto air-bunted the first pitch just out of Torrealba's reach in foul territory. Punto grounded the 0-2 pitch to second for a 4-6 fielder's choice.

TOP 5TH
Grade: C
Nothing to see here. Betancourt popped an 0-2 pitch to rightfield. Torrealba dumped the second pitch into leftcenter for a single. Ichiro bounced the first pitch to Morneau on the right side, who went to second for the out (3-6 fielder's choice). Bloomquist took an 0-2 pitch over the outer half.

BOTTOM 5TH
Grade: B
Easy for this game. Mauer lined a 2-2 pitch to centerfield, where Reed ran in to make the catch. Morneau got ahead 2-0 and later flew out to leftfield. LeCroy cued a single into centerfield. Jones took an 0-2 curve over the outside corner.

Meche's line: 5 innings, 3 runs, 5 hits, 6 walks, 3 strikeouts, 102 pitches (54 strikes)

TOP 6TH
Grade: C-
Fast. Ibañez popped the second pitch to rightfield. Sexson bounced the first pitch behind the bag at third. Beltre whiffed on a 1-2 pitch.

BOTTOM 6TH
Grade: C
Shigetoshi Hasegawa came in for Meche. Ford drove the first pitch into leftfield for a single. Cuddyer crushed the second pitch off the track and wall in leftcenter for a double, scoring Ford.
»» TWINS 4, MARINERS 4
Abernathy grounded hard to first, where Sexson tagged the bag, moving Cuddyer to third. Stewart whiffed on a 2-2 pitch off the plate outside. Punto flew out to rightfield on a full count.

Hasegawa's line: 1 inning, 1 run, 2 hits, 0 walks, 1 strikeout, 17 pitches (12 strikes)

TOP 7TH
Grade: C
Same ol' crap. Reed rolled a 2-0 pitch up the middle for a single. Morse bunted the first pitch in front of the plate, where Silva pounced on it and threw in time to Punto covering second, negating the bunt. Betancourt blooped the second pitch into centerfield for a single, moving Morse to second, where Jamal Strong ran for him. Pitching coach Rick Anderson came out to the mound. Torrealba smoked the second pitch, but right to Jones in rightfield. Ichiro chopped the second pitch to second.

Silva's line: 7 innings, 4 runs (3 earned), 8 hits, 0 walks, 5 strikeouts, 77 pitches (62 strikes)

BOTTOM 7TH
Grade: D+
George Sherrill came in for Hasegawa. Mauer lasered a 1-2 pitch to short, where it handcuffed Betancourt, who fell down, picked the ball off the turf, then threw in time off one knee in time to first. Morneau blooped a 1-2 pitch down the rightfield line, where Bloomquist overran it, allowing Morneau to coast into second with a double. LeCroy was intentionally walked, and Jason Bartlett ran for him. Jones whiffed on an 0-2 pitch down and away.

Jeff Nelson came in for Sherrill. Ford clubbed the second pitch a few rows over the wall in leftcenter.
»» TWINS 7, MARINERS 4

Mike Cuddyer got ahead 2-0 and whiffed on a 2-2 slider outside.

Sherrill's line: 2/3 inning, 2 runs, 1 hit, 1 walk, 1 strikeout, 18 pitches (12 strikes)

TOP 8TH
Grade: C
Juan Rincon came in for Silva. Bloomquist fell behind 0-2 and later bounced the 1-2 pitch to short, but Bloomquist out the semi-lackadaiscal throw from Punto. Ibañez got ahead 2-0 and eventually flew out to shallow leftcenter on the 2-2 pitch. Sexson took a 3-1 breaking ball up and away, moving Bloomquist to second. Beltre held his swing on a 1-2 slider outside, and later flew out to deep leftfield on a 2-2 pitch, advancing Bloomquist to third. Reed fell behind 0-2 before whiffing on a 1-2 pitch over the inside corner.

Rincon's line: 1 inning, 0 runs, 1 hit, 1 walk, 1 strikeout, 27 pitches (17 strikes)

BOTTOM 8TH
Grade: A
Messing with us. Luis Rodriguez, hitting for Abernathy, popped a 2-2 pitch to Betancourt on the infield. Stewart popped the first pitch to Bloomquist in shallow rightfield. Punto worked a 1-2 count full before taking a slider over the meat of the plate.

Nelson's line: 1 1/3 innings, 1 run, 1 hit, 0 walks, 2 strikeouts, 21 pitches (13 strikes)

TOP 9TH
Grade: C-
Joe Nathan came in for Rincon. Jamal Strong, hitting for Morse, got ahead 2-0 and flew out to Jones in shallow rightcenter on a full count. Betancourt popped the second pitch to Jones in shallow rightcenter. Dave Hansen, hitting for Torrealba, grounded the 0-2 pitch to second. Ballgame.

Nathan's line: 1 inning, 0 runs, 0 hits, 0 walks, 0 strikeouts, 12 pitches (9 strikes)
---

Gameball: Yuniesky Betancourt.
His defense puts him a cut above Jeremy Reed and Yorvit Torrealba on this night. He singled to lead off the third and hit a bloop single that would have been much more meaningful had Mike Morse bunted a little softer before him in the seventh. In the bottom half of that inning, Betancourt made that crazy play on the hard grounder off the bat of Joe Mauer. I know he hasn't been up that long and that I'm biased, but the guy looks like Gold Glove material out there. Not that the Gold Glove means anything, of course, since someone came up with the asinine rule that you have to be able to hit to win a Gold Glove, which is ironic since the Gold Glove award isn't shaped like a batting glove. For me, it's the rule that kept Jeff Cirillo from a Gold Glove in 2002. Eric Chavez was a more overrated fielder back then than he is now, but his bat won him that Gold Glove, and I'm convinced of that. Oh well. That said, I don't think there's any way Betancourt ends up disappointing us with the bath as much as Cirillo did, so I'll cut this off before I go even further into nowhere with this paragraph.

Goat: Gil Meche.
He has managed to raise his ERA with each of his last five starts. The last time his ERA went down was after his start in Cleveland on July 23rd, which fittingly was a loss. Only half of his four runs were earned in the seven innings he threw. Coincidentally, that was the last time he walked less than three hitters in a start, but I might get to that later. His ERA after the Cleveland start was 4.59. That actually seems decent, looking back at it. Meche's current ERA is 5.23, and it hasn't been this high since after beating Boston on May 15th. If you're like me, you might just feel like throwing up your hands trying to explain what's wrong with Gil Meche. Maybe nothing is wrong with him. Maybe this is Gil Meche we're watching. Maybe it's irreparable, and the first half of 2003 was the peak of Meche's professional career on the mound. Considering he didn't pitch in the Majors in 2001 and 2002, that's an accomplishment in itself, though of course we had some bigger expectations after that 2003 season. I could go further, but we'd go into that whole Bob Melvin argument, and then Bobby Madritsch would enter the story, etc.


Yr W-L Pct GB Stk
2001 87-34 .719 -- L1
2002 74-47 .612 13 W1
2003 73-48 .603 14 L1
2000 69-52 .570 18 L5
2005 52-69 .430 35 L2
2004 45-76 .372 42 L3


It was painfully like the night before. The starting pitcher gave up early runs and it seemed like the Mariners weren't in it, but they were. In this game, they even got the lead, something they never got the night before. Yet I focus on one common thread -- big totals in bad categories for the starters. Just like Ryan Franklin probably should never win if he gives up eleven hits in six innings, Gil Meche should never win if he walks six batters in five innings of work. Technically it's worse since he walked the sixth batter after having only thrown 3 2/3 innings. I said in the goat paragraph that I'd get back to it, and here it is -- Meche has walked three or more hitters in each of his last five starts. Tonight's half-dozen is the capper of the bunch, which started with a trio of threes in the boxscore, followed by a four in his start on the 14th against the Angels. Unfortunately 3, 3, 3, 4, 6 doesn't shape itself out into some sort of nice Fibonacci sequence, so I can't tell you how many hitters Meche is going to walk five days from now. If you asked me and I was running the Mariners, he'd walk zero people five days from now because I'd cut him and let Jeff Harris have his month and a half of fame and hope he can catch on somewhere else.

I gave him the gameball the night before, but George Sherrill followed it up with a bad outing, of which he's had a few lately. By my count and discretion, four of his last five appearances have had an effect that is worse than desired. I guess I'll follow that up with what I said for the gameball paragraph from the last game -- he's not Ron Villone, and that's a good thing. I feel much more comfortable out there knowing that if Sherrill's going to get lit up, it's going to be by way of a solid base hit as opposed to a walk where none of the balls are even close to the strike zone or a beanball with an 0-2 count and runners on base or something, followed by a homer. Have I mentioned that I'm glad Ron Villone isn't a Mariner anymore? I'm glad Ron Villone isn't a Mariner anymore. I might stir myself a cup of chai to that, since I didn't do that right after the trade with the Marlins. I'll be tipping a glass of chai to the future of Yorman Bazardo. He's not just the man, he's Yorman.

Multi-hit games for Mariner hitters in this one belonged to Jeremy Reed, Yuniesky Betancourt, and Yorvit Torrealba. Reed hit a two-out homer in the second and singled to lead off the seventh. Betancourt was covered in the gameball paragraph. Torrealba worked his count in the third for a single to keep a near-rally alive, then singled with one out in the fifth. Time for some happy numbers regarding a couple of these hitters... Reed is hitting at a 7-for-15 clip (.467) in his last four games, and that includes an 0-for-4 in Thursday's game. Other than when Miguel Ojeda caught the Thursday game, Yorvit Torrealba has been the regular starting catcher, and he's been hitting now that the gig has been a regular one. He's hit in four of five games since the 14th for a mark of 8-for-16 (.500), and that includes an 0-for-4 night in the middle game of that Kansas City sweep. I've mentioned on a couple occasions how I liked the way his at-bats were turning out, and the Mariners have needed something (and anything) offensively out of the bottom third of the lineup. Now if they can have something coming out of that end of the lineup and have sombody on when Ichiro warms up again...then I reckon you have winning baseball or something thereabouts.

With this loss, the Mariners blew any chance they had of winning the four-game set in the Twin Cities. Not that I thought it was going to happen anyway. Anyone else notice how that extra-inning loss that never should have been has instead given the Twins a whole new lease on their season? In a vaguely related note, the Canucks gave the Maple Leafs a second life early in the 2003-04 season after Toronto had rumors swirling of Pat Quinn getting fired and whatnot. I just hate when it happens to my teams.

Hey, this time the Mariners went 2-2 between Felix starts. Last time through, it was 0-4. That's progress. At least it'll be watchable tomorrow. Of course, I hope MLB.tv gives me the Seattle feed since I haven't gotten it in about a week. Not that Dick Bremer and Bret Blyleven are horrible, but I need my home crew every once in a while. I don't feel the need to be circled by Bert though.

Hernandez. Lohse. Today.