Saturday, August 20, 2005
GAME 122: MARINERS 8, TWINS 3 (10 INNINGS)
Mariners 8, Twins 3 (10 innings)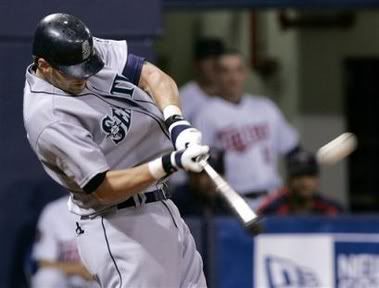 In 25 words or less: Felix struggled early and hung tough. The bats took a long while to awaken from their slumber, but they managed to eventually do just that.

This one featured Felix Hernandez going up against Kyle Lohse in a rematch of the game on the 10th in Seattle, which was the 1-0 game. I was ready for an afternoon of worthwhile and possibly spectacular baseball. I got what I wanted, with some extra topsy-turvy involved.

TOP 1ST
Grade: C-
Dammit! Ichiro chopped out to third. Willie Bloomquist took an 0-2 pitch barely off the outside corner, then laced the next pitch over the shortstop and into leftfield for a single. Raul Ibañez fell behind 0-2 and belted the 1-2 pitch to the track in centerfield, sending Bloomquist back to first after having rounded second. Sexson bashed the first pitch to Ford again, just in front of the 408-foot marker.

BOTTOM 1ST
Grade: C
Shannon Stewart rolled the second pitch up the middle for a single. Brent Abernathy chopped the 1-2 pitch high to second, allowing Stewart to move to second. Joe Mauer took a 3-1 pitch apparently low (bull) for a walk. Justin Morneau got ahead 3-1, prompting Yorvit Torrealba to come out from behind the plate for a chat. Morneau ended up grounding the next pitch behind the bag at first for a 3-1 putout, moving Stewart and Mauer to third and second. Matthew LeCroy stung the second pitch past Hernandez and into centerfield for a single, scoring Stewart and Mauer.
»» TWINS 2, MARINERS 0
Jacque Jones whiffed hopelessly on an 0-2 dirtball curve (2-3 putout).

TOP 2ND
Grade: C
Same ol' crap. Adrian Beltre took a 1-2 pitch over the outside corner, then FSNNW showed that Bobby Knight was attending the game. Jeremy Reed poked a ball down the leftfield line and worked a double out of it. Greg Dobbs fell behind 0-2 and whiffed a 1-2 change about a foot outside. Yuniesky Betancourt flew out to fairly deep centerfield on the second pitch.

BOTTOM 2ND
Grade: A
Much easier this time. Lew Ford took a 1-2 curve over the outside corner. Michael Cuddyer worked a 1-2 count full before whiffing at a breaking ball very low and away. Jason Bartlett bounced out to third.

TOP 3RD
Grade: C-
No fight. Yorvit Torrealba bounced out to third. Ichiro popped to Ford in fairly deep centerfield, Ford's fourth catch of the game. Bloomquist was badly jammed on the first pitch and popped out lazily to third.

BOTTOM 3RD
Grade: B
Why can't it be easy? Stewart looped a fly ball just inside the rightfield line, where Ichiro ran over to make the grab. Abernathy poked a 1-2 pitch off Hernandez' glove, and it went to Bloomquist, who didn't have a chance to get the out anyway. Mauer bounced the second pitch behind the mound, where no one went after it, moving Abernathy to second. Morneau flew out to leftfield on the first pitch. LeCroy grounded a 2-2 pitch to Beltre behind the third-base bag, and he went over and stepped on the bag for the force.

TOP 4TH
Grade: C-
Infuriating. Ibañez slapped a flyout to leftfield on the second pitch. Sexson popped a 3-0 pitch high to Jones in shallow rightfield. Beltre bounced the 1-2 pitch to third.

BOTTOM 4TH
Grade: A-
Better. Jones whiffed on a full-count change. Ford fell behind 0-2 and whiffed at a 1-2 fastball up and in. Cuddyer fell behind 0-2 and chopped a 1-2 pitch to Bloomquist, who had to charge and throw quickly across the body for the out.

TOP 5TH
Grade: C
Grr. Reed bounced to Abernathy on the right side, who kinda shotputted the ball over to first, having trouble pulling the ball out of the glove, and it was quite late (error). Dobbs hit a broken-bat 1-2 grounder to second, moving Reed to second. Betancourt fell behind 0-2 and grounded the 1-2 pitch hard to the mound, and Lohse couldn't come up with it quickly, so his only play was to first. Reed moved to third on the play, though he probably shouldn't have taken off for third on a ball hit right back to the pitcher. Torrealba whiffed on a full-count slider low over the outside corner.

BOTTOM 5TH
Grade: A
He might be in a groove at this point. Bartlett fell behind 0-2, stuck a 2-2 change barely foul down the leftfield line, then took a 2-2 pitch over the outer half. Stewart popped the second pitch to Reed in rightcenter. Abernathy whiffed at a low 1-2 fastball.

TOP 6TH
Grade: C-
It's not their day. Ichiro smoked a 1-2 pitch right into Cuddyer's glove at third. Bloomquist poked a single into rightfield. Ibañez got the hitters' counts before grounding the 3-1 pitch hard right to second for a 4-6-3 double play.

BOTTOM 6TH
Grade: B+
Weird, but good. Mauer fell behind 0-2 and poked a high 1-2 pitch into centerfield for a single, snapping Hernandez' streak of eight straight retired Twins. Morneau popped a 1-1 pitch foul near the leftfield bullpen mounds in foul territory, but Ibañez couldn't quite get there in time. Morneau ended up chopping to a hopping Hernandez on the right side, who tossed over to first for the out, though he came up a bit lame after shoveling the ball over, appearing to maybe tweak the right ankle (Mauer went to second). LeCroy whiffed on a 1-2 dirtball, but it was a weird play since Mauer took off for third and Torrealba tried to throw over to third, but he was physically obstructed by LeCroy moving down the first-base line. Interference on LeCroy was the call, and Mauer was sent back to second. Jones whiffed on a 2-2 curve.

TOP 7TH
Grade: A
Thank your higher being of choice. Sexson fell behind 0-2 and cranked the 1-2 pitch over the baggie in rightcenter.
»» TWINS 2, MARINERS 1
Beltre cranked the second pitch over the baggie in rightfield. Happy.
»» TWINS 2, MARINERS 2
Reed lined the second pitch into centerfield, where Ford ran in and made a sliding catch. Dobbs rolled out to second. Betancourt chopped the first pitch to third.

Lohse's line: 7 innings, 2 runs, 5 hits, 0 walks, 3 strikeouts, 92 pitches (61 strikes)

BOTTOM 7TH
Grade: A
He was groovin'. Ford bounced out to second. Cuddyer grounded an 0-2 curve to third, where Beltre had trouble getting a grip on the ball and barely got Cuddyer at first, though the latter may not have even touched the bag at first. Bartlett broke his bat on a grounder up the middle, and Betancourt picked it up and threw high to first, but Sexson pulled it down.

TOP 8TH
Grade: C+
Jesse Crain came in for Lohse. Torrealba hit a soft liner just past Bartlett at short and into centerfield for a single. Ichiro popped a 1-2 pitch to Bartlett in shallow leftfield. Bloomquist got ahead 3-0 and ended up barely holding his swing (replays indicated otherwise) on an inside 3-1 pitch, moving Torrealba to second. Ibañez smacked the first pitch right at Crain, who caught it and went to second for the easy out to double off Torrealba.

BOTTOM 8TH
Grade: A
Quite a way to end it. Stewart grounded to Betancourt in the hole at short, whose throw necessitated a stretch to the left by Sexson. Abernathy chopped the second pitch high to third. Mauer flew out to Reed in deep leftcenter on a full count.

Hernandez' line: 8 innings, 2 runs, 5 hits, 1 walk, 9 strikeouts, 115 pitches (77 strikes)

TOP 9TH
Grade: C-
At second base for the Twins, Luis Rodriguez came in for Abernathy. Sexson flew out to Ford in rightcenter on a 2-2 pitch. Beltre chopped the second pitch to the right side for a 4-1 putout.

JC Romero came in for Crain. Reed popped the first pitch to Bartlett along the leftfield line.

Crain's line: 1 2/3 innings, 0 runs, 1 hit, 1 walk, 0 strikeouts, 21 pitches (12 strikes)
Romero's line: 1/3 inning, 0 runs, 0 hits, 0 walks, 0 strikeouts, 1 pitch (1 strike)

BOTTOM 9TH
Grade: A
George Sherrill came in for Hernandez. Morneau tapped the first pitch back to the mound. LeCroy whiffed on a high 2-2 pitch. Jones grounded the first pitch hard back to the mound, where Sherrill reached behind his back with the glove and speared the ball, throwing in time to first.

Sherrill's line: 1 inning, 0 runs, 0 hits, 0 walks, 1 strikeout, 7 pitches (5 strikes)

TOP 10TH
Grade: A
Matt Guerrier came in for Romero. Jamal Strong, hitting for Dobbs, wrapped the second pitch into the rightcenter gap, and took off for third though he probably shouldn't have. A good throw would have had him by ten feet, but the throw went off his back and he went into third with a triple. Betancourt lined a 1-2 single into leftfield, scoring Strong.
»» MARINERS 3, TWINS 2
Torrealba bunted the first pitch to the right side, moving Betancourt to second. Ichiro was intentionally walked, his 17th of the season (Mariner hitters have been intentionally walked 33 times). Bloomquist fell behind 0-2 and scraped a 1-2 pitch almost off the ground and into centerfield, scoring Betancourt and moving Ichiro to third. No one was covering second on the play, which was where Ford's throw from centerfield went, so Bloomquist went to second on the play.
»» MARINERS 4, TWINS 2
Ibañez was intentionally walked, loading the bases. Sexson crushed a 2-1 pitch about twelve to fourteen rows back into the leftfield seats, and the Metrodome aisles were quickly filled with fans heading for the parking lots.
»» MARINERS 8, TWINS 2

Terry Mulholland came in for Guerrier. Beltre whiffed hopelessly on an 0-2 pitch way low and outside of the zone. Reed tapped a 1-2 pitch back to the mound.

Guerrier's line: 1/3 inning, 6 runs, 4 hits, 2 walks, 0 strikeouts, 23 pitches (10 strikes)
Mulholland's line: 2/3 inning, 0 runs, 0 hits, 0 walks, 1 strikeout, 8 pitches (7 strikes)

BOTTOM 10TH
Grade: B-
Eddie Guardado came in for Sherrill. Ford clubbed a high pitch about six rows into the seats in leftfield.
»» MARINERS 8, TWINS 3
Cuddyer popped a 2-2 pitch high to Bloomquist in shallow centerfield. Bartlett chipped a 2-2 soft fly to Bloomquist at second. Terry Tiffee, hitting for Stewart, smeared a 1-2 pitch off Beltre's glove and into the leftfield corner for a double. Rodriguez fouled off an 0-2 pitch, then bounced out to Sexson behind the bag at first. Ballgame.

Guardado's line: 1 inning, 1 run, 2 hits, 0 walks, 0 strikeouts, 21 pitches (15 strikes)
---

Gameball: George Sherrill.
His inning of relief was absolutely huge. He needed only seven pitches to get through the middle third of the Minnesota lineup, Justin Morneau, Matthew LeCroy, and Jacque Jones. He went deep into the count only with LeCroy, sandwiching that at-bat with first-pitch grounders back to the mound from Morneau and Jones. The Morneau groundout was fairly usual, but the Jones groundout was far from usual and seemed destined to be a single up the middle if not for Sherrill reaching back behind him with his glove, which I'm guessing is his reaction on any ball up the middle heading toward the mound. The good thing is that he speared it, and the inning was done. This may have been his best outing of the year, and for me it was his best outing since the 10th against the Twins, when he came on with two on and one out in the top of the eighth and holding the game at a 4-4 tie. In that game, Jesse Crain lost his control in the next half-inning against Adrian Beltre and Jeremy Reed, walking them both to force Ichiro across with the go-ahead run. In this game, Sherrill held the game tied once again, and Matt Guerrier imploded.

Goat: Raul Ibañez.
Greg Dobbs never reached base, but he didn't leave four baserunners out there either. Also, Ibañez is sort of the third hitter in the lineup, and Dobbs was slotted seventh. Needless to say, Ibañez is more of a key cog in the offense than Dobbs, who was just called back to the team. When you're depending on Ibañez to drive in runs, it's usually not good if he's hitless in nine at-bats, as he is right now. Luckily the guy behind him was wielding the wrecking ball today. The guy behind Wrecking Ball Man also contributed, but probably with something more along the lines of a whuppin' stick. Ibañez grounded into a double play to kill the sixth inning, but to his credit, he nearly homered in the first and smoked a line drive right back to the mound that unfortunately went for a double play to end the eighth in a situation with two on and one out. I guess I'm basically busting Ibañez for going 0-for-4 when he very easily could have gone 2-for-4, but I really don't feel like sticking anyone else with the goat, so here it be.


Yr W-L Pct GB Stk
2001 87-35 .713 -- L2
2002 74-48 .607 13 L1
2003 74-48 .607 13 W1
2000 69-53 .566 18 L6
2005 53-69 .434 34 W1
2004 46-76 .377 41 W1

The 2004 Mariners won their 53rd game on September 12th, their 142nd game of the season. This year's team did so on August 20th in game 122. It's something.

I'd have to say this one ranks as one of the best five or seven Mariner wins of the season. The way things have gone this year, it looked like a game where Felix would shut the Twins down after the first, but maybe not end up pitching past about the seventh. After the first few innings, I thought he was destined for his shortest (or second-shortest) outing of the season. It looked like a game where Felix would right his own ship, but Kyle Lohse looked like he'd manhandle the Mariners and throw eight shutout innings on the way to a 2-0 win. Instead, the turnaround was blindingly quick. Richie Sexson didn't come through on a 3-0 greenlight in the fourth, but he ended up getting revenge for his near-homer in the first, clubbing one over the baggie in rightcenter in the seventh to cut the deficit in half. I sat there after Sexson's solo shot hoping in the back of my mind that maybe Adrian Beltre would go yard as well. He only waited two pitches to do so, and the game was tied. The Long Ball makes scoring runs a snap. The Slide is in the other room. Actually, it'll probably never appear on the field for the Mariners.

What is with the trend in about the last week or so where road teams have hung up big innings in extra innings? I know Boston did this not too long ago, as well as at least one or two other teams. In a way, it almost makes it seem anticlimactic. The game was close enough to not be decided with only nine innings, but it gets to extras and one team pounds on the other. It's a bit perplexing. You don't watch a pitchers' duel between Felix and Lohse for seven innings and expect the game to ultimately end with an 8-3 score. Many fans in the Metrodome agreed with the anticlimacticism, bolting for the exits after Sexson's final revenge in the form of the grand slam in the tenth. Hey, it's good for Mariner fans though.

Multi-hit games in those one belonged to Willie Bloomquist and Sexson. Bloomquist went 3-for-4 with an RBI double (thanks to the Minnesota fielders) in the tenth and also singled in the first and sixth. I pretty much covered Sexson's night already, nearly going yard in the first, flying out on a 3-0 count, then bashing in the seventh and tenth. Bloomquist drove in one run, while Sexson's homers accounted for all five of his RBIs. The other two RBIs went to Beltre on the game-tying homer in the seventh and to Yuniesky Betancourt, who drove in Jamal Strong for the go-ahead run in the tenth, unlocking the floodgates before Sexson opened them. The Minnesota bullpen had not allowed a run in 23 2/3 innings, if I heard the stat off the broadcast correctly.

Luckily they didn't factor negatively into the Mariners' efforts, but two baserunning near-misses occurred today which hopefully we don't see often (if ever) for the rest of the season. With one down in the fifth, he took off from second on a grounder right back to the mound. Lohse didn't come up with it cleanly, so there wasn't a play on Reed. Like I said, it's a good thing it didn't figure into the larger scope of the game, since Reed was ultimately stranded at third by Yorvit Torrealba. Jamal Strong came off the bench to lead off the tenth and hit a gapper to rightcenter on the second pitch. He rounded second going full speed as Mariner fans collectively said, "oh, s#*@," but thankfully the relay throw went off his back and away from the play, allowing him to slide in with a triple. As I said in the tenth inning, entry, I think a good throw has him by ten feet. After stinging a ball into the gap, you don't want to get thrown out in extra innings trying to stretch a leadoff double into a triple. That's just not good.

Five paragraphs into the recap, and I'm finally getting to Felix. He was obviously touched up in the first for the two runs, and had trouble again only in the third and sixth. In the third, he Felix was the unfortunate victim of a couple of well-placed ground balls on the infield that both went for one-out singles, but he fought out of that jam. In the sixth, Joe Mauer led off with a single, and Felix had to find his way out of it. He got a ground ball out of Justin Morneau, though he might have tweaked an ankle on it. Nonetheless, he came back to get a whiff from Matthew LeCroy, and it's a good thing LeCroy has a slow and wide body that blocked Torrealba trying to throw Mauer at third. LeCroy was called out on interference, and Mauer was sent back to second before Felix mowed Jacque Jones down with a curve. The performance from Felix once again is great -- I'm just concerned once again that Mike Hargrove is leaving him in too long, though luckily when Hargrove leaves him in, the results have still been great. Felix had thrown 103 pitches after seven innings, and Hargrove trotted him out there for the eighth anyway. It's just an inning too long, in my opinion, and it's not the first time it's happened this season. I'm just concerned the extra pitches here and the extra pitches there add up. I like Felix, but the guy doesn't have to throw eight innings every time to make me happy. I'd never let him get past about 105 pitches or so myself.

The Mariners have a chance to split the series. Joel Piñeiro's been the second-best success story out of this rotation the last three turns through the rotation.

Don't look now, but the Mariners are four games back of the Texas Rangers. I wouldn't lie to you about this.

[Add ~10:03p -- The Sherrill behind-the-back play in the ninth inning later went for the #2 Web Gem on Baseball Tonight.]

Piñeiro. Radke. Tomorrow.