Thursday, August 25, 2005
GAME 125: RANGERS 8, MARINERS 1
Rangers 8, Mariners 1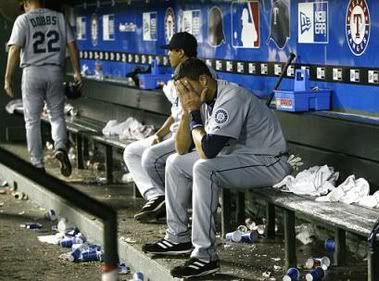 In 25 words or less: Strangely, seeing Ryan Franklin get throttled every fifth day is sickly satisfying, though it falls a tad short of seeing Felix every fifth day.

This one featured Ryan Franklin going up against Juan Dominguez. To totally rub it in, it was Dog Day in Arlington. Knowing how bad the Mariners have been in August over the years, that just makes it worse. Also, every time someone calls Greg Dobbs by the name of "Dobber," my soul withers away little by little. Not really. I just get infuriated. It's a cheap nickname. Even D-O-double-bizzle-S would be better.

TOP 1ST
Grade: C+
Not totally horrible, but still the same result. Ichiro fell behind 0-2 and whiffed on a 1-2 pitch over the outer half. Willie Bloomquist fell behind 0-2 and later hit a line drive to rightfielder Kevin Mench, who ran toward the track to make the catch. Raul Ibañez nearly doubled down the rightfield line on a 1-1 pitch, but worked the 1-2 count for a walk (pitch low and away) instead. Richie Sexson ripped a single into centerfield, moving Ibañez to second. Adrian Beltre chopped the first pitch to first, where Mark Teixeira ran to the bag.

BOTTOM 1ST
Grade: B-
That other team scored first. David Dellucci clubbed the 3-1 pitch to the gap in leftcenter, and Jeremy Reed leapt near the wall to make the catch. Michael Young bounced out to third. Mark Teixeira fell behind 0-2 but ended up pounding a high 1-2 pitch into the rightfield corner for a double. Hank Blalock reached for a low 0-2 pitch, flaring it into shallow centerfield for a single, scoring Dellucci.
»» RANGERS 1, MARINERS 0
Alfonso Soriano flew out high to centerfield on a 1-2 pitch.

TOP 2ND
Grade: C-
Nothing again. Jeremy Reed popped a 2-0 pitch high to Young in shallow leftfield. Mike Morse flew out to centerfield on a 2-2 pitch. Greg Dobbs got the hitters' counts and flew out to centerfield on the 3-1 pitch.

BOTTOM 2ND
Grade: D
There goes the game. Kevin Mench drilled the second pitch up the middle for a single. Adrian Gonzalez walloped the first pitch to the wall in the rightcenter gap for a double, easily scoring Mench.
»» RANGERS 2, MARINERS 0
Gary Matthews, Jr. grounded to first for a 3-1 putout, moving Gonzalez to third. Rod Barajas fisted an 0-2 blooper into rightfield for a single, scoring Gonzalez.
»» RANGERS 3, MARINERS 0
Dellucci ripped the first pitch down the rightfield line for a double, scoring Matthews and moving Barajas to third.
»» RANGERS 4, MARINERS 0
Young got the hitters' counts before taking a full-count breaking ball low and away. Teixeira flew out high behind the plate near the screen to Torrealba on the second pitch. Blalock got ahead 2-0 and wound up grounding hard into a 5-4 fielder's choice.

TOP 3RD
Grade: C-
Effortless. Yorvit Torrealba whiffed on a 1-2 low pitch. Ichiro fouled off three 1-2 pitches before serving a flyout into leftfield. Bloomquist bounced the second pitch to short.

BOTTOM 3RD
Grade: B
Slow, but less damaging. Soriano lined the second pitch into leftfield for a single. After Soriano was nearly picked off on the fifth throw over to first, Mench ripped a broken-bat 2-2 line drive right to Beltre's glove at third. Gonzalez popped the second pitch to rightfield. Pickoff throws be damned, Soriano stole second on the first pitch to Matthews, who ended up falling behind 0-2. Matthews popped a 1-2 pitch between Beltre, Morse, and Ibañez along the leftfield line in foul territory before grounding a full-count pitch (Franklin's 61st overall) hard to second.

TOP 4TH
Grade: C
Watching, but no hitting. Ibañez was robbed, grounding a 2-0 pitch hard near short, where Young made a sliding stop and throw in time to first. Sexson bounced a 2-2 pitch to Soriano on the outfield grass. Beltre took a four-pitch walk, snapping Dominguez' stretch of nine straight retired hitters. Reed also took a four-pitch walk, prompting an obligatory visit from pitching coach Orel Hershiser. Morse took Dominguez' ninth straight ball before bouncing to short for a 6-4 fielder's choice.

BOTTOM 4TH
Grade: B+
Decent. Barajas whiffed on a 1-2 slider half a foot off the plate. Dellucci rolled a 2-2 pitch to second, Franklin's fifth straight retired hitter. Young fell behind 0-2, took a 1-2 pitch barely off the outside corner, then rolled the next pitch up the middle, where Morse dove to stop it, but had no play. Teixeira chopped a 2-0 pitch right to Sexson, who ran to the bag.

TOP 5TH
Grade: C
Why even play? Dobbs fell behind 0-2 and bounced a 1-2 pitch for a 3-1 putout. Torrealba worked a 1-2 count for a walk. Ichiro fell behind 0-2 and reached low and away for a 1-2 popout to left. Bloomquist flew out high near the rightfield line on the first pitch.

BOTTOM 5TH
Grade: C+
One final batch of suck. Blalock popped a 3-1 pitch high to centerfield. Soriano knocked the second pitch into leftfield for a single. Mench crushed a homer four rows into the seats above the leftfield scoreboard.
»» RANGERS 6, MARINERS 0
Gonzalez flew out to a running Ibañez in shallow leftfield. Matthews bounced a 3-1 pitch to second.

Franklin's line: 5 innings, 6 runs, 10 hits, 1 walk, 1 strikeout, 96 pitches (64 strikes)

TOP 6TH
Grade: B-
Run! Ibañez took a four-pitch walk. Sexson got under a 1-2 pitch, flying out high to centerfield. Beltre rocked the first pitch barely over the glove of Dellucci and off the leftfield scoreboard for a double, scoring Ibañez.
»» RANGERS 6, MARINERS 1
Reed popped out very high to Teixeira on the infield. Morse crushed a 2-2 pitch deep and foul before whiffing on a pitch over the outside corner.

Dominguez' line: 6 innings, 1 run, 2 hits, 5 walks, 3 strikeouts, 102 pitches (59 strikes)

BOTTOM 6TH
Grade: A
Clint Nageotte came in for Franklin. Barajas flew out high to centerfield on the second pitch. Dellucci bounced the first pitch to second. Young worked a 1-2 count full before grounding to short, where Morse made a somewhat high and wide throw on which Sexson was able to stretch and keep the foot on the bag, though quite treacherously.

TOP 7TH
Grade: C
John Wasdin came in for Dominguez. Dobbs cranked the second pitch into centerfield for a single. Torrealba laced the second pitch into the hole on the left side for a single, moving Dobbs to second. Ichiro popped a 2-0 pitch near the leftfield line as the runners held. Bloomquist chopped out to third as Dobbs moved to third and Torrealba moved to second. Ibañez popped out to Young in shallow leftfield.

BOTTOM 7TH
Grade: B
Nageotte didn't look too bad. Teixeira walked on a full-count dirtball. Blalock dropped a 3-1 pitch in front of Ibañez in leftfield for a single, moving Teixeira to second. Soriano shot a hard grounder to third for a 5-4-3 double play, though Teixeira did advance to third on the play. Mench whiffed on a 1-2 breaking ball.

TOP 8TH
Grade: C-
No signs of life. Sexson grounded the first pitch to third. Beltre whiffed on a 1-2 pitch over the outer half. Reed got ahead 2-0 and whiffed on a belt-high 2-2 pitch.

BOTTOM 8TH
Grade: C
One last ounce of suck. Gonzalez poked the first pitch into the leftfield corner for a double. Matthews swing-bunted along the first-base line, where Nageotte threw in time to first on a tough play. Barajas roped a double into leftfield near the corner, scoring Gonzalez.
»» RANGERS 7, MARINERS 1
Dellucci tapped back to the mound, where Nageotte originally dropped it, but had time to still get the out at first. With the count 0-1 on Young, trainer Rick Griffin was summoned to the mound, but the decision was to leave Nageotte out there. Young looped a 1-2 pitch into shallow rightfield, scoring Barajas.
»» RANGERS 8, MARINERS 1

Shigetoshi Hasegawa came in for Nageotte. Teixeira grounded the second pitch up the middle, but it was too deep and Bloomquist had no play as Young moved to second. Blalock looped a flyout to Ibañez near the line on the second pitch.

Nageotte's line: 2 2/3 innings, 2 runs, 4 hits, 1 walk, 1 strikeout, 43 pitches (27 strikes)
Hasegawa's line: 1/3 inning, 0 runs, 1 hit, 0 walks, 0 strikeouts, 4 pitches (3 strikes)

TOP 9TH
Grade: C-
Not even a whimper. Morse flew out to shallow centerfield on the first pitch. Dobbs popped the second pitch to Young on the infield. Dave Hansen, hitting for Torrealba, flew out to Soriano in shallow rightfield. Ballgame.

Wasdin's line: 3 innings, 0 runs, 2 hits, 0 walks, 2 strikeouts, 26 pitches (17 strikes)
---

Gameball: Yorvit Torrealba.
He's batting .246 for the year, but he's gotten more at-bats this month than in any other month this season. Though he's at .246 this year, he's hitting .297 as a Mariner. Sure, he only has one extra-base hit in his short tenure in Seattle (and that does predictably leave his slugging percentage lower than his on-base percentage), but his 11-for-37 is something the Mariners have been looking for all year in the catcher slot since not having offensive punch from Dan Wilson or Miguel Olivo (though Wiki Gonzalez had some moments). The bottom line is that although .297 is unrealistically high for him to sustain, he'll get a hit here and there, and that's more than what the Mariners had been getting from the guy with the gear. His numbers are even better if you cut off the first week or so of the month where he wasn't starting regularly, but I don't feel like busting out any sort of calculator or anything, but it probably gets his average over .300 for the month. I've checked his numbers to second what I heard on the broadcast, and it's true -- Torrealba has three passed balls in his 224-game career. Makes you miss Olivo, doesn't it?

Goat: Ryan Franklin.
He's been hilariously bad since coming off the suspension. Abracadabra...how does 19 runs in 15 1/3 innings grab ya? Thirty-three hits combined in the three starts? If you haven't seen the numbers already, and if you happen to be at work, conduct a friendly wager right now as to what Franklin's post-suspension ERA is. Go on, don't be afraid. Losers buy doughnuts, lunch, coffee, get the last pick in every round for the fantasy football draft, whatever. I'll reveal the answer at the end of the paragraph. As for this game in particular, everyone watching saw that Clint Nageotte was warming up in the bullpen in the second inning. This of course reminded me of the good ol' days of when John Halama would put a runner or two on in the first inning, and Lou Piniella would warm a Brett Tomko or someone up in the first inning since Halama probably didn't even know the reason he was in Piniella's doghouse. One thing that I found incredibly hilarious was the exchange in the third inning after Alfonso Soriano got aboard. He took five pickoff throws to first with Mench at the plate, stayed at first after Gonzalez flew out, took a couple more pickoff throws, then got a massive jump on Franklin and nabbed second base on the first actual pitch to Matthews. Just hilarious. The answer to the ERA question, by the way...11.15 is your grand total.


Yr W-L Pct GB Stk
2001 89-36 .712 -- L1
2003 76-49 .608 13 W2
2002 75-50 .600 14 L1
2000 70-55 .560 19 W1
2005 53-72 .424 36 L3
2004 46-79 .368 43 L3


Big hooray to the 2000 Mariners, who at this point in their season snapped their mother of an eight-game losing streak. As for this year's Mariners, they better hurry up and piece something together since their 2004 counterparts are a game or two away from reeling off a five-game winning streak that I don't remember at all since the season sucked so much.

The Mariners got only four hits, but got five walks. The translation there is that if Juan Dominguez was throwing strikes, the Mariners were screwed. Dominguez allowed the five walks and two of the Mariners' four hits over his six innings of work. His walks, however, weren't overly devastating in retrospect. Raul Ibañez walked, but with two out in the first. When Dominguez had the plate disappear in the fourth when he threw nine straght balls, Adrian Beltre and Jeremy Reed were both walked with two out. Torrealba walked in the fifth with one out, and that could have gone somewhere if Ichiro and Bloomquist would have managed to do anything. Ibañez walked on four pitches to lead off the sixth and came around to score on Beltre's double that barely eluded the grasp of David Dellucci. Basically, the Mariners only burned Dominguez on one of his five walks. Thank goodness they drove in the runner that got the four-pitch leadoff walk. That's always a good thing to know you can do. Other than the sixth, the Mariners didn't really have any good scoring chances, i.e., runners in scoring position with less than two out.

Then came the seventh, which nearly turned out as the opposite of Tuesday's game. Opposite not in result, but parts of the lineup involved. Greg Dobbs and Torrealba greeted John Wasdin with singles to lead off the seventh, and the lineup turned over. Ichiro flew out on a 2-0 pitch, Bloomquist grounded to third, and Ibañez popped on the infield. Not only were those outs untimely, none of those balls were hit hard. Also, and I'm not sure if it'll develop a trend, but Ichiro homered in the first game of the series, and the two outs he made were in the air (also had an infield single and a walk). The next day (this game), he led off with a strikeout and flew out the following three times. I don't know if the trend will hold up, and I have absolutely no evidence from the past for it to hold up, but I've told myself over the years that after Ichiro hits a homer, he starts trying to lift everything for a while, and the result is an abundance of flyouts. The bad thing about that, of course, is that he can't beat out flyouts with his running speed. He just needs to hit the ball squarely or just bounce it somewhere, then run.

On the next episode of Ultimate Devil's Advocate, if you're a hitter for the Mariners, do you get the other eight hitters in the lineup to just lay down from here on out every time Ryan Franklin takes the mound? Moreover, I'd have to think that Ultimate Devil's Advocate would be an absolutely awesome reality show. Unless the idea's already taken and I just forgot or don't know what the show is.

The Mariners look to get back to within five games of third place this midday. The best-case scenario going into this series was to be a game back of the Rangers afterward, but it's too bad the Mariners are getting taken to the woodshed by the Rangers. The most unnerving thing is when you know that this is a hitters' park and then you see Sexson in the first game of the series mashing two balls that don't quite get over the fence. Dumb freakin' luck. Two solo shots could have made a huge difference in that game, but oh well. As for the rest of the offense, they've barely had any sustained pressure through the whole series, and when they do finally get the runners on base, not a lot is happening. It's a bit frustrating.

Harris. Benoit. Today.