Wednesday, August 24, 2005
GAME 124: RANGERS 6, MARINERS 4
Rangers 6, Mariners 4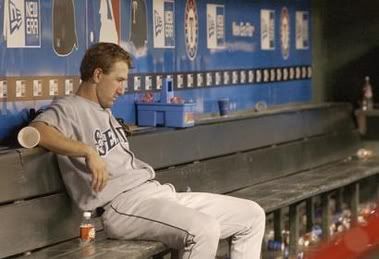 In 25 words or less: There are times when your team gets clobbered and times when your team is totally unclutch. The latter happened in this game.

[posted in full Wed ~8:49p]

This one featured Jamie Moyer going up against Chris Young, who is tall. The Mariners entered the game a mere four games behind the Texas Rangers for third place in the AL West. Could they get any closer?

TOP 1ST
Grade: B-
Early dentage. Ichiro lofted the second pitch about twelve rows into the rightfield seats just inside the foul pole.
»» MARINERS 1, RANGERS 0
Willie Bloomquist fell behind 0-2 before whiffing on a very low 2-2 changeup. Raul Ibañez fell behind 0-2 and later flew out high to Mark Teixeira on the infield. Richie Sexson walloped the 2-2 pitch high off the scoreboard in leftfield for a double, narrowly missing a homer. Adrian Beltre popped a 2-2 pitch to the track in leftfield.

BOTTOM 1ST
Grade: B
Decent enough. Gary Matthews, Jr. grounded hard to third. Michael Young popped to rightfield. Mark Teixeira pounded a double into the leftfield corner. Hank Blalock got ahead 3-1 and wound up taking a fastball over the outer half.

TOP 2ND
Grade: C
No threat. Jeremy Reed rolled out to second. Greg Dobbs fouled a 2-2 pitch into the catcher's glove for a strikeout. Yuniesky Betancourt roped a 1-2 pitch into leftfield for a single. Yorvit Torrealba flew out to the leftfield corner on the second pitch.

BOTTOM 2ND
Grade: C+
There goes the slim lead. Alfonso Soriano got ahead 2-0 and later took a full-count pitch inside for a walk. Kevin Mench fell behind 0-2 and plunked a 1-2 pitch over Betancourt and into centerfield for a single. Phil Nevin got the hitters' counts and flew out high to Ibañez in shallow leftfield. Rod Barajas lasered a single over Betancourt and into centerfield for a single, scoring Soriano and moving Mench to second.
»» RANGERS 1, MARINERS 1
Mark DeRosa reached for a 1-2 pitch outside and rolled it to short for a 6-4-3 double play.

TOP 3RD
Grade: C-
Ho hum. Ichiro worked a 1-2 count full before flying out high to centerfield. Bloomquist got ahead 2-0 before taking a full-count pitch low and inside, but called for a strike. Ibañez bounced a 1-2 pitch behind the bag at first for a 3-1 putout.

BOTTOM 3RD
Grade: B+
Matthews bounced the second pitch back to the mound. Young rolled a single into centerfield. Teixeira lined a 1-2 pitch to Reed in centerfield. Blalock got ahead 2-0 and bounced the 2-2 pitch to short.

TOP 4TH
Grade: C
Yecch. Sexson got ahead 2-0 and wound up flying out in front of the wall to centerfield, again barely missing a homer. Beltre fell behind 0-2 and whiffed on a 1-2 pitch. Reed rolled an 0-2 pitch deep into the hole on the right side where Soriano got a glove on it, but it ricocheted away, going for a single. Reed stole second on an 0-1 pitch to Dobbs, thanks to a high throw. Dobbs ended up popping a 2-2 pitch high to Blalock in foul ground along the left side.

BOTTOM 4TH
Grade: C+
Knot untying. Soriano worked a 1-2 count full before flying out to shallow centerfield. Mench lined the first pitch into the first row of rightfield seats.
»» RANGERS 2, MARINERS 1
Nevin lined the second pitch to a running Ibañez in leftfield. Barajas lined out to Reed.

TOP 5TH
Grade: C+
Monotonous. Betancourt whiffed on a 1-2 pitch up and in. Torrealba whiffed on a 1-2 curve down and in. Ichiro fouled off nine pitches with two strikes on him before finally walking on the fifteenth pitch of the at-bat, which was inside with Ichiro's tucked-in half-swing that probably could have gone the other way. Pitching coach Orel Hershiser visited the mound. Ichiro was gunned down at second by Barajas on the second pitch to Bloomquist.

Young's line: 5 innings, 1 run, 4 hits, 1 walk, 6 strikeouts, 100 pitches (68 strikes)

BOTTOM 5TH
Grade: B
Decent. DeRosa got ahead 3-1 before driving a single into leftfield with a full count. Matthews flew out high to Reed in leftcenter on a full count. Young rolled the second pitch into the leftfield corner for a double, and DeRosa tried scoring from first, but was beaten at home on the relay throw from Betancourt, which had DeRosa by about seven feet. Young went to third on the play. Teixeira was walked intentionally. Blalock flew out high to Sexson just beside the move.

TOP 6TH
Grade: C-
Kameron Loe came in for Young. Bloomquist fouled a 2-1 pitch off his left ankle, bringing trainers out of the dugout. Bloomquist wound up bouncing out to second. Ibañez whiffed on a 2-2 low sinker. Sexson whiffed on a 2-2 sinker over the inner half.

BOTTOM 6TH
Grade: C-
Soriano poked a 2-2 outside pitch into centerfield for a single. Mench fell behind 0-2 and lined a 2-2 pitch into leftfield for a single with Soriano going on the pitch. On the play, Ibañez came up throwing as Soriano ran full steam toward third, and he got there in time. Nevin drove a 3-1 pitch into the gap in rightcenter to score Soriano and Mench.
»» RANGERS 4, MARINERS 1

Julio Mateo came in for Moyer. Barajas bunted the first pitch in front of the plate to Torrealba, who threw to third, and the throw was in time, but Beltre couldn't get the tag down on Nevin. DeRosa whiffed on a full-count pitch down and away. Matthews grounded the second pitch up the middle to Betancourt, who stepped on the second-base bag to start a 6-3 double play.

Moyer's line: 5 innings, 4 runs, 10 hits, 2 walks, 1 strikeout, 102 pitches (55 strikes)

TOP 7TH
Grade: B
Almost. Beltre reached for a 1-2 pitch a bit low and away and put it down the leftfield line and into the corner for for a double. Reed bounced the second pitch to second, moving Beltre to third. Dobbs stroked the first pitch into the rightcenter gap for a double, easily scoring Beltre and bringing pitching coach Orel Hershiser to the mound.
»» RANGERS 4, MARINERS 2
Betancourt fouled an 0-2 pitch off the ground and off his face before whiffing. Dave Hansen got ahead 3-0 and ended up walking on a low and away 3-1 pitch.

Steve Karsay came in for Loe. Ichiro bounced a ball deep in the hole on the left side, where Young tried to throw over to second, but it was late and wide for an error. Dobbs scored. Hansen was safe at second, as was Ichiro at first.
»» RANGERS 4, MARINERS 3
Bloomquist softly lined a 1-2 pitch to Soriano's glove, at foot level.

Loe's line: 1 2/3 innings, 2 runs (1 earned), 2 hits, 1 walk, 3 strikeouts, 34 pitches (22 strikes)

BOTTOM 7TH
Grade: C
In the field, Miguel Ojeda came in for Torrealba. Young grounded the first pitch to short. Teixeira drilled the second pitch for a line drive over the rightfield fence.
»» RANGERS 5, MARINERS 3
Blalock flew out to leftfield on the first pitch. Soriano flew out to Bloomquist in shallow rightfield on the second pitch.

Mateo's line: 2 innings, 1 run, 1 hit, 0 walks, 1 strikeout, 17 pitches (12 strikes)

TOP 8TH
Grade: C+
Not enough. Ibañez lined a 1-2 pitch near the rightfield corner for a double. Sexson took a 3-0 strike a few inches off the plate outside before taking the next pitch high for a walk. Beltre fell behind 0-2 before reaching for a pitch about a foot outside, but doubling it down the rightfield line, scoring Ibañez and moving Sexson to third.
»» RANGERS 5, MARINERS 4

Brian Shouse came in for Karsay. Reed tapped back to the mound.

Francisco Cordero came in for Shouse. Mike Morse, hitting for Dobbs, whiffed on a 1-2 fastball inside. Betancourt took a 2-2 pitch over the outside corner.

Karsay's line: 1/3 inning, 1 run, 3 hits, 1 walk, 0 strikeouts, 19 pitches (12 strikes)
Shouse's line: 1/3 inning, 0 runs, 0 hits, 0 walks, 0 strikeouts, 3 pitches (2 strikes)

BOTTOM 8TH
Grade: C
Jeff Nelson came in for Mateo. Mench checkswung bunted the second pitch to a charging Bloomquist near the grass. Nevin got the hitters' counts before walking on a full-count frisbee outside. Barajas whiffed on a 1-2 pitch that got past Ojeda, allowing Nevin to scoot over to second.

Matt Thornton came in for Nelson. David Dellucci, hitting for DeRosa, grounded the first pitch to Sexson in the hole to the right side, where Sexson moved over and threw wide to first, allowing Nevin to score, though it looked like Thornton might have been a bit late covering first.
»» RANGERS 6, MARINERS 4
Matthews took the second pitch, which went straight off of Ojeda's glove and to the backstop (passed ball), allowing Dellucci to move to second. Matthews later took a 1-2 pitch down the pipe.

Nelson's line: 2/3 inning, 1 run (unearned), 0 hits, 1 walk, 1 strikeout, 12 pitches (7 strikes)
Thornton's line: 1/3 inning, 0 runs, 1 hit, 0 walks, 1 strikeout, 6 pitches (5 strikes)

TOP 9TH
Grade:
Ojeda got ahead 3-1 and later took a pitch low and away for a walk. Ichiro popped a 2-0 pitch to Blalock in front of the third-base dugout. Bloomquist looped an 0-2 pitch to Mench in rightfield. Ibañez grounded to first. Ballgame.

Cordero's line: 1 2/3 innings, 0 runs, 0 hits, 1 walk, 2 strikeouts, 24 pitches (14 strikes)
---

Gameball: Adrian Beltre.
Someone's having probably his best month of the season. His .286 August batting average may not be the highest of the season, but the .597 slugging percentage beats the pants off any other month this season for the ex-Dodger. Moreover, he has six homers in August, which hopefully he exceeds in the next week for his best homer month. His 21 RBIs in August has already exceeded his RBI totals for any other month this season. The results tonight were good, and I have to focus on the good since he reached for both of the pitches on which he hit doubles. He reached for the double down the leftfield line, and he reached a foot outside for the double that went down the rightfield line. I guess the one thing that'd make me happy about the double down the rightfield line is that he went the other way with it. That's good, I guess. I'd like to not see him reach and roll balls over or swing at crap out of the zone, but hey, the results for August speak for themselves. As an added bonus, he can also keep Ryan Franklin in check. Who knew they'd get that as part of the five years and $64M?

Goat: Willie Bloomquist.
He had the banner night of any Mariner that played a full game in the starting lineup by going 0-for-5 with a couple of strikeouts. His only at-bat in a key situation was when he poked a ball into Soriano's glove at second with two on and two out in the seventh, and with the Mariners having just gotten to within one run at 4-3. Bloomquist hit .319 in July, and is cooling at a .271 clip for August. He has four doubles (after six in July) and a triple this month. He hasn't homered this month. Actually, he hasn't homered in any month. Warning-track power might be a stat worth keeping for this guy. Of course, if we told ourselves that Bloomquist's game was centered in any way around balls in the air, that'd be horribly wrong. It'd probably be wrong if we said Bloomquist's game depended on line drives too. I think his game is either shooting balls just over the infield or beating out grounders. That's about it. I'm still mildly shocked that a pennant-race team out there didn't convince themselves that Bloomquist would be of some value to their team. It's not just me wanting him out of Seattle, it's me wishing that the media overhype might have leaked into offices of GMs across the country.


Yr W-L Pct GB Stk
2001 89-35 .718 -- W2
2002 75-49 .605 14 W1
2003 75-49 .605 14 W1
2000 69-55 .556 20 L8
2005 53-71 .427 36 L2
2004 46-78 .371 43 L2


Yes, that's one game further from third place (Rangers) for the 2005 Mariners. In past news, the 2000 Mariners were going through the throes of an eight-game megaskid at this point five years ago that made me question all that I knew about life and the universe at large. They turned out pretty well by the time the playoffs rolled around.

This game really was almost unbearable to watch. The Mariners got an early lead and saw it fritter away in the second. The tie was broken in the fourth, and that turned out to be it. It's just that the Rangers had an answer for everything the Mariners did. Conversely, the Mariner pitchers had no luck holding the score in place after their offense had brought them closer to the Rangers. I guess the sad thing would be that the Mariners really didn't have any true scoring chances until the seventh. Yuniesky Betancourt whiffed with Greg Dobbs on second and one out with the score 4-2, and that wasn't clutch. Dave Hansen walked, so that wasn't bad. Ichiro hit a nicely placed grounder, which was good. Willie Bloomquist got a bit unlucky, and needed a little mroe lift on his ball to tie it for the Mariners or at least advance runners.

What really killed it all was the eighth. First off, Julio Mateo gave up the laser beam of a homer to Mark Teixeira, so that made for a bigger hill to climb. The Mariners appeared unfazed, with Adrian Beltre's double bringing the Mariners within a run again at 5-4 and putting two runners in scoring position with nobody out. What a bad time for the 6-7-8 hitters to come to the plate. One of these days, these three hitters will come through at the same time for the Mariners, but this wasn't the night for Jeremy Reed, Mike Morse, and Yuniesky Betancourt, who were a tap to the mound and two strikeouts away from bailing the Rangers out of the threat. When Miguel Ojeda's passed ball moved Phil Nevin to second in the bottom half of the eighth, that pretty much threw dirt on the grave after Richie Sexson threw wide to first. Ojeda's leadoff walk in the ninth didn't really make up for his gaffe in the eighth, though it just looked bad and didn't figure into any run-scoring. He just plum didn't catch one of the pitches.

In this game of horrible unclutchness, the Mariners got multi-hit games from Ichiro and Beltre (gameball). Ichiro went 2-for-4 with the leadoff homer in the first, an infield single in the whirlwind seventh, and a walk. The game propelled Ichiro's average to .304. Beltre's two doubles on very imperfect pitches put his average at .261. Other extra-base hits in the game came on doubles by Sexson and Raul Ibañez. In offensive offensive news, Betancourt went for the hat trick, striking out three times.

You know what a disturbing trend is lately? Mariner starting pitchers not named Felix have been allowing double-digit hits in their starts. There's no way anyone can spin that into anything good, I don't care what they say. If you give up ten or more hits and you haven't gotten into the seventh, I'd have to say you've more than likely had a bad start. Jamie Moyer gave up ten hits in his five-plus innings in this game, but the whole thing just served to put more credence into the whole home-road split thing, which is grossly gross at this point.

Can the Mariners keep their chances for a series win? Can they get back to within four games of third place?

Franklin. Dominguez. Tonight.