Sunday, August 28, 2005
GAME 129: MARINERS 9, WHITE SOX 2
Mariners 9, White Sox 2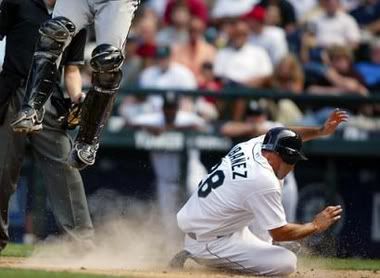 In 25 words or less: An old friend makes Seattle happy once again. Of course, this time he had terrible results, but it was a good thing.

This one featured Freddy Garcia going up against Jamie Moyer. Two-fifths of Mariner rotations of the good times now were to square off against one another. Would the Mariners avoid the sweep? They would need Jamie Moyer to hold to his form of being crazy-good at home this year.

TOP 1ST
Grade: B-
Long. Pablo Ozuna bunted the first pitch along the first-base line where Richie Sexson tossed over to the bag, but Jamie Moyer fell across the bag and Ozuna, who was safe. Ozuna stole second on the 1-1 pitch to Tadahito Iguchi, drawing a late throw. Iguchi ended up grounding a 1-2 pitch to second as Ozuna held. Carl Everett whiffed on a 1-2 change, and the dropped pitch resulted in the batter's box tag from Yorvit Torrealba. Paul Konerko got the hitters' counts before doubling into the rightfield corner, scoring Ozuna.
»» WHITE SOX 1, MARINERS 0
Aaron Rowand grounded a full-count pitch to the hole on the right side, but Mike Morse pulled Sexson off the bag with his throw, though it went for a single. Chris Widger grounded a 2-2 pitch into a 6-4 fielder's choice.

BOTTOM 1ST
Grade: B
Weird. Ichiro poked the second pitch down the rightfield line for a double past a diving Geoff Blum. Willie Bloomquist lined the first pitch to rightfield, and Ichiro scored.
»» WHITE SOX 1, MARINERS 1
Raul Ibañez whiffed on an 0-2 pitch, but Bloomquist took second on the play. Richie Sexson whiffed on a 1-1 pitch that got away from Widger, and Bloomquist took third. Sexson ended up whiffing on a 2-2 pitch. Adrian Beltre took an 0-2 pitch that got away from Widger and to the screen, allowing Bloomquist to score.
»» MARINERS 2, WHITE SOX 1
Beltre bounced a 1-2 pitch past Iguchi at second and into rightfield for a single. Greg Dobbs popped the second pitch to centerfield.

TOP 2ND
Grade: A-
Settle. Dave Hansen came in for Sexson at first. Juan Uribe popped out to shallow rightfield. Geoff Blum popped a full-count pitch to Ibañez on the leftfield track. Brian Anderson fell behind 0-2 and lined a 2-2 pitch right to Beltre at third.

BOTTOM 2ND
Grade: A
Where is this coming from? Mike Morse flew out to Rowand reaching to make the catch on the track in rightcenter on a 2-0 pitch. Jeremy Reed walked on a high 3-1 pitch and stole second on the 0-1 pitch (throw wide) to Yorvit Torrealba. Torrealba watched as Reed stole third on the 0-2 pitch. Torrealba ended up chopping over Ozuna at third and down the line for a double, scoring Reed.
»» MARINERS 3, WHITE SOX 1
Ichiro bounced a 2-0 pitch up the middle for a single, scoring Torrealba. Rowand's throw home from centerfield field airmailed Widger and went to the backstop, allowing Ichiro to move to second.
»» MARINERS 4, WHITE SOX 1
Bloomquist whiffed on a 2-2 pitch. Ibañez was intentionally walked. Dave Hansen lined a 1-2 pitch off of Iguchi's glove and into rightfield, scoring Ichiro.
»» MARINERS 5, WHITE SOX 1
Beltre flew out to rightfield on the second pitch.

TOP 3RD
Grade: A
Blazingly quick. Ozuna bunted the second pitch in the air in foul ground, where Torrealba dove and made the catch near the third-base line. Iguchi bounced a 2-2 pitch to third. Everett rolled out to short.

BOTTOM 3RD
Grade: C-
Turnabout. Dobbs grounded the second pitch to short. Morse grounded the 2-2 pitch hard to first. Reed chopped out to a charging Iguchi on the left side.

TOP 4TH
Grade: B
Not spotless. Konerko dumped a 2-2 single into shallow rightcenter. Rowand hit a bullet over Bloomquist at second and it rolled all the way to the wall in rightcenter, scoring Konerko.
»» MARINERS 5, WHITE SOX 2
Widger fell behind 0-2 before popping to shallow rightfield, as Rowand held at third for Ichiro's arm. Uribe worked a 1-2 count full before popping foul to Torrealba near the third-base dugout. Blum grounded a 2-2 pitch hard to short, where Morse threw high to first, but Hansen pulled it down.

BOTTOM 4TH
Grade: C
Not cashing in. Torrealba whiffed on a 1-2 pitch. Ichiro grounded the second pitch to second. Bloomquist laced the first pitch into rightcenter for a single, and he stretched it into a double thanks to a wide throw from rightfield. Bloomquist was nearly picked off of second with the count 0-1 to Ibañez, and took another pickoff throw off his helmet. Ibañez ended up lining out right to Rowand in centerfield.

TOP 5TH
Grade: B+
Nothing much, and that's good. Anderson popped to Torrealba behind the plate. Ozuna grounded the first pitch past Bloomquist's backhand side for a single. Iguchi whiffed on a 2-2 change low and away. Everett fell behind 0-2 and whiffed on a low 1-2 change.

BOTTOM 5TH
Grade: B+
There's more? Hansen golfed a second-pitch homer about ten or twelve rows back into the rightfield seats.
»» MARINERS 6, WHITE SOX 2
Beltre looped the first pitch into centerfield for a single. Dobbs flew out to centerfield, and Beltre had to come back from making the turn at second and ran back to first, sliding hard. Morse scooped an 0-2 pitch into shallow centerfield, moving a limping Beltre to second. Yuniesky Betancourt ran for Beltre, who was pulled. Reed dumped the first pitch into shallow leftfield for a single, scoring Betancourt, who had run through the stop sign, but the throw home was wide, where Garcia stopped it, which was good except he probably shouldn't have been in front of the plate and not backing up the play.
»» MARINERS 7, WHITE SOX 2

Jon Adkins came in for Garcia. Torrealba got ahead 2-0 and ended up grounding a full-count pitch deep into the hole on the left side, and Uribe ranged over but his throw to second was late as the bases were loaded. Ichiro grounded to first for a 3-6 fielder's choice, scoring Morse and putting runners on the corners.
»» MARINERS 8, WHITE SOX 2
Bloomquist grounded to short for a 6-4 fielder's choice.

Garcia's line: 4 1/3 innings, 8 runs, 11 hits, 2 walks, 4 strikeouts, 88 pitches (57 strikes)

TOP 6TH
Grade: A-
In the field, Bloomquist moved to third and Betancourt took second. Konerko fell behind 0-2 and popped to Morse in shallow leftfield on a 2-2 pitch. Rowand got ahead 2-0 and popped a 2-1 pitch that was barely missed by Torrealba sliding into the wall in foul ground. Rowand ended up flying out to left on a 2-2 pitch. Widger lofted a liner into centerfield on a 2-2 pitch, but Reed grabbed the ball off his shoetops to make the catch, stumbling afterward.

BOTTOM 6TH
Grade: B
Unnecessary insurance. Ibañez walked on a full-count pitch outside. Hansen lined a full-count single into rightfield, moving Ibañez to second. Betancourt popped the first pitch to Rowand in shallow centerfield. Dobbs popped to Ozuna behing the bag at third on the second pitch. Morse ripped a single through the middle, scoring Ibañez thanks to a throw home from Rowand that hit the back of the mound.
»» MARINERS 9, WHITE SOX 2
Reed fell behind 0-2 before popping the 1-2 pitch near to Ozuna near the third-base dugout.

TOP 7TH
Grade: A-
Still cruising, this Moyer guy. Uribe got the hitters' counts and flew out to Morse in shallow leftfield on the 3-1 pitch. Blum took a 2-2 pitch over the inside corner. Anderson grounded the 1-2 pitch hard to third.

Moyer's line: 7 innings, 2 runs, 6 hits, 0 walks, 4 strikeouts, 117 pitches (74 strikes)

BOTTOM 7TH
Grade: C-
Quick. Torrealba flew out to leftfield on the second pitch. Ichiro chopped out to third. Bloomquist got ahead 2-0 and ended up taking a 2-2 pitch over the outer half.

TOP 8TH
Grade: B-
Shigetoshi Hasegawa came in for Moyer. Ozuna flew out to shallow rightfield. Iguchi got ahead 2-0 before walking on a full count. Everett poked the second pitch into centerfield for a single, moving Iguchi to second. Konerko softly lined the first pitch right to Betancourt, who caught it and stepped on the bag at second to double off Iguchi.

BOTTOM 8TH
Grade: C-
They had all the runs they needed already. Ibañez grounded hard back to the mound. Hansen popped a 1-2 pitch to Widger, who barely had to move out of his crouch. Betancourt bounced a 2-2 pitch to short.

Adkins' line: 3 2/3 innings, 1 run, 3 hits, 1 walk, 1 strikeout, 59 pitches (35 strikes)

TOP 9TH
Grade: B+
A nice end. Rowand dropped a single into shallow centerfield. Widger bounced the second pitch to short for a 6-4-3 double play. Uribe fell behind 0-2 and wound up flying out to leftfield on a 2-2 pitch. Ballgame.

Hasegawa's line: 2 innings, 0 runs, 2 hits, 1 walk, 0 strikeouts, 25 pitches (14 strikes)
---

Gameball: Yorvit Torrealba.
Mike Hargrove keeps running Torrealba out there in the day game following a night game, but the results were nice today. A day after going 0-for-3 in the seventh slot in the lineup, Hargrove put Torrealba back in the ninth slot, and he responded with a 2-for-4 day and an RBI. Torrealba is hitting .319 as a Mariner, and is hitting .389 since taking the full reins of the starting catcher job. For the amount of time that we've viewed any offense from the catching position as a bonus, it's a breath of fresh air to see a Mariner catcher doing something at the plate and not being a defensive liability, the latter of which Torrealba proved in a few occurrences today. He dove to catch Pablo Ozuna's pop bunt in the third, and he made a nice sliding effort on a foul ball going near the stands in the sixth. Sure, he's not the catcher of the future by any means, but between Jesse Foppert (who'll probably be throwing when I post this) and Torrealba, I like what we're getting out of the Randy Winn trade so far. Also with Torrealba, he looks more and more each day like a serviceable stopgap until Jeff Clement gets up to the big club.

Goat: Greg Dobbs.
Even in a 9-2 walkover, someone's gotta be the goat. Dobbs was 0-for-4 and left four runners on the basepaths. Raul Ibañez went 0-for-3, but walked twice, so it's a bit more forgivable. None of Dobbs' four outs were on balls that were hit very hard. The good thing about Dobbs being out there every day now is that he at least gets the chance to be erratic out there from day to day. Before, he'd just pinch hit and deliver maybe once every couple weeks. Now, we see him get a good hit every once in a while and then hang up a zero. The Mariners are at least getting some payoff from him now, though. This we know. We also know he can reach the upper deck in the Metrodome, which I never thought he'd be able to do. Of course, I've been witness to stranger things before, like when Randy Winn reached the Hit It Here Cafe in 2003, something else I never thought would happen. I don't think I see Dobbs on this roster for next season, so at the very least I have to thank him once again for signing my Carlos Guillen batting practice ground-rule double ball when the Winter Caravan went through Bremerton last winter.


Yr W-L Pct GB Stk
2001 93-36 .721 -- W4
2002 77-52 .597 16 L1
2003 76-53 .589 17 L4
2000 71-58 .550 22 W1
2005 55-74 .426 38 W1
2004 49-80 .380 44 W3


The Mariners had lost seven of nine going into this game. In the race against 2004, the Mariners stayed six games up as last year's team was in the third game of a five-game win streak, after which they would lose seven straight and ten of twelve. Today, August 28th, the Mariners got their 55th win of the season in their 129th game. In 2004, the Mariners obtained win number 55 in game number 145 on the 15th of September. If the Mariners hold their current .429 winning percentage for the rest of the season, they'll end up with 69 wins (69-93 record). To meet my prediction from last offseason, the Mariners would have to finish the season 23-11 to get to a 77-85 mark. I guess that even with my pessimism going into this season, I still undershot how bad the team was going to be, though nowhere nearly as bad as last season. How the Mariners went from the solid starting rotation of 2003 to what it was this year is just flabbergasting. Jamie Moyer's at least moderately holding up his end of the bargain. Freddy Garcia's gone, sure. Did anyone expect Gil Meche, Joel Piñeiro, and Ryan Franklin to all stink it up this badly, and this quickly? It's just amazing how the rotation went from a team strength to a tattered mess.

Though the Mariners were only three days removed from a lopsided win, they really hadn't had an easy win since the final game of the series at Kansas City on the 17th. The Mariners won 8-3 in ten innings at Minnesota, but that game obviously had to go to ten innings. They won 8-2 in the final game of the Texas series, but that game wasn't easy until Ichiro hit the grand slam in the ninth. Thusly, the Mariners could have used an easy game like this, and they got it. Jamie Moyer was able to go seven and rest the bullpen sufficiently, and Shigetoshi Hasegawa was given a couple of low-pressure innings to see how well he's coming off his injury. He came through okay. Moyer held up like he usually has this year in Seattle. Dave Hansen did crazy things. Probably the only bad thing about the game is that Richie Sexson left early with blurry vision in his right eye and that Adrian Beltre slid hard into first and banged up his knee. Let's hope that both injuries don't turn out to be devastating. Of course, if they're going to be injured for any length of time, let's make it this year when they're not in a pennant race.

Multi-hit games for Mariner hitters in this game went to Ichiro, Willie Bloomquist, Dave Hansen, Adrian Beltre, Mike Morse, and Torrealba (gameball). That's two-thirds of the lineup. Not bad. Ichiro was 2-for-5 with a double and a couple of RBIs. Bloomquist was 2-for-5 with a double, a steal, and an RBI. Hansen went nuts, going 3-for-4 with a homer and a couple of RBIs after replacing Sexson. Beltre went 2-for-3. Morse had a nice game at the plate, going 2-for-4 with an RBI, and his two outs were nicely-hit balls as well. The only Mariner with a "1" next to his name in the hit column was Jeremy Reed, who stole second and third in the second inning to nearly singlehandedly account for the Mariners' third run making for a 3-1 lead at that point. He also drove in the Mariners' seventh run in the fifth with a single.

Now comes what may end up being a daily Ichiro counter, only this time he's not trying to break some hit record. He's just trying to get to 200 hits, which I think he'll get easily enough unless he falls off the wagon with force. Ichiro is averaging about 4.18 at-bats a game this season. There are 33 games remaining in the season, leaving Ichiro with 137.9 at-bats for the rest of the season. To get to 200 hits, Ichiro would have to hit .283 the rest of the way, and that would leave him with a 2005 average of .295. I've been saying that my realistic expectation of Ichiro coming off the 262-hit season was for him to hit .320. To reach the .320 mark, Ichiro would have to finish with 217 hits (58 more), something that would require him to hit .406 the rest of the way. To exceed his Major League career-worst .312 average from 2003, Ichiro would have to end up with 212 hits for a .313 average, and he'd have to hit .370 the rest of the way to get there. In other words, I think it's safe to say this will be the year where Ichiro has his worst season average in the Majors. I can see the 200 hits being a possibility, but not .312 or .320. Also his 2-for-4 outing today lifted his August average to .245.

As for Moyer, what can you say about him that hasn't already been said? He's a blatant home pitcher this season, but he keeps making his case for his number to be retired at the Safe. I think it should happen. I'd have to say 11, 24, 50, and 51 (Randy). If you wanted to, you could add 21 since Alvin Davis is already in the Mariner Hall of Fame. If you added 21, you'd unquestionably have to add 19. You could add 3 because Alex grew up here and did have a 40/40 season in a Mariner uniform, helped along the 1997 and 2000 runs, etc. If you really wanna stretch, you could add Mark Langston's 12, but that might be a reach. This has to be one of my favorite Mariner debate topics, though I'm not getting fully into it right now. This could be an end-of-year post, or a post whenever Jamie decides to retire.

I still can't believe the schedule wizards didn't put any of the series against the Yankees on weekends in Seattle this season, but oh well. It's a quad set against that Bronx team, and we're really only looking forward to one of the games, and it's definitely not tomorrow's game.

Mussina. Franklin. Tomorrow.