Saturday, April 30, 2005
GAME 23: MARINERS 4, ATHLETICS 2
Mariners 4, Athletics 2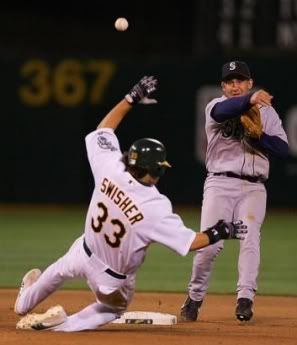 In 25 words or less: Aaron Sele got into so many jams it could have been Smucker's Night in Oakland. At least he got out of them.

This one featured Aaron Sele up against a piece of Mark Mulder trade bait, Dan Haren.

TOP 1ST
Grade: C
Haren didn't have too much trouble. Ichiro lined out to center on the first pitch of the game, and Jeremy Reed flew out to center as well just two pitches later. Three pitches, two outs. Adrian Beltre hacked at the first pitch as well, but doubled off the scoreboard in leftfield. Richie Sexson had the two hitters' counts, but he whiffed on a full-count dirtball to end the inning. Haren threw 10 pitches.

BOTTOM 1ST
Grade: C-
Sele's start was ominous. Mark Kotsay stung one to centerfield that Reed caught. Jason Kendall hit a grounder under Bret Boone's glove that went for a single into centerfield. Eric Chavez ripped a 1-0 pitch off the rightfield scoreboard, putting two runners into scoring position. Sele fell behind 2-0 to Scott Hatteberg, who two pitches later bounced out to Boone as the infield was playing back. Kendall scored.
»» ATHLETICS 1, MARINERS 0
Erubiel Durazo flew out to Reed to end the inning. Sele threw 16 pitches.

TOP 2ND
Grade: C-
Haren had little trouble. Bret Boone was down 0-2 quickly, and though logs say it goes down as a swinging strikeout, I thought Boone might have held his swing and the pitch was there. Raul Ibanez had his 2-0 advantage disappear, and he flew out to left on a full count. Winn took three strikes, with the last being over the inside corner. Haren threw 14 pitches.

BOTTOM 2ND
Grade: C+
Sele would get into some scattered treachery. Mark Ellis singled to center to lead off the inning. Nick Swisher laced a 1-2 single into rightfield. Marco Scutaro at least made an out, as Wilson Valdez ranged to his right to grab a ball from the hole and get the 6-4 fielder's choice. Charles Thomas, whose low average the broadcast crew brought up on numerous occasions throughout the broadcast, took a 1-2 fastball over the inside corner. Kotsay lined out to Winn in left to end the inning. Sele threw 18 pitches.

TOP 3RD
Grade: B+
The Mariners would get to Haren. Miguel Olivo flew out to Kotsay in center. Wilson Valdez hit a ball up the middle that appeared to hit Haren in the foot or lower leg, and it bounced ricocheted right to Hatteberg near first base, but he overran it (charged with error). Two pitches later, Valdez would come around to score when Ichiro ripped a ball toward the corner in right. Swisher tried to make a diving catch and missed. Valdez scored from first to tie the game, and Ichiro scooted all the way to third for a triple.
»» ATHLETICS 1, MARINERS 1
Oakland manager Ken Macha drew his infielders in to try and prevent Ichiro from scoring on an infield grounder. Reed hit a 1-0 pitch past Scutaro at short and into centerfield, and Ichiro scored easily.
»» MARINERS 2, ATHLETICS 1
Beltre fouled off three pitches before whiffing on a fourth. Sexson fouled off pitches on the two hitters' counts, and he ended up walking. Boone bounced into a 5-4 fielder's choice to end the inning. Haren doubled his pitch count in one inning, throwing 24 to match his total from the first two innings.

BOTTOM 3RD
Grade: B
Sele got the trouble out of the way early. After getting ahead of Kendall 1-2, he threw three straight balls for the free pass. Chavez flew out to Reed, and Hatteberg grounded out to Sexson at first. Sele got ahead 0-2 on Durazo, who bounced out to Boone two pitches later. Sele threw 13 pitches.

TOP 4TH
Grade: B
The Mariners would scratch out another run in semi-dramatic fashion. Ibanez drew a seven-pitch walk to lead off. Winn singled up the middle to make it even more interesting. Olivo tapped one back to the mound, and Haren threw to third to nail the lead runner (Ibanez). It was still interesting, though more frustratingly so. Runners remained at first and second, but now with one out instead of none. To make matters worse, Valdez got behind 0-2 right away, paving the way for him to be caught looking on a 2-2 pitch. Ichiro served a 2-2 pitch into leftfield. Winn had a full head of steam coming toward third base, and he was heading to the plate the whole way. He should have been meat. Thomas came up throwing, and Winn slid away from Kendall's glove side at the plate, evading the tag. Hooray!
»» MARINERS 3, ATHLETICS 1
Reed bounced into a 6-4 fielder's choice to end the inning. Haren threw 21 pitches and was at 69 through four.

BOTTOM 4TH
Grade: B-
The rollercoaster ride continued. Mark Ellis singled to left to lead off. Sele fell behind 2-0 to Swisher, but then Swisher watched two strikes. Swisher took ball four on the ninth pitch of the at-bat. Two on and nobody out. Not good. Then a funny thing happened -- Scutaro bounced a ball up the middle that Valdez got to, starting the 6-4-3 double play. That sure changed things up. A small buzzkill came two pitches later when Sele beaned Thomas in the back leg, though Thomas made no effort whatsoever to get out of the way. Kotsay lined out to Boone two pitches later to end the inning. Sele threw 22 pitches and was at 69 through four.

TOP 5TH
Grade: D+
Haren sliced through the meat. Beltre bounced out to short on a 2-0 pitch. Sexson drew a walk, but Boone and Ibanez both went down looking to end the inning. Haren threw 18 pitches and was at 89 through five.

BOTTOM 5TH
Grade: B-
Sele averted disaster once again. Kendall had the hitters' counts and grounded out to Valdez. Chavez singled to center. Sele got ahead of Hatteberg 0-2, and dropped in a mother of a curve two pitches later to catch him looking. Durazo ripped a 2-1 pitch just barely foul down the leftfield line for what could have been a double to bring Oakland to within one run. Durazo settled for lining a single into centerfield. Ellis flew out right to Ichiro on 3-1. Sele threw 18 pitches and was at 92 through five.

TOP 6TH
Grade: C-
Haren had no trouble against the Bottom Three. Winn whiffed, Olivo grounded one to Chavez, and Valdez grounded out to short on the first pitch. Haren threw 10 pitches and was at 97 through six.

BOTTOM 6TH
Grade: A-
Sele's easiest inning was his final one, but that doesn't mean he didn't pitch into a couple of three-ball counts. Swisher popped a 3-1 pitch to Beltre in the acres of foul ground. Scutaro bounced out to short. Thomas, who was batting less than a buck, worked a 1-2 count full before grounding out to Boone.

Sele's line: 6 innings, 1 run, 7 hits, 2 walks, 2 strikeouts, 105 pitches (61 strikes)

TOP 7TH
Grade: C
Haren's final inning had turbulence, though not wholly self-inflicted like Sele's. Ichiro bounced out to second to lead off, and Reed flew out to shallow rightcenter. Beltre hit a high chopper on 1-2, and it bounced over the mound. Haren tried to go back and field it, but he couldn't come up with it. It also would have taken an insane spin move and throw to get Beltre at first, who was credited with a single. Beltre went to second on the first (wild) pitch to Sexson, who ended up with the whiff. Haren threw 16 pitches.

Haren's line: 7 innings, 3 runs (2 earned), 6 hits, 3 walks, 9 strikeouts, 116 pitches (72 strikes)

BOTTOM 7TH
Grade: C-
Matt Thornton came in for Sele, and all Mariner fans soon hated this fact. Thornton walked Kotsay on four pitches to lead off. Kendall had a 2-0 count to start, but worked an eight-pitch walk. Two walks, no outs, no good. Chavez helped out everyone involved by popping one in foul ground to Olivo. Thornton handed a 3-1 count to Hatteberg, but he flew out to Beltre. Thornton got Durazo to roll one to short to start the 6-4 fielder's choice. The inning started badly, and ended a lot better than it started. I'll have a 1-2-3 inning next time, thanks.

Thornton's line: 1 inning, 0 runs, 0 hits, 2 walks, 0 strikeouts, 22 pitches (10 strikes)

TOP 8TH
Grade: B-
"Ricky" Ricardo Rincon came on in relief for Haren. Boone led off and had a very nice at-bat. Though he fouled off the first two pitches and got behind 0-2, he eventually worked the count full and mashed a ball over the manual scoreboard in leftfield on the seventh pitch of the at-bat. Nicely done. The sooner the Lasik kicks in, the better.
»» MARINERS 4, ATHLETICS 1
Rincon got a bit wild, falling behind 3-0 on Ibanez. Rincon got the gimme strike, and got a flyout to right on the next pitch. Winn helped him out even more by flying out to left on the first pitch.

Huston Street came on for Rincon to face Olivo, and got a strikeout.

Rincon's line: 2/3 inning, 1 run, 1 hit, 0 walks, 0 strikeouts, 13 pitches (7 strikes)
Street's line: 1/3 inning, 0 runs, 0 hits, 0 walks, 1 strikeout, 4 pitches (3 strikes)

BOTTOM 8TH
Grade: C
JJ Putz was brought in to set up Eddie Guardado. The first five pitches he threw were strikes. Both Ellis (0-1 pitch) and Swisher (0-2) grounded out to Beltre. Then Putz threw three straight balls after having a 1-2 count on Scutaro. Putz went 0-2, threw two balls, and then did the unthinkable, allowing a single to Thomas (rightfield).

Mike Hargrove couldn't fathom what just happened, so he brought in Ron Villone. Three pitches into the Villone outing, Kotsay singled into leftcenter, and Scutaro came around.
»» MARINERS 4, ATHLETICS 2
Kendall then tapped a 1-2 pitch in front of the plate, and Olivo pounced on it and threw him out.

Putz' line: 2/3 inning, 1 run, 1 hit, 1 walk, 0 strikeouts, 16 pitches (10 strikes)
Villone's line: 1/3 inning, 0 runs, 1 hit, 0 walks, 0 strikeouts, 7 pitches (5 strikes)

TOP 9TH
Grade:
More Mulder trade bait came in to pitch, this time it was Kiko Calero. Valdez fanned to lead off. Ichiro had a 2-0 count, and two pitches later he singled into centerfield. Calero threw over twice to first base to try to pick off Ichiro, and nearly got him once when Ichiro was leaning toward second. Reed ended up taking strike three. Beltre got behind 0-2 as Calero and Kendall were still occupied with Ichiro at first. Beltre flew out to center to end the inning.

Calero's line: 1 inning, 0 runs, 1 hit, 0 walks, 2 strikeouts, 19 pitches (13 strikes)

BOTTOM 9TH
Grade: A
Would it be a Cardiac Ninth? Actually, the complete opposite. Chavez was jammed in on the handle and flew out to Reed, Hatteberg bounced one to Sexson, and Durazo smoked one into Winn's glove in leftfield.

Guardado's line: 1 inning, 0 runs, 0 hits, 0 walks, 0 strikeouts, 9 pitches (7 strikes)
---

Gameball: Adrian Beltre.
He had the only non-Ichiro multihit game. Sure, both of his hits were with two outs and nobody on, but slumps have to be broken somehow. I hope this starts him on a tear, but who knows? I still wish he'd lay off the breaking stuff low and away, but with how many times over the past few years I've seen Boone swing at strike three on that pitch, I guess I'm numb to it.

Goat: Matt Thornton.
The fans in Oakland had just stretched when suddenly Matt Thornton walked the first two batters and brought the go-ahead run to the plate. Sure, he got out of the jam, but sheesh. At least JJ Putz had gotten two guys out before he got into his mess. Thornton darn near blew the win for Sele.


It was a win sort of like the one from the night before. Pitcher throws well, Mariners get behind at first and then score some runs to get the win for said starting pitcher. Needless to say, Aaron Sele's outing doesn't even come close to touching Gil Meche's outing on Thursday.

Ichiro had the non-Beltre multihit game, and he drove in the tying run as well as an insurance run. He's busy making up for the first couple games at Texas. In a weird note, Richie Sexson struck out twice, but walked another two times in his 0-for-2 day. His last four games: 5-for-11 with a homer, six walks, three whiffs, five runs scored, and three stranded runners.

Wilson Valdez almost ended up in the goat slot, but he at least hit the ball up the middle that Scott Hatteberg made the error on. That was a welcome departure from realizing his 0-for-4 night where he struck out twice and stranded two. So, I guess you get a goat reprieve if you score the tying run.

Aaron Sele, hoo boy. I haven't been too high on his re-signing, and I never like it when he's in a jam in just about every inning, but if he can throw six every time out and keep this team in the game, I think that'd make for a solid season from Sele. Hell, I wasn't expecting him to get much past the fifth going into this season, so I've been wrong a couple times.

Above .500? With this team, I think a betting man would bet high on a Mariner loss today. Of course, it's Jamie Moyer on the mound today, and he's 4-0. He might also run into an umpire who doesn't call a low strike, so who knows what could happen?

This post was aided by...
-- Brave New World, Iron Maiden
-- Killing Is My Business...And Business Is Good!, Megadeth

Eeeeeeeeeeeee.

Cheeeeeeeeeee.

RO!

Moyer. Blanton. Today.