Thursday, April 28, 2005
THE NOT-SO-PRODUCTIVE OUT-MAKING BOX 4/28/05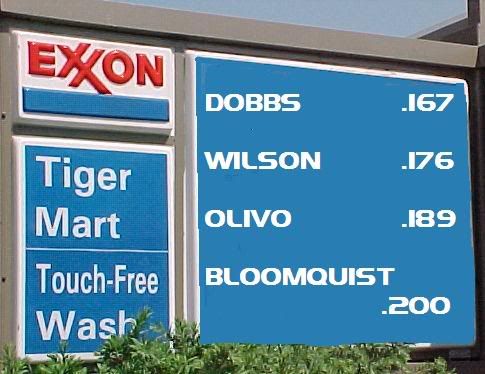 Mariners at Rangers, 7:05 Pacific (KSTW, FSN Southwest, MLB.TV)

Gil Meche (1-1, 6.86 ERA) vs Chris Young (2-1, 5.79 ERA)

It's the rubber game tonight in Arlington. Can the Mariners win a series against a division rival? We can only hope Meche doesn't end up like Ryan Franklin did last night. By the way, ENOUGH OF THE RUN SUPPORT ARGUMENTS FOR THE FORT SMITH, ARKANSAS-BORN PITCHER! Thanks.

I'd just like to let everyone know that the PUMP is all in good fun. Some people try to take it way too seriously. The same deal goes for the TOWEL!, which is equally as fun as the PUMP. My advice to those of you who take this stuff way too seriously is to relax. There are more serious things in the world to deal with than to bitch and moan about the blogosphere being so down on players such as Willie Bloomquist. Every team has a "whipping boy". Willie is our whipping boy. Again, it's all in good fun.

In serious Mariner news, Dave at USS Mariner reported that the Mariners have signed Dave Hansen to a minor league deal. You may remember Hansen's clutch 3-run home run against Oakland last season, before Mike Myers blew the 4-4 lead in the top of the 9th to give the A's a 7-4 victory. Expect Hansen to be up with the big club soon.

Hear the music, feel the music. You might as well.

It's Dark New Day with "Brother" (song plays when you open the page). Dan Lucero has been all over this band, and with good reason. Dark New Day features former Sevendust guitarist Clint Lowery, so this band is definitely worth a listen. I'm not sure how Sevendust will do without Lowery, who not only played guitar but was one of the main songwriters. But in the meantime, Dark New Day is today's "Sports and Bremertonians Hear The Music, Feel The Music" pick. You tell me what other "Mariner blog" gives you music along with opinions on the Mariners?

The box is open for you to use. Use it, will ya?