Wednesday, April 27, 2005
GAME 21: RANGERS 8, MARINERS 2
Rangers 8, Mariners 2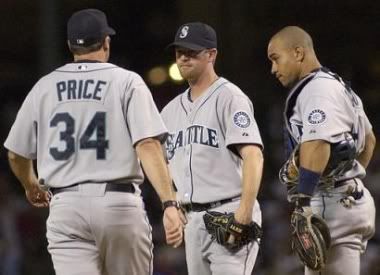 In 25 words or less: Ryan Franklin got the shellac treatment in the first inning, and the game was pretty much over from that point.

This one featured Ryan Franklin going up against The Gambler, Kenny Rogers.

TOP 1ST
Grade: C
The Mariners got some baserunners, but did nothing. Ichiro grounded out to first. Randy Winn hit a hard grounder that went off Hank Blalock's glove at third and into centerfield for a single. Adrian Beltre flew out to rightfield on the first pitch. Richie Sexson whiffed on a 3-1 change, but Winn stole second on the pitch. Sexson ended up working a walk. Bret Boone flew out to right to end the inning. Rogers threw 18 pitches.

BOTTOM 1ST
Grade: F
Ryan Franklin put the game out of doubt early. Alfonso Soriano ripped a 3-1 pitch down the rightfield line. At that point, I don't know how I felt this way, but I knew Franklin would get bombed. With that ballpark, and the way the Rangers hit four homers the night before, I thought that'd be the case. Well, they didn't hit four homers in the inning or something, but it was still devastating. Franklin bounced back from the double by walking Hank Blalock on four pitches. Michael Young drilled a thigh-high fastball over the middle, clearing the wall in leftcenter, going into the bullpen past the 390-foot marker.
»» RANGERS 3, MARINERS 0
Franklin got ahead of Mark Teixeira 0-2 and eventually got a high flyout to Ichiro. David Dellucci was inexplicably green-lit on 3-0, but fouled it off. He walked on the next pitch. Kevin Mench laced a doubled into leftfield, and Winn tried to get Mench going to second, overthrowing the covering Bret Boone at second. Richie Sexson backed up the throw to stop and further damage. Then Richard Hidalgo grounded a ball up the middle to score two.
»» RANGERS 5, MARINERS 0
Laynce Nix grounded a ball to Boone, who made a nice flip to start the 4-6-3 double play. The damage was done, though. Franklin threw 28 pitches in the inning.

TOP 2ND
Grade: C
The Mariners got favorable counts in the inning but couldn't capitalize. Raul Ibanez flew out to Mench in leftfield. Miguel Olivo had a 3-0 count which eventually went full before he grounded out to Blalock along the third-base line. Jeremy Reed walked on a 3-1 pitch. Wilson Valdez had a 2-0 count, then bounced out to second on 2-1. Rogers threw 22 pitches.

BOTTOM 2ND
Grade: B-
Franklin didn't get shelled again, but still had some trouble. Franklin hung one to Rod Barajas, but he got under it too much because he's Rod Barajas, so it was a flyout to Valdez in shallow left. Soriano got under a 2-0 pitch, flying out a little deeper to Winn. Blalock then walked on four pitches, and all eight pitches he'd seen on the night up to that point were all balls. Anomalously, Franklin dropped an 0-2 slider over the outside corner to catch Young looking and end the inning. Franklin threw 12 pitches.

TOP 3RD
Grade: C-
Nothing was doing for the Mariner bats this inning (get used to that theme for tonight). Ichiro had a 2-0 count, but ended up lining out to Blalock in front of third on the infield grass. Winn and Beltre grounded out to short. Rogers threw 12 pitches.

BOTTOM 3RD
Grade: C
Franklin didn't get touched up for any runs, but the inning was still a bit edgy. Teixeira's first-pitch double to rightfield beat FSNNW coming back from the break. Dellucci flew out to Winn in left, abut Teixeira was smart by tagging up and going to third on a ball hit to Randy Winn. Lest we forget, Randy Winn has no arm. Mench grounded out to Beltre on the infield grass, and Teixeira had to hold. Hidalgo had a 2-0 count, but later flew out in the gap to Ichiro. Franklin threw 13 pitches.

TOP 4TH
Grade: D+
Former Mariner broadcaster Ken Levine (Levine's Law) used to say "the leadoff walk always comes around to score unless it doesn't." In this inning, the latter applied. Sexson walked tl lead off the inning. Boone predictably flew out to centerfield on the first pitch. Ibanez whiffed on a 2-2 outside-corner pitch, and Olivo flew out to right. Rogers threw 14 pitches.

BOTTOM 4TH
Grade: C+
This inning could have been worse. Nix hit an 0-2 grounder to the right side, and Sexson didn't have his glove all the way down, allowing the ball to go through his legs (error). Barajas then singled to left on the first pitch. Soriano took an 0-2 pitch over the inside corner. Blalock grounded his first pitch to Boone, and the runners advanced. Young flew out to center to end the inning. Franklin threw 11 pitches.

TOP 5TH
Grade: C-
Same as the 4th. Reed worked from a 1-2 count and walked. Valdez bounced a grounder toward Rogers, who came off the mound, bobbled it, picked it up, and threw to first, falling down as he did so. Rogers barely got Valdez at first. Ichiro hit a low line drive to centerfield for a flyout. Winn had a 3-0 count, took strike one, then swung at ball four a couple times (fouling) before grounding out to the mound. Rogers threw18 pitches.

BOTTOM 5TH
Grade: D
Franklin composed his swan song. I can't remember if he beat the network back from commercial again, but Teixeira singled to center on the first pitch. Mench smoked a base knock to left and scored Teixeira. If there was any doubt that the game was over, Franklin was quelling such a notion.
»» RANGERS 6, MARINERS 0
Hidalgo flew out to Olivo in foul territory on his first pitch. Nix singled up the middle on his first pitch to plate Dellucci.
»» RANGERS 7, MARINERS 0

Franklin had finally sealed his own fate and was pulled for Matt Thornton.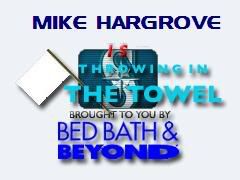 Barajas flew out to center. Soriano had an 0-2 count and eventually hit a hard shot to Beltre at third, who tagged the bag to end the inning. Thornton threw eight pitches.

Franklin's line: 4 1/3 innings, 7 runs, 10 hits, 3 walks, 2 strikeouts, 78 pitches (48 strikes)

TOP 6TH
Grade: D+
Rogers started to falter as his pitch count got high, but it didn't matter. Beltre flew out to center on the first pitch. Sexson worked a 1-2 count full before lacing a single into leftcenter. Boone bounced his second pitch right to short for an easy 6-4 fielder's choice. Ibanez drew a walk, but Olivo hit a foul popup along the rightfield line, and it was caught over-the-shoulder by Teixeira. Rogers threw 21 pitches.

Kenny Rogers' pitch count was up there, and he didn't come out for the 7th. This probably elicited nondescript and barely detectable grins from the Mariner hitters.

Rogers' line: 6 innings, 0 runs, 2 hits, 5 walks, 1 strikeout, 105 pitches (57 strikes)

BOTTOM 6TH
Grade: B-
When you put Thornton in, you're just trying to get the game over with. Blalock had a 2-0 count, and eventually walked on a full count. Young flew out to right. Teixeira foul-tipped a ball into Olivo's glove. Dellucci sent a ball to the track in centerfield to end the inning.

Thornton's line: 1 2/3 innings, 0 runs, 0 hits, 1 walk, 1 strikeout, 28 pitches (17 strikes)

TOP 7TH
Grade: C-
Someone may have snapped out of a small slump, but other than that, nothing happened. Brian Shouse came in for Kenny Rogers. Reed had two hitters' counts, but foul-tipped a breaking ball into the catcher's glove on a full count. Valdez popped out to the second baseman. Ichiro fouled off an 0-2 pitch before golfing a low pitch into centerfield for a single, his first hit in nine at-bats in the series. Winn hit a broken-bat grounder to third to end the inning.

Shouse's line: 1 inning, 0 runs, 1 hit, 0 walks, 1 strikeout, 19 pitches (12 strikes)

BOTTOM 7TH
Grade: B-
Jeff Nelson came in and got tagged for a run, but no one cared by this point. He got strikeouts on Mench and Hidalgo (0-2 pitch) to start the inning before Nix bashed one out to rightfield.
»» RANGERS 8, MARINERS 0
Barajas flew out to center to end the inning.

Nelson's line: 1 inning, 1 run, 1 hit, 0 walks, 2 strikeouts, 11 pitches (9 strikes)

TOP 8TH
Grade: C-
It was pretty much over at this point, though the Mariners weren't quite in hurry-up mode. Nick Regilio took the mound for the Rangers. Beltre popped a ball foul along the rightfield line, and Teixeira didn't make an over-the-shoulder catch this time, instead settling for a regular ol' boring catch in about the same spot. Sexson had a 2-0 count and fouled off a couple pitches before flying out to center on a full count. It was the only plate appearance in which Sexson failed to reach base in the game. Boone bounced out to second to end the inning.

Regilio's line: 1 inning, 0 runs, 0 hits, 0 walks, 0 strikeouts, 15 pitches (9 strikes)

BOTTOM 8TH
Grade: A
Congratulations to Julio Mateo for having the best inning of the night by a Mariner pitcher. Soriano and Blalock flew out to Reed, and Young lined out to Sexson at first. Hooray, Julio.

Mateo's line: 1 inning, 0 runs, 0 hits, 0 walks, 0 strikeouts, 7 pitches (6 strikes)

TOP 9TH
Grade: B-
Hey, they did something. Francisco Cordero came on to get some easy work, and that's usually when closers aren't quite as sharp. Ibanez and Olivo led off with singles to centerfield. Reed took two pitches and whiffed on the third. Greg Dobbs came in to pinch hit for Valdez. He got down 0-2 and worked an eight-pitch at-bat resulting in a fielder's choice that erased Olivo from the basepaths. The first pitch to Ichiro was a bit inside, and he had to get out of the way, but he did this weird twist thing, and if something would have gone wrong, Ichiro could have turned his left ankle. Ichiro fought back on the next pitch, doubling into the gap in rightcenter, just over the reach of Hidalgo. At least the shutout was ruined.
»» RANGERS 8, MARINERS 2
Winn got down 0-2 and whiffed. Ballgame.

Cordero's line: 1 inning, 2 runs, 3 hits, 0 walks, 2 strikeouts, 26 pitches (18 strikes)
---

Gameball: Julio Mateo.
Ichiro would have been too obvious, and Richie Sexson (two walks and a single) had that error. Julio Mateo hadn't thrown in a game since Friday, so he was well-rested and he looked sharp, though it was in garbage-time relief.

Goat: Ryan Franklin.
Bret Boone can thank Ryan Franklin for not getting picked for a third straight goat. Boone was 0-for-4 and stranded four tonight, but it was Ryan Franklin who lost this game. Sure, he's had outings where he's lost close games with low run support this year, but tonight, he gave up too many runs to begin with, rendering the run support argument moot. If he got five runs of support per night, he still would have lost this game because he sucked, and he definitely sucked. He was taken to the woodshed by the Ranger bats, plain and simple. Three walks didn't help either, two of which were four-pitch walks to Hank Blalock, and two of which came around to score. Frankly, this game reeked of the one Gil Meche threw against Cleveland five nights ago. Meche gave up five runs in the first inning of that game as well.


Well, crap. The team's back below .500. I can't stress to you how much I thought Franklin was going to get rocked after he gave up that leadoff double to Alfonso Soriano. Just a gut feeling, I guess. In a way, though, I guess you could say it was due based on how well he'd been doing up to this point. The groundball/flyball ratio also wasn't heavily tilted toward groundouts this time, as it was a 4/7 ratio this time. Fly balls, bashers, and Arlington make for a mixture of homers.

How the hell did Kenny Rogers walk five batters and not give up a run? Two of them were leadoff walks. Simply amazing. What a hallmark for futility. Of course, the three walks that weren't leadoff walks were all with two out, so those were a bit more harmless. Still, if the pitcher's walking people, you've got to make something out of it.

Since somebody was more worthy of a goat than Bret Boone, I'll spend this paragraph on Bret Boone. 0-for-4 tonight, stranding four. The night before, he was 0-for-5, stranding 5. He hasn't had a hit since last Friday, which ironically was the last time a Mariner pitcher got blasted for five runs in the first inning. He's hitless in 17 at-bats. That's some suckage right there. The ol' average is down to .238, and wouldn't you know it, that's worse that Wilson Valdez. Amazing.

Jeremy Reed went hitless (0-for-2), but he continues to impress, drawing two walks and still making himself an offensive factor. I'm glad to see that Mike Hargrove is keeping him in against the lefties as well, because hey, he's at least going to give you a quality at-bat most of the time.

It's a Bonanza of Mediocrity. Of course, I'd rather have a year full of this than last year. I'd also rather have the Mariners tread water instead of going on horrendous losing skids. Either way, I'm hoping the power picks up soon. I wish Jeff Zimmerman would come out of the Texas pen and throw to Ichiro.

[Add Thu ~6:59a -- You know, I thought that it looked closer than the umpires and broadcasters made it seem, but Miguel Olivo was safe on that forceout in the 9th, on the Dobbs ground ball. I thought my eyes tricked me or something, Rizzs passed it off like it was nothing, etc.]


Meche. Young. Tomorrow.