Wednesday, April 27, 2005
THE NOT-SO-PRODUCTIVE OUT-MAKING BOX 4/27/05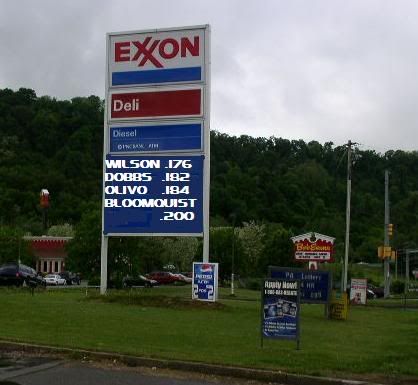 Mariners at Rangers, 5:05 Pacific (FSN Northwest, FSN Southwest, MLB.TV)

Ryan Franklin (1-2, 2.51 ERA) vs Kenny Rogers (0-2, 3.33 ERA)

LINEUPS!

SEATTLE MARINERS (10-10)
Ichiro rf .333
Winn lf .275
Beltre 3b .256
Sexson 1b .246
Boone 2b .250
Ibanez dh .296
Olivo c .184
Reed cf .270
Valdez ss .254

TEXAS RANGERS (10-11)
Soriano 2b .292
Blalock 3b .250
Young ss .287
Teixeira 1b .241
Dellucci dh .295
Mench lf .306
Hidalgo rf .176
Nix cf .381
Barajas c .242

Here's hoping that I get to watch the Mariners-Rangers on FSN Southwest tonight. Knowing my luck, FSN will pre-empt the game for meaningless SEC baseball action. Who knows how many relatives and friends Ryan Franklin will bring down from Spiro, Oklahoma. THERE'S THAT HOMETOWN AGAIN, PARTNER!

Feel the power of Pantera. Every Pantera album, with full-length tracks. Real Player required. Rest in peace, Dime.