Thursday, April 28, 2005
GAME 22: MARINERS 4, RANGERS 1
Mariners 4, Rangers 1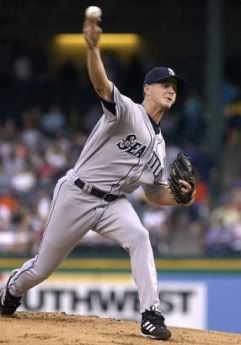 In 25 words or less: It looked for six innings like Gil Meche would suffer from low run support. It came around.

This one featured Gil Meche against 6'10" righty Chris Young.

TOP 1ST
Grade: C
Young would begin to bewilder the Mariners. Ichiro grounded out to second. Jeremy Reed creamed a 1-1 pitch which may have had home-run distance, but it went foul. He grounded out to third on the next pitch. Adrian Beltre singled into center on his first pitch. Richie Sexson fouled off a 3-1 pitch before grounding out to short. Chris Young threw 13 pitches in the inning.

BOTTOM 1ST
Grade: A
Meche started off very nicely. Alfonso Soriano bounced out to short on the first pitch. Hank Blalock got behind 0-2 and Meche got him hacking at a dirtball two pitches later. Michael Young grounded out to short. Wilson Valdez got some grounders, which was good because he wasn't hitting. Meche threw only seven pitches.

TOP 2ND
Grade: C-
Young continued to follow in the long line of no-name Mariner beaters (Doug Waechter, Jorge Sosa, Mark Hendrickson, et al). Bret Boone stung the first pitch and flipped the bat, which of course means it won't leave the yard. Boone appeared to get more juice on it than usual as of late, getting it to the gap in rightcenter where Richard Hidalgo caught it at the wall. Raul Ibanez got the green light on 3-0 and flew out to centerfield. Randy Winn bounced out to short. Chris Young threw only seven pitches in the inning.

BOTTOM 2ND
Grade: B+
Meche got a timely ground ball to keep the inning sane. Mark Teixeira singled into rightfield. David Dellucci worked a 1-2 count full before rolling one to Boone, who started the 4-6-3 double play with the kind of flip that's actually meaningful. The double play even came with one of those phantom tags of the bag by the shortstop, perfected by Valdez. Kevin Mench tapped a ball to the third-base side of the mound, where Meche picked it up and threw to first. Meche threw 15 pitches in the inning.

TOP 3RD
Grade: C
The Mariners were being held at Young gunpoint. Man, that's a stretch. Dan Wilson flew out deep into the corner in rightfield. Wilson Valdez tapped one back to the mound. Ichiro drilled a 2-0 pitch into the gap in rightcenter for a double, but it's too bad there were two out. Reed bounced out to second on the first pitch. Chris Young threw nine pitches.

BOTTOM 3RD
Grade: B
Meche was a victim of some slight misfortune, but remained unscathed. Richard Hidalgo flew out to shallow right (Ichiro) on the first pitch. Laynce Nix doubled off the wall in leftcenter; this was almost similar to the Willie Bloomquist play in Chicago, but this ball was hit harder. Winn leapt at the wall, but the ball hit the wall two feet away (centerfield side) from his glove. Rod Barajas chased a high fastball, ending up with a flyout on the infield grass to Boone. Soriano whiffed on a 1-2 outside fastball. Meche threw 11 pitches.

TOP 4TH
Grade: C-
Chris Young was pitching, and Dennis DeYoung of Styx might as well have been in the batter's box. Beltre got behind 0-2 and couldn't hold the checkswing two pitches later on a pitch high and outside. Sexson took a 1-2 curveball over the outside corner. Boone hit a 1-2 pitch high in the air, landing in the glove of Blalock, who had camped out on the front slope of the mound. Chris Young threw 14 pitches.

BOTTOM 4TH
Grade: C
Meche done made a mistake. He fell behind 2-0 on Blalock. Wilson had the target set over the outside corner, but the pitch went over the inner half of the plate instead. Well, it might have gotten there, but Blalock creamed it, reaching the upper deck in rightfield. It was almost a mortar shot like Soriano hit last night.
»» RANGERS 1, MARINERS 0
Michael Young laced a line drive, but right into Winn's glove. Teixeira flew out high to centerfield on the first pitch. Dellucci grounded out to Sexson at first. Meche threw 14 pitches, but found himself behind in the game.

TOP 5TH
Grade: C-
More of the same from the Mariners. Ibanez worked a 1-2 count full and fouled off a couple pitches before flying out to left. Winn blooped a ball into shallow centerfield, but it hung in the air too long and was caught by Nix. Wilson didn't give Nix a lot of recovery time, flying out to center on the first pitch. Young threw 14 pitches.

BOTTOM 5TH
Grade: B
Meche picked up for the defense a bit. Meche was ahead 0-2 on Mench, who ripped a 2-2 pitch barely foul down the leftfield line, but had to settle for a groundout to short. He went 0-2 on the next hitter as well, Hidalgo, who hit a ball to Boone's right two pitches later. The problem: Boone tried to barehand the ball instead of gloving it and throwing. He got his barehand on the ball, sure, but it bounced away and there was no play (error). Nix helped everyone out by flying out to Reed in center. Meche fell behind 2-0 on Barajas, but got a grounder to short for a 6-4 fielder's choice. Meche threw 17 pitches.

TOP 6TH
Grade: C-
More melatonin from Chris Young. Valdez tapped one back to the mound. Ichiro flew out to shallow right. Reed whiffed at a pitch high and away. Chris Young threw only six pitches and had 63 through six.

BOTTOM 6TH
Grade: A-
Meche had a 1-2-3 inning. Soriano took Winn to the warning track in left on the first pitch. Blalock grounded out to Sexson at first. Meche fell behind 2-0 on Michael Young, but worked the count full and got a tapper right back to him. Meche threw 12 pitches and had thrown 76 through six.

TOP 7TH
Grade: B
The game got suddenly got very interesting. Beltre flew out to centerfield to start off, but things would warm up. Sexson took a 3-1 pitch high and outside for a walk. Boone fouled off a 1-2 pitch before poking one into centerfield, snapping his 0-for-19 skid. Ibanez smoked a base hit into centerfield on the first pitch, though it was hit too hard to score Sexson. Nonetheless, the bases were loaded with one out, and it was bad enough to get Texas pitching coach Orel Hershiser out to the mound. Winn then hit a high chopper to short that was hit too slow for the double play (at least Soriano thought so, since he didn't throw to first), instead ending up as a 6-4 fielder's choice. Sexson scored and the game was tied. Winn probably would have beaten out a throw anyway.
»» RANGERS 1, MARINERS 1
Winn took second base without a throw on the first pitch to Wilson. Wilson hit a broken-bat flare to Soriano in shallow right to end the inning. Chris Young threw 21 pitches and had thrown 84 through seven.

BOTTOM 7TH
Grade: B-
Meche faltered a bit. He fell behind 3-1 to Teixeira, who fouled off the next four pitches before grounding out to Boone. He walked Dellucci on four pitches. Mench mashed a 1-2 pitch to leftfield which could have gone for a double if it wasn't hit right to Winn, who caught the rope (HUGE out). Hidalgo grounded out to third, ending what I thought was Meche's final inning. Meche threw 19 pitches and had thrown 95 through seven.

TOP 8TH
Grade: B
I like surprises. Valdez got behind 0-2 and grounded out to first (3-1 putout) two pitches later. Ichiro saw a 1-1 pitch down and in and put the home-run swing on it, putting it 10 rows back into the rightfield seats. Ladies and gentlemen, we have found our 2005 Jeff Zimmerman, and thy name is Chris Young. Whoever ended up with the Ichiro ball in the stands ended up throwing it back. Who in their right mind would throw back an Ichiro ball?
»» MARINERS 2, RANGERS 1
Reed got behind 0-2 and ended up popping to Blalock at the mound. Beltre got down 0-2 as well, eventually flying out to center. Chris Young threw 18 pitches.

Unfortunately for Young, he gave up the lead in the 7th, and was in line for the loss after the 8th despite spinning a great outing. Somewhere Ryan Franklin is laughing.

Young's line: 8 innings, 2 runs, 5 hits, 1 walk, 3 strikeouts, 103 pitches (70 strikes)

BOTTOM 8TH
Grade: B-
Mike Hargrove sent Meche out to the mound in the 8th, which surprised me, and they almost ended up paying for it. Nix whiffed on an 0-2 breaking ball. Meche then hung a first-pitch breaking ball to Barajas, the #9 hitter, who tagged it down the leftfield line for a double. Gary Matthews, Jr. pinch ran for Barajas. Soriano flew out to center.

Hargrove came out to the mound and Ron Villone was summoned from the bullpen. Villone got a first-pitch strike on Blalock. Blalock fouled off two pitches before whiffing on a fastball up and in. It was quite an authoritative strikeout, and signaled the best we can expect out of Villone in his ridiculous situational lefty role (not his fault).

Meche's line: 7 2/3 innings, 1 run, 4 hits, 1 walk, 3 strikeouts, 104 pitches (68 strikes)
Villone's line: 1/3 inning, 0 runs, 0 hits, 0 walks, 1 strikeout, 4 pitches (4 strikes)

TOP 9TH
Grade: A
Surely the Mariners would like some insurance so Eddie Guardado wouldn't give the fans a Cardiac Ninth. Carlos Almanzar came in to relieve Chris Young. Sexson quickly took care of the insurance thing, swatting an 0-1 pitch over the scoreboard in left, though it took a long time to come down. That was a moon shot, rainmaker, whatever you want to call it.
»» MARINERS 3, RANGERS 1
Almanzar fell behind 2-0 to Boone, who raked one down the leftfield line for a double. Almanzar was threatening to go Jason Davis on us all, walking Ibanez on four pitches, and getting a mound visit from pitching coach Orel Hershiser. Winn bounced into a 4-6 fielder's choice on the first pitch. Almanzar got ahead 0-2 on Wilson but then uncorked an extremely wild pitch, one of those pitches that slips out of the hand. It went well over Wilson's head and to the backstop, scoring Boone.
»» MARINERS 4, RANGERS 1
Three pitches later, Wilson fanned on a pitch low and away. Almanzar threw another wild one on the 1-0 to Valdez, and Winn went to third. Valdez had a 2-0 count as well, but bounced out to second two pitches later. A three-run lead for Guardado is better than a one-run lead, I can tell you that much.

Almanzar's line: 1 inning, 2 runs, 2 hits, 1 walk, 1 strikeout, 20 pitches (10 strikes)

BOTTOM 9TH
Grade: A-
Eddie Guardado came on to close it out. Michael Young lined the second pitch of the inning right to Ichiro. Teixeira hit a very high fly ball that Reed camped under and caught. Chad Allen pinch-hit for Dellucci, and stung an 0-1 pitch that Sexson nearly speared on the fly with a diving backhand catch, but it went off his glove. Boone came up with the ball, but Guardado hadn't hurried over to first in time, though a play at first was probably debatable. Mench put the outcome out of doubt quickly, however, flying out to Winn on the first pitch. Ballgame.

Guardado's line: 1 inning, 0 runs, 1 hit, 0 strikeouts, 8 pitches (7 strikes)
---

Gameball: Richie Sexson.
His line wasn't quite as good tonight as in the two other games of the series, but he was still good. He was 1-for-3, driving in himself, walking once, striking out once, stranding one, and scoring twice. Needless to say, one of the runs was the homer. The other run? That was the tying run (first Seattle run) in the seventh, where he got aboard with the first-pitch walk and scored on the Randy Winn fielder's choice. Sexson capped off an impressive (albeit unusual for him) series, going 5-for-9 with one homer and four walks, striking out only once and scoring five runs. The only thing more odd than Sexson scoring five runs is that he only drove in one. One could think he only drove in one run because he stranded a bunch of guys, but he stranded only one runner the entire series. I'll let that Buckner ball from last night slide, but the gameball is for tonight.

Goat: Dan Wilson.
Can there be such a thing as the go-to goat? Wilson was 0-for-4 with a strikeout, stranding three. He stranded two in scoring position with two out to end the 7th and left Winn on second by striking out in the 9th. I won't dispute that Wilson and Meche had a good thing going today, but someone has to go here, and Jeremy Reed and Wilson Valdez (both 0-for-4 tonight) didn't make any errors or do anything totally stupid or strand a bunch of runners.


You know, it's weird. Last night we got the first sketchy start of the year from Ryan Franklin. Tonight we got the best start of the year from Gil Meche, after some sketchy starts and some not-quite-sharp starts. I'm still quite surprised that Hargrove sent him back out there for the 8th after having thrown 95 pitches and after having given up that 4-pitch walk (his only walk of the game) and that Mench lineout which went into Winn's glove at light speed. He only got the three strikeouts, but his breaking stuff was working really well. I don't consider him too much of a groundball pitcher, but he had 12 of those for outs tonight compared to eight flyball outs.

I'm impressed with this win. I wasn't impressed with the first six innings against Chris Young, but I was incredibly glad that they finally managed to scratch something out against him. To think it started out with a Sexson walk. Patience pays, as Edgar would say (and write). Sexson scored after walking, and then Ichiro had that homer swing, which I've been able to detect apart from the regular hit swing. It's more of a full swing. Let's not forget that two-out double in the 3rd for Ichiro. He was 2-for-4, and with the double and the homer...that'll send his slugging percentage through the ROOF!

Bret Boone's run of futility peaked at 0-for-19 before he poked a single into leftfield in the 7th to move Sexson into scoring position. He also doubled into the corner in left in the 9th. He's now hitting .250. Of course, you have to take the bad with the good, and Boone had that idiotic barehand play that went for an error.

In bullpen news, Villone's strikeout was a nice end to the 8th, and Eddie Guardado didn't collapse after the 2-out ball off Sexson's glove. Somehow I feel that if Guardado's pitching a relatively easy 9th, that doesn't mean I'm living any less. If I want rollercoaster rides, I'll give a ticket to some scruffy-looking volunteer carnival operator with rotten teeth and a chaw in his mouth, and then I'll board the ride. I don't want rollercoaster rides from my closer.

In a really sick note, I listened to a tiny piece of the Mitch Levy show on KJR this morning, and they brought up something that'll make every Mariner fan vomit -- more than half of Jose Mesa's 300 saves (he just got #300) have come AFTER he left the Seattle Mariners. This is me retching.

Well, good friends, we're back to .500. Eleven wins, eleven losses. Thirteen is a baker's dozen, but eleven is a baker's ten. Okay, it's not. Off to Oakland! It's McAfee Coliseum, in case anyone's wondering. It at least sounds like it's named after someone, but they just make antivirus software.

Sele. Haren. Tomorrow.