Friday, April 29, 2005
HUCKEBA HAS SKILLS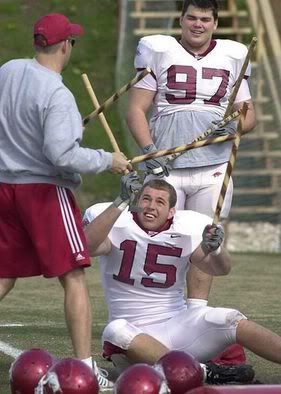 Today is the start of the Seahawks' mini-camp, with all of the draft picks and free agents present. Running back Shaun Alexander will not show up, since he hasn't signed his tender.

Which means that 5th round pick and martial arts master Jeb Huckeba is in Kirkland right now. Huckeba isn't just a good football player, he also has good martial arts skills. Girls only want boyfriends who have good skills, you know.

As I said last weekend, Seattle fans are going to love Huckeba. He is a hard-nosed player who won't quit. By the way, you don't earn all-SEC first-team honors by not being a good player. The Seahawks and Tim Ruskell knew what they were doing when they selected Huckeba. Out of all the players who were selected by the Seahawks in the 2005 draft, I'm rooting for Huckeba. You can't help but root for good guys like Huckeba.

We'll have more on the Seahawks mini-camp this weekend. After all, we're Sports and Bremertonians, a site that features more than just the Mariners.