Friday, April 29, 2005
THE NOT-SO-PRODUCTIVE OUT-MAKING BOX 4/29/05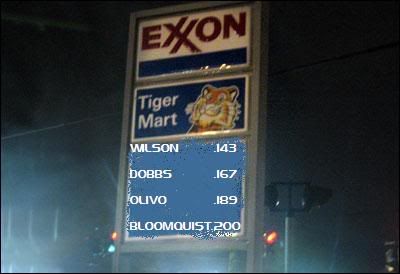 Mariners at Athletics, 7:05 Pacific (FSN Northwest, MLB.TV)

Aaron Sele (1-2, 5.56 ERA) vs Dan Haren (1-2, 4.56 ERA)

LINEUPS!

SEATTLE MARINERS (11-11)
RF Ichiro
CF Reed
3B Beltre
1B Sexson
2B Boone
DH Ibanez
LF Winn
C Olivo
SS Valdez

OAKLAND ATHLETICS (11-11)
CF Kotsay
C Kendall
3B Chavez
1B Hatteberg
DH Durazo
2B Ellis
RF Swisher
SS Scutaro
LF Thomas

When will the Aaron Sele Experience end?

In related news to Dan Haren, if you need to kill some time before the Mariners-A's game, watch the St. Louis-Atlanta game on TBS at 4:30 Pacific. Mark Mulder and Tim Hudson are scheduled to pitch for the Cardinals and Braves tonight, respectively. If that's not a good enough reason for you to watch that game, then I don't know what is. Haren was traded to Oakland in the Mulder deal, in case you had forgotten.

There's not one, but two Seattle-based teams playing in Northern California tonight. The Sonics are on the road in Sacramento tonight for Game 3 (7:30 Pacific, KONG-TV and ESPN). It's a very crucial game for the Sonics, IMO. If they go up 3-0 on the Kings tonight, it would be huge. They don't want to let Sacramento back into this series.

For the "Hear The Music, Feel The Music" selection today, it's The Soundtrack Of Our Lives with "Big Time". I've been listening to this song non-stop since I heard it at Wrestlemania a few weeks back when I was in Los Angeles. Just a good ol' rock song. Yes, we know how to rock.

Mulder-Hudson at 4:30 Pacific. Mariners-A's at 7:00. Sonics-Kings at 7:30.

That's a big time sports lineup, folks.