Friday, February 04, 2005
FRI'D
Welcome to Friday. The end of the work week is on upon us, or for jobless blokes like myself, the TV programming just changes a bit after today.

For the random note today, it's a discussion of cola. I've always maintained that I've noticed a difference between Coca-Cola and Pepsi, and I don't need to take the Pepsi Challenge to notice it. I'll still drink either one with no real preference. The difference to me is that Pepsi is smoother, sweeter, and goes down easier, whereas Coke is a bit stronger, more caffeinated, and leaches into the tongue more. Also, if you pour Coke in a glass or plastic cup and somehow forget about it, you might notice some strands of brown stuff (maybe the caffeine, maybe some caramel syrup polymers bonding with something) that weakly adhere near the high-liquid mark as a sort of residue. I don't think Pepsi really does this that much. I guess my conclusion is that I can get tired of Coke after having too much of it, but I'm not sure I've ever come to the conclusion that I've had too much Pepsi. That might be because from all accounts I've heard, Pepsi isn't as caffeinated as Coke.

So there's your Pepsi vs. Coke debate, two days before Super Bowl Sunday. I hope some of you out there might have gotten something out of it.

To the usual...

MARINERS
Here's the Times chat session with Bob Finnigan, Larry Stone, and some Mariner fans tossing questions around. Yes, the Griffey question was in there, but it was a very short section even though Finnigan was the one that answered it.

But I agree with Stone definitely on one thing, and that's it's unrealistic to expect this team to win the division. Not just because the team basically didn't touch their pitching, but because for any amount of reasons, expecting a team to pick up 22-32 games from one season to the next is a whole lot to ask. Twenty-two wins up from last year would put the Mariners at 85 wins, and I think that'd be nuts to expect from this team unless a whole bunch of things go right and everyone stays healthy. That said, I think I'm going with 77 wins for this team, and I think .500 is a solid season for this team. But if they start 42-19 like a certain team I remember (two years ago), then all bets are off and the expectations change. Or I would just hate to be right when it leveled off.

SEAHAWKS
Mike Holmgren just got a little more comfortable. Though there isn't a president yet, Mike Reinfeldt, Holmgren's cap guy and instrumental contract negotiator until last year, is back in the fold. His title is as yet undetermined, due to the fact that a president is not in place. Until then, he is a consultant, effective immediately. At the very least, as Farnsworth suggests in the article, it gives at least some semblance of results in terms of things actually happening in terms of hirings in the front office. The opposite of things getting done by the front office was speculated a couple days ago by Shaun Alexander. Says Reinfeldt, "I care about this franchise and want to help. This is a labor of love." I'm sure Randy Mueller thinks the same exact thing. I like that Mike Holmgren will be that much less ticked off about the situation, though I hope there's no stepping on toes between him and the cap guy that came in after him, Jay Nienkark.

Also in a weird note, Grant Wistrom and mother Kathy will be on the Jane Pauley Show at 2:30am late tonight (KOMO 4 in the Seattle area), during which I'll probably be busy typing up another one of these posts. This of course raises the interesting question, why does Jane Pauley have her own show?

It also occurred to me that I just called the above Wistrom-related thing weird, but left untouched the fact that Efren Herrera is at the Super Bowl for Univision. It's too bad Sunday is Domingo in the Spanish language, because I wanted to use that Sabado VERY Gigante phrase that I've been itching to use for the longest time. Late-night Univision soap operas are great, but I turn them off so I get these posts done faster.

BASKETBALL
The Marvin Williams Watch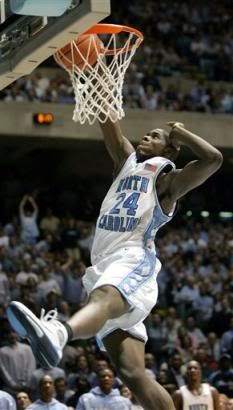 Bremerton 2004 graduate Marvin Williams didn't have to fake the funk on that nasty dunk. He had scored in double figures before halftime and ended up with a career-high (okay, it's only been a few months) 20 points in the Tar Heels' 95-71 shellacking of NC State. Marvin shot 5-for-8 from the field, nailed 3 of 4 from beyond the arc, and shot 7-for-8 from the free-throw line. He also chipped in 5 rebounds and a steal in 23 minutes of play off the bench. Not bad for recovering from the flu. Marvin is averaging 11.2 points and 6.8 rebounds a game. Inflate the stats to 40 minutes, and he's averaging 20.6 points and 12.4 rebounds a game. Yes, I know he won't be playing 40 minutes a night on a regular basis this year.

The Tar Heels travel to Tallahassee to face Florida State on Sunday (11a, FSNNW) and then have that game at Duke on Wednesday (6p, ESPN)

Huskies
In short, the Trojans led for the first 8:33 of the game until Jamaal Williams came off the bench, went nuts, and the Huskies pulled away for the 99-69 win. Oh yeah, Tre Simmons had a career-high 29 as well. It's a good thing the two Seattle dailies have devoted three articles to this, because last night's game wasn't televised by FSNNW or by any local outlet. Yes, a Pac-10 game between USC and the local Huskies was not seen by a great majority of people in the area. As Jeremy reminded me last night, a Division III basketball game was televised on the ESPN family of networks last night. In case I need to reiterate that, USC/Washington wasn't televised on a Thursday night, but a Division III basketball game was.

The Huskies host UCLA tomorrow (2p, FSNNW) and travel into the Pit on Thursday to face Oregon (7:30p, FSNNW)

Bulldogs
Both JP Batista and Erroll Knight had off nights, but the Zags were able to give the Gaels some payback with a 68-63 win. Saint Mary's led by 12 at the half, but the Bulldogs held them to two baskets in the final 12 minutes of play. Derek Raivio and Adam Morrison each scored 19, and Ronny Turiaf scored 14 and pulled down 8 rebounds. Those three players accounted for the obvious bulk of Gonzaga's points (52 of 68).

The Zags host Santa Clara tomorrow (3p, KONG 6/16 Seattle, Q6 NBC Spokane) and travel to Malibu to face Pepperdine on Thursday (8p, ESPN2)

Sonics
I'm a day late or so posting this, but site reader better known as SuperSonics.com writer Kevin Pelton has rolled out Part Three of four in his series "The Sonics Play Moneyball." In this installment, one featured item is a little computer program spearheaded by now-Assistant GM Rick Cho called Sonics Explorer, and the stats are usually in per-minute basis, or multiples thereof, rather than per-game.

Your Seattle SuperSonics. Learning to defend again. Okay, maybe just doing some more defensive drills in practice. The Sonics had a mediocre January but began February with a much-needed road win against the Kings.

As for Saturday's game, Coach McMillan isn't expected to be back until the day after, and Ray Allen (sinus infection) will be a game-time decision. Vladimir Radmanovic will be in the three-point contest at the All-Star Game, and Lenny Wilkens apparently will be on the FSN crew.

Of course, I'm expecting Radmanovic to finish dead-last in the three-point shooting contest. Why? I guess it's a long history of seeing my local athletes or teams bite it on the national stage, be it the Sonics against Phoenix this year, the Seahawks against a bunch of teams this year, and even Bret Boone's goose egg during the Derby back in 2001. Of course, you could counter that Desmond Mason won the slam dunk contest as a Sonic.

Upcoming...
Saturday vs. Charlotte (7p, FSNNW)
Tuesday vs. New Orleans (7p, FSNNW)
Thursday vs. Sacramento (7:30p, TNT)

HOCKEY
Not all of the NHL's players went to Europe to keep in playing shape during the lockout. Some stayed in North America. Other than some players who still had AHL ties and were call-ups for their NHL teams (for instance, Ryan Kesler, Jason King, and Alex Auld of the Canucks are playing for Manitoba), some have gone deeper into the reaches of minor-league hockey.

ECHL
Scott Gomez of the Devils (Alaska Aces) -- Gomez unsurprisingly is leading the team in scoring with 7 goals and 44 assists in 36 games.

Curtis Brown of the Blackhawks (San Diego Gulls) -- Brown has 6 goals and 18 assists in 29 games for the Gulls.

Central HL
Brad Lukowich of the Lightning (Fort Worth Brahmas) -- A key cog of the Lightning's Stanley Cup run played nine games with the Brahmas and had 3 goals and 3 assists.

United HL
Chris Chelios, Derian Hatcher, and Kris Draper of the Red Wings (Motor City Mechanics) -- These three just signed.

Barret Jackman and Ryan Johnson of the Blues (Missouri River Otters) -- These two players just signed.

Back to some WHL news...
The T-Birds' defensemen are now looking to get some points. He had a four-point weekend against Everett and Kamloops last weekend.

Upcoming...
Tonight: Portland at Seattle, Everett at Spokane, Vancouver at Swift Current, San Antonio at Manitoba, Puget Sound at Spokane
Tomorrow: Seattle at Everett, Vancouver at Lethbridge, San Antonio at Manitoba, Puget Sound at Spokane
Tuesday: Kootenay at Portland, Vancouver at Medicine Hat
Wednesday: Spokane at Seattle, Kelowna at Everett, Vancouver at Calgary
---

Have a great Friday, everyone, and enjoy your weekend, and be safe on Sunday and stuff.