Sunday, September 11, 2005
GAME 141: ORIOLES 5, MARINERS 3
Orioles 5, Mariners 3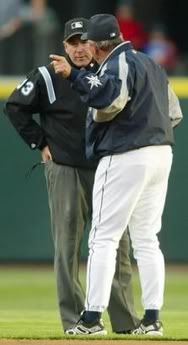 In 25 words or less: The newbie luck appeared to be fading for a certain Mariner starting pitcher, and the offense couldn't quite come back.

This one featured Rodrigo Lopez going up against Jeff Harris. Normally I'd be ticked about MLB.tv showing the Baltimore feed (Mid-Atlantic Sports Network) for this game, but then I remembered it was Singles Night, so the Mariners TV Network cameras were going to be aiming for that all night, and the announcers would be pumping up the promotion too much, and Rick Rizzs would be having his own field day with it, etc. The Baltimore telecast only mentioned it once. Hooray for Baltimore.

TOP 1ST
Grade: C
Shaky start. Brian Roberts punched a full-count pitch through the right side for a single. Melvin Mora got ahead 2-0 and ended up smashing a ball just inside the foul pole, six rows into the stands.
»» ORIOLES 2, MARINERS 0
Miguel Tejada flew out to shallow centerfield. Jay Gibbons popped the second pitch to Torrealba near the screen. Javy Lopez bounced the second pitch to second.

BOTTOM 1ST
Grade: C-
Ichiro got ahead 2-0 poked a 2-2 bouncer to the left side, and Tejada couldn't quite come up with it. Jeremy Reed watched as Ichiro was gunned down at second on the first pitch, though it appeared his foot might have gotten in there, and Mike Hargrove got tossed trying to argue the Mariners' cause. Reed ended up grounding to Rodrigo Lopez, who ran down Reed and tagged his face just before he got to the bag. Raul Ibañez bounced a 1-2 pitch to first.

TOP 2ND
Grade: A
Rebound. Walter Young rolled a 2-2 pitch to first. Luis Matos bounced out to short. David Newhan popped an 0-2 pitch to Betancourt just past the leftfield foul line.

BOTTOM 2ND
Grade: C
Ho hum. Richie Sexson took a full-count pitch low and away. Adrian Beltre hit a swinging bunt in front of the mound and Rodrigo Lopez threw to first, moving Sexson to second. Greg Dobbs popped a 2-2 pitch to shallow centerfield. Jose Lopez looped an 0-2 pitch to rightfield.

TOP 3RD
Grade: C-
Yuck. Geronimo Gil popped to Reed in front of the wall in leftcenter. Roberts doubled into the leftfield corner. Mora watched with an 0-1 count and watched as Roberts took third thanks to Harris throwing a pickoff throw into centerfield. Mora later doubled the 2-2 pitch down the leftfield line and off the stands, scoring Roberts.
»» ORIOLES 3, MARINERS 0
Tejada fell behind 2-0 and popped out to centerfield. Gibbons got the hitters' counts before walking on the 3-1 pitch. Javy Lopez rolled the second pitch up the middle under Jose Lopez and into centerfield, scoring Mora.
»» ORIOLES 4, MARINERS 0
Young lined the second pitch into leftfield for a single, but Ibañez gunned down Gibbons.

BOTTOM 3RD
Grade: C
More crap. Yuniesky Betancourt the first pitch to short. Yorvit Torrealba had a line drive speared by Young at first. Ichiro roped the first pitch into rightfield for a single. Reed watched as Ichiro stole second with a bouncing throw from Javy Lopez. Reed ended up lining out to rightfield.

TOP 4TH
Grade: B+
Not total crap. Matos grounded a 1-2 pitch to third. Newhan lined a 2-0 pitch to centerfield. Gil looped a pitch into shallow centerfield that got between Ibañez, Reed, and Betancourt for a single. Roberts fell behind 2-0 and popped to Ibañez in foul ground along the rightfield line.

BOTTOM 4TH
Grade: C+
Squandered. Ibañez smoked the second pitch right to Rodrigo Lopez on the mound. Sexson roped the first pitch into leftfield for a single. Beltre blistered a single into rightfield, moving Sexson to second. Dobbs bounced to Tejada at second for a 6-3 double play.

TOP 5TH
Grade: B-
Evasion. Mora rolled a 1-2 pitch past Betancourt's glove side for a single. Tejada got ahead 2-0 and busted a single into rightfield, moving Mora to second. Gibbons bounced the first pitch to a charging Beltre on the third-base line, moving Mora to third. Javy Lopez couldn't hold a checkswing on a high 0-2 pitch. Young was intentionally walked, loading the bases. Matos grounded the first pitch hard toward the hole on the left side, but Beltre got to it and threw to second for the force.

Harris' line: 5 innings, 4 runs, 9 hits, 2 walks, 1 strikeout, 93 pitches (56 strikes)

BOTTOM 5TH
Grade: A
Quick at least. Javy Lopez popped out to centerfield. Betancourt bounced a 2-2 pitch to second. Torrealba popped an 0-2 pitch high to short.

TOP 6TH
Grade: A-
Shigetoshi Hasegawa came in for Harris. Newhan took a 1-2 pitch low and over the plate. Gil popped the second pitch to Reed in rightcenter. Roberts got ahead 3-0 and popped the full-count pitch to Reed.

Hasegawa's line: 1 inning, 0 runs, 0 hits, 0 walks, 0 strikeouts, 13 pitches (9 strikes)

BOTTOM 6TH
Grade: C
Still sucks. Ichiro chopped the first pitch to the right side, but Roberts couldn't barehand and throw in time. Reed grounded to the mound into a 1-6-3 double play. Ibañez took a four-pitch walk. Sexson took a full-count pitch inside, moving Ibañez to second. Beltre bounced out to short.

TOP 7TH
Grade: B+
Scott Atchison came in for Hasegawa. Mora popped to rightfield. Tejada laced a single into rightfield. Gibbons whiffed a 2-2 high pitch. Javy Lopez popped to fairly deep leftfield.

BOTTOM 7TH
Grade: C
Dammit. Dobbs grounded a 1-2 pitch for a 3-1 putout. Lopez popped an 0-2 pitch to rightfield. Betancourt ripped the second pitch to the track in centerfield for a triple. Dave Hansen, hitting for Torrealba, lined an 0-2 pitch to centerfield where Matos broke in too quickly and had to go back, reaching up in desperation and making the catch.

TOP 8TH
Grade: B+
Holding it in place. Young hit a sinking liner to a charging Reed in centerfield for the out. Matos fell behind 3-0 and wound up barely beating out a throw from deep in the hole on the left side from Betancourt. Newhan watched on a 1-2 count as Ojeda double-clutched but still nailed Matos at second. Newhan ended up grounding into a 3-1 putout on the 2-2 pitch.

Atchison's line: 2 innings, 0 runs, 2 hits, 0 walks, 1 strikeout, 32 pitches (20 strikes)

BOTTOM 8TH
Grade: A-
Life! In the field for Baltimore, Chris Gomez came in for Young. Ichiro bounced a 1-2 pitch to short and beat out the throw from Tejada for a single. Reed bounced the second pitch to second, and Roberts' throw to second was off balance and away from Tejada at second, who had trouble coming up with it, and the Orioles got zero outs instead of at least a sure out at first. Ibañez chopped the first pitch over the middle to Tejada behind the mound, moving Ichiro and Reed to third and second.

Chris Ray came in for Rodrigo Lopez. Sexson crushed the first pitch onto the covered tunnel in rightcenter, about ten rows back.
»» ORIOLES 4, MARINERS 3
Beltre nubbed an 0-2 pitch near the plate, and Gil pounced on it and threw to first.

BJ Ryan came in for Ray. Dobbs popped a 2-2 pitch to Matos in leftcenter.

Rodrigo Lopez' line: 7 1/3 innings, 2 runs (1 earned), 7 hits, 3 walks, 0 strikeouts, 95 pitches (66 strikes)
Ray's line: 1/3 inning, 1 run, 1 hit, 0 walks, 0 strikeouts, 5 pitches (5 strikes)

TOP 9TH
Grade: B-
Rafael Soriano came in for Atchison. Gil foul-tipped a 1-2 pitch into the catcher's glove. Roberts stuck the second pitch past Soriano and into centerfield for a single. Mora got ahead 2-0 and roped a full-count pitch to Reed near the centerfield track who made the catch over the shoulder. Tejada cranked a 2-2 pitch off the track and high off the wall in rightcenter, scoring Roberts from first.
»» ORIOLES 5, MARINERS 3
Eric Byrnes whiffed on a shoulder-high 1-2 pitch inside.

Soriano's line: 1 inning, 1 run, 2 hits, 0 walks, 2 strikeouts, 25 pitches (18 strikes)

BOTTOM 9TH
Grade: C
Jose Lopez bounced the first pitch to third. Betancourt fell behind 0-2 and couldn't check his swing on a 1-2 slider down and in. Miguel Ojeda got ahead 3-1 and took the full-count pitch down and in. Ichiro was wrung up on a 2-2 slider low and away, though Ichiro had a thing or two to say to the plate umpire since he thought he checked his swing. Ballgame.

Ryan's line: 1 1/3 innings, 0 runs, 0 hits, 1 walk, 2 strikeouts, 25 pitches (16 strikes)
---

Gameball: Scott Atchison.
It was great to see him back again. In the scope of the game, Atchison held the game at 4-0 for the seventh and eighth innings, going through the meat of the Baltimore lineup in the seventh, and getting through the bottom part of the order in the eighth. In the seventh, he allowed only Miguel Tejada's single to rightfield. In the eighth, he allowed only an infield single on what was nearly another crazy play by Yuniesky Betancourt, throwing off-balance from deep in the hole on the left side. Betancourt's throw didn't require Richie Sexson to move very much, and it was a very accurate throw considering momentum and distance. Luis Matos was barely out on that play. Anyway, in the big scope of things, it was great to see Atchison back with the big club, and if everything pans out, he could very well be a righthanded long man in the bullpen for 2006. Well, I'm not sure how exactly I have it working out, but I'm imagining Shigetoshi Hasegawa not being with the team next year. That leaves JJ Putz taking the eighth inning unless somehow the Mariners get out of Eddie Guardado's contract. Julio Mateo's the righty long man until further notice. I guess Atchison fits somewhere in there unless you make Mateo start, which better not happen if the Mariners are throwing free-agent money at a starting pitcher next winter like they should.

Goat: Greg Dobbs.
He flew out with Richie Sexson on second with one out in the second. He killed the fourth inning, grounding into an inning-ending double play with two on and one out. He grounded out to lead off the seventh and flew out to end the eighth. Not a good day for the man who some people call The Dobber. Since that's a weak nickname, I wish he'd just club homers the whole time so we could call him Clobberin' Dobbs or The Clobber. If memory serves me right, friends of mine back in junior high school would bag on the Klobb for being one of the weaker weapons on multiplayer mode in 007:Goldeneye for the N64. That's neither here nor there. Either way, Dobbs' only job these days is to be the designated hitter every once in a while, and if he's not hitting or at least getting on base, he's not really contributing. In this game, he didn't hit or get on base, so here's his paragraph. I also wish that he could have hit more like a Clobberin' Dobbs for the whole time that he was up with the big club, but 'twas not to be. In related news, thanks to Clobberin' Dobbs for signing my Carlos Guillen batting practice double-off-the-track ball at the Winter Tour stop at Bremerton High last winter.


Yr W-L Pct GB Stk
2001 101-40 .716 -- W2
2002 83-58 .589 18 W2
2003 82-59 .582 19 W1
2000 76-65 .539 25 L1
2005 61-80 .433 40 L1
2004 52-89 .369 49 L2


This game wasn't one that would keep your attention from wavering. There were points during the game where even the Baltimore crew had to announce that the Wave was sweeping through the stands at the Safe. I remember hearing a season-ticket holder that had called in to KJR one time, and (I think this was in Kingdome days) he said he'd gotten all the other season-ticket holders in his section to remain seated whenever the Wave was generated in some other part of the stadium. What was the motive? Not only was it a silent protest to the Wave, but the entire season of season-ticketholders had their own camaraderie and their own thing, and that's cool. All in the name of the Wave sucking. It does.

In non-Wave terms, Jeff Harris got taken to the woodshed early by the top of the Baltimore lineup. Much like many home losses are, the Mariners got behind early and the place was opera-house quiet. Heck, it was that way two batters into the game. Brian Roberts got aboard, then Melvin Mora put one out down the leftfield line. Before some people had even found their seats around the stadium, the Mariners were down by two runs. Once the Baltimore lineup turned over, havoc was wreaked once again in the form of dual RBI singles by Melvin Mora and Javy Lopez. The weirdest part? All of Baltimore's runs on the night were scored by Roberts (three) and Mora (two). Even more scary, Roberts, Mora, and Miguel Tejada all had three hits apiece and accounted for nine of the Orioles' thirteen hits. Of course, it's not like the Mariners have never been burned by Roberts, Mora, and Tejada before, so this here is nothing we haven't seen before, it's just a reaffirmation that they really do enjoy beating the crap out of the Mariners.

Also in non-Wave terms, five of the Mariners' nine starters were hitless on the day. Ichiro and Richie Sexson combined for six of the Mariners' eight hits. Ichiro went 4-for-5 and welcomed the infield hit back into his arsenal (three of his four hits were of the infield variety) while Richie Sexson made a boring game interesting with his blast of a homer that made a 4-0 game a 4-3 game with two out in the bottom of the eighth. Not only were the five 0-fers making Ichiro's on-base nuttiness unfruitful, Jeremy Reed and Greg Dobbs killed a couple of innings by grounding into double plays. Untimely hitting was running rampant through the Mariner lineup throughout the lineup. I guess that's not actual hitting; it's making contact but flying out or grounding right to a fielder and never hitting the ball hard, things like that. It's all good fun, really, this whole untimely hitting thing. All three of the Mariners' runs came home on Sexson's blast, so you can imagine how watchable the first seven innings of the game were before that.

Much like it was good to see Scott Atchison out there, it was great to see Rafael Soriano out there as well. He gave up an insurance run to Baltimore, but come on, it's Rafael Soriano, so that's cool in itself. He was reaching 94 on the gun, so he's still got hair on his stuff, and that's good. He was touched up for a couple of hits and Baltimore effectively put the game away with him on the mound. Who cares? It was Rafael Soriano, and he looked pretty good out there. I need to see him dominate again.

With the 4-for-5 game here, Ichiro has 177 hits on the season and sits with a .302 batting average. If he gets at-bats at the same pace he's been getting them for the season (587 at-bats in 141 games, 4.16 at-bats per game)...
-- he needs 23 hits to reach 200 for the season; he'd need to hit .263 for the remainder of the season, and that'd leave him with a .297 season average.
-- he needs 25 hits to finish with a .300 average for the season; he'd need to hit .286 for the rest of the season, and he'd end up with 202 hits.
-- he needs 39 hits to finish with a .320 average for the season; he'd need to hit .446 for the rest of the season, and he'd end up with 216 hits.

Rubber game of the series occurs today, but the Mariners have Felix on their side. If the Mariners pull it off, they'll have won two straight series, and that hasn't happened in a long time.

Chen. Hernandez. Today.