Wednesday, September 07, 2005
GAME 138: MARINERS 3, ATHLETICS 2
Mariners 3, Athletics 2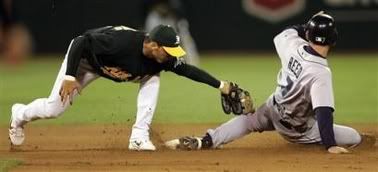 In 25 words or less: The Mariners get the good side of their starting pitcher, and they actually take advantage of Oakland mistakes.

This one featured Joel Piñeiro going up against Joe Kennedy, who had worked magic against the Mariners in the past as a Tampa Bay Devil Ray. Which Joel Piñeiro would show up? Would Rafael Soriano pitch in the game? Could the Mariners manage their first winning streak since August 17th? Could they win their first series in about three weeks?

TOP 1ST
Grade: C-
Short of a roar. Ichiro fell behind 0-2 and whiffed horribly on a dirtball outside (2-3 putout). Jamal Strong took a 1-2 pitch over the inside corner. Raul Ibañez grounded a 2-2 pitch hard to third.

BOTTOM 1ST
Grade: C+
Typical Joel. Mark Ellis hit a low liner on the second pitch to rightfield, and it dropped in front of Ichiro for a single after the ball more than likely was lost in the lights by Ichiro. Mark Kotsay smoked a 2-0 pitch through the left side for a single, moving Ellis to second. Jay Payton bounced to third, nearly eating up Beltre, who gobbled up the ball and ran down Ellis with a tag before he could get to third (Kotsay advanced to second). Eric Chavez stuck a 2-2 single up the middle, scoring Kotsay and moving Payton to second.
»» ATHLETICS 1, MARINERS 0
Scott Hatteberg popped out to shallow centerfield. Marco Scutaro popped the second pitch to Mike Morse near the leftfield corner.

TOP 2ND
Grade: C-
Bleah. Richie Sexson popped high to centerfield. Adrian Beltre fell behind 0-2 took a 2-2 pitch over the inside corner. Jose Lopez took a 2-2 pitch over the inside corner as well.

BOTTOM 2ND
Grade: B+
Remarkably decent. Dan Johnson got ahead 2-0 and wound up fisting a 2-2 pitch up the middle to Yuniesky Betancourt on the outfield grass, who threw over to first. Nick Swisher whiffed on an 0-2 fastball up and away. Adam Melhuse whiffed on a 1-2 high change after popping a foul ball down the leftfield line for which Mike Morse plowed a heater in pursuit.

TOP 3RD
Grade: B-
Yay! Mike Morse poked a 2-0 pitch down the rightfield line for a double. Yuniesky Betancourt missed two bunts before lining a ball right to a diving Chavez down the third-base line as Morse held. Miguel Ojeda bounced the second pitch to short. Ichiro looped a ball just over Scutaro running out toward centerfield, and it fell for a single, scoring Morse.
»» ATHLETICS 1, MARINERS 1
Strong stung the second pitch into rightcenter for a single, moving Ichiro to third. Ibañez fell behind 0-2 and ended up whiffing on a 2-2 breaking ball outside.

BOTTOM 3RD
Grade: B+
Not too bad. Ellis walked on four pitches. Kotsay tapped the second pitch back to the mound, where Piñeiro started the 1-6-3 double play (Betancourt was quick with the feet, but low with the throw, which was picked by Sexson). Payton popped the second pitch to Sexson near the edge of foul ground on the right side.

TOP 4TH
Grade: C-
Same. Sexson got ahead 2-0 and took a 2-2 pitch down the pipe. Beltre bounced a 1-2 pitch to third. Lopez rolled the second pitch to short, though Lopez was barely out.

BOTTOM 4TH
Grade: A
Might he be rolling? Chavez popped the first pitch just short of the track in centerfield. Hatteberg fell behind 0-2 and later whiffed on a 1-2 pitch low over the outer half. Scutaro fell behind 0-2 and popped the 1-2 pitch to shallow rightfield.

TOP 5TH
Grade: C-
Deadlock. Morse popped the first pitch to shallow rightfield. Betancourt bounced out to short. Ojeda rolled the first pitch up the middle to Scutaro, who threw him out.

BOTTOM 5TH
Grade: C
Not rolling. Johnson crushed the 2-0 pitch off the scoreboard in rightfield, but it bounced right to Ichiro, who threw in quickly and held Johnson to a single. Swisher popped the second pitch to Morse in shallow leftfield. Melhuse whiffed on a 1-2 offspeed pitch. Ellis crushed the first pitch off the track and wall in leftfield for a double (not too good a jump by Morse), scoring Johnson.
»» ATHLETICS 2, MARINERS 1
Kotsay rolled out to second.

TOP 6TH
Grade: C-
Repeat. Ichiro bounced the second pitch to first. Strong rolled the second pitch to short. Ibañez got ahead 3-1 and settled for a high chop to second just over the mound, and Ibañez was barely out at first.

BOTTOM 6TH
Grade: A-
Much better. Payton rolled the second pitch up the middle to Betancourt, who spun and threw him out. Chavez flew out to Morse just short of the leftfield track on a 3-0 pitch. Hatteberg bounced to first for a 3-1 putout.

TOP 7TH
Grade: B+
An incredibly weird inning. Sexson took an 0-2 pitch barely off the outside corner before rolling a hard grounder past Scutaro's glove side for a single, and Kotsay bobbled the ball in centerfield, enabling Sexson to take second. Beltre popped the second pitch to the track in centerfield, moving Sexson to third. Lopez spanked a 1-2 pitch to centerfield for a single, and Kotsay tried to deke Sexson, but the ball went past him and to the wall, allowing Lopez to get to third as Sexson scored.
»» ATHLETICS 2, MARINERS 2
Morse was down 0-2 and eventually lasered a 2-2 pitch down the leftfield line for a single, scoring Lopez. Jeremy Reed came in to run for Morse.
»» MARINERS 3, ATHLETICS 2

Justin Duchscherer came in for Kennedy. Betancourt fell behind 0-2 and popped the 1-2 pitch to Melhuse behind the plate. Ojeda watched with the count 1-2 as Reed took off way too early from first and was clearly caught stealing by Duchscherer, but somehow Reed beat the pickoff throw to second. Ojeda pulled the next pitch deep in the hole at short, and Scutaro's throw made Johnson come way off the bag, moving Reed to third. Ichiro bounced a 1-2 pitch to short.

Kennedy's line: 6 1/3 innings, 3 runs (2 earned), 6 hits, 0 walks, 6 strikeouts, 92 pitches (62 strikes)

BOTTOM 7TH
Grade: B+
In the field for the Mariners, Reed stayed in to play centerfield, and Strong moved to leftfield. Scutaro got ahead 3-1 and scooped a full-count flyout to Jeremy Reed in centerfield. Johnson whiffed on a low 0-2 change. Swisher stuck a 1-2 pitch near the leftfield corner, where Strong came over to make a running catch near the wall.

TOP 8TH
Grade: C-
Break. Strong fell behind 0-2 and settled for a soft lineout to second on the 2-2 pitch. Ibañez was down 0-2 and later popped out near the leftfield line on a 2-2 pitch. Sexson nubbed a 2-2 pitch gently to the left side, where Duchscherer came off the mound, bobbled the ball a bit, and threw in time to first.

Duchscherer's line: 1 2/3 innings, 0 runs, 1 hit, 0 walks, 0 strikeouts, 29 pitches (20 strikes)

BOTTOM 8TH
Grade: B+
Nice finish. Melhuse rolled the second pitch to second. Ellis bounced to Beltre at the third-base bag. Kotsay poked the first pitch into rightfield for a single, breaking Piñeiro's streak of nine straight retired hitters. Payton popped the 0-2 pitch to Lopez in shallow centerfield.

Piñeiro's line: 8 innings, 2 runs, 6 hits, 1 walk, 5 strikeouts, 96 pitches (63 strikes)

TOP 9TH
Grade: C
Huston Street came in for Duchscherer. Beltre reached over and chopped a 1-2 pitch to Chavez, who charged and barehanded the ball to make the out. Lopez bounced to third on a full count. Reed poked the 2-0 pitch into rightfield for a single. Betancourt whiffed over a 1-2 offspeed pitch down and in.

Street's line: 1 inning, 0 runs, 1 hit, 0 walks, 1 strikeout, 19 pitches (12 strikes)

BOTTOM 9TH
Grade: A-
Eddie Guardado came in for Piñeiro. Chavez bounced the second pitch to short. Hatteberg took a 1-2 pitch a bit off the outside corner for a strikeout. Scutaro got ahead 2-0 and wound up singling into shallow centerfield. Johnson reached on an 0-2 pitch, rolling it to second, where Lopez underhanded with the glove to Sexson. Ballgame.

Guardado's line: 1 inning, 0 runs, 1 hit, 0 walks, 1 strikeout, 13 pitches (10 strikes)
---

Gameball: Mike Morse.
Okay, so there was an episode of the Mike Morse Thrill Ride that occurred in this game, and that occurred on the Mark Ellis double in the fifth that gave Oakland the 2-1 lead. I could complain about Morse being in leftfield, but then I ask myself, how different is this from having say, an Al Martin out there? It'll be things like this that make me miss the Randy Winn tenure in Seattle, sure, but I've been following the Mariners long enough to realize that steady personnel and steady defense in leftfield have been the exception as opposed to the rule. So Mike Morse is a zoo in leftfield. We've seen leftfield defensive liabilities, sure. If you take out Randy Winn, Mike Morse's defense, even in its current form, doesn't look so bad. I've managed to talk this long about Morse without talking about his hitting. Morse hit two balls hard down the leftfield line for a double and a single. He scored the first Mariner run to tie the game at 1-1, then drove in what proved to be the winning run for the Mariners. All hail the Coded One! For this game, at least.

Goat: Raul Ibañez.
In a game where nobody out-and-out sucked, someone has to be the goat. Raul went 0-for-4, striking out once and leaving two runners on base. Only one of his outs occurred on a hard-hit ball. I guess I hadn't looked at Raul's game log in a while, but did anyone realize that he only hit .226 in August? That's how he dropped from .297 to .282 in a month. He was nearly up by the .300 mark and life was good. If you want an indication lately as to why the Mariners' offense has been sputtering, look no further than Richie Sexson and Raul Ibañez, back-to-back huge cogs of the lineup that have fallen largely silent around the same time. I can't think of anything else to put here at the moment, so I'll scare myself some more with the August numbers for Ibañez. Ready? Raul was 24-for-106 with four doubles, a triple, and three homers. He drove in twelve runs. Compare this to June, where he went 33-for-103 (.320) with four doubles, five homers, and 15 RBIs. I miss the Raul Ibañez that turned my opinion of him around this season.


Yr W-L Pct GB Stk
2001 99-39 .717 -- W3
2002 81-57 .587 18 W2
2003 81-57 .587 18 W4
2000 75-63 .543 24 W1
2005 60-78 .435 39 W2
2004 51-87 .370 48 L7


The win in this game did two things. First, it was a consecutive win, and therefore was the first winning streak for the Mariners since August 17th against Kansas City, the final game of a three-game sweep. That also functioned as the last series win for the Mariners. Much like Jeremy the other day said, "You know what kills me about the Mariners? [This year], they can finally beat Mussina," it turns out that the Mariners can never do what needs to be done in Oakland when they're actually good, waiting for seasons like 2005 to finally go down to Oakland and take the first two of a three-game series. Timing is a biznatch. On the other hand, if I were an Oakland fan at this point, I'd really be hating it knowing that the last-place Mariners just came into the home digs and took the first two games of a three-game series when my team is trying to catch the Angels for the division lead. I can only take solace in the A's getting to the first round of the playoffs and losing so many times now that the Mariners haven't been to the playoffs in four seasons. It sucks.

Much like I thought after his last start, I still don't know what to think about Joel Piñeiro. Since he sucks horribly in the first inning and does well, he at least partially looks like his old self. I don't think I can buy into Joel Piñeiro this year, no matter what. He may give the Mariners quality innings from here on out, but are those innings necessarily better pitched by him than someone else in the Mariner pipeline? Of course, the Mariners' decision to make only sparse September callups while their minor-league teams are in the playoffs kinda answers the question in that regard. What I do know is that Piñeiro could throw four perfect games from now until the rest of the season and I still wouldn't be sold on whether he could pitch deep into ballgames on a consistent basis in 2006. I guess what's good about Joel is that at least we've seen some decent starts in recent weeks. Gil Meche and Ryan Franklin, not so much. In a totally unrelated note, we here at Sports and B's get a few assorted Shirley Piñeiro searches through multiple search engines, and I'm thinking everyone who searches us for that is disappointed when they figure out we have no pictures of Ms. Piñeiro.

I didn't mention it in the gameball entry, but Mike Morse had the only multi-hit game for the Mariners in this one. The other six hits were scattered singles among six other hitters in the lineup. Morse drove in the final go-ahead run, whereas Ichiro's punch over the head of Marco Scutaro drove in the first Mariner run, and Jose Lopez hit the ball to and through Mark Kotsay to score the Mariners' second run of the game. The most sickly ironic thing was that with the bobble to move Sexson to second and the absolute gaffe of a play on the Lopez ball, Mark Kotsay singlehandedly ruined his own bobblehead night. At least the Oakland fans didn't get overly rowdy. I don't remember the game being stopped at any point so that bobblehead dolls could get picked up off the field of play, so none of that happened. It's not like when your home team sucks on Photo Ball Day, then all those balls end up on the field. I remember watching a game long ago where the Mariners played at Arlington Stadium on Bat Day, and the crowd was still far from a sellout, but whenever the PA system would try to get the crowd amped up, the people with bats would rhythmically beat on the unoccupied bleachers in the outfield stands.

I guess the two short things that I'd elaborate on if I had more time would be that Yuniesky Betancourt is awesome and can pick it like nobody's business, along with Jeremy Reed coming in to pinch-run for Mike Morse and immediately getting picked off. Of course, Justin Duchscherer waited too long to get his throw off to second, so Reed was amazingly under the tag. Very luckily, that took place, and Reed's good luck finished off what Mark Kotsay started. Except that the runs had already scored, so Reed's hijinks were moot.

With the 1-for-4 game on Tuesday night, Ichiro has 171 hits on the season and sits with a .297 batting average. If he gets at-bats at the same pace he's been getting them for the season (576 at-bats in 138 games, 4.17 at-bats per game)...
-- he needs 29 hits to reach 200 for the season; he'd need to hit .289 for the remainder of the season, and that'd leave him with a .296 season average.
-- he needs 32 hits to finish with a .300 average for the season; he'd need to hit .319 for the rest of the season, and he'd end up with 203 hits.
-- he needs 46 hits to finish with a .320 (.321) average for the season; he'd need to hit .459 for the rest of the season, and he'd end up with 217 hits.

My goodness, a series win. The Mariners are a mere three wins away from the mark of last season. Man, was last season terrible.

Franklin. Haren. Today.