Sunday, September 04, 2005
GAME 135: MARINERS 6, ANGELS 3
Mariners 6, Angels 3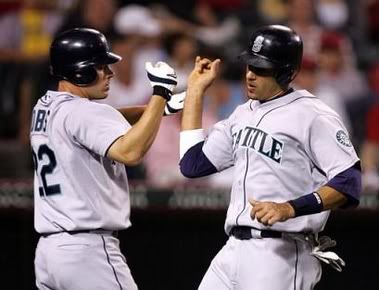 In 25 words or less: The game was bookended with run-scoring, but somehow the Mariners pulled this one out of the hat in the end.

This one featured Ryan Franklin going up against Jarrod Washburn. Willie Bloomquist would not start against Washburn due to his hamstring injury and current placement on the disabled list. Jamal Strong started in centerfield and Jeremy Reed sat against the lefty Washburn.

TOP 1ST
Grade: B
First blood. Ichiro lasered the ball into the rightfield corner and stretched it into a triple. Jamal Strong hit a sinking liner into centerfield, where Chone Figgins made a sliding catch coming inward, but Ichiro was still able to score.
»» MARINERS 1, ANGELS 0
Raul Ibañez got ahead 3-1 but grounded a full-count pitch hard to short. Richie Sexson got under the second pitch, popping it near the rightfield corner.

BOTTOM 1ST
Grade: C+
Giving back. Chone Figgins popped the first pitch high to first. Orlando Cabrera roped a single up the middle. Garret Anderson popped out to Adrian Beltre in front of the third-base dugout. Vladimir Guerrero walked on four pitches, moving Cabrera to second. Darin Erstad broke his bat on a flare that fell just over a reaching Sexson for a single, scoring Cabrera and moving Guerrero to third.
«« ANGELS 1, MARINERS 1
Bengie Molina fell behind 0-2 and wound up flying out to Strong in rightcenter.

TOP 2ND
Grade: C
Noncapitalist. Adrian Beltre rolled a hard single through the hole on the left side. Jose Lopez popped the second pitch to shallow leftfield. Mike Morse popped the first pitch to Guerrero in deep rightcenter. Miguel Ojeda fell behind 0-2 and eventually popped high to Adam Kennedy in shallow centerfield.

BOTTOM 2ND
Grade: A-
Pretty decent. Robb Quinlan bounced out to short. Juan Rivera smoked the second pitch right to Morse, who had mild trouble judging the ball but reached up and caught the line drive. Adam Kennedy got the hitters' counts and ended up foul-tipping a full-count pitch low and away into the Ojeda's glove for a strikeout.

TOP 3RD
Grade: C
Nothing much. Yuniesky Betancourt bounced the first pitch hard to Quinlan at third, who necessitated a stretch by Erstad into foul territory to get the throw. Ichiro bounced a 1-2 pitch to third. Strong got ahead 3-0 and later walked on a full-count pitch. Ibañez laced a 2-0 pitch into rightfield for a single, moving Strong to second. After a pickoff throw to second went off Kennedy's glove and into centerfield (Strong held, it wasn't far enough away), Sexson whiffed on a 1-2 dirtball.

BOTTOM 3RD
Grade: C+
A more familiar situation. Figgins drag-bunted the second pitch along the right side, and Sexson had no play as no one was left covering the bag. Cabrera popped high to rightfield. Anderson poked a single down the rightfield line, moving Figgins to third. Guerrero bounced an 0-2 pitch to short, where Betancourt got the force at second, but Lopez couldn't get the ball out of his glove. Figgins scored.
»» ANGELS 2, MARINERS 1
Erstad bounced the second pitch to second.

TOP 4TH
Grade: C
Squandering again. Beltre bounced the first pitch to third. Lopez walked on a 3-1 pitch up and away. Morse got ahead 2-0 and whiffed on a 2-1 pitch, and Lopez was nailed trying to steal second despite a high throw from Molina. Morse wound up bouncing a full-count pitch to third, and Quinlan threw high to first, making Erstad jump a little too high for the throw (E5). Ojeda popped the second pitch high to leftfield.

BOTTOM 4TH
Grade: B+
Solid. Molina popped a full-count pitch high to centerfield. Quinlan popped the first pitch high to Beltre halfway in on the third-base line. Rivera ripped the second pitch through the mound and into centerfield for a single. Kennedy hit a low liner to Morse in leftfield.

TOP 5TH
Grade: C-
Holding pattern. Betancourt chopped a 2-2 pitch to third. Ichiro fell behind 0-2 and later grounded the 1-2 pitch hard to first. Strong foul-tipped a 2-2 pitch over the outer half into Molina's glove behindf the plate.

BOTTOM 5TH
Grade: B+
Okay. Figgins fell behind 0-2 on a very slow curve before lining out to leftfield on a 2-2 pitch. Cabrera knocked the first pitch to a sliding Beltre, who spun and threw to first, where Sexson came off the bag and tagged Cabrera. Anderson bounced the first pitch to first, where the ball rolled off the heel of Sexson's glove on the backhand and went into rightfield (E3). Guerrero bounced to short for a 6-4 fielder's choice.

TOP 6TH
Grade: C-
Futile middle. Ibañez worked a 1-2 count full before whiffing on a letter-high pitch. Sexson fell behind 0-2 and flew out to Rivera in leftfield, who made a running catch going back near the track. Beltre bounced the second pitch up the middle, where Kennedy threw over to first.

BOTTOM 6TH
Grade: A-
Still decent. Erstad scooped a flyout to Ichiro just in front of the track near the rightfield corner. Molina whiffed on an 0-2 megaslow breaking ball. Quinlan worked a 1-2 count for a walk (low). Rivera roped the first pitch into rightfield for a single, moving Quinlan to third (Ichiro had bobbled the ball). Kennedy bounced a full-count pitch to Sexson at the bag.

TOP 7TH
Grade: C-
Still scuffling. Lopez rolled over a pitch low and away, grounding to a charging Cabrera on the right side. Morse bounced a 3-1 pitch to second. Ojeda flew out on the first pitch just short of the track in centerfield.

Washburn's line: 7 inning, 1 run, 3 hits, 2 walks, 3 strikeouts, 95 pitches (57 strikes)

BOTTOM 7TH
Grade: A-
Sweet relief. Figgins poked the second pitch through the right side for a single. Cabrera bunted the first pitch along the right side to Sexson, who threw to Lopez at first, moving Figgins to second.

George Sherrill came in for Franklin. Anderson bounced the 2-2 pitch hard and deep into the hole on the right side, where Lopez made the play to first.

JJ Putz came in for Sherrill. Guerrero bounced the second pitch behind the bag at third, where Beltre threw over to first.

Franklin's line: 6 1/3 innings, 2 runs, 7 hits, 2 walks, 2 strikeouts, 99 pitches (62 strikes)
Sherrill's line: 1/3 inning, 0 runs, 0 hits, 0 walks, 0 strikeouts, 5 pitches (3 strikes)

TOP 8TH
Grade: B
Brendan Donnelly came in for Washburn. Jeremy Reed, hitting for Betancourt, cranked a double to the wall in the gap in rightcenter. Ichiro bunted the second pitch in front of the plate, and Donnelly tried to field it, but had no play as Reed moved to third. Greg Dobbs, hitting for Strong, flew out to Figgins in shallow leftcenter as Reed held at third. Ibañez punched a 3-0 single through the right side, scoring Reed and moving Ichiro to second.
»» ANGELS 2, MARINERS 2

Scot Shields came in for Donnelly. Sexson whiffed on an 0-2 fastball over the inside corner. Beltre walked on a 3-0 pitch down and away, loading the bases. Lopez watched a low and away 1-2 pitch get away from Molina, who blocked it as Ichiro held at third. Lopez ended up chopping out to third.

Donnelly's line: 1/3 inning, 1 run, 3 hits, 0 walks, 0 strikeouts, 12 pitches (6 strikes)

BOTTOM 8TH
Grade: B
Could have gotten real bad. In the field, Reed stayed in to play centerfield, Dobbs to play leftfield, and Morse moved to shortstop. Erstad got ahead 2-0, and Bryan Price and a trainer came to the mound with the count 2-1. Erstad slapped a sinking liner to leftfield, where Dobbs let the ball drop in front of him (should have been a flyout). Molina bunted the second pitch along the right side to Sexson, who threw to a covering Lopez as Erstad moved to second. Quinlan couldn't hold a checkswing on an 0-2 pitch way up and in. Rivera bounced the 2-2 pitch to short.

Putz' line: 1 1/3 innings, 0 runs, 1 hit, 0 walks, 1 strikeout, 16 pitches (10 strikes)

TOP 9TH
Grade: A
Splendid. Morse got ahead 3-1 and later took a barely-low full-count pitch for a walk. Ojeda bunted the first pitch along the first-base line, where Erstad fielded and tagged Ojeda coming down the line. Reed walked on four pitches. Ichiro punched a 2-2 single over Cabrera at short and into leftfield, scoring Morse and moving Reed to third.
»» MARINERS 3, ANGELS 2

Jason Christiansen came in for Shields. Dobbs fouled off a 2-1 squeeze attempt before scooping a 2-2 low liner toward Figgins in centerfield, who dove inward and had the ball bounce in front of him and past him. Reed scored and Ichiro moved to third. Dobbs ended up on second with the double.
»» MARINERS 4, ANGELS 2
Ibañez drilled the first pitch up the middle, scoring Reed and Ichiro.
»» MARINERS 6, ANGELS 2

Esteban Yan came in for Christiansen. Sexson bounced a 1-1 pitch to short, where Cabrera had trouble getting the ball out of the glove, nullifying a double play chance but getting the out at second. Beltre lined out to rightfield.

Shields' line: 1 inning, 3 runs, 1 hit, 3 walks, 1 strikeout, 28 pitches (12 strikes)
Christiansen's line: 0 innings, 1 run, 2 hits, 0 walks, 0 strikeouts, 8 pitches (5 strikes)
Yan's line: 2/3 inning, 0 runs, 0 hits, 0 walks, 0 strikeouts, 6 pitches (4 strikes)

BOTTOM 9TH
Grade: B-
Eddie Guardado came in for Putz. Erstad bounced a 2-2 pitch to short and was barely out after Morse's throw and Sexson's stretch. Figgins fell worked an 0-2 count for an eight-pitch walk (last pitch up and away), taking four balls to end the at-bat. Cabrera got ahead 2-0, and Figgins took second without a throw on the 2-2 pitch. Cabrera walked on a full-count pitch down and in, luring Bryan Price from the dugout. Anderson flew out to centerfield on the second pitch. Guerrero slapped a second-pitch double into the rightfield corner, scoring Figgins and moving Cabrera to third.
»» MARINERS 6, ANGELS 3
Erstad rolled the first pitch to second. Ballgame.

Guardado's line: 1 inning, 1 run, 1 hit, 2 walks, 0 strikeouts, 24 pitches (14 strikes)
---

Gameball: Ichiro.
He's warmed up the last two days in Anaheim, going 5-for-9 with a double, a triple, and a steal, scoring three runs and driving in one. He's also dusted off an old tool out of the toolbox -- the bunt single. He whipped it out to lead off the game on Friday, and he got another one in the eighth in this game (probably not the exact motive), not getting out but moving Jeremy Reed over to third, who later scored as the tying run. Also, it's good to see Ichiro leading off the last two games with hits. In the huge scope of things, getting a hit to lead off a game shouldn't be a big thing, but when Ichiro actually gets that leadoff hit, it's a big thing. It's a small tone-setter, if you will. Heck, why doesn't he just get like fifty infield hits this month? That'll spice things up. I guess I just miss vintage Ichiro lately. Of course, one could argue that vintage Ichiro hasn't existed this season, since his doubles are way off compared to years past. After hitting .244 in August, might we see Ichiro heat up in September and finish somewhat respectably?

Ichiro currently has 169 hits on the season. If he gets at-bats at the same pace he's been getting them for the season (565 at-bats in 135 games, 4.19 at-bats per game)...
-- he needs 31 hits to reach 200 for the season; he'd need to hit .274 for the remainder of the season, and that'd leave him with a .295 season average.
-- he needs 35 hits to finish with a .300 (.301) average for the season; he'd need to hit .310 for the rest of the season, and he'd end up with 204 hits.
-- he needs 48 hits to finish with a .320 average for the season; he'd need to hit .428 for the rest of the season, and he'd end up with 217 hits.

Goat: Richie Sexson.
After the monster July, Sexson hit .211 in August. His last homer was the tenth-inning grand slam to put away the third game of the four-game series in Minnesota. That was on the 20th of August. That's thirteen games without a homer. He's gone 10-for-45 in that stretch, with only four doubles as extra-base hits. He's struck out twelve times and walked seven times over the homerless stretch. After Sexson hit the slam in Minnesota, 40 homers for the season didn't seem like it would be too much of a stretch. Thirteen games later, he's still stuck on 32 homers. Can he mash eight more in the twenty-seven remaining games? I know I would sure like to see it. His most homer-happy month this season came in July, where he hit nine homers. Those nine homers occurred in a fourteen-game stretch. Sexson could definitely finish with forty homers. I just think he needs one homer to get the whole thing going again. Maybe the homers will come cascading down once again. Me likey the long ball. It's been a little lacking out of the Mariners lately, seeing as to how Sexson is the most prolific home-run hitter on the team.

Yr W-L Pct GB Stk
2001 96-39 .711 -- L1
2002 79-56 .585 17 L1
2003 78-57 .578 18 W1
2000 73-62 .541 23 W1
2005 58-77 .430 38 W1
2004 51-84 .378 45 L4


If the Mariners come away with a win on Sunday, it wouldn't only give them another series win in Anaheim, it would also equal their season-best cushion over the 2004 team's pace. A Sunday win would make them eight games better than the abomination of a team from last year for only the second time this season. The only other time it happened was on August 25th after the final game of the series in Arlington. Since last year's team was in the throes of a seven-game losing streak at this point, the Mariners can go for a record cushion for the next three games, with a ten-game cushion being the best-case scenario. In other weird news, the Mariners have alternated wins and losses in the last eight games. The good news is that they haven't had a losing streak since the middle game of the home series against Chicago (27th of August). The bad news is that they haven't had a winning streak since the sweep against Kansas City (August 17th).

This was Ryan Franklin's best start post-steroid suspension, without question. He lasted 6 1/3 innings in this game, eclipsing six innings as his previous post-steroid best in terms of outs recorded in a start. That six-inning start was the Dugout Ruckus game in Minnesota. Of course, what set this start apart from all the other post-steroid starts was that Franklin managed to give up less than four runs. For his second straight start, he didn't give up double-digit totals in hits. He walked two batters and managed to not give up a homer. Now if he goes and shoots off about giving up two runs and not getting a win in the game, I'd go ballistic, but oh well. It's been fun going evil against Franklin ever since the steroid suspension, but hey, he just helped my team win. I'll lighten up until he goes out and gives up 12 hits and six runs in four innings of work. Anything to help the Mariners go on a 19-8 tear and make me look awesome for my 77-85 preseason prediction of the Mariners' record. I guess the only other thing I'd add about Franklin for the game -- what was with that slow-ass breaking ball? When did he start busting that out? It's that thing that floats up there at about 72. I'm pretty sure I didn't see him throw that to Vladimir Guerrero, and that's a good thing.

Multi-hit games in this one went to Ichiro and Raul Ibañez. Ichiro had the leadoff triple, the bunt single in the eighth, and the single that drove in the go-ahead run in the ninth en route to his 51st multi-hit game of the season. Ichiro had 80 multi-hit games in 2004. Raul Ibañez also had smashing results, singling in the third, eighth, and ninth innings and driving in runs with the singles in the eighth and ninth to both tie and put the game away.

Also, how about some props for the eighth-inning pinch-hitters, Greg Dobbs and Jeremy Reed, who stayed in the game and raised hell in the eighth and ninth? Reed doubled to lead off the eighth and he scored the tying run. Reed walked in the ninth and Dobbs doubled him across (the Figgins dive-and-miss) to make it 4-2.

It's a rubber game on a Sunday afternoon. Could the Mariners win a series? Could they have a winning streak?

Harris. Colon. Today.