Monday, September 05, 2005
GAME 137: MARINERS 2, ATHLETICS 0
Mariners 2, Athletics 0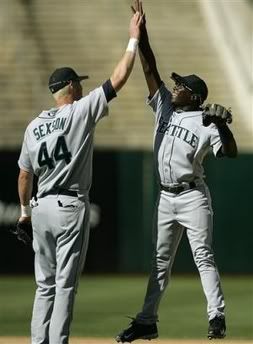 In 25 words or less: The Mariners' golden boy ends up on the right side of a 2-0 score this time and the offense does just enough.

This one featured Felix Hernandez going up against Joe Blanton. In other words, it would be guaranteed entertainment on Labor Day. Additionally, Rafael Soriano was apparently in the dugout today. Not sure when he'll pitch, but it's good to have him back since he's attached to the last great memory I have of this team.

TOP 1ST
Grade: C-
Early dominance. Ichiro bounced a 2-2 pitch up the middle to Marco Scutaro. Jeremy Reed whiffed on a 2-2 pitch way high and outside. Raul Ibañez whiffed on an 0-2 high fastball.

BOTTOM 1ST
Grade: A
As advertised. Mark Ellis fell behind 0-2 before whiffing over the 1-2 evil curve low. Jason Kendall fell behind 0-2 and eventually bounced a 2-2 curve in the hole at short, where Yuniesky Betancourt made an off-balance throw that had to be picked at first by Richie Sexson. Eric Chavez tapped the first pitch back to the mound.

TOP 2ND
Grade: C
Not a hit parade, more like a hit isolated incident. Richie Sexson bounced the first pitch to third. Adrian Beltre drove an 0-2 hanging curve off the rightfield track and over the wall for a ground-rule double. Greg Dobbs popped a 2-2 pitch to shallow leftfield, and Matt Watson made a sliding catch. Jose Lopez badly whiffed on some sort of noncheckswing on a ball at about head height.

BOTTOM 2ND
Grade: A-
Nice repeat. Scott Hatteberg rolled the second pitch to second. Jay Payton got ahead 2-0 and wound up whiffing on a 2-2 heater. Dan Johnson chopped a 1-2 pitch to short.

TOP 3RD
Grade: C-
Still nothing. Yuniesky Betancourt popped an 0-2 pitch to Johnson in foul ground on the right side. Yorvit Torrealba smoked the first pitch right to Chavez at third. Ichiro bounced an 0-2 pitch to short.

BOTTOM 3RD
Grade: B
A bit turbulent. Marco Scutaro roped a 2-2 pitch down the rightfield line for a double. Nick Swisher whiffed on a 2-2 change outside. Matt Watson watched as Scutaro was nearly picked off of second with the count 1-1. Watson ended up tapping a 1-2 pitch back to the mound, and Hernandez was able to go to third after dropping the ball, and Beltre made the tag (1-5 fielder's choice). Ellis looped a 1-1 fly that dropped in front of Ichiro down the rightfield line, moving Watson to third. Kendall bounced the second pitch to third.

TOP 4TH
Grade: C
No offense. Reed popped a 2-2 pitch high to Scutaro on the outfield grass. Ibañez popped a 2-2 pitch to shallow leftfield. Sexson mashed a double to the gap in rightcenter, narrowly missing being caught by Swisher at the wall (misjudged). Beltre was intentionally walked. Dobbs got ahead 3-0 and eventually fisted a full-count bouncer to short.

BOTTOM 4TH
Grade: A
Lightning quick. Chavez bounced the second pitch to Sexson at first, who took it to the bag. Hatteberg bounced the second pitch to short. Payton grounded the second pitch hard to third.

TOP 5TH
Grade: C
Odd. Lopez lined out to Chavez, waist height. Betancourt lasered a 2-0 single into leftfield. Torrealba took a 2-2 pitch barely outside and ended up whiffing on the eleventh pitch of the at-bat, and Betancourt appeared to have second base stolen safely, though he went in standing up and the ball was dropped at second. However, the call was that Torrealba leaned over the plate while Kendall was trying to throw to second, so his strikeout and the interference call ended the inning. Go figure.

BOTTOM 5TH
Grade: A-
Same good stuff. Johnson whiffed on a full-count dirtball. Scutaro bounced a 1-2 pitch up the middle, but Betancourt plugged up the hole and threw in time to first. Swisher whiffed on a full-count curve.

TOP 6TH
Grade: B+
Offense! Ichiro served the second pitch into shallow leftcenter for a single. Reed bunted the first pitch to the right side, and it somehow got past Blanton as Johnson stayed back to cover first. Ibañez bounced up the middle to short, and Ellis underhanded backward to Scutaro, who was upended by Reed, breaking up the double play (Ichiro went to third). Sexson took umbrage to a 1-1 called inside strike and later took a fastball to the left bicep or thereabouts, loading the bases. Beltre flew out to leftfield on a 2-0 pitch, but it was deep enough to score Ichiro from third, and it moved Ibañez to third.
»» MARINERS 1, ATHLETICS 0
Dobbs laced the first pitch up the middle for a single, scoring Ibañez and moving Sexson to second.
»» MARINERS 2, ATHLETICS 0
Lopez lined the first pitch right to Chavez on a knee near the bag at third.

BOTTOM 6TH
Grade: A-
Rolling. Watson grounded a 2-2 pitch to short. Ellis got ahead 2-0 and later looped a 2-2 pitch toward shallow leftfield that Betancourt went back for and caught with a leap. Kendall grounded hard to third.

TOP 7TH
Grade: C-
Dammit. Betancourt fell behind 0-2 and wound up ripping the 2-2 pitch into the leftcenter gap for a triple. Torrealba chopped the second pitch to short as Betancourt held at third. Ichiro was intentionally walked.

Ricardo Rincon came in for Blanton. Reed air-bunted the second pitch with the squeeze on, and Chavez slid in to catch it and went back to the third-base bag to double off Betancourt.

Blanton's line: 6 1/3 inning, 2 runs, 7 hits, 2 walks, 4 strikeouts, 99 pitches (64 strikes)

BOTTOM 7TH
Grade: B-
Gargantuan jam. Chavez grounded the second pitch into the hole on the right side, and Lopez plugged the hole and made the play. Hatteberg grounded the first pitch hard to third. Payton dumped the second pitch into rightcenter for a single, snapping the streak of twelve straight reitred Oakland hitters. Johnson fell behind 0-2 and took a 2-2 pitch barely out of the zone (Diaz). Johnson singled past Lopez' backhand side and into rightcenter, moving Payton to third as he was held up by Ron Washington's stop sign. Scutaro worked an 0-2 count full and took a breaking ball high to load the bases. Swisher took a 3-1 pitch outside for a strike before popping the full-count pitch high to leftfield.

Hernandez' line: 7 innings, 0 runs, 4 hits, 1 walk, 5 strikeouts, 107 pitches (68 strikes)

TOP 8TH
Grade: C-
No insurance. Ibañez popped the second pitch high to Chavez in foul ground somewhere behind home plate, a "look what I found" catch.

Kiko Calero came in for Rincon. Sexson whiffed on an inside 2-2 pitch. Beltre got ahead 2-0 and wound up flying out to centerfield.

Rincon's line: 1 inning, 0 runs, 0 hits, 0 walks, 0 strikeouts, 4 pitches (2 strikes)
Calero's line: 2/3 inning, 0 runs, 0 hits, 0 walks, 1 strikeout, 9 pitches (5 strikes)

BOTTOM 8TH
Grade: B+
JJ Putz came in for Hernandez. Watson laced a full-count single into leftfield, cut off by Ibañez from rolling past. Ellis took a 1-2 fastball over the outside corner. Kendall flew out to leftfield.

George Sherrill came in for Putz. Chavez got ahead 2-0 before flying out to Ichiro on the rightfield track on the 2-2 pitch.

Putz' line: 2/3 inning, 0 runs, 0 hit, 0 walks, 1 strikeout, 15 pitches (9 strikes)
Sherrill's line: 1/3 inning, 0 runs, 0 hits, 0 walks, 0 strikeouts, 5 pitches (3 strikes)

TOP 9TH
Grade: C-
Justin Duchscherer came in for Calero. Dobbs rolled out to second. Lopez grounded the 2-2 pitch hard to third. Betancourt fell behind 0-2 and lined out to leftfield on a 1-2 pitch.

Duchscherer's line: 1 inning, 0 runs, 0 hits, 0 walks, 0 strikeouts, 13 pitches (10 strikes)

BOTTOM 9TH
Grade: A
Eddie Guardado came in for Sherrill. Hatteberg fell behind 0-2 and flew out to short on a 2-2 pitch. Payton lined out to rightfield on the first pitch. Johnson whiffed on a 2-2 pitch. Ballgame.

Guardado's line: 1 inning, 0 runs, 0 hits, 0 walks, 1 strikeout, 11 pitches (7 strikes)
---

Gameball: Yuniesky Betancourt.
Three of the four balls he hit today were hard-hit. One of them was a lineout to leftfield in the ninth. One was a single that he crushed to leftfield in the fifth. The other was a leadoff triple in the seventh inning. Inexcusably, the Mariners were not able to plate Betancourt in that inning for the insurance run. It didn't just stop with the offense for Betancourt. Usually it stops with the defense and we don't get to see much offense, but I'm going the other way with this one. After making a nice play but a wide throw that had to be picked by Richie Sexson in the first, he plugged up the left-side hole on Marco Scutaro in the fifth, but more impressively, he raged back and leapt into shallow leftfield on what usually goes as a bloop single. I've seen that ball hit a million times and it always goes as a single. The main difference now is that Yuniesky Betancourt is a sickly good shortstop. All hail the Cuban! As Mariner fans, we only get to see Felix go once every five days, but we can still feel decent about watching the other games for the rest of the season because this cunning Cuban vacuum cleaner is out there every day.

Goat: Jose Lopez.
There were many Mariners that didn't hit today, and even the ones that did didn't get many hits. Thus, it makes Lopez and his 0-for-4 day not look as bad. His results weren't good, though the way he got those results wasn't necessarily overly bad. Okay, other than that first at-bat where he couldn't hold a checkswing on a pitch he had no chance at, he lined out his other three times at the plate. He lined out twice to third and hit a hard grounder to third as well, and Eric Chavez was there waiting for the ball every time, as he does. The greatest thing about Lopez so far? I know his stat line this year says he's only played 31 games this year with the big club, but what I like is this (knocking on wood) -- he's only made four errors in that span of time. Granted, you multiply that by five for a full season (around 155 games) and you still get 20 errors and that's high, but you know what? Twenty errors is better than watching Mike Morse on the infield. Add to all of this the fact that Lopez has appeared to develop some hitting shoes since this last callup.


Yr W-L Pct GB Stk
2001 98-39 .715 -- W2
2002 80-57 .584 18 W1
2003 80-57 .584 18 W3
2000 74-63 .540 24 L1
2005 59-78 .431 39 W1
2004 51-86 .372 47 L6


The Mariners have tied their season-best eight-game cushion over last year's Mariners. With a win tomorrow night, not only would they have their first series win since the Kansas City series that ended with a sweep on the 17th of August, they'd also have their first winning streak in eighteen games, and they would have broken a streak of ten games of alternating wins and losses. Also, a win tomorrow night would give the Mariners a new season best of a nine-game cushion over last year's pace, and it's disappointing it would have taken that long. My preseason prediction for the team was to finish 77-85, eight games below .500, and they have to go 18-7 to equal that. I have a half-reasonable mind, so I doubt highly that that's going to happen. Instead, with 25 games remaining to go, I'd have to say that 13-12 would be nice for this team, and that'd put them at 72-90, a nine-game improvement over the year before. That's not bad, though it's less than what I expected. Of course, I didn't expect Bret Boone, Gil Meche, and Joel Piñeiro to all stink it up either.

The Mariners scored both of their runs in the sixth. Jeremy Reed provided two big plays in the inning, perfectly placing a bunt along the right side that ended up going for a base hit, and then sldiing hard into second and Mark Ellis to break up what could have been a double play. In any event, the non-double play and the bunt made up for the air-bunted squeeze later in the game. Adrian Beltre was jammed with his 2-0 pitch that went for a sacrifice fly which scored Ichiro and proved to be all the Mariners would need. Greg Dobbs followed up with a solid single to plate Raul Ibañez with the final run of the game. The Mariners had three of their seven hits in that sixth inning.

Yuniesky Betancourt (gameball) had the only multi-hit game for the Mariners. The other five hits went to Ichiro (leadoff single in the sixth), Jeremy Reed (bunt after Ichiro's hit that went for a single), Richie Sexson (deep fly ball for a double off the rightcenter wall that Nick Swisher probably should have caught), Adrian Beltre (ground-rule two-out double in the second), and Greg Dobbs (RBI single in the sixth).

With the 1-for-3 day today, Ichiro has 170 hits on the season and sits with a .297 batting average. If he gets at-bats at the same pace he's been getting them for the season (572 at-bats in 137 games, 4.18 at-bats per game)...
-- he needs 30 hits to reach 200 for the season; he'd need to hit .287 for the remainder of the season, and that'd leave him with a .296 season average.
-- he needs 33 hits to finish with a .300 average for the season; he'd need to hit .316 for the rest of the season, and he'd end up with 203 hits.
-- he needs 47 hits to finish with a .320 (.321) average for the season; he'd need to hit .450 for the rest of the season, and he'd end up with 217 hits.

Lastly, Felix. He got fourteen groundouts and two flyouts. Only one of those flyouts reached the outfield, and that was the final out he got, Nick Swisher to leftfield in the seventh. He retired the first six hitters of the game, then started another streak with the final out in the third, retiring twelve straight hitters. That streak was broken by Jay Payton, who singled with two out in the seventh and that seemed to bump Felix off the tracks a little. Felix got ahead 0-2 on both Dan Johnson and Marco Scutaro, but went to full counts on both. Johnson singled and Scutaro walked to load the bases. It was a tenuous, edge-of-your-seat time for any Mariner fans that were watching, and Johnson probably should have been sent to the dugout by Laz Diaz (less problems than usual from Diaz today) on his 2-2 pitch. Thus, this all made the final out by Nick Swisher a huge one. As mentioned, that was the only flyout to the outfield that young Felix got in the entire game. Again, that's fourteen groundouts, two flyouts, and five strikeouts. Twenty-one outs, no runs, a walk, and 107 pitches. It finished in a very turbulent fashion, but it was still masterful.

Just for that, you get two more games in Oakland! Once again, two chances to get a series win. Can it happen?

Piñeiro. Kennedy. Tomorrow.