Saturday, September 10, 2005
GAME 140: MARINERS 3, ORIOLES 2
Mariners 3, Orioles 2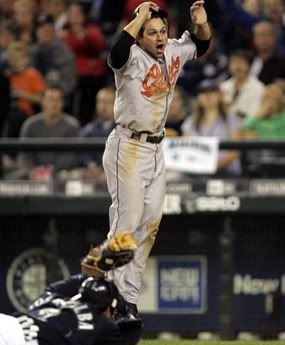 In 25 words or less: The Safeco Field pitcher extraordinaire does his thing, and the Mariners watch as the opposition can't quite tie it up.

This one featured Eric Bedard going up against Jamie Moyer. Would Jamie Moyer be the home pitcher he's been this year? If so, it'd be a win for the Mariners.

A week of little sleep caught up to this particular writer on Friday night, hence the very late post.

TOP 1ST
Grade: A-
Good start. Brian Roberts flew out to Ichiro in foul territory along the rightfield line. Melvin Mora got the hitters' counts and flew out to leftfield on a full count. Miguel Tejada took a 2-2 strike.

BOTTOM 1ST
Grade: B
Ichiro worked a 1-2 count for a walk. Jamal Strong air-bunted the first pitch to BJ Surhoff coming off of the first-base bag on the left side. Raul Ibañez looped a shallow fly to centerfield, and Ichiro had to hurry to scamper back to first. Richie Sexson worked an 0-2 count full and wound up hitting a bullet Miguel Tejada at short that nearly got past the outfielders in leftcenter, and Ichiro scored from first on Sexson's double and 100th RBI.
»» MARINERS 1, ORIOLES 0
Adrian Beltre took an 0-2 pitch over the outside corner.

TOP 2ND
Grade: B+
Fairly easy. Jay Gibbons worked a 1-2 count full and ended up flying out to Ichiro in rightcenter as Jeremy Reed and Ichiro made contact but didn't collide. Javy Lopez took a 2-2 pitch barely off the inside corner before taking a cutter at the knees over the inside corner. BJ Surhoff bounced an 0-2 pitch to second.

BOTTOM 2ND
Grade: C-
Bah. Jose Lopez chopped an 0-2 pitch over the mound, and the ball got past Tejada for an infield single. Jeremy Reed worked an 0-2 count full and rolled into a 4-6 fielder's choice. Yuniesky Betancourt took an 0-2 dirtball and Reed took off, but he was out by a foot. Betancourt ended up taking a 2-2 pitch over the outside corner.

TOP 3RD
Grade: A-
Very nice. Alejandro Freire grounded out to short. Eric Byrnes popped the first pitch to Ichiro. Luis Matos got ahead 2-0 and took a 2-2 pitch over the inside corner.

BOTTOM 3RD
Grade: C-
Gak. Yorvit Torrealba took an 0-2 pitch barely off the outside corner and took the next pitch over the inside corner (fastball) for a strikeout. Ichiro bounced a 2-2 pitch to Tejada in the hole on the left side. Strong took an 0-2 pitch over the outside corner.

TOP 4TH
Grade: C+
Whew. Roberts dumped the first pitch over Jose Lopez and into rightfield for a single. Mora smashed the second pitch off of Beltre's glove at second and into leftfield, advancing Roberts to second. Tejada watched the first pitch while Roberts and Mora had some issues with baserunning, and the Mariners had some issues with their rundown play as well. Roberts ended up with a 2-3-5 putout, and Mora stayed at first (also idiotic). Tejada popped the 2-0 pitch high to Lopez just beside the mound. Gibbons roped a 1-2 pitch off the track and wall in rightfield, but not only did Mora hold at third, Gibbons held at first and settled for the single. Javy Lopez fell behind 0-2 and nearly doubled a 2-2 pitch down the leftfield line; Javy later walked to load the bases. Surhoff popped the first pitch high to centerfield.

BOTTOM 4TH
Grade: C
Bleah. Ibañez singled to leftfield on the second pitch. Sexson just barely missed a homer, flying out very high to Byrnes at the track in leftfield. Beltre popped a 2-2 pitch into foul territory, but Roberts' diving catch outside the rightfield line came up empty. Beltre ended up mashing a 2-2 pitch for a flyout to centerfield. Lopez took a pitch off the left forearm, advancing Ibañez to second. Reed bounced the 2-2 pitch to third.

TOP 5TH
Grade: A-
Still solid. Freire lined the second pitch into leftfield for a single. Byrnes the first pitch to Strong in foul territory along the leftfield line. Matos popped a 2-2 pitch to Jose Lopez. Roberts lined the second pitch right to Moyer with a broken bat.

BOTTOM 5TH
Grade: B-
Could've been much bigger. Betancourt took a full-count pitch high and away for a walk. Torrealba grounded hard to second, starting the 4-6-3 double play, though Betancourt was barely out at second. Ichiro poked the second pitch past Mora and down the leftfield line, but he stayed at first with the single. Strong reached down and laced a 1-2 pitch into centerfield for a single, moving Ichiro to second. Ibañez took a 3-1 fastball up and in for a walk, loading the bases. Sexson worked an 0-2 count for a walk, forcing Ichiro in from third and leaving the bases loaded.
»» MARINERS 2, ORIOLES 0
Beltre took the first pitch, and was nearly taken out at the knees. Beltre later popped to shallow leftfield on a full count.

Bedard's line: 5 innings, 2 runs, 5 hits, 4 walks, 4 strikeouts, 105 pitches (64 strikes)

TOP 6TH
Grade: A-
Highly enjoyable. Mora grounded hard to third, where Beltre handled the hot potato, bobbling it twice but still making the out at first. Tejada popped the 2-0 pitch to Torrealba behind the plate. Gibbons grounded the 0-2 pitch behind the bag at first for the 3-1 putout.

BOTTOM 6TH
Grade: C-
Aaron Rakers came in for Bedard. Jose Lopez whiffed on a 1-2 pitch high and over the outer half. Reed lined the first pitch into Surhoff's glove in the hole on the right side. Betancourt rolled the second pitch to second.

TOP 7TH
Grade: B+
Defense. Javy Lopez rocked a full-count pitch to the leftcenter gap, but Reed leapt and made the catch, grabbed a body full of wall, fell to the track, and held onto the ball. Surhoff bounced toward the middle where Lopez tried to toss to Betancourt to make the throw to first, but it wasn't in time since the glove flip to Betancourt was a bit behind him. Freire bounced the first pitch to short where Betancourt flipped to Jose Lopez to start the 6-4-3 double play. Betancourt's flip was horribly unnecessary, but I'll take it.

BOTTOM 7TH
Grade: C-
Zippo. Torrealba whiffed on a low 1-2 pitch. Ichiro popped the second pitch to Matos in rightcenter. Strong whiffed on a full count.

Rakers' line: 2 innings, 0 runs, 0 hits, 0 walks, 3 strikeouts, 19 pitches (13 strikes)

TOP 8TH
Grade: B-
Byrnes fell behind 0-2 and looped a 1-2 single into shallow centerfield. Matos flew out to Reed in rightcenter on the second pitch. Roberts doubled the first pitch down the leftfield line for a double, easily scoring Byrnes.
»» MARINERS 2, ORIOLES 1

Julio Mateo came in for Moyer. Mora bounced the 2-2 pitch right to short. Tejada roped the first pitch into leftfield for a single, but Strong came up throwing and unleashed a great throw, on one hop to Torrealba at the plate, and Roberts was out at the plate on a very close play. Sam Perlozzo knocked umpire Adam Dowdy's mask out of his hand during the argument, and he was tossed.

Moyer's line: 7 1/3 innings, 1 run, 7 hits, 1 walk, 3 strikeouts, 104 pitches (71 strikes)
Mateo's line: 2/3 inning, 0 runs, 1 hit, 0 walks, 0 strikeouts, 6 pitches (4 strikes)

BOTTOM 8TH
Grade: B
Steve Kline came in for Rakers. Ibañez mashed the first pitch into the rightcenter gap for a double.

Jorge Julio came in for Kline. Sexson bounced a 2-0 pitch along the third-base line that stayed fair until it came near the bag. Sexson later whiffed on a 2-2 pitch over the outside corner. Beltre watched the second pitch as Ibañez stole third. Beltre took a 1-2 pitch in the dirt and it got through the legs of Javy Lopez and went to the backstop, allowing Ibañez to score.
»» MARINERS 3, ORIOLES 1
Beltre later whiffed on a 2-2 dirtball for a 2-3 putout, though the Javy Lopez throw nearly ended up in rightfield if not for a leap and reach from Surhoff at first. Jose Lopez popped the second pitch in front of the camera well on the first-base side.

Kline's line: 0 inning, 1 run, 1 hit, 0 walks, 0 strikeouts, 1 pitch (1 strike)
Julio's line: 1 inning, 0 run, 0 hit, 0 walks, 2 strikeouts, 14 pitches (10 strikes)

TOP 9TH
Grade: B-
George Sherrill came in for Mateo. Gibbons golfed the 2-2 pitch into the fourth row in rightfield.
»» MARINERS 3, ORIOLES 2

JJ Putz came in for Sherrill. Javy Lopez nubbed the first pitch in front of the plate, and Torrealba threw in time to first. Surhoff poked the first pitch through the left side for a single, and Bernie Castro ran for him. David Newhan, hitting for Friere, fell behind 0-2 and Castro was nearly picked off of first but stole second on the next pitch. Newhan eventually took the full-count fastball over the outside corner. Byrnes bounced out to second. Ballgame.

Sherrill's line: 0 innings, 1 run, 1 hit, 0 walks, 0 strikeouts, 5 pitches (3 strikes)
Putz' line: 1 inning, 0 runs, 1 hit, 0 walks, 1 strikeout, 13 pitches (8 strikes)
---

Gameball: Raul Ibañez.
He led off the fourth with a single, walked with two out to load the bases for Richie Sexson in the fifth, and doubled to lead off the eighth. The Mariners scored a run apiece in the fifth and eighth, with Ibañez scoring the third Mariner run. Ibañez isn't the gameball recipient here just for the hits. After his double in the eighth, he stole third base. The Mariners never got another hit in the inning after the double by Ibañez, but Steve Kline uncorked a wild pitch with Ibañez on third. He scored on the wild pitch, and that proved to be the winning run. He scored easily and luckily it wasn't a bang-bang play like the play at the plate on Brian Roberts. The Ibañez run turned out to be very necessary insurance due to George Sherrill in the ninth inning. One stat that still scares me right now is that Raul Ibañez has 17 homers and Ichiro right behind him with 15. Maybe I shouldn't be so surprised, though. Ibañez has only hit more than 20 homers once in his career, and that was his crazy year in 2002 when he hit 24.

Goat: George Sherrill.
Well, his job was pretty simple. He was brought in to get the lefthanded hitter out, and this time it was Jay Gibbons. It seems to me that Gibbons always ends up burning the Mariners at least once in every Baltimore/Seattle series. Anyway, Sherrill's time in the game was as long as Gibbons' at-bat, and the crap-to-time ratio was pretty high. Sherrill's been mostly great this year, though, and this was just one of those times when he couldn't be perfect. Looking at his game log, he'd gone the last five outings without sucking, so it looks like we'll just have to let Sherrill slide with this one. The really bad thing about it was that the home run let the Orioles climb to within one run in the ninth, but luckily Baltimore didn't have the meat of their order coming to the plate anytime soon. Instead, it was Javy Lopez, BJ Surhoff, and friends. It definitely wasn't Melvin Mora and Miguel Tejada. Either way, JJ Putz came in afterward and held the rest of the inning down. George is good, and this we know. I think the team would have been way better off bringing up Sherrill way earlier than they did. They would have been even better off not having Ron Villone on the team to begin with, but I don't feel like opening up that can again.


Yr W-L Pct GB Stk
2001 100-40 .714 -- W1
2002 82-58 .586 18 W1
2003 81-59 .579 19 L2
2000 76-64 .543 24 W1
2005 61-79 .436 39 W1
2004 52-88 .371 48 L1


The Mariners returned to a season-high nine-game cushion over the 2004 debacle. Also, the 2001 team had 100 wins after 140 games. I barely remember that season now. The seasons of 2002 and 2003 mirrored themselves late in a lot of ways. The 2000 team didn't have as great a winning percentage, but tied the 1995 team for the franchise best in how far they got in the playoffs (six games in the ALCS).

I guess if Jamie Moyer was 15-3 in his career against the Orioles coming into this game, I probably shouldn't have been too surprised with the result. The other thing that Moyer had going for him was that the game was at Safeco Field, and since Moyer has nutty splits this year that lean heavily toward him being an awesome home pitcher, well...he pitched into the eighth in this game and didn't allow a run until his final inning. He leaned on the dimensions of the field as well, getting twelve flyball outs compared to six groundball outs. He only walked one batter as well, and didn't allow any homers. The difference between Moyer this year and Moyer last year isn't night and day, but it does seem like home and road. Any slivers of Moyer that appear left over from the 2004 season seem to manifest themselves only when the Mariners are on the road. Moyer has lost his last three road starts and has given up a homer in each of those starts. What if the Mariners had five Moyer clones in the rotation, went 81-0 at home, and then just scraped together whatever wins they could get on the road?

Richie Sexson nearly homered in the fourth and would have homered in consecutive games for the first time since July 24th and 25th. Sexson had to instead settle for two RBIs that put him at and over the century mark this year, leaving him with 101 RBIs in his first year back in the American League and his first year as a Mariner. Seems like the labrum has held up this year (knock on wood). I don't know whether we can expect next year to be better for him at the plate or what, but I like what we've seen so far and he's seems to have adjusted fairly well to American League pitching, though one could argue that after his labrum exploded in 2004, Sexson had so much time off that he'd need to get used to any kind of pitching. In short, Richie Sexson has helped bring the bash back to Seattle, but unfortunately he can't do it alone. Adrian Beltre obviously needs to do a lot better next year, and someone else needs to step up. Or someone needs to be added to the roster that has power. Or Ibañez needs to hit 25 homers. Something.

The defense in the seventh and eighth innings were vital. Jeremy Reed's crazy catch in the leftcenter gap robbed Javy Lopez of a leadoff double in a 2-0 game. The middle infield also turned a double play to end that inning. Of course, the play that was extremely vital was Jamal Strong nailing Brian Roberts at the plate, though that call was very close. Still, I didn't know Jamal Strong had an arm like that. It's a good thing Randy Winn wasn't out there.

With the 1-for-3 game here, Ichiro has 173 hits on the season and sits with a .297 batting average. If he gets at-bats at the same pace he's been getting them for the season (582 at-bats in 140 games, 4.16 at-bats per game)...
-- he needs 27 hits to reach 200 for the season; he'd need to hit .295 for the remainder of the season, and that'd leave him with a .297 season average.
-- he needs 29 hits to finish with a .300 average for the season; he'd need to hit .317 for the rest of the season, and he'd end up with 202 hits.
-- he needs 43 hits to finish with a .320 (.321) average for the season; he'd need to hit .470 for the rest of the season, and he'd end up with 216 hits.

Could the Mariners win a second straight series? They'll have to do it on Singles Night. Or they could just wait until Sunday when Felix pitches.

Lopez. Harris. Tonight.