Monday, July 05, 2004
JETEDONNA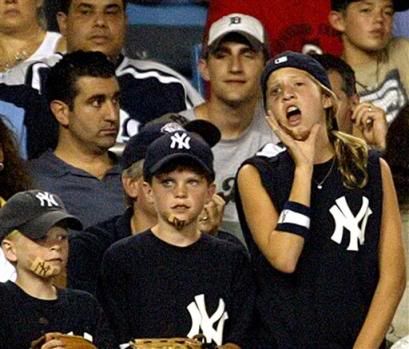 DAMMIT! JETER ALREADY MADE THE DAMN CATCH! BUT NO, HE HAD TO BE AN ATTENTION WHORE AND DIVE INTO THE STANDS FOR NO OTHER REASON THAN TO MAKE THE SHEEP PROUD!

By the way, these kids have no idea what losing is like in the Bronx. Man, those Yankee teams in the early 1990s were just pitiful.

Kevin Maas, he wasn't the Pride of the Yankees. But he was the Pride of Castro Valley, California. Did you know that the starting rotation for the 1990 Yankees consisted of Tim Leary, Chuck Cary, Dave LaPoint, Andy Hawkins, and Mike Witt?

Of course, George Steinbrenner was suspended in the early 1990s. Quick, can we find some more dirt on the guy? I wouldn't shed a tear if the New York kids had to see a 1990-style starting rotation again. Not one tear.