Sunday, September 11, 2005
GAME 142: ORIOLES 6, MARINERS 3
Orioles 6, Mariners 3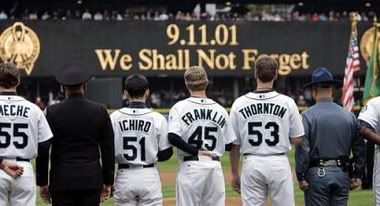 In 25 words or less: Felix exudes his inner Gil Meche, blowing an early lead while the Mariners fail to put up any more runs.

[***NOTE -- actually posted ~10:23p]

This day of rememberance featured a game where Bruce Chen was going up against Felix Hernandez. Could Felix give Seattle sports fans something to cheer about after the Seahawks were stomped earlier in the day? Please? It's obvious what the answer is since the score is all over the top of this post.

TOP 1ST
Grade: B+
Decent start. Brian Roberts popped a 3-1 pitch to centerfield. Bernie Castro grounded the first pitch to Yuniesky Betancourt in the left side hole, and Castro beat out the throw. Melvin Mora watched the 2-1 pitch as Castro stole second without a throw. Mora got ahead 3-1 and ended up whiffing on a full count. Miguel Tejada bounced out to short.

BOTTOM 1ST
Grade: B+
Early runs, though it could have been more. Ichiro softly lined a single over Tejada at short and into leftfield. Jamal Strong was nailed in the left hand with a pitch, but umpire Bruce Froemming didn't let him have first base until he reviewed the situation involving Strong's hand, moving Ichiro to second. Raul Ibañez grounded out to Tejada in the hole at short, moving Ichiro and Strong to third and second. Richie Sexson took a four-pitch walk, loading the bases. Adrian Beltre nubbed a 1-2 pitch to Chen along the third-base line, who tossed to Sal Fasano at the plate, but he dropped the ball and Ichiro was able to score.
»» MARINERS 1, ORIOLES 0
Jose Lopez lined the second pitch toward leftfield, but Tejada climbed the ladder and speared it, and the runners had to hold. Jeremy Reed got ahead 2-0 and wound up walking on a full-count pitch low and away, forcing Strong across the plate and leaving the bases loaded.
»» MARINERS 2, ORIOLES 0
Yuniesky Betancourt took the first pitch about two feet in front of the plate, off Sal Fasano's chest protector and to the backstop, enabling Sexson to score.
»» MARINERS 3, ORIOLES 0
Betancourt popped the second pitch to Tejada near the leftfield line.

TOP 2ND
Grade: D
Bad. Greg Dobbs came in for Strong in leftfield after Strong's hand more than likely acted up on him. Jay Gibbons laced a 2-0 single into rightfield. BJ Surhoff got ahead 2-0 and eventually walked on a full-count pitch down and away, moving Gibbons to second. Alejandro Freire walked on four pitches, loading the bases and bringing Bryan Price to the mound. David Newhan flew out near the rightfield track, and it was more than deep enough to score Gibbons from third.
»» MARINERS 3, ORIOLES 1
Sal Fasano took an 0-2 wicked curve on the outside corner. Roberts got ahead 3-0 and settled for a walk on a full-count pitch outside, reloading the bases. Castro doubled the first pitch into the leftfield corner and into the stands, scoring Surhoff and Freire.
»» ORIOLES 3, MARINERS 3
Mora singled into rightfield, scoring Castro and Roberts. Ichiro gunned back to the infield, and they caught Mora before he could get to second.
»» ORIOLES 5, MARINERS 3

BOTTOM 2ND
Grade: C
Crap. Yorvit Torrealba popped to Freire near the stands on the first-base side. Ichiro crushed the first pitch for a foul near-homer down the rightfield line. He later scooped a 2-2 pitch into centerfield for a single. Dobbs took a 2-2 curve over the outside corner. Ibañez watched as Ichiro stole second on the second pitch with a wide and high throw. Ibañez ended up flying out high to Gibbons near the rightfield corner and a foot from the wall.

TOP 3RD
Grade: B
Whew. Tejada bounced the second pitch to second. Gibbons doubled an 0-2 pitch into the rightcenter gap for a double. Surhoff lined the first pitch to Betancourt, who easily threw to second to double off Gibbons.

BOTTOM 3RD
Grade: C
Bleah. Sexson fell behind 0-2 and whiffed on a high hard 1-2 pitch. Beltre rolled over a 1-2 pitch and grounded to short, but Tejada threw past first base and toward the camera well (E6). Lopez grounded into a near-double play, but he beat it out at first (Beltre forced out). Reed looped the second pitch to leftfield, but Surhoff made a charging and sliding catch (nearly a trap) for the out.

TOP 4TH
Grade: A
Best inning so far. Freire took a 2-2 pitch over the outside corner. Newhan bunted back to the mound. Fasano whiffed on a 2-2 offspeed pitch outside.

BOTTOM 4TH
Grade: C
Still in slumber. Betancourt took an 0-2 curve over the inside corner. Torrealba lined the first pitch into leftfield for a single, snapping an 0-for-20 slump. Ichiro scooped the first pitch into Roberts' glove up the middle in the air. Dobbs whiffed on a 2-2 pitch.

TOP 5TH
Grade: A
Solid inning. Roberts grounded the first pitch to second. Castro fell behind 0-2 and waved at a 1-2 pitch outside. Mora flew out to Reed on the second pitch running toward the rightcenter track.

BOTTOM 5TH
Grade: C
Same ol'. Ibañez fell behind 0-2 and popped high to centerfield on the 1-2 pitch. Sexson got ahead 2-0 and ripped a single to leftfield. Beltre popped an 0-2 pitch deep to Gibbons in rightcenter, and Sexson was able to tag and move to second on the play. Lopez looped an 0-2 pitch into shallow centerfield that was caught with a gentle dive by Newhan. s

TOP 6TH
Grade: B+
Solid, though more pitches. Tejada broke his bat on a 1-2 grounder to third as Felix retired eight straight hitters. Gibbons popped to Reed in centerfield on a full count. Surhoff got ahead 3-1 and wound up flying out to Reed in leftcenter on a full count.

BOTTOM 6TH
Grade: C
Ugh. Reed bounced the first pitch to short. Betancourt popped the second pitch to Mora reaching over a railing on the third-base side in foul ground. Torrealba lined a fly into centerfield directly over Newhan, who had much trouble with the ball, spinning and having a devil of a time. Torrealba ended up on second with the double. Ichiro took a 2-2 fastball up and away for strike three.

Chen's line: 6 innings, 3 runs (unearned), 5 hits, 2 walks, 5 strikeouts, 104 pitches (70 strikes)

TOP 7TH
Grade: B-
They woke up again. Freire tapped a 2-2 pitch back to the mound. Newhan drove the first pitch near the rightfield corner for a double, snapping the Felix streak of eleven straight retired Orioles. Fasano rolled a 1-2 pitch off the tip of Beltre's glove and into leftfield for a single, scoring Newhan. Ed Rogers ran for Fasano.
»» ORIOLES 6, MARINERS 3
Roberts flew out near the rightfield track on a 1-2 pitch. Castro bounced the first pitch to second.

Hernandez' line: 7 innings, 6 runs, 7 hits, 3 walks, 5 strikeouts, 106 pitches (68 strikes)

BOTTOM 7TH
Grade: C
Tim Byrdak came in for Chen (Geronimo Gil came in for Fasano). Dobbs took an 0-2 pitch over the outside corner. Ibañez took a full-count dirtball for a walk.

Todd Williams came in for Byrdak. Sexson watched a wild second pitch and Ibañez moved over to second base. Sexson got ahead 3-1 and later tapped back to the mound, though Ibañez sneaked over to third. Beltre bounced the second pitch on a shorthop to third.

Byrdak's line: 1/3 inning, 0 runs, 0 hits, 1 walk, 1 strikeout, 10 pitches (6 strikes)

TOP 8TH
Grade: A-
Julio Mateo came in for Hernandez. Mora got ahead 3-1 and eventually popped a full-count pitch to Dobbs in shallow leftcenter. Tejada bounced an 0-2 pitch to short. Gibbons popped high to short.

Mateo's line: 1 inning, 0 runs, 0 hits, 0 walks, 0 strikeouts, 15 pitches (11 strikes)

BOTTOM 8TH
Grade: C
Boo. Lopez bounced a pitch into the left-side hole and Tejada made an absolutely crazy long throw in time to first. Reed rolled the second pitch up the middle for a single. Ramon Santiago, hitting for Betancourt, lined out to centerfield. Dave Hansen, hitting for Torrealba, grounding a full-count pitch hard to first for a 3-1 putout.

Williams' line: 1 2/3 innings, 0 runs, 1 hit, 0 walks, 0 strikeouts, 24 pitches (14 strikes)

TOP 9TH
Grade: A
Matt Thornton came in for Mateo. Surhoff lined the second pitch right to Beltre. Chris Gomez got the hitters' counts and ended up grounding to third on a full count. Newhan chopped out to a charging Lopez at second.

Thornton's line: 1 inning, 0 runs, 0 hits, 0 walks, 0 strikeouts, 11 pitches (7 strikes)

BOTTOM 9TH
Grade: C
BJ Ryan came in for Williams (Luis Matos came in to play center, Newhan moved to right for Surhoff). Ichiro popped a 2-0 pitch to third. Dobbs poked a sharp single through the left side on the second pitch. Ibañez flew out to leftfield on an 0-2 pitch. Sexson worked a 1-2 count for a walk, moving Dobbs to second. Beltre whiffed on an 0-2 pitch down and in. Ballgame.

Ryan's line: 1 inning, 0 runs, 1 hit, 1 walk, 1 strikeout, 18 pitches (12 strikes)
---

Gameball: Yorvit Torrealba.
The Mariners' mostly-starting catcher post-trade deadline snapped an 0-for-20 skid with his leadoff single in the fourth inning. He followed that up with a two-out double in the sixth inning, which was more like a ball that was directly at David Newhan in centerfield, but Newhan had trouble judging and getting to the baseball, which eventually dropped safely. Sure, one of the hits might be cheap, but Torrealba was one of only two Mariners that notched a multi-hit game today. That's probably scary considering that the Mariners only got seven hits in a game where Bruce Chen was the starting pitcher. Even worse, the Mariners only hung up nine runs in the three-game series against the Orioles. Only so many pitchers out there can win on occasion with their team scoring only three runs for them. The Mariners had two guys that maybe could do it going in the series, and one of the two won (Jamie Moyer and not Felix). Back to Yorvit though, all it took was an 0-for-20 cold spell and going hitless in seven straight games to sink his average with the Mariners to .239. He was at .319 on August 28th.

Goat: Adrian Beltre.
How else can you react when you look at the boxscore and see not only an 0-for-5, but also a big 6 in the "LOB" column? Six baserunners left on base? For what we're putting up with this year in terms of league adjustment, Adrian Beltre better have a 2006 where he hits .310, clubs 40 homers, and drives in 110 because we're putting up with a lot this year from Beltre at the plate. The book I've been hearing for months is how he can't catch up to a good fastball. What's sick is that he could catch up to a good fastball while playing on one foot last year, and he can't do it this year with a seemingly normal foot. I guess there's some added vitriol here due to the Sal Fasano single that went off of his glove and into leftfield to score Baltimore's final run, but really, this has been sort of building for a while now. It sucks if we have to let Beltre slide for an entire year while he tries to figure himself out in a new league, a new park, and a new city. It was just coupled by the fact that he was the tying run in the ninth at the plate and didn't make contact, let alone yank one. Of course, one could debate whether that's even a reasonable thought since he hasn't homered since the 20th of August, the third of the four-game series in Minnesota. That's twenty games without a homer from Beltre.

Yr W-L Pct GB Stk
2001 102-40 .718 -- W3
2002 84-58 .592 18 W3
2003 82-60 .577 20 L1
2000 77-65 .542 25 W1
2005 61-81 .430 41 L2
2004 53-89 .373 49 W1


Once Felix walked two guys and loaded the bases with nobody out in the second, it was already his worst outing of the year. It's amazing how high we've set the bar for this kid. Everyone knew Felix wasn't going to walk on water for the entire remainder of 2005 after coming up to the big club, but it's a shame that he had to show his inner Gil Meche in the second inning. It was pretty disconcerting, and not just for those of us who were trying to get over some awful Seahawk football from the morning. If the tone for this game wasn't set by Josh Scobey's opening-kickoff fumble shortly after 10am Pacific, it was definitely set when Felix walked Alexander "f#*$ wit' " Freire to load the bases with nobody out in the second. What followed was a little hole in the armor with the Newhan sacrifice fly to open the scoring. Sal Fasano was caught looking before Felix walked his third to reload the bases, then Bernie Castro and Melvin Mora drove in two runs apiece, with the inning only ending because Mora hung himself out to dry. The sad thing is that Felix threw pretty well in six out of his seven innings. Actually, the fact he even got through six, let alone seven, after that second inning is a victory in itself. He'd set down eleven straight Orioles until Newhan's double in the seventh.

I don't know what you can really hang your hat on for this game. Julio Mateo and Matt Thornton combined for two perfect innings of relief, I guess, so you can do whatever you want with that. Mateo had to cut through Melvin Mora, Miguel Tejada, and Jay Gibbons, so he had the tougher go of it. Now that I look at it more, I could have gameballed Richie Sexson since he had two walks to go with the 1-for-3, but you could also argue that he should be crushing extra-base hits instead of walking twice. He walked with runners on second and third with one out in the first, and the other walk came with two on and one out in the ninth. One of those would be more let-slideable. But let's get our priorities straight here. Sexson's got 34 homers and 104 RBIs while our local third baseman has 18 homers and 79 RBIs. The way the latter has started out this month, it'll take a mircale for him to finish with 100 RBIs on the season. I know there's league adjustment, but can you really just toss away the first year of a five-year deal like that?

Multi-hit games in this one belonged to Torrealba (gameball) and Ichiro. The latter went 2-for-5, singling in the first and second. He went 7-for-13 in the series, making his quest for 200 hits seem a lot more reasonable than it did for most of August. Ichiro is hitting .375 (15-for-40) after ten games in August. He's got fifteen hits, two of them doubles, and one of them a triple. He's got twenty games to get twenty-one hits to add up for his 200 that he holds so dear, but I think he's probably going to do it. He'd have to really fall off the face of the earth again to somehow screw it up this time. However, he'll have to go crazy-nuts to finish above .305 on the season. I think 200 hits are a certainty, but I also think Ichiro's worst single-season average of his Major League career is also a certainty. Right now, he'll have to get to 211 hits to finish at .312, which was the average he finished with in 2003, the last year where he hit double-digit homers and finished with that .312 mark.

With the 2-for-5 game here, Ichiro has 179 hits on the season and sits with a .302 batting average. If he gets at-bats at the same pace he's been getting them for the season (592 at-bats in 142 games, 4.17 at-bats per game)...
-- he needs 21 hits to reach 200 for the season; he'd need to hit .252 for the remainder of the season, and that'd leave him with a .296 season average.
-- he needs 24 hits to finish with a .300 (.301) average for the season; he'd need to hit .288 for the rest of the season, and he'd end up with 203 hits.
-- he needs 37 hits to finish with a .320 average for the season; he'd need to hit .444 for the rest of the season, and he'd end up with 216 hits.

Oh, I can't forget that Jamal Strong's preliminary x-rays showed a fracture of his hand after getting nailed by a pitch. Sick to think plate umpire Bruce Froemming nearly didn't let him have first base.

Of course it's a great time for the Angels to come to town for three games. Are you kidding me?

Santana. Piñeiro. Tomorrow.