Saturday, February 12, 2005
STRIVE
Welcome to Saturday. It was somewhat of a busy night last night, and even the Seahawks are making some news.

For the random note here...did anyone out there encounter carpet gymansium floors back in elementary school? Though as a youngster I thought they weren't too bad, since they seemed much warmer than tile floor or hardwood to sit on, I fail to see the positives to having a carpet gym floor. Surely it's not good if it somehow tears. Surely if there was too much perspiration dripping into the carpet gym floor, the floor would need an all-out periodic shampooing, rather than just a mopping like a hardwood floor would need.

Now to the usual...

MARINERS
Jeremy posted here about the Richie Sexson DUII citation already yesterday.

As we aren't speculating anything regarding the Sexson DUII citation, I will merely show two things, both factual. One is the signature that appeared on Sexson's on-scene citation, the other is the signature on the shirt I took to FanFest. I should also note that the officer's writing in the citation (it's a PDF file on the KGW page that Jeremy linked) is just horrid, and that Sexson at FanFest was one of those autograph signers that attempts to slow it down a bit to make sure some of the consonants are actually half-readable for the fans.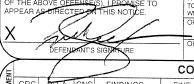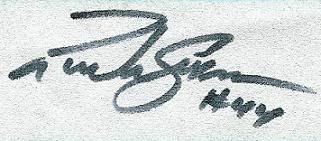 SEAHAWKS
Now the Seahawks' search for a president might finally be getting interesting. Though it's only sources that are moving this information along, it appears that Scott Pioli from the Patriots just might be attracting the Seahawks' eye. It's shooting the moon, but why not? Let's give it a whirl and see what happens. Hopefully they have decent enough backup plans if this possible Pioli pursuit goes awry or goes on too long.

BASKETBALL
The Marvin Williams Watch
The Tar Heels go to Hartford and face Connecticut tomorrow (10a, CBS), then go back home Wednesday for Virginia (4p, ESPN)

Huskies
Bobby Jones is getting some praise after his gutty production in the Oregon game while being quite ill. Still, the Huskies are returning to the place in Corvallis where, one year ago, the Huskies effectively began their crazy run. The Huskies had a run nearly reminiscent to me of that local baseball team that did that thing in 1995. One main difference, though, is that the Huskies' follow-up year is turning out way better than the Mariners' 1996 season.

The Huskies face Oregon State tomorrow (1p, FSNNW) before going to Wazzu the following Saturday (4p, FSNNW)

Bulldogs
The Zags move over to LA to face Loyola Marymount tonight (FSNNW Seattle, Q6 NBC Spokane)

Sonics
For my take on last night's game, scroll down a post or click here if you're reading the only post on the page.

Yes, the Sonics managed to hold Phoenix scoreless for two minutes late in the fourth quarter last night. Of course, this was leaps and bounds better than when the same two teams met in Seattle, and the Sonics blew a late seven-point lead. It wasn't easy either, and not just because of the gameplay itself. The Sonics got in pretty late because not only was it a back-to-back, they had to fly to Phoenix from Seattle right after having a 7:30 game on TNT. That's rough. Still, they got two wins in one of the tougher back-to-back sets on their schedule this season.

The Sonics have weathered off half of the Danny Fortson suspension as well.

Upcoming...
Tomorrow vs. Dallas (5p, FSNNW)
Wednesday vs. Golden State (6p, FSNNW)

HOCKEY
Tri-City beat Everett 2-1. The Silvertips had their four-game win streak snapped. Zach Sim scored the only Silvertip goal, in the first period. The Americans won the game on a power-play goal off an untimely late charging penalty on Mitch Love. Everett was badly outshot 44-27. Mike Wall stopped 42 for the Silvertips.

Portland beat Spokane 4-3 in overtime. Two ties, no lead changes. The Winter Hawks scored in every period, including the overtime. They had a 2-0 lead early in the second period after power-play goals by Kyle Bailey and Darrell May. Spokane tied it late in the second period. Portland hit paydirt again thanks to a Cameron Cepek goal with 4:31 left in regulation. That was answered 1:25 later. In overtime, Brandon Dubinsky got the winner on a breakaway to give Portland its sixth win in seven games. Shots were 31 apiece. Blake Grenier stopped 28 for Portland.

Manitoba beat Saint John's 4-3 in a shootout. Manitoba scored the first goal of the game, and Saint John's answered. Repeat that pattern three times, and that's how it ended up even after overtime. Of course, the fun thing was that there were fights after the first four goals in the game. Either way, Peter Sarno and Jesse Schultz scored for the Moose in the first period, and Lee Goren scored for the Moose in the second period. Kevin Bieksa, Jason King, and Josh Green were able to get the Moose the win in the shootout. Manitoba outshot the Leafs 38-30, and Wade Flaherty stopped 27.

Portland and Puget Sound skated to a 2-2 overtime tie. Portland's Andy Gorski and Puget Sound's Iggy Slepokourev put on a goalie exhibition after all four goals were scored in the first period. Mike Truex scored to tally his 99th point of the season right out of the gate, and Luke Winkelman scored to get the Tomahawks a 2-0 lead before the Pioneers scored twice in 23 seconds, when Mats Papista and Riley Patterson were both recipients of opportune passes right in front of the net. The Tomahawks remain one point behind the Pioneers for the division title and a first-round playoff bye with only tonight's game remaining on the regular season schedule.

Upcoming...
Tonight: Everett at Seattle, Portland at Tri-City, Vancouver at Spokane, Manitoba at Saint John's, Portland at Puget Sound
Tomorrow: Spokane at Everett
Tuesday: Red Deer at Portland
Wednesday: Seattle at Kelowna, Red Deer at Vancouver
Friday: Red Deer at Seattle, Prince George at Everett, Spokane at Portland, Kamloops at Vancouver, Edmonton at Manitoba
---

Have a great Saturday and a happy rest of the weekend, everyone.