Friday, February 11, 2005
SINUSES INTACT
I think I'm about 90 to 95% recovered from whatever it is that I had, and like I said, it wasn't to the extent of Ray Allen's viral hell that he went through a week or two ago, but I hated it nonetheless. A little phlegm in the throat became an all-out sinus/nasal badness. Usually I'm never sick for more than two days, but this was about four or five solid days of sickness. It didn't hit me hard until last Saturday, and Wednesday night was the first night I could watch any sort of sporting event with regularity and not have my eyes hate me for it. Of course, this screwed me for the Super Bowl too. At least my team wasn't playing, I guess. Still, I only saw portions of the first half, and listened to most of the second half on the radio, between slipping into sleep.

But now, I'm at least one Sonic game post into feeling a ton better, and this here should be my first big daily post back.

Also, if you're in Kitsap County tonight, the Puget Sound Tomahawks need all the fan support they can get tonight and tomorrow night at the Bremerton Ice Arena. They need a win and a tie to claim a division title and a first-round bye in the NorPac playoffs, and they'll be trying to knock off the current first-place team, the Portland Pioneers.

For the random note...pot pies are my vice. The brand of pies that got me into the whole pot pie mess were Swanson, though when faced with more pressing circumstances (i.e., price) I've been known to go with a Banquet or even a store brand. Go the Costco route and they have 8-packs of Marie Callendar's and those things are pretty good too. Though I never have the patience for it, they're better when they baked in the conventional oven rather than microwaved. When microwaved, I usually try to overshoot whatever it says on the box by a little so that my pie is as done as possible. Inevitably, I'll get some doneness and almost burntness in a spot or two, but the middle will still have that mushy crust and it'll tick me off, but unless I want to throw it in the oven for 40 minutes, I just shut up and deal with my instant taste gratification. Also, I did chronicle it once last year, but if you're going to mix two different flavors of pot pie, don't mix beef with anything. Mixing chicken with turkey is okay, but beef and one of the other kinds turned out with much-less-than-desired results for me back at school. Not good times.

It's good to be back.

MARINERS
We're at about 5 days remaining until pitchers and catchers report in Peoria.

As a matter of fact, we still have photos stashed away from last year when P's and C's reported. For instance, here we have Wiki Gonzalez having one of many heart-to-heart talks with some instructional dummy.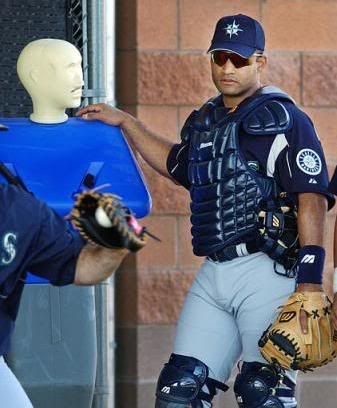 SEAHAWKS
As posted by Jeremy yesterday, Bob Casullo is the new special teams coach for the Seahawks. The angle for the article is pretty funny -- it's not all the time you run into a guy that just wants to be the best damn special teams coach around rather than gunning for any head coach opportunity he can find. Apparently Casullo and Mark Michaels (now fired) were close after interviews last offseason, but Michaels' working under Pete Rodriguez got him the edge. This year, we try a different flavor. Hopefully one that gets better field position.

BASKETBALL
The Marvin Williams Watch
The Tar Heels go to Hartford and face Connecticut on Sunday (10a, CBS), then it's back home Wednesday against Virginia (4p, ESPN)

Huskies
They came out of McArthur Court with a 95-88 overtime road win and a 20-win season. Will Conroy scored eight straight Husky points in regulation to force overtime, and Brandon Roy added seven in overtime to seal it.

The Huskies are in Corvallis on Sunday to face Oregon State (1p, FSNNW) before going to Pullman and facing Wazzu the following Saturday (4p, FSNNW)

Bulldogs
Gonzaga is all alone in first place in the West Coast Conference after their 82-75 victory at Pepperdine. JP Batista didn't have as much of a monster night, though he did have his 10 and 7. The monster nights were from Ronny Turiaf (officially back) with 20 and 12 boards, and Erroll Knight with 14 and 11 assists. Derek Raivio nailing five three-pointers also helped, along with Adam Morrison's 19 and 7 boards.

Just a philosophical question -- would it be easier to root for your team if it were called the Waves or the Green Wave?

The Zags move over to LA to face Loyola Marymount tomorrow (FSNNW Seattle, Q6 NBC Spokane)

Sonics
For my take on the game, scroll down a post or click here if this post is the only one in your browser.

There was a good deal of "drama" in the game's first three quarters in terms of lead changes and ties, but it didn't really get dicey until the fourth quarter and the Webber/Fortson incident. I said it in the game post, but I'll say it again -- the Kings had just fallen into the penalty at that point in the game, and the Sonics could have had an easy way to win the game just by pounding the ball to Fortson down low and having him put up a shot and get hacked every trip down the floor. Instead, he gets tossed, Vlad Radmanovic is cold, and things get interesting because you have to think of a different way to win. That's where Antonio Daniels, Nick Collison, and Rashard Lewis stepped up in the final quarter.

Upcoming...
Tonight at Phoenix (6p, FSNNW)
Sunday vs. Dallas (5p, FSNNW)
Wednesday vs. Golden State (6p, FSNNW)

HOCKEY
As for any possibilities of an NHL season, well, they're toast. By this point, I've noticed that TSN has been using the same exact picture of Bill Daly with pursed lips in every one of these articles.

In Bizarro NHL (i.e., EA Sports NHL 2005 on Easy mode with auto shot aim), the Vancouver Canucks are 47-6-0-3 at the All-Star break. Brendan Morrison leads the team in scoring with 69 points. Markus Naslund and Todd Bertuzzi (EA didn't suspend him) are skating with Morrison on the top line. Jason King is skating with the Sedins, and the chemistry factor is full with that line.

I've played a couple games in the three European leagues they have in the video game too, but what they should really do is get the rosters of all those Euro teams with the NHL guys and then make a video game out of that. That'd be awesome. I want MoDo from Sweden with everybody and their mother playing for it. In NHL 2005, I don't get the benefit of Naslund, the Sedins, Peter Forsberg, et al., on my MoDo team.

The Thunderbirds are hoping their good defensive play is close to full form heading into the stretch run. They've lost four straight and seven of ten.

Upcoming...
Tonight: Tri-City at Everett, Spokane at Portland, Manitoba at Saint John's, Portland at Puget Sound
Tomorrow: Everett at Seattle, Portland at Tri-City, Vancouver at Spokane, Manitoba at Saint John's, Portland at Puget Sound
Sunday: Spokane at Everett
Tuesday: Red Deer at Portland
Wednesday: Seattle at Kelowna, Red Deer at Vancouver
---

Have a great Friday. A great weekend to all that aren't able to stick with us through the weekend.