Sunday, September 12, 2004
CORTISONE CANASTA
I can't say I thought the final game of the Boston/Seattle series would end up like this, but at least it was a good day for the Mariners, and given what happened, it'll keep the recap quite short.

Gil Meche had his best start of the year, going all the way in a complete-game five-hit shutout of the Boston Red Sox, knocking them back one game in the AL East race and relegating them to a split of a four-game series with the Mariners.

The Mariners' two runs came on one hit -- Raul Ibanez' two-run homer in the 6th into the now soulless not-so-temporary seating area (he played first base for much of the game also). It was all the offense that Meche needed, as he would throw eight shutout innings, and then Bob Melvin ran him out there for the 9th, pitch count be damned. But Meche's arm held up, albeit thanks to duct tape, pipe cleaners, dried-up maple syrup, and, well, mesh.

Before I continue, it's time for the Ichiro update.

Ichiro went 2-for-4 today, upping his hit total to 231 on the year. He now needs 26 hits to break George Sisler's record.

For Ichiro to break Sisler's record before the end of the season...
>> if he averaged four at-bats per game the rest of the way (20 games remain), he would need to go 26-for-80 (.325).
>> if he averaged five at-bats per game, he would need to go 26-for-100 (.260).

For Ichiro to break Sisler's record in 154 games and avoid the asterisk...
>> if he averaged four at-bats for the next 13 games, he would need to go 26-for-52 (.500).
>> if he averaged five at-bats a game, he would need to go 26-for-65 (.400).

The spectrum once again...

Mariners on defense/pitching (bad to good)
massacre < terrible inning < some damage < fighting out of jam < decent inning < 1-2-3

Mariners on offense
I hate this team < come on, y'all < ho, hum < minimal damage < some damage < big inning

TOP 1ST -- fighting out of jam
Johnny Damon ran out an infield single to start off the game. Meche fell behind 3-0 on Orlando Cabrera bought got the count full before getting him to fly out to Ichiro. In an at-bat that lasted for seemingly an eternity, Manny Ramirez fell behind 0-2, took two balls, and fouled off five pitches before doubling into the corner in rightfield. In a very weird play, Jason Varitek flew out to Ichiro, and it appeared Damon was coming home to give the Red Sox an early lead. However, Ramirez apparently missed second base or didn't tag up before going to third. Second base was tagged, and it went for a double play, with no run scoring.

BOTTOM 1ST -- ho, hum
Ichiro got hit number 230 with a dinker to the left side off Derek Lowe. Three groundouts followed, with Randy Winn's being the only one of worth, as he moved Ichiro to second.

TOP 2ND -- 1-2-3
Kevin Millar (flyout to Ibanez), Trot Nixon (flyout to Jose Lopez), and Bill Mueller (whiff) were part of Meche's 13-pitch inning.

BOTTOM 2ND -- ho, hum
Bret Boone flew out, Greg Dobbs flew out to left on 3-1, and Miguel Olivo blew some wind chimes via the whiff.

TOP 3RD -- decent inning
Pokey Reese was the only runner to reach base and he did so on a good ol' fielding miscue by Jose Lopez at short. The futile batters of the inning were David McCarty, Damon, and Cabrera.

BOTTOM 3RD -- ho, hum
Lopez makes it an infield flyout sandwich (to the pitcher), with groundouts by Jeremy Reed and Ichiro as the bread.

TOP 4TH -- 1-2-3
Meche got Manny to hit one back to him, got a deep ball scare to leftfield from Varitek on an 0-2 pitch (it was caught), and got a lineout to Winn off Millar's bat.

BOTTOM 4TH -- ho, hum
Winn hit a leadoff single. Instead of the infield flyout sandwich of the inning before, the Mariners followed this time with an Ibanez whiff sandwich, with groundout-to-Mueller-at-third bread (Edgar Martinez and Boone).

TOP 5TH -- fighting out of jam
Trot Nixon led off with a double, and called for a ghost runner as Mueller bounced out to Lopez, McCarty flew out to Ibanez at first, and Reese flew out to Ichiro.

BOTTOM 5TH -- ho, hum
Reed hit a two-out single and stole second in an otherwise nondescript Mariner 5th.

TOP 6TH -- fighting out of jam
Damon led off with a walk and went to second on a dinker into centerfield by Cabrera. Yes, there were runners on first and second with nobody out. Meche didn't break, though, as he set down Manny (lineout to Boone), Varitek (whiff), and Millar (foulout to Olivo) in order to end the inning.

BOTTOM 6TH -- some damage
Edgar singled with two out, and Ibanez mashed one over the wall in centerfield to get the Mariners on the board (SEA 2-0).

TOP 7TH -- decent inning
Nixon led off with a single, but he stayed there as Meche got Mueller (flyout to Ichiro), McCarty (looking), and David Ortiz (lineout to Dobbs) to end the inning.

BOTTOM 7TH -- ho, hum
Olivo drew a one-out walk and was doubled up on a grounder to short from Reed.

TOP 8TH -- 1-2-3
Damon (pop to Lopez), Cabrera (liner to Lopez), and Manny (whiff) are no match for Meche, who had thrown 100 pitches coming into the inning, and had thrown 117 pitches coming out. The most I would have done with Meche is let him get the first one or two guys out and definitely pull him when Manny came up. He'd have come out to a standing ovation, and the pitch count wouldn't have gotten insane. It would get more insane.

BOTTOM 8TH -- ho, hum
Nothing much here except for Ichiro singling into center for his 231st hit of the year.

TOP 9TH -- 1-2-3
Varitek (Boone groundout), Millar (Dobbs groundout), and Dave Roberts (fly to Lopez) were the final outs of the game.

Meche's line: 9 innings, 0 runs, 5 hits, 1 walk, four strikeouts, 129 pitches (86 strikes). Meche didn't get a lot of strikeouts, and walked only one, so other than the error by Lopez, Meche relied on the defense and it came through, five hits notwithstanding. As for the pitch count, Bob Melvin is certifiably insane. He threw Meche for all those innings last year, and quite frankly, I wonder how long this guy is going to hold up. I don't think I'd ever throw him past about 115 pitches. He's not a Randy Johnson or a Curt Schilling, he's fragile. But it's all most likely a part of Melvin's plan to wreck the arms of Meche and Bobby Madritsch so that his replacement won't have those assets to work with.

I wish I could interpret actions such as the pitch counts today, the dumb lineups we see every day, the bullpen where nobody knows their role (it was worse when they had stable personnel in the first half), and the latest trend of pulling pitchers with one out to get in meaningless games as Bob Melvin reaching out as a cry for help, asking for his own ouster as a kind of sweet release.

Gameball: Gil Meche. I'd probably have him here even if I were the manager and he would have been pulled after about 7 1/3 shutout innings.

Goat: Jose Lopez. 0-for-3 with an error, stranding one.

In come the divisional foes, with the remaining series being 4 with Anaheim, 3 with Oakland, 3 at Anaheim, 3 at Texas, 4 at Oakland, and three with Texas to close out. I bet at this point that if the Mariners somehow avoided the 100-loss season, there would be a champagne celebration in the locker room. The sad thing is, the Mariners have a champagne celebration in their history (1991) that occurred after they were guaranteed a winning season. Okay, maybe a 99-loss, 99-bottles-of-beer celebration won't take place in the bowels of the Safe. Rather, 99 bottles of beer will more likely be the state of Bob Melvin after the game on October 3rd, Kids Appreciation Day, two days after the players will be running out with ridiculous signs such as this...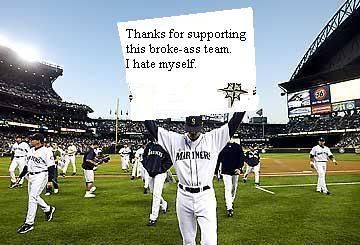 Escobar. Baek. Tomorrow.