Sunday, September 12, 2004
'HAWKS 21, 'AINTS 7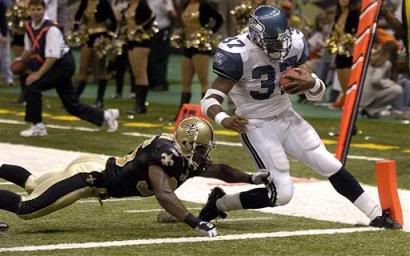 By no means was today's game in New Orleans considered "easy".

Let's face it, it was imperative for the Seahawks to start off 1-0. In my opinion, they couldn't afford to lose today in New Orleans. However, they can't afford to lose Shaun Alexander either.

Before I get to Alexander's health status, let's give credit to #37. All offseason long, there has been a ton of hype directed towards this franchise. The offseason hype was one of the main reasons why the Seahawks had to win today. And they did just that.

Alexander rushed for 135 yards on 28 carries, scoring 2 touchdowns. He also caught a TD in the air as well. This is a contract year for Alexander. God I hope he isn't seriously hurt. The Seahawks need Alexander to be healthy if they are to contend this season.

Matt Hasselbeck was 19-of-29 for 246 yards and a touchdown. He had one interception, but other than that lone mistake, Hasselbeck had a good day. The Seahawks offensive line did not allow a single sack today. Good stuff.

Darrell Jackson led all 'Hawks receivers with 7 receptions for 98 yards. Bobby Engram had 3 receptions for 55 yards. Koren Robinson caught 3 balls for 35 yards. If the receivers can catch the damn ball, then the 'Hawks are in business.

I was impressed by the 'Hawks defense today. To hold the Saints to 7 points in the Superdome is impressive. Deuce McAllister couldn't get going, only running for 57 yards on 16 carries. The Saints receivers were inconsistent as well. Can you hear me now, Joe Horn?

Michael Boulware is just a baby at safety. But his 3rd quarter interception, tipped by Grant Wistrom, set up a Shaun Alexander touchdown. Big plays like that will only help the cause, no doubt about it.

The Seahawks defensive line got some good pressure on Saints quarterback Aaron Brooks. Chike Okeafor and Rocky Bernard each had a sack apiece. Brooks is still recovering from a leg injury, causing him to miss most of the preseason.

Needless to say, the Seahawks needed this game today. It's almost ridiculous to call a game in Week 1 a "must-win game". But the fact is, this was a "must-win game". Now the Seahawks go to Tampa Bay next week to play the Buccaneers, who lost 16-10 to the Redskins in Joe Gibbs' first game back in the NFL since January 1993.

I'm not sure of the status of Alexander as of yet, but we should know more soon enough.

Oh, and Pete Prisco sucks.

8 Seattle Seahawks
Trendy picks usually don't pan out. Plus, they will be 0-2 after two games, losing at New Orleans and at Tampa Bay. Climbing out of that hole is tough, even in an easy division.