Sunday, March 20, 2005
ROAD TO THE FINAL FOUR SECOND ROUND 3/20/05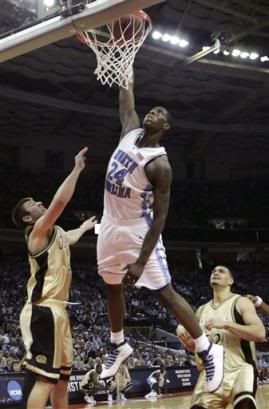 FINAL UPDATE at 4:55 p.m.

It's the second day of the second round of the NCAA Tournament.

We saw Wisconsin-Milwaukee and West Virginia earn their way into the Sweet 16 yesterday.

What's in store for today?

As always, comments are encouraged, on and off topic. Don't be afraid to comment. We won't ban you, unless you post something really out of line.

--- --- --- --- --- --- --- --- --- --- --- --- --- --- --- --- ---

SYRACUSE REGION
#10 North Carolina State 65, #2 Connecticut 62

---It's about time Julius Hodge showed up. And what better time for him to show up than in the NCAA Tournament? His driving layup with 5.0 secs left put the Wolfpack in the Sweet 16 for the first time since 1989.

---UConn won't repeat as national champions, and quite frankly, I didn't expect them to. Four words as to why they won it all last year: Emeka Okafor. Ben Gordon.

---Is there any doubt that the ACC is better than the Big East?

--- --- --- --- --- --- --- --- --- --- --- --- --- --- --- --- ---

SYRACUSE REGION
#1 North Carolina 92, #9 Iowa State 65

The Marvin Williams Watch
---Marvin Williams scored 20 points as the Tar Heels advance to the Sweet 16, taking care of Iowa State 92-65. He also grabbed 14 rebounds.

Marvin was 8-for-12 from the field, including 2 3-pointers. Dude's a freshman. Just thought I would remind everyone about that.

SYRACUSE REGION
#5 Villanova 76, #4 Florida 65

---I didn't get to watch a single minute of this game. There's a good reason for that. The Southern Illinois-Oklahoma State game was much better than this one.

---Hey, there's only TWO Big East teams in the Sweet 16: Villanova and West Virginia.

AUSTIN REGION
#5 Michigan State 72, #13 Vermont 61

---Just great. We're on our way to a Duke-Michigan State matchup in the Sweet 16. Yes, I think Duke is going to beat Mississippi State.

---Good run for the Vermont Catamounts. But it just wasn't meant to be. I can't wait to try the new Tom Brennan's Retiremint from Ben & Jerry's, though.

CHICAGO REGION
#2 Oklahoma State 85, #7 Southern Illinois 77

---JamesOn Curry is the best freshman in the nation not named Marvin Williams. He scored 20 points, including 3 3-pointers. By the way, Curry was a North Carolina recruit before going to Stillwater.

---Arizona vs Oklahoma State in the Sweet 16. Now that's going to be a ballgame.

--- --- --- --- --- --- --- --- --- --- --- --- --- --- --- --- ---

AUSTIN REGION
#1 Duke 63, #9 Mississippi State 55

---Not only did the Mississippi State basketball players lose to Duke, they have to head back to Starkville, Mississippi. Double ouch.

---I hate Duke. Next?

SYRACUSE REGIONAL
#6 Wisconsin 71, #14 Bucknell 62

---I didn't get to watch a single minute of this game. As a matter of fact, I haven't seen one live minute of action from the Badgers in this tournament. But needless to say, I will see the Badgers on Friday night.

---The Bucknell Bison provided us with arguably the biggest upset in NCAA Tournament history. They're headed back to Pennsylvania though with their heads held up high. This Bucknell team makes me want to read John Feinstein's "The Last Amateurs" even more than ever.

ALBUQUERQUE REGION
#4 Louisville 76, #5 Georgia Tech 54

---Louisville will take on Washington this Thursday in Albuquerque.

---Since I had the majority of the Mississippi State-Duke game, I didn't get to watch much of the Georgia Tech-Louisville game.

--- --- --- --- --- --- --- --- --- --- --- --- --- --- --- --- ---

The Sweet 16 is now set:

CHICAGO REGION (THU March 24 and SAT March 26)
Allstate Arena - Rosemont, Ill.

#12 Wisconsin-Milwaukee vs #1 Illinois
#3 Arizona vs #2 Oklahoma State

ALBUQUERQUE REGION (THU March 24 and SAT March 26)
The Pit - Albuquerque, New Mexico

#4 Louisville vs #1 Washington
#7 West Virginia vs #6 Texas Tech

SYRACUSE REGION (FRI March 25 and SUN March 27)
Carrier Dome - Syracuse, New York

#5 Villanova vs #1 North Carolina
#10 North Carolina State vs #6 Wisconsin

AUSTIN REGION (FRI March 25 and SUN March 27)
Frank Erwin Center - Austin, Texas

#5 Michigan State vs #1 Duke
#6 Utah vs #2 Kentucky

CONFERENCE BREAKDOWN

3 ACC (North Carolina, Duke, NC State)
3 Big Ten (Illinois, Michigan State, Wisconsin)
2 Pac-10 (Washington, Arizona)
2 Big 12 (Oklahoma State, Texas Tech)
2 Big East (Villanova, West Virginia)
1 SEC (Kentucky)
1 Conference USA (Louisville)
1 Mountain West (Utah)
1 Horizon (Wisconsin-Milwaukee)

If anybody cares, I have 7 teams left in my Sweet 16. Fortunately, my 4 Final Four teams are still intact. I will stick by those teams (Illinois, Washington, North Carolina, Utah).

What a great four days of action.

Are you ready for four more days?

You'll have to wait until this Thursday.

One thing's for sure, I can't wait to see the Huskies send Rick Pitino's Louisville Cardinals back to the Bluegrass State.