Monday, March 21, 2005
LITTLE DOLDRUMMER BOY
Welcome to Monday and the beginning of another work week.

For the random...I know bridges are huge, but over the last couple years, it's been tripping out my mind driving through the Tacoma Narrows and trying to imagine what the final product on the new bridge is going to look like. The construction on both ends is huge to begin with, but when those spans go across, it's going to be nuts. It'll probably be expensive too, but it'll be nuts. Rush hour on weekday afternoons will never be the same with the extra lanes. Of course, toll booths might slow it down unless they have E-Z Pass, which would only make sense for the daily commuters.

To the post!

MARINERS
This may make me overnostalgic, but when I see an article that says Jamie Moyer will be the Opening Day starter, I just don't get excited like I used to when I knew that Randy Johnson would be throwing on that first afternoon in April. It's not that he threw fast; it's just that you knew the guy was the ace of the staff. Or something like that. Basically now I'm not even caring who starts Opening Day, as long as it's not Ron Villone or Aaron Sele.

Speaking of nostalgia, Bob Melvin. Well, maybe that's not good nostalgia, but he discusses that he thinks me might know how someone would pitch Bret Boone or Ichiro. I'm still aghast that Bob Melvin is managing on another team that has Quinton McCracken on it. I found this out two days ago, and it still boggles my mind.

Greg Dobbs autographed a baseball of mine when he came into town on the Winter Caravan a while ago. Of course, it's too bad he doesn't have a good chance to make this team. I'm also really surprised he kept the number 53.

SEAHAWKS
Rrrrrrrrrrrrrrrrruskell!

BASKETBALL
In case you missed any of it, Jeremy did daily posts on the NCAA tournament games, posts that were updated as games finished throughout the days. In case you'd rather just look at one post at a time rather than scrolling all the way down the page, here are the links...
Thursday, Friday, Saturday, Sunday

The Miah Davis Update
In the Roanoke Dazzle's 107-97 overtime win against Fayetteville, Miah Davis scored 10 points, 3 rebounds, and 2 assists in 27 minutes of play. He shot 4-for-8 from the field and 2-for-4 from the line.

The Marvin Williams Watch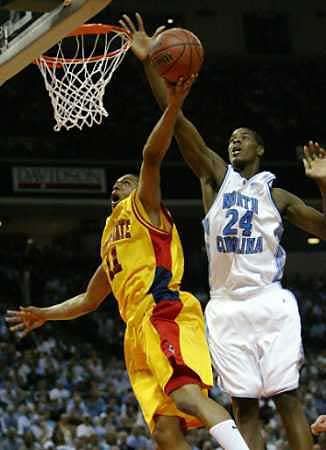 In the Tar Heels' 92-65 win over East 9th-seeded Iowa State, Marvin Williams had 20 points, 15 rebounds, and 2 steals in 26 minutes of play. He hit 8 of 12 from the floor, 2 of 4 from beyond the arc, and 2 of 3 at the line. That's a double-double for a freshman in NCAA tournament play. I hope he stays at Carolina at least another year, but if he keeps going like this, there are teams out there that will badly want this guy.

Huskies
Blaine Newnham puts more stock in the Pac-10 tournament win as the one that gave the Huskies the easier road to a possible Final Four berth. Newnham does bring up the fact that Louisville lost at Houston, and though the Huskies faced them in Seattle, they pounded them 110-63. Ouch. I vaguely remember that game.

The Huskies will face West 4th-seeded Louisville on Thursday. Someone remind Rick Pitino that Robert Parish isn't walking through that door.

Bulldogs
They're done.

Jeremy laid out some facts about the Gonzaga program in the Saturday post.

Sonics
For my thoughts on last night's game, scroll down a post or click here if this is the only post on the page.

The Sonics had three integral guys out before the game, but they didn't go into it thinking Ray Allen was going to sprain the magic ankle in the first quarter that kept him out 25 games last year. Despite having four regular players out, the Sonics' skeleton crew of a bench made it almost seem like plug-and-play for this team. Damien Wilkins saw the floor and did hit a basket, but surely no one expects season highs of 25 from Ron Murray and 11 from Vitaly Potapenko. Murray got a ton of minutes once Allen was injured and Vitaly had a nice three-point play. Both guys combined for 16-of-20 shooting from the line, with Vitaly perfect in seven tries.

I'd be remiss if I didn't mention Rashard Lewis' 7th double-double of the year -- he scored 27 and pulled down 11 boards, and also chipped in 2 assists and 4 blocks.

Upcoming...
Tuesday vs. Milwaukee (7p, FSNNW)
Thursday at Portland (7p, FSNNW)
Friday vs. New York (7:30p, ESPN)
Sunday vs. Washington (5p, FSNNW)

HOCKEY
Seattle shut out Everett 1-0. The Silvertips needed a win to have a chance at securing home-ice advantage in the first round of the playoffs, but it didn't happen. As a result, the Silvertips lost the home-ice advantage to the very team they'll be facing in the first round, the Portland Winter Hawks. Bretton Stamler scored the only goal of the game, and Chris Durand drew the only assist. Of course, Everett probably had trouble trying to score since the Thunderbirds put so many pucks on the net. Shots were 37-19 for Seattle. Mike Wall stopped 36 for Everett, and Bryan Bridges stopped all 19 for Seattle to pitch his CHL/WHL record-tying 13th shutout of the season.

Portland beat Tri-City 4-2. The Americans rested/scratched most of their veteran players and went with their backup goalie since they had no playoff seeding to shoot for. So, Portland built up a 3-0 lead after two periods. Darrell May scored in the first period, and Frazer McLaren and Brian Woolger scored in the third. Tri-City came back to within one goal late in the third period with goals 38 seconds apart. Fifty-eight seconds remained after the second goal. The Winter Hawks were able to get the puck, though, and Cody McLeod finished it off into the empty net. Darrell May had two assists to go with his goal, and Braydon Coburn had two assists as well. Shots were 37-31 for Portland, and Blake Grenier stopped 29 for the Winter Hawks.

Manitoba shut out Houston 2-0. Though there were many good chances for both sides in the first period, the first goal wasn't scored until Cory Pecker netted one on the power play in the second period. That goal held up as the winner. The Moose hit paydirt again in the third period with another power play goal, this one by Jason Jaffray. Shots were 37-21 for Manitoba. Wade Flaherty stopped all 21 for the Moose.

The WHL playoffs are set. All playoff series are best-of-seven series. BC Division third-seeded Vancouver will face BC Division second-seeded Kelowna. US Division first-seeded Seattle will face US Division fourth-seeded Tri-City. US Division second-seeded Portland will face US Division third-seeded Everett.

Upcoming...
Thursday: Saint John's at Manitoba
Friday: Everett at Portland (Game 1), Vancouver at Kelowna (Game 1)
Saturday: Tri-City at Seattle (Game 1), Vancouver at Kelowna (Game 2), Saint John's at Manitoba
Sunday: Everett at Portland (Game 2)
---

Have a great Monday and a great start to the work week.