Wednesday, March 23, 2005
BANGKOK, ORIENTAL SETTING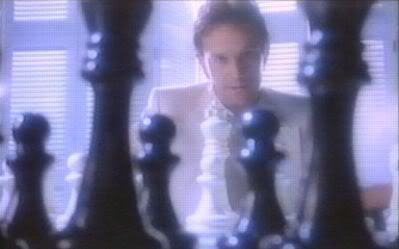 Instead of talking about Raul Ibanez' hot spring training, I figured, why not do a post on Murray Head? I found this page last night, to my amazement. Once again, the internet rules.

If you don't know who Murray Head is, then surely you've heard "One Night In Bangkok" once or twice in your life. "One Night In Bangkok" is in my Top 10 list of "one-hit wonders". Did you know that half of ABBA (Benny and Bjorn) wrote a play called "Chess"? That's where the song "One Night In Bangkok" came from. Who knew?

If there was one band that should cover "One Night In Bangkok", it's Korn (assist to David for the suggestion). Korn is currently cover-crazy as it is. Why not add Murray Head to the mix? After all, Korn lost their Head a few weeks ago.

Oh, and if you're looking for any spring training news from me today, well...

I'm sick and tired of spring training. The real season needs to start ASAP.