Monday, February 28, 2005
KEEP BABELFISHING
I'm usually not one to bash the Bremerton Sun. There was an era in Bremerton daily sports in print was pretty basic, i.e., the ever-popular four-page sports section with nothing but articles off the AP wire, but the Sun elevated their output a couple years after they went from an afternoon paper (which I helped one of my friends deliver back in my early grade school days) to the morning paper that it is now.

That said, some sports-aligned people that hadn't already seen the boxscore of Sunday's Sonic game on the internet had another thing coming when they tried to see exactly how many bricks Luke Ridnour tossed up in the game against the Bucks...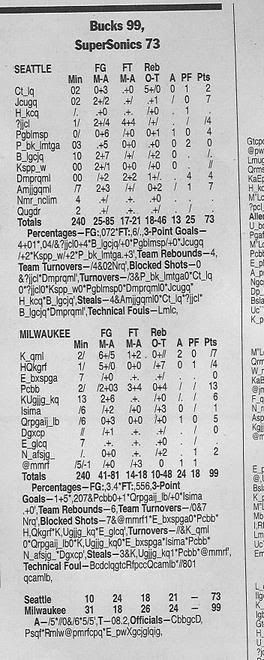 To add to this, anything that was usually raw numbers, scores, or stats on the scoreboard page also looked like this.

Granted, this barely ever happens, but that's an entire page in the newspaper that was filled with gibberish. Anyone that wanted to find who was winning at the Nissan Open, or find out about the WHL standings, or find out the betting lines...they were going to come away empty-handed on this day.