Tuesday, February 01, 2005
THE HALFTIME NASTY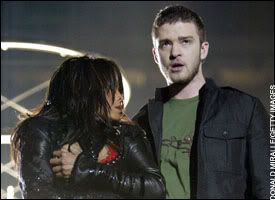 Today is the one-year anniversary of the infamous Super Bowl XXXVIII Halftime Show.

---"Ms. Nasty" Janet Jackson and Justin Timberlake.

---Janet's right breast.

---The uproar throughout America, i.e the South

By the way, the New England Patriots won Super Bowl XXXVIII over the Carolina Panthers 32-29. Tom Brady earned his second Super Bowl MVP award in what was undisputedly one of the best Super Bowls of all-time.

If "wardrobe malfunction" isn't a part of the Webster's Dictionary yet, it will be soon enough. Just give it time. Talk amongst yourselves. Of course, keep it clean.