Thursday, September 30, 2004
THE STATE OF FOOTBALL
The State of Football (Seahawks.com)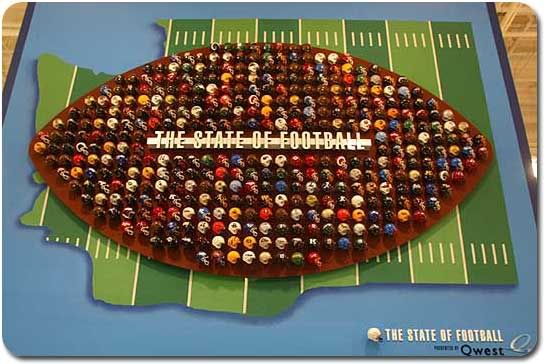 Last Friday, the Seahawks and Qwest unveiled "The State of Football" at Seahawks Stadium/Qwest Field. "The State of Football" honors all 331 high school football programs in the state of Washington, featuring replica helmets from each school.

If you've been to Seahawks Stadium since it opened in July 2002, you have noticed the lack of identity in the lower plaza level concourse. Adding "The State of Football" to the concourse certainly adds more to Seahawks Stadium, no doubt about it.

A lot of the credit has to go to CEO Tod Leiweke. Some of the hockey fans who read Sports and Bremertonians may know about the Minnesota Wild's "State of Hockey" campaign. Leiweke was the president of the Wild before coming to Seattle. In his year-plus tenure with the Seahawks, Leiweke has done a great job.

Now Seattle has "The State of Football". If only I could see the wall myself. Maybe next summer, when I hope to visit the Northwest again.