Friday, August 20, 2004
RANDOM
There is some actual material to this post, sports related.

-- The Mariners and Royals will make up their game that was postponed yesterday. However, it will be made up in Seattle as part of a doubleheader on the 29th. I think I know the reason behind it, and I think it's called $$$. In math terms, it's no game < $$ from game at KC < $$ from game at Seattle. Yes, the Mariners will have 82 home games on their schedule this year, which will screw me up for years to come when I look at home-road records for the Mariners. This will be the first doubleheader in Safeco Field history.

-- Chris Terry has a lingering shoulder problem, and will not play in tomorrow's Broncos/Seahawks preseason game. That's right, it's football at Qwest Field. I might just call it "the Q," though. Or maybe, "the Quagmire" in honor of the immortal character from Family Guy. Giggity giggity!!

-- Now, your completely random card of the day, scanned from my collection...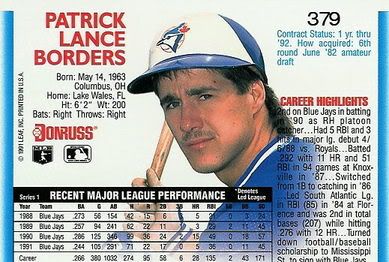 Of course, that card's from 1992, and he hadn't done that whole World Series MVP thing that he was going to do.

Speaking of which, the Blue Jays beat the Braves in the 1992 Series. I've hated the Braves all my life. The one thing I noticed about them this year, though, is that the hitters their numbers on the bills of their helmets, and in quite a visible fashion. The numbers are huge. I noticed the Yankees have their numbers on their bills too, but they're much smaller. The numbers on the Braves' helmets are huge. Why is this relevant? I guess it reminds me of Griffey back in the day with the huge 24 on the bill of his helmet (correct me if I'm wrong). I think the Mariners ditched this practice when they switched from the scrambled egg hats to the current duds.

Another thing about early '90s baseball cards (might still apply): I always hated when I could totally tell if the card photos were taken during spring training, i.e., the field behind looked like no Major League park, or the player was wearing some type of colored jersey that the team never wore during the regular season. It shouldn't tick me off, but it does.

I've gotta go make something of my day now. Seeya later.