Saturday, March 05, 2005
BROWNIE POINTS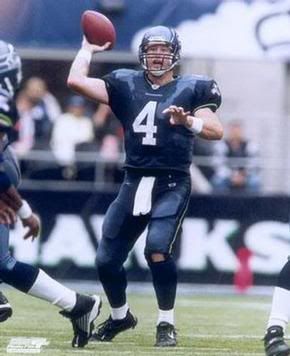 I heard about this on KING-5 and I've been able to find Len Pasquarelli's supporting link.

Mike Holmgren had been on record saying that he'd facilitate any move that would give Trent Dilfer an opportunity to start somewhere in the NFL, and now it appears he will have that chance as the Cleveland Browns apparently will send a fourth-round pick to the Seahawks in the upcoming draft for Dilfer.

The Seahawks no longer will have the best backup quarterback in the NFL, and I'll miss the sense of security knowing that a Super Bowl-winning quarterback was waiting on the sidelines in case Matt Hasselbeck got hurt. I'm also thankful for all the guidance that he's shown Matt over the last few years.

Good luck to Trent Dilfer, a class act, and good luck to Team Ruskell, as any more picks in the draft are a good thing. Defense!