Wednesday, February 16, 2005
GOOD NEWS, BAD NEWS
...you know I've had my share.

-- Good news: Walter Jones has agreed to a seven-year deal with the Seahawks, with a signing bonus of at least $15M. In related news, I'm not sure how I'll ever know when training camp starts, since the annual event will happen no more.

-- Bad news: the NHL season is officially done. If you would have asked me about this anywhere within the last few days, I would have thought they would have pulled it off and had a season. Not so. I thought it was just a matter of numbers at this point, but it appears they couldn't even work that out. Gary Bettman is saying in the press conference right now that they really weren't as close as reported, but I'll hash through that later. Of course, I'm guessing both sides will be even more firmly entrenched for a few months because the NHL pulled their offer off the table and now they're not coming without a link between player salaries and league revenues.

If you end up listening to any of the stuff that Gary Bettman is saying today, I now relay Ron McLean's words from last week's column...

...he's a vicious negotiator. He's attempted to shape my interviews, trying to force me off topics, demanding limits on the numbers of questions per subject, etc. He is a master of rhetoric.

***Add ~4:50p -- Here's what popped up in my inbox a few hours ago, and I'll supplement it with a picture...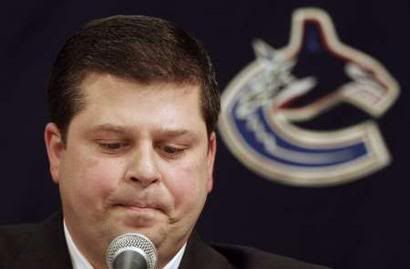 Dear Canucks Fans,

It is with deep disappointment that I am writing to you today following the cancellation of the remaining games scheduled for the 2004-05 NHL season. It is a day we hoped would never come.

Despite our frustration with the current situation, a new CBA is essential. A system that ultimately reduces the huge disparities in team salaries, and contributes to a more competitive balance within the league will be of great benefit for our fans and for the long-term success of our team in Vancouver.

In the meantime, we'll continue to use the time available as an opportunity to focus the efforts and talent of our staff and coaches on fostering the values of grassroots hockey in British Columbia. We will also continue with our on-going Canucks for Kids Fund programs supporting Canuck Place, the Canucks Family Education Centre, and other initiatives helping children.

Having been a Canucks fan all my life, I understand that this is a very difficult time for all of us who love the game. On behalf of the entire Canucks organization, I want to say how much we appreciate your support and passion for your team. Although it seems difficult at this time, we will remain positive because eventually this will be resolved, and we'll be back on the ice at General Motors Place. We look forward to that moment, and to rewarding your patience and loyalty.


Sincerely,
VANCOUVER CANUCKS

Dave Nonis
Senior Vice President and General Manager


All in all, two things I can't believe today. Big fun.