Tuesday, February 15, 2005
BOOHYZEL
Welcome to Tuesday. You know what makes these posts I've been doing lately a little easier? If your guess was that I don't give a flying [expletive] about the Rick Neuheisel trial, give yourself a free prize! Seriously, it's bad enough it has to take up sports headlines, but I'm tired of seeing whole segments on the local evening newscasts wasted on Slick Rick. I'm tired of it all, and I could care less who wins in the trial.

Random note...I have a couple of fleece jackets and/or pullovers and find them to provide just the right amount of warmth and comfort, and I guess versatility when it comes to clothing choices. That said, it freakin' sucks if you like fleece and manage to visit the house of someone that has a pet. Man, it sucks. Sure, cat or dog hair will get stuck to any kind of clothing upon entry into a pet-friendly environment, but when you sit back with a fleece jacket, you may not realize you're doing anything bad at that moment, but when you get home three hours later and hang up that jacket, you bear witness to the colony of shedded hair on the back of your coat, and you just hate yourself. If you're smart at this point, you remove the lint off with masking tape or something. If you're lazy, then you just pray for the pet hair to go away, but that does take a while.

Holy hell, that was random.

Now to the rest of the post...

MARINERS
I figured if there was one guy that was going to bring up the fact that Richie Sexson was in a hurry to see the Blazers when he was pulled over, it was going to be Jim Moore. He can't help the Blazer thing; he grew up way closer to Portland than Seattle. One could only not be surprised at the Blazer inclination. As for other parts of the article, Moore does ask a legal analyst about the possibility of Sexson actually being prosecuted for DUI, which apparently is quite low since Sexson didn't blow above the legal limit on the Breathlyzer.

Here's yet another photo from spring training last year, the 22nd of February, to be exact.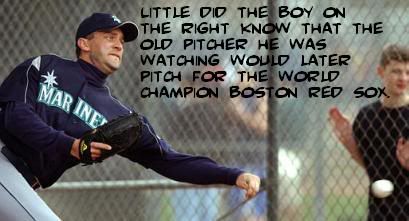 Seriously, I still can't believe Mike Myers went from being a Mariner last year to winning a World Series ring in the same year, and managing to do that with the Red Sox. It's like entering a perfect storm, only everything's good. It was for Myers, anyway.

SEAHAWKS
Okay, everyone who had high hopes over the possibility of Scott Pioli being hired as president of the Seahawks can come back down now. It's not happening. He plans to stay in the Patriots' brass through the 2006 draft.

Oh well.

BASKETBALL
The Marvin Williams Watch
The Tar Heels are back home tomorrow for Virginia (4p, ESPN) and Saturday for Clemson (10a, ABC).

Huskies
The Huskies go to Washington State on Saturday (4p, FSNNW) and host Arizona State the following Thursday (7:30p, FSNNW)

Bulldogs
The Zags host San Diego on Thursday (6p, KONG 6/16 Seattle, Q6 NBC Spokane) and San Francisco on Saturday (3p, ABC)

Sonics
Danny Fortson's done serving the two-game suspension. When did he know he'd done something wrong? That was when Luke Ridnour looked at him like he was nuts. Fortson also wants to find out who would have been in the path of the flying chair. They could be in for some game-worn stuff. In a weird and sick way, though, it'd be hilarious if he gave the closest person the chair that flew, signed.

Upcoming...
Wednesday vs. Golden State (6p, FSNNW)

HOCKEY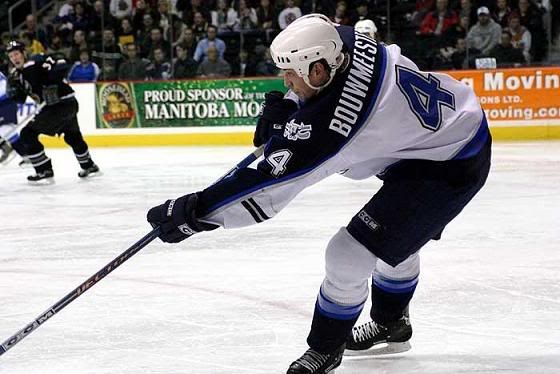 Okay, so there's really no good reason for me to post this photo of Jay Bouwmeester. Of course, you won't be seeing him or many other players this year wearing an NHL uniform. Bouwmeester, who was on Canada's World Cup-winning team last September, would be playing with the Florida Panthers. Instead, he's relegated to playing for their AHL franchise, the San Antonio Rampage. Why the Rampage's uniforms look more like those of the Tampa Bay Lightning instead of the Florida Panthers, I have no idea. By the same token, the Lightning's AHL affiliate does have some of the Lightning's color scheme, but also has uniforms with falcon feet on the sleeves. See it to believe it.

Oh yeah, the PlanetUSA team beat the Canadian team 5-4 in a shootout at the AHL All-Star Classic last night. Just a wild guess, but I think the PlanetUSA team was probably composed of Americans and Euros, while the Canadian team was comprised of, well, Canadians.

Upcoming...
Tonight: Red Deer at Portland
Tomorrow: Seattle at Kelowna, Red Deer at Vancouver
Friday: Red Deer at Seattle, Prince George at Everett, Spokane at Portland, Kamloops at Vancouver, Edmonton at Manitoba
Saturday: Seattle at Portland, Red Deer at Everett, Vancouver at Kamloops, Edmonton at Manitoba
---

Have a great Tuesday, everybody.