Friday, October 01, 2004
THANK YOU, EDGAR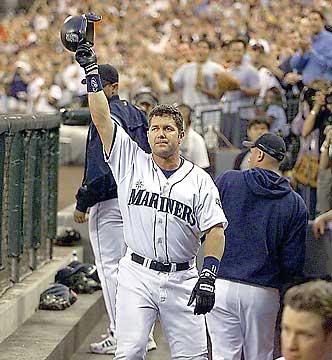 While the national media will focus on Ichiro's quest to break George Sisler's all-time hit record, I'm more focused on the final weekend in the baseball career of #11, Edgar Martinez.

It's really sad to think that his career will end this weekend, especially since the Mariners are in the basement. It wasn't supposed to end like this. But it is what it is. And this post isn't about the Mariners' lack of success in 2004.

It's all about Edgar.

Edgar Martinez is without a doubt the best designated hitter in the history of baseball. Sure, there are still some folks out there who hate the DH with a passion. But if it weren't for the DH, it's more than likely that we wouldn't have seen Edgar play ball for the past decade. Hell, the Mariners may not even be in Seattle if it weren't for Edgar.

While Ken Griffey, Jr., Randy Johnson, and Alex Rodriguez left Seattle via trade or free agency, Edgar stayed in Seattle. That's loyalty. I respect the hell out of him because of that. Being a Seattle sports fan, I've been used to seeing my sports heroes leave town. Not Edgar.

Webster's Dictionary doesn't have the term "professional hitter". But if it did, a "professional hitter" would be defined as "Edgar Martinez, 2-time batting champion for the Seattle Mariners". Chicks dig the long ball, and Edgar's had his share of long balls. But I know a few chicks who dig the doubles as well. There's a certain double that we all remember.

My favorite Edgar memories?

Obviously, everybody has "The Double" near the top of their favorite Edgar memories, and with good reason. But "The Double" wouldn't have been possible without his Game 4 grand slam against the Yankees the night before.

But there are two Edgar moments that I will always remember.

August 29, 2000
Mariners 5, Yankees 3
---Edgar hits a grand slam off of Jeff Nelson. I was standing on the 100 level concourse around the left field foul pole when he hit that grand slam. That was the first night I've ever seen Safeco Field go insane.

June 27, 2002
Mariners 7, Athletics 4
---Edgar returned to the M's starting lineup after being out for over 2 months early in the 2002 season. He had a few pinch-hitting appearances in the week before during interleague play. But on June 27, it was his first appearnce in the starting lineup since April 11.

In his second at-bat against Barry Zito, Edgar hits a solo shot into the lower center field bleachers. David and I were sitting in the center field bleachers (the cheap ones) and just couldn't believe what we saw. First game back in Safeco and he does that. Great stuff, indeed. Edgar was 2-for-5 that night.

Edgar Martinez is Mariners baseball. His #11 must be retired ASAP, no matter what the stupid Mariner Hall of Fame policy says. And he should be in Cooperstown one day.

Thank you, Edgar.