Sunday, September 18, 2005
GAME 148: RANGERS 7, MARINERS 6
Rangers 7, Mariners 6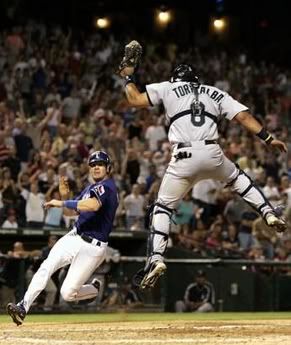 In 25 words or less: Slowly but surely, the Mariners blew a big lead. It took the final seven innings for the full turnover.

[posted in full Sun ~2:24a.]

This one featured Joel Piñeiro going up against Kenny Rogers. No cameraman was safe. Also, Mike Morse returned from his ten-game steroid suspension. After being nailed in the right foot the night before, Ichiro was penciled in as the designated hitter in this game, and Shin-Soo Choo, just called up, started in centerfield. Jose Lopez returned from his sore wrist and played second so we weren't subjected to Ramon Santiago again. Raul Ibañez took Ichiro's spot in rightfield, and Morse played leftfield. Jeremy Reed sat once again, not having to face the lefty Rogers. Oddly, Yuniesky Betancourt batted second in the lineup. Could the Mariners manage a chance to not lose the series?

TOP 1ST
Grade: A
Good start. Ichiro lined the second pitch into shallow rightfield for a single. Yuniesky Betancourt looped the second pitch into shallow centerfield, moving Ichiro to third. The throw from centerfield on the play went into the camera well on the third-base side, scoring Ichiro and moving Betancourt to second and third.
»» MARINERS 1, RANGERS 0
Raul Ibañez took a full-count breaking ball over the outside corner. Richie Sexson hit a high fly over Mench's head in rightfield and off the wall, amazingly for a triple, scoring Betancourt easily. Sexson may have been slightly hurt on the play.
»» MARINERS 2, RANGERS 0
Adrian Beltre bounced a full-count pitch to short as Sexson held at third. Jose Lopez blooped the second pitch into centerfield for a single, scoring Sexson easily.
»» MARINERS 3, RANGERS 0
Mike Morse watched as Lopez was nearly picked off of first with a 1-2 count. Morse later looped a flyout to Matthews charging in centerfield.

BOTTOM 1ST
Grade: A-
Calls. David Dellucci punched a 2-2 single through the right side. Michael Young fell behind 0-2 and later drove a 2-2 pitch into the rightcenter gap, where Shin-Soo Choo made the catch. Mark Teixeira grounded a full-count pitch to second for a 4-6-3 double play, though Teixeira was across the first-base bag when Sexson got the ball. I'll take it.

TOP 2ND
Grade: A-
More at least. Shin-Soo Choo chopped a 1-2 pitch to second. Yorvit Torrealba cranked a double off the top of the fence to the right of the scoreboard (leftcenter). Ichiro watched as Torrealba was nearly picked off after the second pitch. Ichiro bunted a 2-0 pitch along the third-base line, and it was a perfect bunt, moving Torrealba to third. Betancourt doubled the second pitch over Dellucci's head in leftcenter and off the track, scoring Torrealba and Ichiro.
»» MARINERS 5, RANGERS 0
Ibañez took a 1-2 fastball over the outside corner. Sexson rolled out to first.

BOTTOM 2ND
Grade: B-
Shaky. Hank Blalock fell behind 0-2 and took a 2-2 breaking ball nearly underneath him over the inside corner. Alfonso Soriano drilled a 2-0 pitch to leftfield for a single and stole second on the second pitch to Kevin Mench. Mench bounced a 2-2 pitch under the glove of Betancourt at short, scoring Soriano.
»» MARINERS 5, RANGERS 1
Gary Matthews, Jr. got the hitters' counts and walked on a full-count pitch way high and outside. Jason Botts drilled a 1-2 single into rightcenter for his first Major League hit, scoring Mench.
»» MARINERS 5, RANGERS 2
Barajas grounded the second pitch to third for a 5-4-3 double play.

TOP 3RD
Grade: C-
Too quick. Beltre bounced out to third. Lopez bounced the first pitch to short. Morse grounded an 0-2 pitch past the mound but to short.

BOTTOM 3RD
Grade: B+
Fairly decent. Dellucci popped a 2-2 pitch just short of the track in centerfield. Young bounced to Beltre on the left side. Teixeira popped a single into shallow centerfield just beyond the Lopez dive. Blalock rolled the second pitch to second.

TOP 4TH
Grade: C
Attention wavering. Choo rolled a 2-2 pitch to a charging Young at short. Torrealba bounced the second pitch back to the mound. Ichiro bopped a full-count pitch to the deepest part of the park in rightcenter for a triple. Betancourt popped the second pitch high to Blalock on the left side.

BOTTOM 4TH
Grade: B-
Losing grip. Soriano fell behind 0-2 and roped a 2-2 pitch past Ibañez and off the leftfield scoreboard for a double. Mench reached way out and rolled an 0-2 pitch to second, moving Soriano to second as Mench threw the bat at the ball. Matthews chopped a 2-2 pitch right to Sexson at the first-base bag, scoring Soriano.
»» MARINERS 5, RANGERS 3
Botts ripped the first pitch up the middle for a single. Barajas chopped the first pitch to short for a 6-4 fielder's choice.

TOP 5TH
Grade: C-
Same crap. Ibañez popped the second pitch very high to Soriano on the right side. Sexson looped a sinking line drive to centerfield for a flyout. Beltre grounded out to second.

BOTTOM 5TH
Grade: C+
Treacherous. Dellucci got ahead 3-0 before taking a full-count pitch in the dirt and to the backstop for a walk. Young got ahead 2-0 and later bounced the full-count pitch to Beltre on the left side, who waited to check if he could get Dellucci at second, then threw to first barely in time, which got Young up in arms, then Buck Showalter got out and argued vehemently. Teixeira chopped a 2-2 pitch into rightfield for a single, and Ibañez bobbled before throwing, helping Dellucci to score.
»» MARINERS 5, RANGERS 4
Blalock fell behind 0-2 and took a 1-2 fastball up but over the outside corner. Soriano nubbed the first pitch to the hole on the right side, where Lopez knocked it down, but wouldn't have thrown out Soriano with a clean play and throw anyway. Mench looped the second pitch into centerfield for a flyout.

Piñeiro's line: 5 innings, 4 runs, 9 hits, 2 walks, 2 strikeouts, 100 pitches (63 strikes)

TOP 6TH
Grade: C-
Bleah. Lopez chopped back to the mound. Morse foul-tipped a 2-2 pitch into Barajas' glove behind the plate. Choo rolled the second pitch to short.

BOTTOM 6TH
Grade: A
Julio Mateo came in for Piñeiro. Matthews grounded the first pitch hard to second. Botts fell behind 0-2 and whiffed on a 2-2 slider down and in. Barajas popped a 1-2 pitch high to Lopez on the mound amidst all four infielders converging on each other and Betancourt nearly colliding with Lopez.

TOP 7TH
Grade: C-
Crap. Torrealba got popped a 3-1 pitch high to rightfield. Ichiro took a full-count pitch four inches off the outside corner for a strikeout. Betancourt bounced the first pitch to third.

Rogers' line: 7 innings, 5 runs, 8 hits, 0 walks, 4 strikeouts, 102 pitches (62 strikes)

BOTTOM 7TH
Grade: A-
Holding pattern. Dellucci broke his bat on the first pitch, a roller to second. Young chopped a single over the mound. Teixeira got the hitters' counts and whiffed on a low full-count slider in the dirt, and Young took second on the play. Blalock popped the first pitch to centerfield.

Mateo's line: 2 innings, 0 runs, 1 hit, 0 walks, 2 strikeouts, 27 pitches (20 strikes)

TOP 8TH
Grade: B
Edison Volquez came in for Rogers. Ibañez whiffed on an 0-2 pitch up and away. Sexson crushed a 1-2 hanging curve five rows into the seats in leftcenter, 411 feet away from the plate.
»» MARINERS 6, RANGERS 4
Beltre lined a 3-1 pitch to leftfield, but Dellucci speared it with a diving catch. Lopez took the second pitch off his left forearm. Morse fell behind 0-2 and lasered a 2-2 single over the right side, moving Lopez to second. Jeremy Reed ran for Morse.

Brian Shouse came in for Volquez. Choo chopped a 2-2 pitch to Blalock on the left side, who didn't have the out at second but still had time to throw to first.

Volquez' line: 2/3 inning, 1 run, 2 hits, 0 walks, 1 strikeout, 20 pitches (12 strikes)

BOTTOM 8TH
Grade: B-
JJ Putz came in for Mateo. Soriano whiffed on an 0-2 slider away. Mench fell behind 0-2 and rolled a 2-2 pitch into the hole, but Betancourt made that crazy play and got him. Matthews chopped the second pitch over the mound and into centerfield for a single. Botts bounced a single up the middle, moving Matthews to second. Barajas stuck a single up the middle, scoring Matthews, but Reed came up throwing and nailed Botts by a few feet trying to take third.
»» MARINERS 6, RANGERS 5

Putz' line: 1 inning, 1 run, 3 hits, 0 walks, 1 strikeout, 25 pitches (18 strikes)

TOP 9TH
Grade: C
Last insurance chance. Torrealba grounded hard to third on the second pitch, nicely picked by Blalock. Ichiro chopped the second pitch over the mound, but Shouse picked it out of the air and threw to first. Betancourt struck the second pitch over Dellucci and off the track beside the scoreboard in leftcenter for a double. Ibañez got ahead 3-0 and rolled the 3-1 pitch to Soriano in the hole on the right side.

Shouse's line: 1 1/3 innings, 0 runs, 1 hit, 0 walks, 0 strikeouts, 16 pitches (9 strikes)

BOTTOM 9TH
Grade: D
Eddie Guardado came in for Putz. Mark DeRosa pummeled a homer over Reed's grasp in rightcenter, the deepest part of the yard.
»» RANGERS 6, MARINERS 6
Young drilled a 1-2 pitch into leftfield for a single. Teixeira took a 1-2 pitch over the outside corner. Blalock stung a pitch into rightcenter, and Reed and Ibañez tried to cut if off before it reached the wall, which they did. Steve Smith waved Young around third, and Lopez' relay throw was high, necessitating a Torrealba jump. He came down with the ball, and to me it looked like Torrealba got Young on the left shoulder before his hand touched the plate. Not that the umpire saw that. Ballgame.
»» RANGERS 7, MARINERS 6

Guardado's line: 1/3 inning, 2 runs, 3 hits, 0 walks, 1 strikeout, 15 pitches (10 strikes)
---

Gameball: Richie Sexson.
He drove in two runs in his 2-for-4 night. He tripled over Kevin Mench in rightfield in the first, giving the Mariners a 2-0 lead. He cranked a solo shot in the eighth to give the Mariners a key insurance run. Come to think of it, he hit for the harder half of the cycle. He needed the single and the double, and it seems everyone has no trouble getting that half of the cycle. Sexson's homer was his 37th on the season. He's run hot and cold this year, and it appears the stretch he's on right now is at least warm. He homered only six times in the entire month of August, and none of them came after the 20th. Likewise, he has five homers in September, and none of those came before the seventh of the month. After a .211 August, he's hitting .279 for September. A more telling number is that he's slugging .639 for September after a .453 August. I'm hoping he can get to 40 homers on the season, which I think would be good considering some of the colder stretches he's had this year. Add to that the series at Comiskey he missed earlier in the year because of that brutal flu bug that swept through the club. Lest we forget that Sexson logged three straight seasons of 157 or more games before last year's shoulder explosion.

Goat: Eddie Guardado.
I almost gave this to Raul Ibañez for his 0-for-5 day with the hat trick (three strikeouts). Then I almost gave it to Joel Piñeiro for letting the Rangers score runs here and there while he was pitching, letting a 5-0 Mariner lead after the top of the second turn into a 5-4 lead after five innings of play. Neither of those guys completely exploded like Eddie Guardado did. Guardado's been money for most of the year up to the last few outings or so, and it's gotten a little more treacherous with him out there lately. When Mark DeRosa put that ball over the fence in rightcenter, I pretty much knew it was over right then and there. All the momentum from the bottom of the second inning onward went to Texas with the exception of the Sexson homer. With the DeRosa leadoff homer in the ninth, it was Texas' game to lose...or to go to extra innings and then win. All it took was three more batters for the game to end. Of course, I still think the final non-call on Yorvit Torrealba tagging Michael Young on the left arm was bullcrap, but the game should have never gotten to that point.


Yr W-L Pct GB Stk
2001 106-42 .716 -- L2
2003 86-62 .581 20 W4
2002 84-64 .568 22 L6
2000 82-66 .554 24 W4
2005 64-84 .432 42 L3
2004 56-92 .378 50 L1


Look at all those streaks, which seem longer than usual. In 2001, the Mariners had won two games after 9/11 and went on to lose the next four for their longest streak of the season. At 148 games, they were in the middle of that losing stretch. The 2002 team snapped their six-game losing streak with a win in game 149. The 2003 team was about to drop three straight. The 2000 team was in the midst of an eight-game win streak, helping offset the eight-game skid from that August. The 2000 Mariners ended the year on a 13-5 tear, swept the White Sox in the Division Series, went on to Game 6 of the ALCS, etc. One of my favorite stats is that the 2003 Mariners started out 42-19 and finished on a 51-50 tear of mediocrity. I tried sifting through the 2002 long to find the better icky trends of that year, and it turns out they started 57-33 (into mid-July) and finished on a 36-36 buzzsaw. Or you could go with 24-27, 22-25, 21-24, 20-23, etc. The high-water mark for 2002 was 27 games over .500, which was reached five times, all in the month of August, which is odd since Augusts have historically been bad for the Mariners. By the way, the 2003 Mariners finished on a blazing run of 17-20.

It turns out that on the same spreadsheet where I have all that year-to-year record stuff, I have those horrible pitching numbers from the month of May. Jamie Moyer has been the best Mariner starting pitcher this year (barring a handful of starts from Felix). Remember his month of May? Twenty-one earned runs in 24 innings. He had a May ERA of 7.88. That was also the month where they skipped one turn of Joel Piñeiro and threw in Julio Mateo for a start. Sure, Adrian Beltre hasn't shouldered enough of the offensive load this season, but if he hit .340 and hit 45 dingers this season, how much better would that have made what turned out to be a 9-18 May for the Mariners? They went from a 12-12 April that left me thinking, "okay, they've improved. That's good" to a May of "what the frick happened? Can someone tell me how or why Aaron Sele made this club out of spring training?"

Joel Piñeiro. Well, he didn't struggle in the first inning, and maybe that was the beginning of the end. It's not what he's used to. We've seen him struggle in the first inning, then right the ship and shut down for the next few innings, sometimes the rest of the game. In this game, he didn't struggle in the first, but then the Rangers basically nickel-and-dimed him not to death, but obviously enough to turn a five-run Texas deficit into a much more manageable one-run deficit. Even with the four runs he gave up in five innings in this start, he still has a 2.63 ERA after four September starts. His worst month of course was May, where he had the ol' 7.22 ERA that led to the skip in the rotation and the "Tacoma" trip. He also had a nice July with a nice 7.13 ERA with that complete-game two-run outing in Orange County before the break sandwiched in with a bunch of stinker starts. The lowest that Joel's ERA has been this year is 5.14, and that happened after his fourth start of the season, and that was in Oakland, in the game where he went eight innings, gave up three runs, and lost.

Multi-hit games in this one belonged to Ichiro, Yuniesky Betancourt, and Sexson (gameball). Ichiro was 3-for-5 with a two-out triple in the fourth. He also scored two of the Mariners' runs. Betancourt hit a two-run double in the second and hit a two-out double in the ninth. Hitless games went to Raul Ibañez, who I'd mentioned in the goat entry, Adrian Beltre (0-for-4), and Shin-Soo Choo (0-for-4).

I just remembered what made this game boring. Camera foe Kenny Rogers set down ten straight Mariner hitters on his way out. Edison Volquez got Ibañez whiffing, so eleven straight Mariners bit it going into the eighth. Little surprise that although I was watching the Mariners on MLB.tv, I was also carrying on an IM conversation with co-writer Jeremy. The time of the game listed in the MLB.com boxscore says 2:58, but it seemed waaaaaaay longer than that. I'd also like to think Meadow Gold dairy of Hawaii for that five-quart tub of ice cream I bought from Sam's Club. I pilfered the tub during the seventh-inning stretch. Yes, I put ice cream into another bowl rather than just taking a spoon to the tub. In related news, it doesn't make a difference if I bike around six miles a day on weekdays, it doesn't do jack for my gut. Really, it shouldn't since I'm not doing sit-ups while riding the bike, but I figure it'd take at least a little off. Nope.

With the 3-for-5 game here as a DH, Ichiro has 187 hits on the season and sits with a .303 batting average. If he gets at-bats at the same pace he's been getting them for the season (617 at-bats in 148 games, 4.17 at-bats per game, which leaves him with a bit over 58 at-bats)...
-- he needs 13 hits to reach 200 for the season; he'd need to hit .223 for the remainder of the season, and that'd leave him with a .296 season average.
-- he needs 16 hits to finish with a .300 (.301) average for the season; he'd need to hit .274 for the rest of the season, and he'd end up with 203 hits.
-- he needs 29 hits to finish with a .320 average for the season; he'd need to hit .497 for the rest of the season, and he'd end up with 216 hits.

You know what makes me a semi-evil Seattle sports fan (has to do with my no-two-Seattle-sports-teams-win-on-the-same-day theory)? I'll put up with the Mariners getting swept in four games in Arlington if it means the Seahawks don't have to start 0-2 this season. It's a Ryan Franklin start, so it makes it that much easier.

Franklin. Dickey. Today.