Monday, March 07, 2005
MIXED BAG
Welcome to Monday. Yes, it be yet another work week.

For today's random...I have to say I was laughing yesterday when I was hitting baseballs and a Bremerton police car attended to a group of pre-teen looking kids who appeared to be skating on the roof of an elementary school. Kids, that doesn't help the skateboarding movement. Bitching at your parents incessantly about how you wished there was a skate park nearby would be oodles of times more constructive than skating on the roof of a school and attracting the cops. So if you're going to do crazy illegal crap on a skateboard, do it on PS2 with Tony Hawk, but don't piss people off. Hell, they should have known something was going to happen when a car pulled up to the school (a car that pulled up well BEFORE the cops got there). Hmm, who could call the cops? How about the person that was in the car and most likely inside the school? Ne'er-do-wells! Young whippersnappers!

As Jeremy alluded to in the comments the other day, here's Les Carpenter's farewell column, as he's bolting for the Washington Post. His basic message to the fans of Seattle and the northwest: expect more, demand more, and hold your teams accountable. That Eagle anecdote...all too true for Seattle fans. I have enjoyed many of Carpenter's scathing columns, and it's too bad I won't be seeing them a couple times a week anymore. I looked forward to his columns knowing that someone was probably going to get ripped or there was going to be a couple of really nice zingers in there.

To the post...

MARINERS
It sucks to be Bucky right now. He's having second thoughts about having the knee surgery, saying he might not have had it done if he knew the rehab was going to take this long.

Then there's Pokey. Art Thiel does some light lifting in the article in terms of Bloomquist bashing. Thiel suggests that Jeremy Reed might be hitting eighth, when I'd been thinking he was going to hit second. Of course, Thiel's probably thinking Winn is hitting second, and now we'd be getting into almost the same thing as when Cameron was here with Winn, except now with the 2 and 7 spots instead of 2 and 8. Ah, how I remember it well. They wanted Winn to hit second because his bat was better, but then he got really cold, and they had to move him down to 7th, and then he warmed up. However, it took a bit of a punch out of the top of the lineup.

Eddie Guardado will finally get some B-game action today, apparently with his mechanics getting Bryan Price's clearance.

The Mariners are 0-3 in Cactus League play, but I find myself not caring at all. I remember one year where the Mariners had a great spring and an extremely mediocre season, and I remember the Yankees having a few terrible springs recordwise and then winning it all. Spring's not about wins and losses, it's about getting your work in and not getting hurt.

Who can forget the annual budget article? This article has two things going against it, and it's the Mariners' fuzzy math combined with Bob Finnigan. As such, expect at least a couple of other blogs in the Mariner blogosphere to derail some of the numbers in the article.

SEAHAWKS
The P-I doesn't print on Sundays, but that doesn't mean Clare Farnsworth doesn't have something to say about the Seahawks' doings lately. Farnsworth writes about the impending Trent Dilfer trade, and that the Seahawks just might be the leader in the Patrick Surtain sweepstakes, though he definitely won't come cheap.

As for outside free agents expected to visit the Seahawks, they include Saint Louis defensive end Bryce Fisher (he replaced Grant Wistrom after he left) and tight end Anthony Becht of the Jets.

BASKETBALL
The Miah Davis Update
The Roanoke Dazzle host Florida on Saturday, and Fayetteville the following Saturday and Sunday.

The Marvin Williams Watch
What a game that was. North Carolina pulled out the 75-73 victory on a clutch basket-and-one by Marvin Williams (yes, he went to our high school) after he grabbed a missed Raymond Felton free throw. Marvin played 26 minutes off the bench, shot 3-for-9 from the field, and hit all three of his free throws. He scored 9 points, pulled down 7 boards, and threw in a block. We sit here before the ACC tournament, and Marvin is averaging 11.3 points and 6.5 rebounds a game (22.1 minutes). If you drag that out to 30 minutes per game, he'd be averaging 15.3 points and 8.8 boards. It's not Sean May (man, that guy is amazing), but it's damn good. Of course, Marvin next year might be that good.

It really didn't matter if Shelden Williams had "stuffed" Marvin a couple times, though I still refuse to believe some of the blocks were clean. What mattered was that Marvin busted one in Shelden's face to win the game.

So to commemorate what happened yesterday, this is basically it...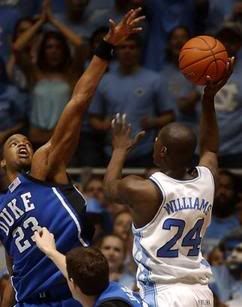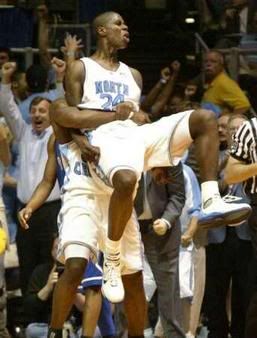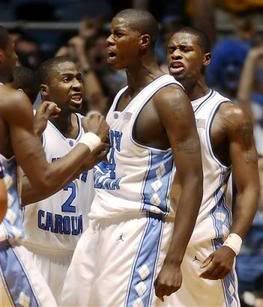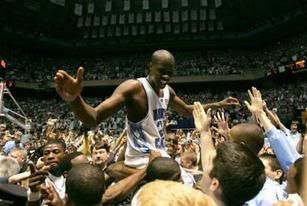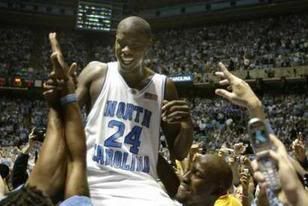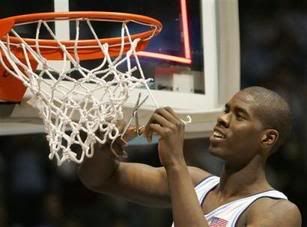 Way to go, Marvin. Bremerton has spawned an ACC champion. (Thanks to the photographers too. Just for that, they get mouse-over credits.)

The Tar Heels will get the winner of the 8/9 game (Maryland/Clemson) on Friday (9a, ESPN2). The winner of that game plays Saturday (1:30p, ESPN)

Huskies
Just a little more lamentation over the loss to Stanford and the way that Operation:Shutdown was performed on Tre Simmons.

The Huskies face Arizona State in the 2/7 game on Thursday (6:15p, FSNNW). The winner goes on to the 8:45p game against Stanford or Washington State on Friday, also televised by FSNNW. At least CBS is showing the Pac-10 title game.

Bulldogs
Not surprisingly, Gonzaga is in the WCC tournament title game once again by virtue of a 90-74 win over San Diego. The Toreros got Ronny Turiaf into foul trouble and made him a nonfactor. However, Adam Morrison (25 pts/5 reb/8 ast), JP Batista (24 pts/10 reb), and Derek Raivio (14 pts) weren't about to let that spoil the game. Even P-Mac chipped in with 9 points and 5 assists.

The Zags will face Saint Mary's tonight in the WCC tournament final (9p, ESPN). Since both teams had byes through the first two rounds of the tournament, they won't be totally exhausted.

Sonics
For my take on last night's game, scroll down a post or click here if this is the only post on the page.

Percy Allen suggests that the Sonics should have had a fallback plan when the threes weren't falling, something along the lines of driving to the basket, which finally worked a bit late in the game with Antonio Daniels. I guess there's two things I'd say about this. One is that the Sonics have shooters who are going to take the open looks, and they had a ton of open looks, though they weren't falling. You're not going to tell Vladimir Radmanovic to stop shooting. Two, with the way the referees were calling the game, I'd have to say that if you started driving to the basket earlier, the Suns were going to mug the Sonics down low and there weren't going to be any whistles. Nate McMillan doesn't get tossed very often, and the fact that he got tossed last night surely signifies that someone other than me thought that the Suns were getting away with way too much down low.

Here's some more stuff about taking more emphasis off the threes when they aren't falling. Notice the differing quotes between the post player (James) and the perimeter player (Radmanovic). Also, that failed alley-oop attempt from Daniels to Lewis in the fourth quarter I think was the final nail in the coffin. That basket would have brought the Sonics to within 5 points with four minutes to go, and the crowd would have been going absolutely nuts.

Levesque and Kelley. I think Levesque is a little more dead-on here, and it's mainly because Kelley is still believing the all-out myth that Seattle is a running team, which is far from the truth. If Kelley wants to see this matchup and this pace in the West finals, then I hope he enjoys it when the Sonics lose in five games. These Sonics are great when they're running halfcourt sets and freeing up their shooters off of screens and picks. When it's clicking, it's fun to watch. Is it not fun to know that the other team probably thinks they're guarding real well until the Sonics hit their shot with under 4 seconds remaining on the shot clock? Of course it's fun. When the Sonics are taking this much time with the ball and scoring, it also means that the opposing team does not have the ball in that amount of time. Add that up over the course of 48 minutes, and limiting opposing possessions can be a vital thing.

Upcoming...
Tomorrow vs. Houston (7p, FSNNW)
Friday vs. Chicago (7:30p, not televised)
Sunday at New York (3p, FSNNW)

HOCKEY
Portland beat Seattle 5-3. Seattle clinched the US Division title the night before, so this loss might not rumple their feathers that much, though the fact that Portland won makes it all the more dicey for Everett. Cody McLeod fought Derek Couture just 48 seconds into the game, but also ended up scoring twice in the second period. Dan Da Silva scored late in the second period on the power play, and Seattle coach Rob Sumner was tossed as he believed there was a two-line pass en route to the goal. Garrett Festerling and Martin Bucek scored the first and last goals for Portland. Seattle led after one period on goals by Nate Thompson and Couture. Ladislav Scurko scored to get the T-Birds back within one in the third period, but they got no closer. Shots were 32-30 for Seattle. Gavin McHalen stopped 25 for Seattle, and Blake Grenier stopped 29 for Portland.

Vancouver beat Kamloops 4-1. The Giants finished their season series with Kamloops unbeaten in eight tries. The Giants have nailed down third place in the BC Division going into the playoffs. In this game, the Giants started out by outshooting the Blazers 9-1. They carried some momentum over to the second period when they actually started scoring. Matt Robinson got the Giants on the board just past the halfway point and Andrej Meszaros scored the winner a few minutes later on the power play. Chad Scharff scored an insurance goal just 22 seconds later, and Robinson's second of the night came on the empty net. Shots were 41-25 for Vancouver, and Adam Jennings stopped 24 in net for the Giants.

Rochester beat Manitoba 5-4 in overtime. I think it's safe to say that the Moose won't be sniffing the division lead any more this season, especially since Rochester is leading the division. Scoring literally went back and forth in regulation, with the Moose scoring first and never trailing. Never trailing, that is, until Thomas Vanek ended the game and got the extra point for the Americans. Peter Sarno and Josh Green scored in the first period, and Jason King and Ryan Kesler scored for the Moose in the third period. Shots were 26-19 for Rochester, and Alex Auld stopped 21 for Manitoba.

Upcoming...
Wednesday: Tri-City at Seattle, Everett at Spokane, Manitoba at Grand Rapids
Friday: Seattle at Everett, Spokane at Portland, Vancouver at Prince George, Manitoba at Grand Rapids
Saturday: Portland at Everett, Vancouver at Prince George, Manitoba at Chicago, Puget Sound vs. Queen City (Game 1 of Cascade Cup Finals)
Sunday: Spokane at Seattle, Everett at Portland, Manitoba at Chicago, Puget Sound vs. Queen City (Game 2 of Cascade Cup Finals)
---

Have a great Monday and a joyous start to the work week.