Monday, March 28, 2005
FFF
Welcome to Monday.

For the random...I never thought I'd like any Jell-O flavor more than grape until I discovered two summers ago that there was such a thing as kiwi strawberry Jell-O. I think the kiwi strawberry fascination goes back to the first time I had a Snapple beverage of the same flavor. It has since stuck, much like my fascination for vanilla chai. Of the kiwi strawberry fascination, it only halfway translates out to the actual fruits themselves. I rarely eat fresh strawberries, though I'll never hesitate to skin a kiwi and eat it, even whole if I feel truly gluttonous and nobody's watching me eat the thing. As for Kiwis, last year at Central they were having job candidates come in and do presentations for a new mineralogy faculty position, and one of the guys that came in was a New Zealander. He was teaching in Germany at the time of the last America's Cup, so he unfortunately couldn't give me a true firsthand account of what it was like in New Zealand when the Swiss team of New Zealand defectors took the last America's Cup...from New Zealand. In a somewhat related note that I know I've said at this site at least once, I find the America's Cup and related yachting and sailing events calming yet strangely engaging to watch on television.

To the post!

MARINERS
The headline says that Ichiro is hitting like hell in spring training, but there's way more news in the article than that. Eddie Guardado has mild discomfort in his hamstring when running off the mound toward first, so he was held out of a Cactus League game and threw instead in yet another sim game. Felix got rocked, but Matt Thornton came in and somehow threw 2 1/3 innings of walkless baseball. Scott Atchison may be throwing by the end of April, as his injury appears to be Pineiro Lite. Pokey Reese left yesterday's game because of a sore shoulder, making me wish this guy had Antonio Daniels durability. You could have had Daniels do 55 takes' worth of sliding in the "Long Ball" commercial (Beltre/Sexson) with his game uniform (nothing to cover the knees) and he could give you 55 more takes. If you made him get a little more elevation before sliding, though, I'd say 20 takes. Give Pokey 20 takes in that commercial, and he breaks a rib.

In the world o' roster moves and related stuff, Benji Gil and Ricky Gutierrez are in the have-agents-call-around-because-we-aren't-making-this-team stage (YAY!!) and Mickey Lopez is going to the Giants for "cash considerations."

Then John Levesque wrote a piece on Jamie Moyer. Normally I'd maybe say something about the piece, but I'm at the point where I'm tired of all the articles looking the same and telling me things that I already know or could very easily deduce. Opening Day can't come soon enough. Though Levesque used the word "bricks" in the article, he could have used mortar as well, though it wouldn't be brick adhesive, but rather the mortar shots Moyer was giving up last year.

SEAHAWKS
Though it's more related to the NFL as a whole, I did find John Clayton's article on the latest rule changes very highly informative. I'm still pissed that the rejection of the down-by-contact amendment (replays) was dashed though.

BASKETBALL
The Miah Davis Update
Roanoke hosts Columbus on Wednesday and Asheville on Friday.

The Marvin Williams Watch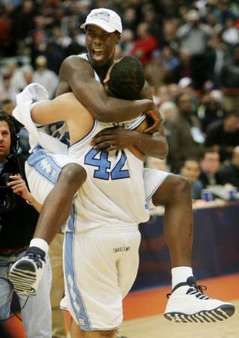 In the Tar Heels' 88-82 win against the Wisconsin Badgers, Marvin Williams scored 6 (1-for-6 shooting, perfect in 4 attempts at the line), pulled down 3 boards, dished out an assist, and stole the ball twice in 21 minutes of play. Jeremy has a bit more on it here (two posts down if you don't want to click).

The Tar Heels are going to the Final Four in Saint Louis, where they will face Michigan State for a spot in the national title game.

Huskies
So the Coug writes an article about Brandon Roy, Nate Robinson, and their draft possibilities. I'd have to agree that Nate will probably go higher, though I'm not sure how high he'd go. If he just wants the check to support his family, he'll more than likely spurn people who say that college kids who aren't lottery picks should just stay in school. Let's hope Nate doesn't drop out of the draft altogether (as in nonexistent third round), though I sort of doubt that'll happen. As for Roy, he could be the man on that team next year.

Sonics
For my thoughts on last night's game, scroll down a post or click here if this is the only post on the page.

Usually I consider clinching playoff spots a big deal, but I'm not too irked about the Sonics prolonging the agony a bit by losing last night since I'm fairly confident they can at least go 1-12 with their remaining 13 games. Danny O'Neil's output here brings a couple of points to mind. Ray Allen made 4 of 5 shots in the first quarter, but then bricked 12 of his last 15, though he luckily remained a factor thanks to his free-throw shooting. More ominous, though, is the Sonics' last three home losses, all of which have been by three or fewer points, and all with possession and chances to tie or take the lead in the final minute of play. I know this team has a better road record than home record, but it's this type of stuff that scares me about this team when I think about the playoffs. Big Lo can only yell so loudly.

And yes, this whole Danny Fortson thing is getting weirder by the second. As much as I love the play that Nick Collison and Vitaly Potapenko have provided in the frontcourt in Danny's absence, I'd love to have the tonesetter back on the court. I miss the edge that Fortson gives this team when he's on the floor. Ray Allen says he hopes Fortson realizes how vital he's been to the team's success, and there's times where they could use him down low. He's a big man who can shoot free throws, and that's priceless. Maybe that #21 jersey that Lauren Jackson's worn has gone to his head? I know it'd probably get to me.

Upcoming...
Tomorrow at Memphis (5p, FSNNW)
Wednesday at San Antonio (5:30p, FSNNW)
Friday vs. Portland (7:30p, FSNNW)
Sunday at Golden State (3p, FSNNW)

HOCKEY
Everett beat Portland 2-1. Shaun Heshka's goal 3:02 into the game not only gave the Silvertips an early lead, but ended their scoreless drought at 214:47. Brandon Dubinsky intercepted a pass on an Everett power play and tied the score right out of the dressing room in the second period. With 12:15 to go, Alex Leavitt scored the winner for Everett, jumping on an errant outlet pass in the Portland zone and having only the goalie to beat. From that point, Everett did what they usually do when playing with the lead. They shot the puck seven times in the second period and only twice in the third. In the third period alone, however, they iced the puck 10 times. Shots were 33-23 for Portland, who has yet to score a 5-on-5 goal in the series. Blake Grenier stopped 21 for the Winter Hawks, and Mike Wall (what's in a name?) stopped 32 for Everett, smothering many pucks and therefore not allowing many rebounds. The series is tied at one game apiece.

Upcoming...
Tonight: Tri-City at Seattle (Game 2)
Tomorrow: Portland at Everett (Game 3), Kelowna at Vancouver (Game 3)
Wednesday: Seattle at Tri-City (Game 3), Portland at Everett (Game 4), Kelowna at Vancouver (Game 4), Manitoba at Hamilton
Friday: Seattle at Tri-City (Game 4), Everett at Portland (Game 5), Vancouver at Kelowna (Game 5), Manitoba at Syracuse
Saturday: Tri-City at Seattle (Game 5 if necessary), Portland at Everett (Game 6 if necessary), Kelowna at Vancouver (Game 6 if necessary), Manitoba at Binghamton
---

Have a great Monday and a gee-golly fabulous start to the work week. Opening day is next week! This is me giddy with anticipation.